Glass Insulation Market
Glass Insulation Market Analysis By Type (Insulating Glass Units, Cellular Glass, Glass Wool), By Material (Double Glazing, Triple Glazing), By Sealant Type (Hot Melt, Polysulfide, PIB Primary Sealant, Silicone), By Application (Residential Construction, Industrial, Non-residential Construction, HVAC), By Distribution Channel (Direct Procurement, Decor Stores, Glass Stores, Specialty Stores, Online Stores) & By Region – Global Market Insights 2023 to 2033
Analysis of Glass Insulation Market Covering 30+ Countries Including Analysis of US, Canada, UK, Germany, France, Nordics, GCC countries, Japan, Korea and many more
Glass Insulation Market Outlook (2023 to 2033)
The global glass insulation market stands at a value of US$ 66.5 billion in 2023 and is projected to reach US$ 140 billion by 2033-end, expanding at a noteworthy CAGR of 7.5%. The market is expanding at a fast pace as a result of rising energy and air conditioning costs, growing sustainability awareness, and increasing energy demand on a global scale. As a result, a rise in the installation of insulating glass windows to prevent energy loss and lower energy bills is aiding market expansion.
To lessen heat transfer in residential or non-residential settings, insulating glass windows are made of two or more glass window panes separated by a gas-filled void or vacuum. For instance, compared to standard windows, double or triple glazing can prevent up to 50% of thermal loss.
Glass wool insulation is a widely recognized and favored solution for enhancing energy efficiency and ensuring optimal comfort in residential, commercial, and industrial insulations. Double-insulated windows, also known as double-glazed or dual-pane windows, have gained immense popularity in the construction industry for their ability to significantly improve comfort, energy efficiency, and sustainability in buildings.
Adoption of double glazing is predicted to rise at a high-value CAGR of 7.5% through 2033.
Superglass loft insulation represents an effective and sustainable solution for improving energy efficiency, comfort, and overall living conditions in homes. By understanding its features, advantages, and installation options, homeowners can enhance their home's thermal performance while reducing energy costs and environmental impact.
Active insulation systems are particularly beneficial in regions with extreme temperature variations or for buildings with fluctuating occupancy patterns, such as commercial spaces and office buildings. They contribute to more sustainable and efficient building operations while maintaining a comfortable indoor environment.
Insulated glass stands as a premier choice for architects, builders, and homeowners seeking to elevate energy efficiency, safety, and comfort in their buildings. Understanding its unique features and advantages empowers individuals to make informed decisions when selecting glass solutions for a wide range of architectural projects.
Report Attributes
Details
Glass Insulation Market Size (2022A)
US$ 62 Billion
Estimated Market Value (2023E)
US$ 66.5 Billion
Forecasted Market Value (2033F)
US$ 140 Billion
Global Market Growth Rate (2023 to 2033)
7.5% CAGR
Europe Market Growth Rate (2023 to 2033)
7.2% CAGR
Double Glazing Segment Growth Rate (2023 to 2033)
7.5% CAGR
Silicone Sealant Segment Growth Rate (2023 to 2033)
6.5% CAGR
Glass Insulation in Residential Segment Growth Rate (2023 to 2033)
6.6% CAGR
North America Market Growth Rate (2023 to 2033)
6.5% CAGR
Key Companies Profiled

Owens Corning
Saint-Gobain
PPG Industries
Knauf Insulation
Johns Manville
ROCKWOOL Group
Kingspan Group
Pilkington
Don't Need a Global Report?
save 40%! on Country & Region specific reports
What's Contributing to Increasing Adoption of Insulation Glass?
"Stringent Regulations Governing Energy Efficiency and Rising Environmental Awareness"
Demand for more efficient insulating materials has been fueled by strict building codes and regulations intended to enhance energy efficiency in construction. Glass insulation is a popular option for builders and contractors since it helps buildings comply with these criteria by lowering heat transmission and energy use.
Sustainable building methods are being emphasized more due to rising environmental consciousness and the need to reduce carbon emissions. Glass insulation is seen as an environmentally beneficial choice that supports LEED and other green building certifications, as it helps enhance energy efficiency and lowers greenhouse gas emissions. Homeowners and companies are looking for ways to cut back on their energy use as a result of rising energy costs. Glass insulation reduces heating and cooling expenditures, making it a desirable investment for consumers who are concerned about prices.
For architects, builders, and homeowners looking to construct more ecologically conscious and energy-efficient living and working spaces, glass insulation is a favorable option due to its capacity to boost energy efficiency, comfort, and sustainability. When thinking about window upgrades or installations, people are more equipped to make selections when they are aware of its features and benefits.
"Adoption of Eco-friendly Glass Insulation Materials Promoting Energy-efficient Construction"
The performance and durability of glass insulating materials have improved as a result of ongoing research and development. As a result, glass insulation is increasingly being used as a superior substitute for conventional insulation materials. There is a high demand for construction materials, especially insulation, as a result of the rapid urbanization and rising construction activity in emerging nations. Due to its thermal qualities and adaptability in a variety of construction applications, glass insulation is frequently used.
Glass insulation aids in enhancing indoor air quality by avoiding moisture buildup and mold growth in addition to maintaining suitable interior temperatures. Its use in both residential and commercial structures is motivated by concerns for improved comfort and health.
Eco-friendly insulating materials mark a turning point in the development of environmentally friendly and energy-saving building techniques. Individuals, architects, and designers may make decisions that not only lessen their impact on the environment but also result in healthier, more comfortable living and working environments with a thorough awareness of the features and advantages of eco-friendly insulation.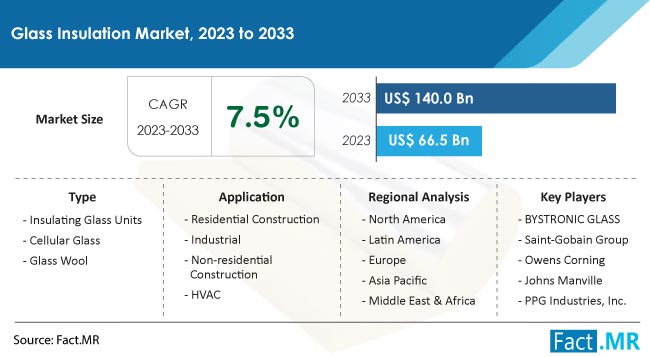 What Challenges Do Glass Insulation Manufacturers Face?
"Elevated Initial Cost and Installation Complexity Associated with Glass Insulation"
Compared to more conventional insulating materials like fiberglass or foam, glass insulation products can have higher upfront costs. Because of this, some customers or builders may decide against using glass insulation, particularly for projects with tight budgets.
Glass insulation installation can be more difficult and time-consuming than the installation of other insulation types. This requires trained personnel, which can raise the price of installation. Compared to certain other insulation materials, glass insulation is heavier and denser. This can be difficult when retrofitting or repairing old buildings because the extra weight calls for structural changes.
In comparison to materials such as fiberglass or foam, insulated glass can be more fragile during shipment, handling, and installation. The fragility of glass leads to its tendency to break, causing waste and additional expenses. Due to its potential lack of flexibility compared to some other materials, glass insulation is not suitable for curved or uneven surfaces. This restriction may make it less applicable to particular architectural plans.
"Environmental Concerns Surrounding Energy-intensive Glass Insulation Production and Disposal"
Although glass insulation is typically thought of as being environmentally friendly, there may be issues with the environment due to the energy-intensive production process of glass. Glass insulation is more difficult to dispose of than other materials, as well. Glass insulation providers and manufacturers face difficulties in this cutthroat market.
Some consumers are unaware of the advantages of insulated glass and do not prioritize sustainability or energy efficiency when planning new construction or renovations. Regulations vary by location, impacting the utilization and acceptance of glass insulation in certain regions, making it challenging to conform to building codes and energy efficiency criteria.
More Insights, Lesser Cost (-50% off)
Insights on import/export production,
pricing analysis, and more – Only @ Fact.MR
Country-wise Insights
The following section provides an insight into market revenue segmented by prominent countries. China and the United States have notably emerged as frontrunners. As per the analysis conducted by Fact.MR, these countries distinctly signify substantial regional opportunities among those evaluated in the report.
What Elements are Driving Increased Demand for Glass Insulation in China?
"Government Initiatives Promoting Sustainable Construction"
During the projection period, the Asia Pacific region is anticipated to hold a leading share of the glass insulation market. In addition, the sector is expanding at a healthy rate as a result of urbanization, rising middle-class earnings, and population growth.
The region's construction sector is forecasted to expand quickly due to the changing living standards of the populace. Demand for glass insulation in the region is expected to be driven by government regulations, such as the ECBC (Energy Conservation Building Code) in India, which establishes minimal energy standards for new commercial constructions.
China is the leading consumer of glass insulation products. The focus on sustainable construction, the expanding middle-class population, and rising disposable income are the main drivers for the growth of the glass insulation market in the country. Stringent regulations governing energy efficiency are also contributing to market growth.
What Prospects Await Glass Insulation Manufacturers in the United States?
"Increased Installations for Severe Weather Protection and Emergence of Zero Energy Homes"
From 2023 to 2033, the glass insulation market in North America expanded at a 6.5% CAGR.
In terms of value and volume, North America is the market frontrunner worldwide. The expanding construction industry, driven by the use of insulation products to enhance energy efficiency, is contributing to market growth. Furthermore, expectations of minimal environmental impact, stringent government regulations, and construction of high-quality infrastructure are all anticipated to fuel market expansion in the country.
The need for non-residential buildings in the United States is increasing. Use of glass insulation is anticipated to increase as a result of the expansion of office space and governmental initiatives to reduce carbon emissions. The number of installations in this area has increased because of the increase in tornadoes and hurricanes.
Market expansion in the United States is projected to be driven by government programs, such as building technology programs of the DOE (Department of Energy), which aims to minimize energy consumption across residential structures through the adoption of zero-energy homes. One of the primary reasons for this is the presence of several important market participants in the country.
Category-wise Insights
Sales of silicone sealants are projected to rise at 6.5% CAGR through 2033. The residential sector is forecasted to advance at a CAGR of 6.6% from 2023 to 2033. As assessed by Fact.MR, these segments are positioned to offer advantageous prospects across all the specified categories in the report.
Why are Silicone Sealants Set to Account for High Adoption?
"Structural Integrity and Enhanced Weather Resistance of Silicone Sealants"
Demand for silicone sealants is forecasted to increase at a CAGR of 6.5% from 2023 to 2033.
Providing structural support and bonding in building facades, especially in systems that use glass panels or curtain walls, is one of the main purposes of structural silicone sealants. By properly transferring loads and guaranteeing the structural integrity of the building envelope, these sealants effectively hold the glass panels in place.
The remarkable adherence of structural silicone sealants to a wide range of substrates, such as glass, aluminum, steel, and masonry, is one of their best-known properties. This durable bond is made possible by the strong adhesion, which can withstand the effects of wind, temperature changes, and seismic activity. Silicone sealants are flexible, allowing construction materials to expand and contract in response to temperature changes. It takes flexibility to avoid cracks and leaks over time.
Structural silicone sealants or silicone structural glazing sealants are intended to act as a weatherproof barrier as well as a strong and long-lasting adhesive between glass panels and building frameworks. It is essential for improving the weather resistance and energy efficiency of glass insulating systems. Because of their outstanding adhesion, flexibility, and long-term performance, structural silicone sealants are a popular choice in contemporary architecture and construction projects.
Why is Utilization of Glass Insulation Surging in Residential Settings?
"Extensive Use of Glass Insulation to Maintain Comfortable and Quiet Indoor Environment"
Demand for glass insulation for residential settings is expected to rise at a 6.6% CAGR through 2033.
Glass insulation is used in residential buildings to increase comfort, improve energy efficiency, and lower heating and cooling costs. It is essential for preserving constant indoor temperatures, reducing heat gain or loss, and producing a cozy living space.
Glass insulation for use in residential applications is primarily made from materials such as fiberglass and glass wool. These materials are available in various forms, including batts, rolls, loose-fill, and rigid boards. Glass insulation helps improve the energy efficiency of residential buildings by reducing heat transfer through walls, ceilings, and floors. This leads to lower energy consumption for heating and cooling, resulting in reduced utility bills.
Use of glass insulation helps maintain consistent indoor temperatures, reducing temperature fluctuations and drafts. This contributes to enhanced thermal comfort for residents throughout the year. Glass insulation materials also provide acoustic insulation, reducing the transmission of noise between rooms and from outside sources. This is valuable in creating quieter and more peaceful living spaces.
Know thy Competitors
Competitive landscape highlights only certain players
Complete list available upon request
Competitive Landscape
Many companies are focusing on innovation and the development of advanced glass insulation technologies. They are introducing new products with improved energy efficiency, environmental sustainability, or enhanced performance.
The competitive landscape for the glass insulation market is dynamic and involves various players, including manufacturers, suppliers, and service providers. These entities compete in terms of product offerings, innovation, pricing, distribution networks, and market presence.
In July 2021, Knauf Insulation introduced an updated packaging design, featuring enhanced environmental friendliness, improved compression technology, and a refreshed product lineup. The Euroclass A1 fire reactivity classification and the utilization of Ecose Technology, which is Knauf Insulation's proprietary bio-based binder, are now readily distinguishable due to a comprehensive color-coded system applied across the entire range of glass mineral wool products. This system guarantees uniformity in thermal conductivity groupings.
Key Segments of Glass Insulation Industry Research
By Type :

Insulating Glass Units
Cellular Glass
Glass Wool

By Material :

Double Glazing
Triple Glazing

By Sealant Type :

Hot Melt
Polysulfide
PIB Primary Sealant
Silicone

By Application :

Residential Construction
Industrial
Non-residential Construction
HVAC

By Distribution Channel :

Direct Procurement
Decor Stores
Glass Stores
Specialty Stores
Online Stores

By Region :

North America
Latin America
Europe
Asia Pacific
Middle East & Africa
- FAQs -
The global glass insulation market is valued at US$ 66.5 billion in 2023.
Worldwide sales of insulated glass are set to increase at a CAGR of 7.5% from 2023 to 2033.
Global sales of glass insulation are projected to reach US$ 140 billion by 2033.
Demand for double-glazing insulation is forecasted to increase at a CAGR of 7.5% through 2033.
The market in Europe is set to expand at a CAGR of 7.2% through 2033.
Sales of silicone sealants are projected to rise at 6.5% CAGR through 2033.