Indoor Humidifier Market
Indoor Humidifier Market Analysis by Product Type (Vaporizers, Ultrasonic Systems, Warm Mist Humidifiers, Evaporative Humidifiers, Steam to Steam Humidifiers), By Industry Vertical (Healthcare, Retail, Food & Beverages, Paper & Pulp, IT, Automotive, Textiles), By Application (Residential, Commercial, Industrial) & By Region – Global Market Insights 2023 to 2033
Analysis of Indoor Humidifier Market Covering 30+ Countries Including Analysis of US, Canada, UK, Germany, France, Nordics, GCC countries, Japan, Korea and many more
Indoor Humidifier Market Outlook (2023 to 2033)
The valuation of the global indoor humidifier market stands at US$ 788 million in 2023, which is forecasted to climb to US$ 1.13 billion by 2033, expanding at a CAGR of 3.6% over the study period (2023 to 2033).
By introducing the right levels of humidity into indoor spaces, indoor humidifiers create an atmosphere that is conducive to well-being and are ideal for room moisture control. They help alleviate common discomforts such as dry skin, irritated nasal passages, and even respiratory issues that can arise from prolonged exposure to dry air. Moreover, they contribute to the preservation of wooden furnishings, musical instruments, and the structural integrity of buildings by preventing the adverse effects of excessive dryness.
Worldwide sales of vaporizer indoor humidifiers are predicted to rise faster than other variants between 2023 and 2033.
The growth trajectory of the indoor humidifier market is influenced by a combination of factors, including climate conditions, technological advancements, and shifting consumer preferences. Indoor air quality is a critical consideration, as it directly affects occupants' health, comfort, and overall quality of life. Factors such as heating systems, weather changes, and geographic location can contribute to the depletion of moisture in indoor air, resulting in dry and uncomfortable living conditions.
The market caters to a diverse range of consumer preferences and needs, offering various types of portable humidifiers. Evaporative humidifiers use natural processes to distribute moisture, while ultrasonic humidifiers utilize ultrasonic vibrations to break down water particles into a fine mist. Warm mist humidifiers provide heated moisture, while cool mist humidifiers disperse cool moisture, making them suitable for different climates and preferences.
Surge in innovation, particularly in the form of smart connected humidifiers, is driving market growth. The best home humidifiers integrate seamlessly with modern lifestyles, allowing users to control and monitor humidity levels remotely through smartphones and other smart devices. Such features not only enhance user convenience but also align with the broader trend of smart home technology adoption.
Report Attributes
Details

Indoor Humidifier Market Size (2022)

US$ 760 Million

Estimated Market Value (2023)

US$ 788 Million

Forecasted Market Value (2033)

US$ 1.13 Billion

Global Market Growth Rate (2023 to 2033)

3.6% CAGR

Vaporizer Indoor Humidifier Growth Rate (2023 to 2033)

4.4% CAGR

Ultrasonic Systems Growth Rate (2023 to 2033)

3.4% CAGR

China Market Growth Rate (2023 to 2033)

6.4% CAGR

Key Companies Profiled

Armstrong International, Inc
Koninklijke Philips N.V.
United Technologies Corp.
Carel INDUSTRIES S.p.A.
Munters, Ltd.
Honeywell International Inc.
Mitsubishi Heavy Industries, Ltd.
Boneco AG
Vornado Air LLC
Procter & Gamble Company
What's Contributing to the Rising Popularity of Indoor Humidifiers?
"Continuous Innovations in Indoor Humidifier Designs and High Focus on Enhancing Product Performance"
Several market vendors concentrate on crafting sophisticated product designs and technologies, allowing for premium pricing. Among the assortment of technologically advanced humidifiers available from different vendors, some can function autonomously for durations of up to 18 hours. These cutting-edge humidifiers prove highly effective in ensuring a constant supply of pure air at an ideal humidity level. Given that a significant portion of individuals spend approximately 90% of their lives indoors, it is worth noting that indoor environments harbor a greater diversity of bacteria, molds, viruses, and dust mites compared to the outdoors. Therefore, maintaining proper humidity levels becomes pivotal in curbing the proliferation of these microorganisms and allergens.
Elevated levels of airborne moisture limit the chances of dust and particulate matter circulating within the air. Presence of humidified air additionally contributes to alleviating nasal dryness and promoting effortless breathing. Furthermore, reduction in static electricity fosters a more comfortable household atmosphere for all residents. In light of the growing recognition of the significance of upholding indoor air quality, the global market is anticipated to expand throughout the projected timeframe.
"Increasing Demand for Smart Connected Humidifiers"
The indoor humidifier market is currently witnessing a transformative trend, driven by the surging demand for smart connected humidifiers. This trend, which holds significant influence over the growth trajectory of the market, is marked by the convergence of advanced technology and consumer preferences for enhanced convenience and control.
Smart connected humidifiers represent a departure from traditional models, as they incorporate cutting-edge technological features that allow seamless integration with modern lifestyles. These innovative devices can be remotely controlled and monitored through various digital platforms such as smartphones, tablets, and smart home systems. This connectivity empowers users to adjust humidity levels and operating modes, thus optimizing comfort and air quality based on personal preferences and changing environmental conditions.
The allure of smart connected humidifiers stems from their ability to provide real-time data insights and automation. These devices can adapt to fluctuations in indoor humidity levels, enabling them to maintain a consistent and comfortable environment without requiring constant manual adjustments. Moreover, integration of smart sensors and data analytics enables users to monitor and assess air quality metrics, allowing for informed decisions that contribute to a healthier living space.
Don't Need a Global Report?
save 40%! on Country & Region specific reports
What are the Main Challenges Faced by Companies Manufacturing Indoor Humidifiers?
"Strong Competition from Readily Available Alternative Products"
The indoor humidifier market encounters a significant challenge in the form of alternative products readily available to consumers. These alternatives, which serve similar purposes or offer competing benefits, pose a notable hurdle to the growth of the indoor humidifier market.
As consumers have a range of options to choose from, including devices or methods that promise comparable outcomes in terms of humidity control and air quality enhancement, the market must address this competition by emphasizing its unique advantages and value propositions. This entails highlighting aspects such as advanced features, energy efficiency, ease of use, and health benefits to effectively counter the impact of alternative products on the market's growth trajectory.
"Limited Consumer Awareness about Cleaning & Maintenance Protocols for Humidifiers Elevating Risk of Compromised Indoor Environment"
Inadequate maintenance of air humidifiers poses a noteworthy challenge to the market. Neglecting regular and thorough cleaning of humidifiers can result in the proliferation of mold, bacteria, and other detrimental microorganisms within these devices. Consequently, this situation can contribute to diminished indoor air quality and potential health hazards for individuals using these humidifiers.
Absence of awareness or disregard towards the essential protocols for cleaning and upkeeping humidifiers can dissuade consumers from acquiring or utilizing these products, thereby exerting an adverse impact on the expansion of the indoor humidifier market.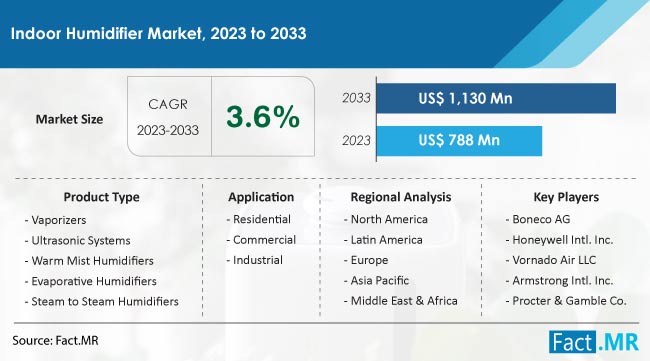 Country-wise Analysis
What is Behind the Rising Sales of Indoor Humidifiers in the United States?
"Increased Adoption of Smart Connected Air Humidifiers with Cutting-Edge Technologies"
The United States stands out as a significant driving force behind the growth of the market. This is primarily attributed to the presence of key industry players who are actively engaged in developing and introducing innovative products and cutting-edge technologies. These market leaders recognize the escalating consumer requirements for enhanced humidity control and air quality management. By continually innovating and introducing new solutions, they contribute to shaping the market landscape and catering to the increasing demands of consumers.
The innovation-driven approach of major players extends beyond merely addressing the discomfort associated with dry air. It encompasses an array of advanced features and functionalities that aim to provide users with optimal comfort and well-being. These innovations include smart connected humidifiers that can be controlled remotely, devices with advanced filtration systems to ensure clean air and energy-efficient models designed to align with sustainability goals.
Why are Indoor Humidifiers Popular in the United Kingdom?
"Crucial Role of Air Humidifiers in Mitigating Dry Indoor Environments in Healthcare Industry"
The European landscape presents a climate characterized by varying degrees of cold weather, particularly during the winter months. In this context, maintaining optimal humidity levels in the United Kingdom becomes crucial. Dry indoor air, often exacerbated by heating systems, can lead to a range of discomforts including dry skin, irritated mucous membranes, and susceptibility to respiratory issues.
As the awareness of the adverse effects of low humidity increases, demand for air humidifiers gains momentum. These devices are recognized for their ability to reintroduce moisture into indoor spaces, consequently creating a more comfortable and healthier environment for occupants.
Air humidifiers are sought-after for their role in preserving the integrity of wooden furnishings, musical instruments, and even the structural components of buildings, which can be compromised by excessively dry air. Additionally, humidifier benefits of humidity control extend to industries such as healthcare, where maintaining appropriate moisture levels can aid in preventing the proliferation of viruses and supporting respiratory health.
More Insights, Lesser Cost (-50% off)
Insights on import/export production,
pricing analysis, and more – Only @ Fact.MR
Category-wise Insights
Which Type of Indoor Humidifier Accounts for High Revenue Generation?
"Capacity for Even Humidification and Near-Silent Operation Driving Sales of Ultrasonic Humidifiers"
Revenue from worldwide sales of ultrasonic humidifiers is forecasted to increase at a CAGR of 3.4% from 2023 to 2033.
The term ultrasonic humidifier denotes cutting-edge technology that has revolutionized the world of indoor air quality management. This innovative device operates on the principle of ultrasonic vibrations to achieve optimal humidification levels, offering a range of advantages over traditional humidification methods.
At its core, an ultrasonic humidifier employs ultrasonic vibrations to break down water particles into a fine mist, which is then released into the air to increase humidity levels. This process ensures that the humidification is dispersed evenly throughout the environment, preventing localized pockets of excess moisture and delivering consistent comfort.
One of the standout features of ultrasonic humidifiers is their near-silent operation. The ultrasonic vibrations that generate mist are typically beyond the range of human hearing, making these humidifiers an ideal choice for bedrooms, offices, and other quiet spaces where noise may be a concern.
Ultrasonic humidifiers offer a greater degree of control. Many models come equipped with adjustable settings, allowing users to fine-tune humidity levels according to their preferences and the specific needs of the environment. This adaptability is particularly useful in regions with fluctuating climate conditions.
Where are Indoor Humidifiers Most Widely Deployed?
"Need for Creating Comfortable Living Environments in Residential Spaces Driving Extensive Adoption of Indoor Humidifiers"
Indoor humidifiers have emerged as indispensable assets within the residential sector, addressing the paramount need for creating optimal and comfortable living environments. These devices play a vital role in maintaining ideal levels of humidity indoors, ensuring both physical well-being and enhanced living conditions for occupants.
In the residential setting, indoor air quality is of paramount importance. Factors such as climate, weather changes, and heating systems can contribute to the depletion of moisture in the air, resulting in dry indoor environments. This dryness can lead to a range of discomforts, including dry skin, irritated nasal passages, and exacerbated respiratory issues. Herein lies the significance of indoor humidifiers, which excel at introducing the right amount of moisture into the air, thus counteracting the adverse effects of excessively dry indoor air.
Residential indoor humidifiers operate through a variety of technologies, each catering to different preferences and needs. From evaporative humidifiers that utilize natural evaporation processes to ultrasonic humidifiers that employ cutting-edge ultrasonic vibrations, these devices offer a diverse array of solutions. This diversity ensures that homeowners can select a model that suits their space, lifestyle, and specific requirements.
Competitive Landscape
Prominent market players, ranging from established manufacturers to innovative startups, are driving the market forward through a combination of product differentiation, technological advancements, and strategic collaborations. Top humidifier brands are focused on catering to diverse consumer needs, whether it is the desire for residential humidifiers, energy-efficient models, or advanced filtration systems.
A well-known Japanese technology company called Kaltech unveiled its first beauty humidifier in the United States in May 2023.
Adiatec ultrasonic humidifiers were added to the evaporative cooling and humidification product line by DRI-STEEM Corporation in February 2022.
Know thy Competitors
Competitive landscape highlights only certain players
Complete list available upon request
Key Segments of Indoor Humidifier Industry Research
By Product Type :

Vaporizers
Ultrasonic Systems
Warm Mist Humidifiers
Evaporative Humidifiers
Steam-to-Steam Humidifiers

By Industry Vertical :

Healthcare
Retail
Food & Beverages
Paper & Pulps
IT
Automotive
Textiles

By Application :

Residential
Commercial
Industrial

By Region :

North America
Latin America
Europe
Asia Pacific
Middle East & Africa
- FAQs -
The global indoor humidifier market stands at US$ 788 million in 2023.
Sales of indoor humidifiers are predicted to rise at a CAGR of 3.6% from 2023 to 2033.
The market for indoor humidifiers is anticipated to reach US$ 1.13 billion by 2033.
Ultrasonic humidifiers are set to hold a leading share of the global market in 2033.
Demand for vaporizer humidifiers is predicted to rise at 3.4% CAGR through 2033.
From 2023 to 2033, the market in China for indoor humidifiers is predicted to advance at a CAGR of 6.4%.