Indoor Farming Market
Indoor Farming Market Analysis By Facility Type (Glass or Poly Greenhouses, Indoor Vertical Farms, Container Farms), By Growing System (Aeroponics, Hydroponics, Aquaponics, Soil-based, Hybrid), By Component (Hardware, Software), By Crop Type (Fruits & Vegetables, Herbs & Microgreens, Flowers & Ornamentals) and By Region- Global Market Report (2023 to 2033)
Analysis of Indoor Farming Market Covering 30+ Countries Including Analysis of US, Canada, UK, Germany, France, Nordics, GCC countries, Japan, Korea and many more
Indoor Farming Market Outlook (2023 to 2033)
The global indoor farming market size is valued at US$ 40.51 billion in 2023 and is forecasted to expand at an impressive CAGR of 11.3% to reach US$ 118.17 billion by the end of 2033, as per Fact.MR, a market research and competitive intelligence provider.
Indoor farming practices are revolutionizing how crops are grown in the agriculture industry. The indoor farming business has received substantial attention and investment in recent years, emerging as a game-changing solution to several difficulties confronting traditional agriculture. This cutting-edge industry is distinguished by its ability to develop crops in controlled, indoor environments, allowing for year-round production, increased resource efficiency, and sustainability.
Automation and data analytics are also transforming indoor farming. IoT (Internet of Things) sensors continuously monitor and control environmental factors to ensure ideal growing conditions. Crop monitoring, pest control, and predictive yield analysis all use artificial intelligence to maximize efficiency and yield. Advanced LED lighting systems mimic sunlight and can be customized to the individual needs of each crop, increasing photosynthesis and lowering energy costs. These technologies not only improve the economics of automated indoor farming but also push the boundaries in terms of sustainability and resource efficiency.
Key Market Growth Drivers
Indoor farming is an environmentally friendly option. It saves water, eliminates the need for chemical pesticides, and dramatically minimizes the carbon footprint associated with transportation by optimizing resource utilization.
Crops in traditional outdoor agriculture are sensitive to weather and seasonal changes. Indoor farming offers controlled settings in which temperature, humidity, and lighting can be fine-tuned, allowing crops to thrive year-round, alleviating food security problems, and minimizing reliance on seasonal harvests.
Consumers, governments, and corporations are looking for sustainable agricultural solutions as they become more aware of environmental challenges and the need to decrease their carbon footprint.
Indoor farming is viewed as a more environmentally responsible method of food production, coinciding with the larger global mission to address climate change.
Recent global health crises and supply chain interruptions have highlighted the significance of reliable food supplies. Indoor farming is more resistant to external disruptions such as pandemics and harsh weather events, which can have a negative influence on traditional agriculture. It provides a way to improve food security by ensuring consistent year-round output.
Providing fresh and sustainable food options to a growing global population, the industry promises to play a significant role in defining the future of agriculture as it develops and innovates.
Report Attributes
Details
Indoor Farming Market Size (2022A)
US$ 36.4 Billion
Estimated Market Value (2023E)
US$ 40.51 Billion
Forecasted Market Value (2033F)
US$ 118.17 Billion
Global Indoor Farming Market Growth Rate (2023 to 2033)
11.3% CAGR
Asia Pacific Market Share (2022)
32.1%
North America Market Share (2022)
24.8%
Software Segment Growth Rate (2023 to 2033)
14.3% CAGR
Flowers and Ornamentals Segment Share (2022)
28.9%
Greenhouse Segment Growth Rate (2023 to 2033)
5.1% CAGR
Greenhouse Segment Share (2022)
49.2%
Hydroponics Segment Share (2022)
49.9%
Hydroponics Segment Growth Rate (2023 to 2033)
6.5% CAGR
Key Companies Profiled

LumiGrow
Argus Control Systems
Signify Holding
Netafim
Everlight Electronics
Illumitex
Hydrodynamics International
American Hydroponics
Richel Group
Vertical Farm Systems
General Hydroponics
Agrilution
Heliospectra AB
ScottsMiracle-Gro
Hydroponics System International
Advanced Nutrients
Emerald Harvest
VitaLink
Grobo
Gotham Greens
AeroFarms
BrightFarms
Don't Need a Global Report?
save 40%! on Country & Region specific reports
Which Market Dynamics are Pushing Global Sales of Indoor Farming Industry Solutions?
"Health-related Concerns Driving Need for Fresh, Locally Grown Vegetables"
The attractiveness of fresh, locally grown vegetables is expanding in an era when customers are becoming more health-conscious and environmentally sensitive. Reliance on extended supply networks in traditional agriculture can result in a less fresh product that has traveled hundreds or even thousands of miles before reaching customers. Indoor farming overcomes these distance-related concerns by providing access to locally grown vegetables, fruits, and herbs in urban and suburban regions.
Customers choose indoor farming because the ability to harvest and serve produce within hours of picking ensures ideal freshness, nutritional content, and flavor. Furthermore, the year-round production capabilities of indoor farming contribute to meeting the continuous demand for fresh and healthy food options. This addresses the preferences of urban populations who seek such choices irrespective of the season.
"Growing Emphasis on Environmentally Responsible Agriculture Practices"
The importance of implementing environmentally responsible agriculture practices rises as climate change becomes a more significant concern. Traditional agriculture is no longer considered a viable choice due to its high resource consumption and environmental impact. Indoor farming, on the other hand, succeeds in terms of sustainability by drastically reducing water consumption, eliminating the need for chemical pesticides, and preserving energy. It decreases the carbon impact involved with shipping produce over large distances by operating within regulated settings.
This emphasis on sustainability is shared by governments and corporations that provide incentives and subsidies to promote indoor farming as an environmentally acceptable approach. As a result, the indoor farming business has established itself as a vital participant in solving serious environmental challenges while satisfying consumer demand for fresh, local food.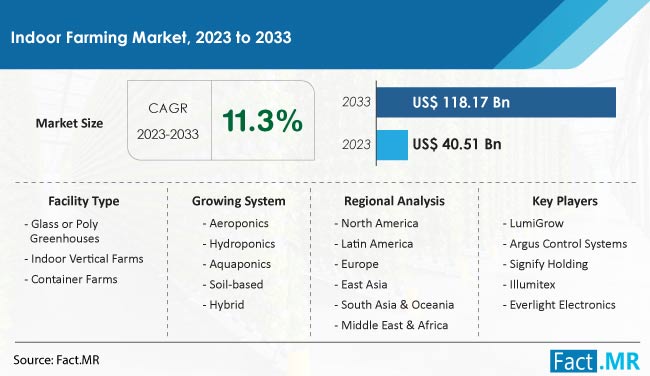 What's Hampering the Growth of the Indoor Farming Market?
"Heavy Dependence on Support Structures for Crops Necessitating Additional Investments"
Indoor farming has expanded the spectrum of crops that can be cultivated in controlled environments. However, certain crop varieties characterized by extensive root systems or large plant structures may pose challenges for efficient indoor cultivation. Spatial limits in indoor farming facilities may hinder the development of crops such as maize, wheat, or tall fruit trees, which require a lot of space to grow.
Crop limitation presents issues not just in terms of space, but also in terms of the economics of indoor farming. The physical constraints of indoor farming can limit the variety of crops that a facility can offer, affecting the market reach and competitiveness of indoor farming operations. While technology and creativity are addressing some of these constraints, crop selection remains an important factor for indoor farmers. To overcome crop limits, creative solutions such as genetic modification, dwarf varieties, and improved support structures must be prioritized.
More Insights, Lesser Cost (-50% off)
Insights on import/export production,
pricing analysis, and more – Only @ Fact.MR
What Strategies Must Start-ups Employ to Generate Increased Revenue Streams?
"Focus on Cutting-edge Technologies to Produce Indoor Farming Equipment"
Focusing on specialty crop production is a wise decision. Identifying unusual or high-value crops suitable for indoor farming, such as rare herbs, exotic vegetables, or specialist microgreens, can assist start-ups in differentiating themselves and creating a compelling value proposition for consumers.
Start-ups may ensure the quality and consistency of their produce by controlling the entire supply chain, from farming to distribution to retail. Working with established players in the agriculture sector, technology providers, or research institutions can provide start-up companies with access to knowledge, resources, and cutting-edge technology, thereby boosting their growth.
Adopting eco-friendly and sustainable farming practices corresponds with rising consumer demand for environmentally responsible solutions and has the potential to attract a larger customer base. Using cutting-edge technologies to innovate agriculture equipment, which helps streamline operations and differentiate the business such as automation, data analytics, and efficient lighting systems, can boost productivity and save expenses.
Country-wise Insights
The North American region held 24.8% of the global indoor farming market share in 2022. Asia Pacific accounted for 32.1% of the market share. Germany is projected to occupy 14.1% share of the European market by 2033, while the market in India is set to expand at a 6.9% CAGR through 2033.
According to the Food and Agriculture Organization of the United Nations, food output must rise by 70% before 2050 to meet the global food demand.
Why is the United States a Key Market for Providers of Smart Indoor Farming Systems?
"Focus on Sustainability & Technological Advancements and Government Incentives"
The market in the United States is projected to expand at 5.9% CAGR through 2033. The United States is positioned to play a crucial role in driving the expansion of the market. The country has a large and mature indoor farming sector, making it one of the world's top marketplaces for this new approach to agriculture. The indoor farming business in the United States has pioneered the way for best practices and new solutions, with a strong emphasis on sustainability, resource efficiency, and technology improvements.
Cities such as New York City and Chicago have experienced an increase in the number of vertical farming operations, in line with the global trends in the indoor farming market such as urbanization and the desire for fresh, locally produced produce in densely populated cities.
Government assistance and incentives help accelerate market expansion in the United States. Federal and state-level law supports sustainable agricultural techniques as a result of growing environmental awareness and a push for sustainable agriculture, making it financially attractive to farmers and investors.
The United States also has a large number of research institutions and agricultural technology providers, which fosters an ecosystem of innovation and knowledge sharing that pushes breakthroughs in the area.
According to the United States Department of Agriculture (USDA), vertical farming systems increased the average productivity of conventional lettuce cultivation.
Why is Demand for Indoor Farming Automation Accelerating in Japan?
"Increasing Need for Food Self-sufficiency and Rising Incorporation of AI in Farming"
Japan faces unique challenges such as limited arable land and a need for food self-sufficiency. Due to these circumstances, Japan has risen to the forefront of indoor farming innovation. Japanese indoor farms, particularly in metropolitan locations, have pioneered high-tech crop production technologies such as automation, agriculture robots, and artificial intelligence. Japan's competence in plant cultivation has resulted in significant investments in R&D in this industry, resulting in cutting-edge techniques that can be implemented globally.
The Japanese government actively promotes and supports indoor farming efforts, offering incentives, subsidies, and indoor farming research opportunities to both existing and start-up businesses. Emphasis on sustainability and ecologically friendly farming methods is consistent with the global trend toward environmentally responsible agriculture.
Know thy Competitors
Competitive landscape highlights only certain players
Complete list available upon request
Category-wise Insights
The flowers and ornamentals segment held 28.9% market share in 2022. During the projected period (2023 to 2033), the hardware segment is set to increase at a CAGR of 7.6%. Greenhouse sales accounted for 49.2% of the market in 2022 and are predicted to rise at 6.5% CAGR over the decade.
Which Indoor Food Growing System is Generating Significant Revenue Streams?
"Hydroponics Enabling Effective and Year-Round Production in Compact Spaces"
The hydroponics segment is projected to account for 49.9% of indoor farming market share in 2022 and rise at a CAGR of 6.5% over the next ten years.
The average yield of greenhouse hydroponic tomatoes in 2016 was 10.59 pounds per square foot, according to USDA data, whereas traditionally grown tomatoes yielded 185 pounds per square foot.
Hydroponic farming is a soil-free production method that relies on nutrient-rich water solutions to sustain plants, and it is gaining popularity in this quickly changing market due to many crucial characteristics. The hydroponics system greatly improves resource efficiency, using less water than traditional soil-based agriculture, this not only solves global water scarcity concerns but also correlates with sustainability goals.
The controlled and sterile atmosphere of hydroponics reduces the need for chemical pesticides, lowering environmental effects. These environmentally friendly characteristics are increasingly desired by both customers and regulators. Hydroponics enables the effective and year-round production of a diverse range of crops in a small space, from leafy greens and herbs to fruit plants. Because of its scalability and adaptability, it is an appealing solution for both large commercial indoor farming enterprises and smaller, urban farms, promoting market inclusion.
The ever-evolving innovation of the hydroponics segment, combined with its ability to reduce resource consumption, minimize environmental impact, and meet the growing demand for fresh, locally sourced produce, cements its pivotal role in shaping the future of indoor farming, as it continues to lead the market towards a more sustainable and efficient agricultural landscape.
Competitive Landscape
The competitive landscape of the indoor farming market is strong and diverse, with established firms and creative start-ups contending for prominence in this developing sector. AeroFarms, BrightFarms, Gotham Greens, and LumiGrow are some of the top companies in the indoor farming market and have received recognition for their important contributions and breakthroughs.
To preserve their market position, companies use cutting-edge technologies, sustainable methods, and broad crop portfolios. Simultaneously, newcomers to the industry frequently discover opportunities by focusing on specialized crops, sustainability, vertical integration, collaboration, and the latest innovations in the indoor farming industry. They try to distinguish themselves by specializing and emphasizing sustainable and environmentally conscientious farming practices.
The competitive landscape includes a wide range of businesses, ranging from traditional farming to precision farming market players expanding into controlled environment agriculture to tech-driven start-ups developing novel solutions and breaking ground in areas such as automation, data analytics, and enhanced lighting systems.
As the market evolves and expands, competition is anticipated to heat up, spurring innovation and propelling key developments in the indoor farming market for more efficient and sustainable indoor farming methods and technology.
Signify Holding acquired Fluence in May 2022 to provide indoor farming lighting solutions, bolstering Signify's position in the lucrative North American horticulture lighting market. Additionally, Signify Holding acquired Pierlite to strengthen its position in the lighting markets in Australia and New Zealand.
Aerofarms joined with Hortifrut SA, a designated B firm in Chile, in April 2021. The collaboration is intended to focus on blueberry and cranberry production in fully controlled vertical farms and indoor environments.
Segmentation of Indoor Farming Market Research
By Facility Type :

Glass or Poly Greenhouses
Indoor Vertical Farms
Container Farms
Others

By Growing System :

Aeroponics
Hydroponics
Aquaponics
Soil-based
Hybrid

By Component :

By Crop Type :

Fruits & Vegetables
Flowers & Ornamentals
Herbs & Microgreens
Others

By Region :

North America
Europe
Latin America
East Asia
South Asia & Oceania
Middle East & Africa
- FAQs -
The glass or poly greenhouses segment accounted for 49.2% share of the indoor farming market in 2022.
Sales of indoor farming solutions stand at US$ 40.51 billion in 2023.
Demand for indoor farming technology is forecasted to reach a market value of US$ 118.17 billion by 2033-end.
Revenue from indoor farming systems is projected to rise at a CAGR of 11.3% through 2033.
Asia Pacific accounted for 32.1% of market share in 2022.
Herbs and microgreens generate significant revenue streams for indoor farming solution providers.