Insulation Mineral Wool Market
Insulation Mineral Wool Market Analysis By Type (Glass Wool, Rock Wool, Others), By Product (Boards, Blankets, Panels), By Application (Building & Construction, Industrial, Transportation, Others), and By Region – Global Market Insights 2023 to 2033
Analysis of Insulation Mineral Wool Market Covering 30+ Countries Including Analysis of US, Canada, UK, Germany, France, Nordics, GCC countries, Japan, Korea and many more
Insulation Mineral Wool Market Outlook (2023 to 2033)
The global insulation mineral wool market is valued at US$ 19.1 billion in 2023 and is forecasted to reach US$ 31 billion by 2033, expanding at a CAGR of 5% from 2023 to 2033.
Mineral wool, a type of fiber used for insulation, is created using natural or manmade minerals or metal oxides. Fiberglass, ceramic fibers, and stone wool are examples of the synthetic form of this material, which is also known as synthetic materials. A mineral wool pipeline thermal insulation system is an active thermal insulation system or thermal barrier that circulates a cooling and heating medium while receiving low heat energy from the earth. This system is installed within the framework of an exterior building envelope.
The sector is being impacted by several developing trends that include a shift towards environmentally friendly insulation options, greater emphasis on recycling glass mineral wool insulation, and the development of lightweight and highly fire-resistant insulation materials. In addition, loft insulation is an effective heat-trapping barrier installed in the attic space that can be placed between the rafters or joists.
Roof insulation, on the other hand, is directly laid on the sloping roof, both above and beneath the rafters, as opposed to attic insulation mineral wool placed in the roof plane.
Knauf Insulation's mineral wool board with semi-oriented fibers is well-suited as an insulating core for wood wool solutions for walls and ceilings, thanks to its exceptional thermal insulation qualities and advantageous fire, acoustic, and mechanical properties.
The open cell structure of mineral wool causes it to have low heat conductivity. The thermal performance of a material is affected by the climate, making moisture content undesirable. To optimize thermal performance for most applications, manufacturers commonly provide hydrophobic additives to keep the moisture content of the material low. Despite its inability to completely prevent moisture from escaping, mineral wool's thermal efficiency may still be affected by its water content.
Report Attributes

Details

Market Size (2022)

US$ 18.2 Billion

Estimated Market Value (2023)

US$ 19.1 Billion

Forecasted Market Value (2033)

US$ 31 Billion

Global Market Growth Rate (2023 to 2033)

5% CAGR

China Market Growth Rate (2023 to 2023)

7.7% CAGR

Key Companies Profiled

Rockwool International AS
Johns Manville
Knauf Insulation
Owens Corning
Trelleborg
Saint Gobain
Hush Acoustics
Hodgson & Hodgson
Guardian Fiberglass
What are the Factors Driving Demand for Insulation Mineral Wool?
"Stringent Regulations Governing Fire Safety and Energy Efficiency in Construction Sector"
Globally, rising construction activity, strict government restrictions, and building rules for fire safety and energy efficiency are the main factors driving this industry. Increased building and remodeling activities will drive the growth of the insulation mineral wool market in the forecast period.
Due to the raw material's accessibility, simplicity of installation, durability, and capacity to be recycled, most construction companies utilize mineral wool products as insulation while building residential or commercial buildings. It is capable of resisting fire, reducing noise, and offering thermal insulation material. Also, it aids in preventing airflow brought on by climatic changes, which keeps the heat in the area reasonable. During the forecast period, it is anticipated that demand for mineral wool will expand due to the growth of the building sector.
Insulation sales saw a significant rise of 20% Y-o-Y in 2021, from US$ 2.1 billion to US$ 2.47 billion, as per a recent announcement made by Rockwool International. The increase in sales was primarily attributed to the heightened levels of residential construction and renovation activities observed during the year.
How is the Noise-reduction Property of Insulation Mineral Wool Benefitting Manufacturers?
"Increasing Need for Distraction-free Driving Experience Driving Demand for Insulation Mineral Wool from Automotive Sector"
Increase in the sales of mineral wool is driven by various factors, including its cost-effectiveness and advancements in insulation materials. Additionally, government programs aimed at boosting foreign direct investment facilitate the industrialization process and help expand the market share of mineral wool. The growing trend of creating acoustical environments to reduce noise pollution in workplaces and residential properties further contribute to the popularity of mineral wool and boosted its sales.
Mineral wool usage is driven by the demand for a comfortable internal climate in response to extreme weather conditions. The market is expanding due to the growing need for insulation mineral wool in marine, offshore, and defense applications. The aesthetic appeal of an improved finish is also contributing to the rising sales of mineral wool. Furthermore, mineral wool use is increasing due to the design of new products and the rapid technological advancements in the automotive industry, which aim to provide a distraction-free driving experience.
What is Restraining Demand Growth for Insulation Mineral Wool?
"Health Hazards Associated with Insulation Mineral Wool"
The demand for mineral wool is expected to be constrained by its potential health hazards.
In 2019, the EU released a report outlining concerns about health risks to homeowners and workers involved in the handling, installation, removal, or disposal of mineral wool as a building insulation material. Similar complaints surfaced in the United States and France, opposing the establishment of new mineral wool ventures and drawing attention to the health hazards faced by those living in close proximity to mineral wool manufacturers.
"Wide Availability of Low-cost and Eco-friendly Alternatives"
Easy access to alternative insulating materials is anticipated to restrain the sales of insulation mineral wool. The affordability of other lower-cost insulation products, especially those made from recycled paper, is affecting the demand for insulation mineral wool.
The most eco-friendly insulation option available is cellulose spray insulation, which is made up of 85% recycled material. This type of insulation is produced from recycled paper products, mainly newspapers, and is considered the most environmentally friendly insulation option currently available. Its minute and fibrous components allow it to fit into even the tiniest spaces.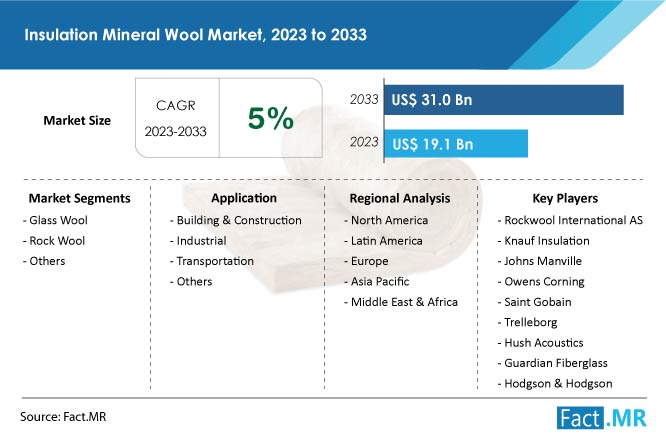 Country-wise Insights
Why is China a Lucrative Market for Manufacturers of Insulation Mineral Wool?
"Rapid Urbanization in China Driving Sales of Insulation Mineral Wool"
Asia Pacific is expected to occupy a leading share of the insulation mineral wool market during the forecast period due to rapid industrialization in the region.
Demand for insulation mineral wool in China is predicted to surge at a CAGR of 7.7% due to an increase in construction activities in the country driven by the growing population. The mineral wool market is expected to receive a boost from government initiatives aimed at renovating existing infrastructure in the country.
Demand for materials for remodeling and renovating is growing, alongside concerns about energy waste and increasing oil prices in China and India.
The emergence of developing economies such as China and India, coupled with the growth of the construction and industrial sectors, has created a favorable environment for global businesses to establish their manufacturing facilities in these countries due to lower production costs.
Why is Demand for Energy-efficient Residential Insulation Products Growing in the United States?
"High Demand for Residential Housing and Re-insulation Solutions"
The surge in demand for housing in the United States is a major factor driving the demand for residential insulation products Additionally, there is a significant push for residential building re-insulation due to many homes being under-insulated in an attempt to reduce energy costs. Insulation has become a necessity for nearly all manufacturing facilities and industries to operate efficiently.
According to a report by the United States government, the construction of more than 1.3 million privately held homes was completed in October 2022.
How is Demand for Insulation Mineral Wool Shaping Up in the United Kingdom?
"Government Initiatives to Promote Energy-efficient Insulation and Reduce Carbon Emissions"
During the forecast period, Europe is expected to hold a significant share of the global insulation mineral wool market. The United Kingdom is among the top European countries with the highest usage of house insulation materials. Many European countries have implemented regulations governing the types of insulation that can be used in homes based on the R-value of the material and the local climate.
The European Commission's Energy Performance of Buildings Directive (EPBD) focuses on the environmental impact of insulation materials, their usage, and their types.
Recently, residential insulation consumption has increased due to various government schemes, particularly in retrofitting.
Category-wise Insights
Which End-use Sector Accounts for High Sales of Insulating Mineral Wool?
"Building & Construction Sector Generating High Demand for Insulating Mineral Wool Due to Its Cost-effectiveness"
Demand for insulation mineral wool from the building and construction sector is expected to progress at a CAGR of 6.9% through 2033.
Segment growth is attributed to factors such as accelerated urbanization, changing social patterns, and increased consumer spending on sustainable construction, which will greatly increase the usage of mineral wool in this industry. Mineral wool is considered the most cost-effective insulation material for use in building and construction.
Which Type of Mineral Wool is Widely Used for Insulation Purposes?
"Glass Wool Widely Used Due to Excellent Sound Barrier Properties"
Demand for glass mineral wool is anticipated to expand at a CAGR of 6.3% from 2023 to 2033. Due to its low cost, fire resistance, and ease of installation, glass wool is the most widely used insulating material. This type of mineral wool is also referred to as sound insulation mineral wool because it helps prevent external noise, restrict the transfer of heat and cold, and maintain a stable temperature within the room.
The 'heat transfer average distance' will decrease with an increase in insulation density, which will also result in a decrease in the thermal conductivity of mineral wool. Increasing the mass of the same volume of material can improve its ability to conduct heat through solids, which can counteract the insulating effect. Glass wool is relatively strong and durable and can be easily cleaned. This is expected to drive the growth of the insulation mineral wool market during the forecast period.
Competitive Landscape
Companies in the insulation mineral wool market, including organizations, sole proprietors, and partnerships, focus on innovation and investments to enhance their sales. Insulation mineral wool is made from a carefully regulated blend of raw elements, such as stone or silica, and is then melted at a particular temperature to produce an elastic fiber mat.
Mineral wool can be molded into different shapes and covered with a variety of sheet materials. Mineral wool rolls contain loose granular material used for blown insulation of brick slabs, hollow walls, and wall slabs. These rolls are utilized to insulate ceiling tiles, acoustic panels, and pre-formed and faced pipe segments in residential structures.
In July 2021, John Manville (JM), which is a Berkshire Hathaway company and a global manufacturer of energy-efficient insulation and industrial thermal conductivity enhancement products, announced the introduction of a new range of water-repellent mineral wool industrial insulators. This is expected to be a significant market trend, as the company has introduced a full line of products including v-groove pipe, industrial board, comforters, and fittings.
Key players in this market are expected to increase the adoption of commercial strategies such as mergers and acquisitions to drive market expansion.
An example of this is SPI's acquisition of Bigham Insulation Supplies, GLT, NewStar, Rocky Mountain Construction Wholesale, and Thermaxx Jackets in May 2021. SPI invests in architecture and online platforms to provide services to customers in a timely and convenient manner.
Key Segments of Insulation Mineral Wool Industry
By Type :

Glass Wool
Rock Wool
Others

By Product :

By Application :

Building & Construction
Industrial
Transportation
Others

By Region :

North America
Latin America
Europe
Asia Pacific
Middle East & Africa
- FAQs -
The global insulation mineral wool market is valued at US$ 19.1 billion in 2023.
Global demand for insulation mineral wool is expected to rise at a CAGR of 5% from 2023 to 2033.
Worldwide sales of insulation mineral wool are anticipated to reach US$ 31 billion by 2033.
Demand for insulation mineral wool from building & construction is predicted to surge at a 6.9% CAGR through 2033.
Saint Gobain, Knauf Insulation, and Trelleborg are key manufacturers of insulation mineral wool.