Insulin Pumps Market
Insulin Pumps Market Size, Growth, Share, Trends, Forecast Analysis, By Type (Tethered Pumps, Patch Pumps), By Accessory (Infusion Set Insertion Devices, Insulin Reservoirs / Cartridges, Batteries), By End User (Laboratories, Homecare) & By Region - Global Market Insights 2022-2032
Analysis of Insulin Pumps Market Covering 30+ Countries Including Analysis of US, Canada, UK, Germany, France, Nordics, GCC countries, Japan, Korea and many more
Insulin Pumps Market Outlook (2022-2032)
The global insulin pumps market is valued at US$ 6.18 billion by 2022. Worldwide sales of insulin pumps are predicted to rise at a high CAGR of 8% and reach US$ 13.34 billion by the end of 2032.
Insulin pumps are classified into tethered pumps and patch pumps. Demand for patch pumps is expected to increase faster at a CAGR of 10% from 2022 to 2032.
Insulin patch pumps are effective insulin delivery equipment because they are more discrete, smaller, and simpler to use than traditional insulin pumps. Furthermore, insulin patch pumps are more reasonably priced than traditional insulin pumps, which ultimately boosts their demand.
Patch insulin pumps are connected to the skin with an adhesive coating and require less supervision because of their superior technology. A majority of the time, these pumps are connected to the body for continuous blood glucose monitoring.
Traditional vial-syringe combinations are projected to be replaced in this field by technological developments and the application of artificial intelligence.
Additionally, patch pumps have built-in calculators that aid in figuring out the precise amount of insulin that patients need. This aids in minimizing the adverse consequences of insulin overdose and other related factors. During the projected period, these elements are probably going to boost the insulin pumps market share.
Insulin pumps are small, digital devices that are designed to deliver the necessary doses of insulin to diabetic patients. An insulin pump is also known as a type of intravenous infusion pump. Implantable insulin pumps are those connected inside the body.
The production of insulin pumps has increased and improved in recent years to suit the growing demand from the diabetic population for portable insulin delivery systems.
The main driving force of this business is the global increase in the prevalence of diabetes. The advancement of insulin pumps by the integration of intelligent technologies such as machine learning (ML) and artificial intelligence (AI) is another significant growth factor.
The popularity of advanced insulin pump devices and technologies over conventional ones is increasing, thus influencing sales growth. For those who need to inject multiple doses of insulin daily, insulin pumps are quite convenient. Since these pumps are less invasive, a larger portion of the patient population uses them.
The rising senior population with several health issues, increasing diabetes incidence, and rising patient pool with obesity are likely to boost the growth of the insulin pumps market. Also, top companies are creating next-generation insulin pumps with cutting-edge technologies to offer improved compliance and interface with IT equipment, which is boosting the demand for insulin pumps.
Ypsomed AG upgraded its mylife YpsoPump system's set of features, in July 2021. Due to the collaboration between Ypsomed AG and Dexcom people with diabetes can continuously manage their therapy via their smartphone due to the app-based interface of Dexcom G6 Continuous Glucose Monitoring (CGM) System.
MySugr Pump Control was introduced in May 2021 by F. Hoffmann-La Roche Ltd. MySugr Pump Control enables patients to directly operate an insulin pump via smartphone.
Report Attributes

Details

Insulin Pumps Market Size (2022E)

US$ 6.18 Billion

Forecasted Market Value (2032F)

US$ 13.34 Billion

Global Market Growth Rate (2022-2032)

8% CAGR

China Market Growth Rate (2022-2032)

7.5% CAGR

Share in Insulin Delivery Devices Market (2022)

39.5%

Key Companies Profiled

Debiotech S.A.
F. Hoffmann-La Roche Ltd.
Insulet Corp.
Medtronic Plc.
Sooil Development Co. Ltd.
Tandem Diabetes Care Inc.
Valeritas Inc.
Ypsomed Holding AG
Know thy Competitors
Competitive landscape highlights only certain players
Complete list available upon request
Which Market Trends are Accelerating Sales of Insulin Pumps?
"Rising Worldwide Prevalence of Type 1 & Type 2 Diabetes"
In both industrialised and emerging nations the cases of diabetic patients are rising quickly. Obesity and a sedentary lifestyle are a couple of the reasons contributing to the rising prevalence of diabetes.
Approximately 90%-95% of people with diabetes worldwide have type 2 diabetes. Furthermore, there is a desire for innovative management strategies due to the rising rates of type 2 diabetes diagnoses and treatment.
Demand for insulin pumps is also being fueled by the increasing number of type 2 diabetic patients who are insulin-dependent and by the switch of patients from multiple daily injections to painless & alternative treatments.
Intelligent technologies, including AI, have quickly influenced the healthcare IT sector and are currently making steady progress in the management of diabetes. The need for effective and AI-enabled insulin pumps and other automated insulin pump systems for type 2 diabetes is expected to generate opportunities in the insulin pumps market.
According to the IDF Diabetes Atlas 2021 report, 537 million people between the ages of 20 and 79 are living with diabetes worldwide. Furthermore, it is predicted the number will reach 643 million by 2030.
Furthermore, as people age, the chance of developing diabetes rises. Thus, the prevalence of age-related diseases such as glaucoma, cataracts, hypertension, and diabetes is rising.
For instance, the Endocrine Society predicts that by 2022, 33% of people 65 and older will have diabetes.
Also, the number of people with type 1 diabetes is increasing worldwide, creating a sizable patient population that needs insulin to control their condition. The growth of the insulin pump market is anticipated to be fueled by increasing patient awareness of insulin pumps among diabetics and the advantages of disease management.
"Major Players Emphasizing on Production of Advanced Insulin Pumps"
The market participants are concentrating on R&D for the production of technologically sophisticated insulin pumps in response to the growing demand for insulin pumps among diabetic patients in developed and emerging nations.
Research and development have been supported by numerous clinical studies that demonstrate persistent glucose control improvement in type 2 diabetes patients receiving insulin pump therapy compared to those receiving multiple daily injection therapy.
For instance, to fulfil the demands of patients with type 1 and type 2 diabetes, Tandem Diabetes Care, Inc. focuses on creating insulin delivery device solutions.
Tandem Diabetes Care, Inc. has several products under development, including Mobi: Tubeless, Mobi, and t:slim X3.
The MiniMed 780G, a new "Advanced Hybrid Closed Loop" device, was unveiled by Medtronic. These pumps offer notable features such as Bluetooth connectivity, automatic correction boluses, and configurable glucose target characteristics, and are connected with Guardian Connect CGM, which is positioned to transform diabetes management.
Electronic insulin pumps are preferred by both doctors and patients due to their advanced features. This can be linked to the fact that newer generation pumps are more practical, secure, and accurate than older ones.
By communicating with the medical staff and exchanging data, patients may take care of their health issues due to the anytime, anywhere characteristics of digital technologies. The aforementioned elements are anticipated to fuel the sales of insulin pumps.
Which Factors are Negatively Impacting Demand Growth of Insulin Pumps?
"High Costs Associated with Insulin Pump Therapy"
The high cost of insulin pump therapy is likely to hinder sales growth over the forecast period.
The cost of insulin pump therapy is said to be about 30% more expensive than the multiple daily injections for diabetic patients, according to an article from Mdedge.
As a result, insulin pump therapy is more expensive than multiple daily injections. Additional expenses for consumables such as batteries, sensors, and other items are included in the price of these pumps.
For instance, the OEM pricing of insulin pumps in the United States is around USD 3,839.6 per year, while the cost of consumables is approximately USD 1,067.0 per year (OEM price). The price may differ according to the pump size, brand, and other factors.
Furthermore, weak reimbursement rules in developing nations and a lack of knowledge about diabetes treatment options are some of the reasons limiting sales of insulin pumps in emerging nations.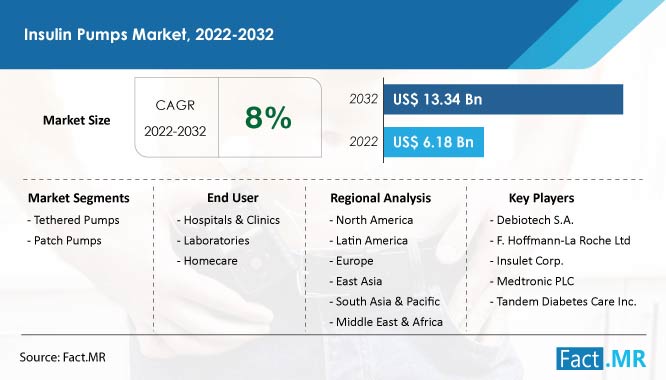 What is the Start-up Ecosystem Outlook for the Insulin Pumps Market?
"New Players Focusing on Manufacturing Insulin Delivery Devices"
Business practices vary throughout time, sometimes as a consequence of market shifts or as a result of technological advancements, which lead to the introduction of exciting new trends.
The start-up ecosystems from across the globe are regularly monitored by Fact.MR, and the following are some developments in the market for insulin pumps.
Founded in 2019, CeQur is a Swiss company that creates wearable insulin delivery patches. The business has created CeQur Simplicity, a wearable insulin patch that provides mealtime insulin without the need for injections. It is a 3-day bolus device. Under the skin, rapid-acting insulin is delivered by the device, which is made of a cannula.
More Insights, Lesser Cost (-50% off)
Insights on import/export production,
pricing analysis, and more – Only @ Fact.MR
Which is the Dominating Regional Market for Insulin Pumps?
"Presence of Major Players in North America Aiding Production of Advanced Insulin Pumps"
North America currently dominates the global market for insulin pumps. This can be attributed to the presence of major manufacturers producing improved tubeless insulin pumps, awareness about diabetes, and the presence of advanced healthcare facilities.
The market in Europe will primarily be fueled by the increased incidence of diabetes.
The World Health Organization (WHO) estimates that 60 million people in European countries have diabetes and that the illness causes over 3.4 million fatalities each year across the region.
Thus, this is likely to increase the demand for insulin pumps and other diabetes care tools in European countries such as Germany, Spain, the U.K., France, and Italy.
Demand for insulin pumps in the Asia Pacific region is predicted to increase at a significant CAGR during the forecast period. In Asian countries such as Japan, China, and South Korea the demand for insulin pumps is increasing due to the rising prevalence of diabetes and technological advancements in insulin pumps.
Insulin pump demand in Latin America and MEA is expected to rise at a steady CAGR during the forecast period.
Country-wise Analysis
How is Demand for Insulin Pumps Expected to Shape Up in Japan?
"Rising Rate of Senior Population with Diabetes"
Older people are more likely to have diabetes in their lifetime. The rising rate of the senior population, sedentary lifestyle, and growing prevalence of diabetes is expected to boost demand for insulin pumps in Japan.
According to a report published by the Japan times, since 1950, the proportion of older adults (those over 65) in Japan has been rising, and it is predicted that by 2040, it would account for 35.3% of the country's total population.
Thus, demand for insulin delivery systems is expected to increase during the forecast period.
What is Supporting Sales of Insulin Pumps in the United States?
"Rising Spending Power on Healthcare & Availability of Advanced Insulin Pumps"
Diabetes care products are being used more often in the U.S, due to the rising prevalence of diabetic patients and growing healthcare spending.
According to the Academy of Managed Care Pharmacy, insulin pumps in the United States cost those without insurance between USD 4,500 and USD 6,500. The cost varies according to the brand, size, and features of the pump.
The Accu-Chek Spirit Insulin Pump, for instance, has a price tag of roughly USD 4,600 and has few capabilities, such as software that enables readings to be transferred to a personal digital assistant (PDA).
With a suggested retail price of around US$ 5,200 and more functions, such as continuous glucose monitoring, the Minimed Paradigm 522 is more expensive.
Some insurance policies can cover the cost of pumps. Patients with insurance can often anticipate spending between USD 5 to half of the total cost of the pump in co-pays and coinsurance. Despite costs, American diabetics utilize insulin delivery systems more often.
Thus, there is a significant demand for insulin pumps in the United States due to the growing number of diabetes patients and the availability of technologically improved diabetes care products.
Category-wise Analysis
Which End User Accounts for Most Sales of Insulin Pumps?
"Hospitals & Clinics Handsomely Lead Demand for Insulin Pumps"
Based on end users, hospitals and clinics currently dominate the sales of insulin pumps and this dominance is predicted to remain the same during the projected period. This can be ascribed due to the presence of qualified medical experts, rising government financing, and growing private-sector's investments in the healthcare industry.
Also, the presence of speciality hospital pharmacies and advanced medical products is boosting product sales growth.
Don't Need a Global Report?
save 40%! on Country & Region specific reports
Competitive Landscape
Key players in the insulin pumps market are investing in research and development to manufacture advanced insulin pumps.
Medtronic, one of the major players, maintains a commanding position with a broad selection of insulin pumps and supplies for the treatment of diabetes. The regulatory agencies' increased approval for products also contributes to the company's expansion.
Other market participants with a substantial global presence include Insulet Corporation, Tandem Diabetes Care, Inc., F. Hoffmann-La Roche Ltd., and Ypsomed AG. Their development is being aided by the growing number of product approvals for insulin pumps and the strategic choices made by them.
Insulet Corporation, a pioneer in tubeless insulin pump technologies and products, announced on June 2, 2022, that it will invest roughly USD 200 million over the following five years in its planned production plant in Johor. By doing this, the business would be able to create its Omnipod Insulin Management System as part of its goal to improve its global manufacturing capabilities.
Key Segments in Insulin Pumps Industry Research
By Type:

Tethered Pumps
Patch Pumps

By Accessory:

Infusion Set Insertion Devices
Insulin Reservoirs / Cartridges
Batteries

By End User:

Hospitals & Clinics
Laboratories
Homecare

By Region:

North America
Latin America
Europe
East Asia
South Asia & Oceania
MEA
- FAQs -
The market for insulin pumps is currently valued at US$ 6.18 billion and is expected to reach US$ 13.34 billion by 2032.
Global demand for insulin pumps is predicted to rise at a CAGR of 8% from 2022 to 2032.
North America currently dominates global sales of insulin pumps.
Rising prevalence of diabetes, growing sedentary lifestyle, and availability of technologically advanced diabetes care products are driving market growth.
The global insulin pumps market was valued at US$ 5.72 billion in 2021.
Key manufacturers of insulin pumps are F. Hoffmann-La Roche Ltd., Insulet Corp., Debiotech S.A., Medtronic Plc., Tandem Diabetes Care Inc., Sooil Development Co. Ltd., Valeritas Inc., and Ypsomed Holding AG.