Global Breast Pumps Market Poised to Expand Positively, on back of Rising Women Workforce
Over the past few years, there has been an uptick in the number of professionally working women across the world. Most corporate and non-corporate organizations have been increasingly recruiting women for high-paying jobs, which require them to put in significant efforts. This often leaves young mothers with little time to spend with their infants. Since infants require regular breast milk intake, the popularity of breast pumps is anticipated to surge.
On the back of this trend, the global breast pumps market is projected to expand healthily during the forecast period (2020-2025). A staggering CAGR of 9.4% is anticipated for the global breast pumps market. However sales of pumps are expected to dip in the next two quarters as many women are working from home due to COVID-19 pandemic and can easily breastfeed their babies. Rising insurance coverage for breast pumps, growth in awareness about breastfeeding and advancements in breast pump technologies are also poised to steer the global breast pumps market towards a positive growth trajectory.
However, the recent COVID-19 pandemic may limit the amount of sales of breast pumps, owing to a large population of the women workforce working from home, thus sparing them the time to breastfeed their infants.
Double-electric Breast Pumps to Dominate, Single-electric Pumps to Follow
Double-electric breast pumps shall capture a major chunk of the global breast pumps market during the forecast period. Projections anticipate a robust CAGR of 10.4%. This is attributed to significant investments made by key global players in the development of advanced double-electric breast pumps. For instance, in 2017, Willow launched its hands-free, cordless wearable breast pumps which easily fits in the chest and pumps breast milk without making any noise. Moreover, adequate insurance coverage from public and private sectors are anticipated to propel market growth.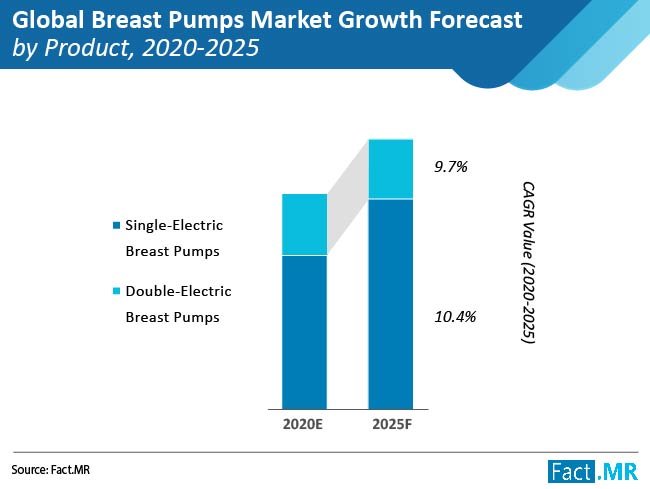 To know more about the breast pumps market, ask an analyst here
At the same time, single-electric breast pumps are anticipated to be equally popular. Favorable features such as portability, potency, fast pumping ability and low cost are anticipated to be major drivers behind the surging popularity of single-electric breast pumps. The single-electric breast pumps segment is forecast to expand 1.7x, capturing over two-fifths of the global breast pumps market.
North America to Retain Market Dominance, Asia-Pacific to Emerge as a Lucrative Market
North America is poised to dominate the global breast pumps market. Growing healthcare expenditure, rise in government contribution to promote breastfeeding and a rigid maternity leave policy by companies are prompting women to rely increasingly on breast pumps to feed their infants. The North American breast pumps market is anticipated to capture over 2/5th of the global breast pumps market, expanding robustly at a CAGR of 9.8% throughout the forecast period. The double-electric breast pump segment is forecast to find increased usage among North American women.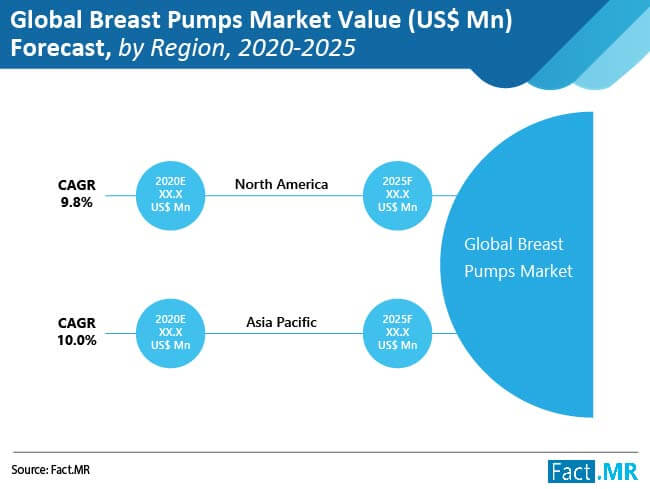 For detailed regional insights on breast pumps market, request for a report sample here
Asia-Pacific is set to grow the fastest among all the regions. A staggering CAGR of 10.0% is anticipated for the Asia-Pacific breast pumps market. A high birth rate, increasing disposable income and burgeoning working women population are projected to steer the market towards positive growth during the forecast period. Moreover, leading manufacturers are looking to penetrate the Asia-Pacific market, owing to the large population pool.
Manufacturers to Focus on Digital Apps and Advanced Technologies
The global breast pumps market consists of a large number of important market players. These are: Medela LLC, Pigeon Group, Koninklijke Philips N.V, Ameda, Inc., Ardo Medical AG, Evenflo Feeding, Inc. and Mayborn Group Limited (Shanghai Jahwa Co. Ltd.) to name a few. Conducting extensive education programs to capture large consumer base, entry into lucrative markets with new distribution networks and expanding direct and indirect sales activities are key strategies adopted by market players to establish their footprint.
Medela LLC, the leading market player, relies on digital media to communicate directly with consumers. Its MyMedela App provides assistance in meeting daily breastfeeding goals with personalized content, an activity tracker, pumping tips and interactive checklists. Besides this, it also manufactures the Harmony Manual Breast Pump and Sonata Smart Electric Breast Pump among others.
Pigeon Group is considered one of the leading players in the global breast pumps market. Its product portfolio includes the Pigeon Manual Breast Pump with Glass Shield, the Pigeon C Type Silent Electric Breast Pump and Lansinoh Smartpump Double Electric Breast Pump. The company also conducted maternity seminars for women in 2016 to spread awareness about breastfeeding to working women.
COVID-19 Market Insights:
Although new-born infants may not be at an immediate risk of being infected by the COVID-19 virus from breastfeeding, practitioners recommend that the mother and doctors take basic precautions. According to the CDC, when a COVID-19 positive mother gives birth, the baby may be temporarily separated from the mother. In such cases, expressed breast milk can be provided to the infant using a breast pump. The pump must be disinfected and cleaned prior to being used.
The increased usage of breast pumps in the wake of rising precautionary measures shall drive the market growth of the breast pumps market. However, the market is anticipated to witness a moderate decline in sales, attributed to a rising number of women employees working from home which leaves them with time to feed their babies. Before feeding the infants, the mothers must take basic precautions, such as washing their hands before touching the baby, wearing a face mask while breastfeeding and sterilizing the breast pump if they own it.
Global Breast Pumps Market - Scope of the Report
The recent study by Fact.MR on global breast pumps offers a 5-year forecast between 2020 and 2025. The study analyzes crucial trends that arecurrently determining the growth of the global breast pumps market. This reportexplicates on vital dynamics such as the drivers, restraints and opportunities for key market players along with key stakeholders as well as emerging players associated with the manufacturing of breast pumps. The study also provides dynamics that are responsible for influencing the future status of the global breast pumps market over the forecast period.
A detailed assessment of the global breast pumps market value chain analysis, business execution, and supply chain analysis across the regional markets has been covered in the report. A list of prominent companies operating in the global breast pumps market along with their product portfolio enhances the reliability of this comprehensive research study.
Global Breast Pumps Market: Report Summary
The study offers a comprehensive analysis on diverse features including production capacities, demand, product developments, revenue generation and sales in global breast pumps marketacross the globe.
A comprehensive estimate of the global breast pumps markethas been provided through an optimistic as well as a conservative scenario, taking into account the sales ofbreast pumps during the forecast period. Price point comparison by region with global average price is also considered in the study.
Global Breast Pumps Market Segmentation
Fact.MR has studied the global breast pumps market with detailed segmentation on the basis of product, application and regions.
| | | |
| --- | --- | --- |
| Product | Application | Region |
| Single Electric Breast Pumps | Hospital Grade | North America |
| Double Electric Breast Pumps | Personal Use | Europe |
| Manual Breast Pumps | | Asia Pacific |
| | | Latin America |
| | | Middle East & Africa (MEA) |
"This taxonomy prepared is confidential and intended exclusively for the individual or entity with whom it is being shared. Reading, disseminating, distributing, or copying this to any party other than addressee(s) is unauthorized and prohibited."
Global Breast Pumps Market: Analysis on Market Size Evaluation
The global breast pumps has been analyzed for each market segment, in terms of value (US$ Mn).
Market estimates at global and regionallevels for breast pumps market is available in terms of "US$ Mn" for value. A Y-o-Y growth contrast on prominent breast pumps market segments, along with market attractiveness evaluation has been incorporated in the report.
Global Breast Pumps Market: Inspected Assessment on Regional Segments
Key sections have been elaborated in the global breast pumps marketreport, which havehelped to deliver projection on the regional markets. These chapters include the regional macros (economic, and business environment outlook), which are expected to have a momentous influence on the growth of the global breast pumps market during the forecast period.
Country-specific valuation on demand for breast pumps has been offered for each regional market, along with the market scope, estimate and forecast, price index, and impact analysis of dynamics of prominence in regions and countries. For all regional markets, Y-o-Y growth estimates have also been incorporated in the report.
Detailed breakup in terms of value for emerging countries has also been included in the report.
Global Breast Pumps Market: In-Depth Analysis on Competitive Landscape
The report sheds light on the leading manufacturers of global breast pumps marketalong with their detailed profiles. Essential and up-to-date data andinformation related to the market performers, who are principally engaged in the production of breast pumps, has been brought with the help of a detailed dashboard view. Market share analysis and comparison of prominent players provided in the report permits the report readers to take preemptive steps in advancing their businesses.
Company profiles have been included in the report, which includes essentials such as product portfolio, key strategies along with all-inclusive SWOT analysis on each player. Company presence is mapped and presented through the matrix for all the prominent players thus providing the readers with actionable insights, which helps in thoughtfully presenting market status, and predicting the competition level in the global breast pumps market. Prominent manufacturers with established market presence in the global breast pumps marketareMedela LLC, Pigeon Group, Koninklijke Philips N.V, Ameda, Inc., Ardo Medical AG, Evenflo Feeding, Inc. and Mayborn Group Limited (Shanghai Jahwa Co. Ltd.) among others.
Fact.MR offers custom research services that help clients to get specific research solutions
We are committed towards customer satisfaction and quality service.
---
Our Clients

Breast Pumps Market Forecast, Trend Analysis & Competition Tracking - Global Market Insights 2020 to 2025