Ion Chromatography Market
Ion Chromatography Market Analysis By Technology (Ion-exchange Chromatography, Ion-exclusion Chromatography, Ion-pair Chromatography), By Application (Environmental Testing, Pharmaceutical Industry, Food Industry, Chemical Industry), & By Region – Global Market Report 2023 to 2033
Analysis of Ion Chromatography Market Covering 30+ Countries Including Analysis of US, Canada, UK, Germany, France, Nordics, GCC countries, Japan, Korea and many more
Ion Chromatography Market Overview (2023 to 2033)
The global ion chromatography market size is valued at US$ 3.05 Billion in 2023, and is projected to reach US$ 7.2 Billion by 2033-end, expanding at a compound annual growth rate (CAGR) of 9.2% during the forecast period from 2023 to 2033.
Ion chromatography, also known as ion-exchange chromatography, is a chromatographic approach utilized for the separation of polar molecules and ions. This separation relies on their similarity to an ion exchanger. The method considers the electrical charge of molecules, including both negatively and positively charged chemical groups, and employs a linear gradient to augment salt concentration.
Mixed-mode chromatography resins are specialized stationary phases used in chromatographic techniques that combine multiple modes of interaction for the separation and purification of biomolecules and other compounds. The widespread use of ion chromatography in the food and beverage (F&B) industry for accurate analysis and detection of a variety of ingredients, quality attributes, water sensitivity, and content in food products are a few of the major drivers for ion chromatography market growth.
The pharmaceutical and biotechnology sectors extensively rely on ion chromatography techniques for the quantitative analysis of medicines, biomarkers, pharmacokinetics, proteomics, and characterization of new pharmaceutical substances, which aids market growth.
Various governments around the world have initiated favorable measures to combat counterfeit products and ensure compliance with authenticity and safety standards, serving as another catalyst for market growth. Additionally, there is a growing demand for ion-exchange chromatography (IEC) for pre-concentration of trace solution components and for performing water purification activities, further boosting market dedmand.
Metal ion chromatography is a specialized chromatographic technique used to separate and analyze metal ions in a sample. This analytical method is particularly valuable in various fields, including chemistry, environmental science, and biochemistry. Metal ions play essential roles in many chemical processes and biological systems, and their precise analysis is crucial for understanding these processes and ensuring product quality and safety in various industries.
Silver ion chromatography is a specialized chromatographic technique used for the separation and analysis of various species, particularly organic compounds, and ions, based on their interaction with silver ions. This technique relies on the unique properties of silver ions to form complexes with certain analytes in a sample.
The study 'Non-aqueous Ion-Exchange Chromatography Using High Acid-base Concentration: A Strategy for Purifying Non-crystalline Pharmaceutical Intermediates', published in March 2021, utilized ion-exchange chromatography (IEX) with non-aqueous mobile phases to purify a non-crystalline intermediate obtained through reductive amination with D-xylose.
This process enhanced the intermediate's strength and purity, facilitating successful downstream processing. As a result of its significant role in pharmaceutical production, the utilization of ion chromatography in the pharmaceutical industry is expected to fuel market growth.
Report Attributes
Details
Ion Chromatography Market Size (2022A)
US$ 2.8 Billion
Estimated Market Value (2023E)
US$ 3.05 Billion
Forecasted Market Value (2033F)
US$ 7.2 Billion
Global Market Growth Rate (2023 to 2033)
9.2% CAGR
Ion-exclusion Chromatography Segment Growth Rate (2023 to 2033)
7.8% CAGR
Ion-exchange Chromatography Segment Growth Rate (2023 to 2033)
6% CAGR
China Market Growth Rate (2023 to 2033)
6.7% CAGR
Key Companies Profiled

Bio-Rad Laboratories Inc.
Agilent Technologies Inc.
Metrohm AG
Mitsubishi Chemical Corporation
Danaher Corporation (Cytiva)
Qingdao Luhai
Thermo Fisher Scientific
Qingdao Puren Instrument
Tosoh Bioscience
Don't Need a Global Report?
save 40%! on Country & Region specific reports
What's Promoting Worldwide Adoption of Ion Chromatography?
"Surging Monoclonal Antibody Usage and Need for Ion Chromatography in Water Analysis"
Protein A affinity chromatography is associated with higher costs, resulting in an overall more expensive process. Efforts are underway to enhance cost-effectiveness in this process, and one of the most successful approaches involves employing two-column ion exchange chromatography. The global ion chromatography market is being propelled by the increasing adoption of ion exchange chromatography for purification and the rising demand for monoclonal antibodies.
Monoclonal antibody usage has surged, with estimates suggesting that mAbs and their variants constitute more than a third of all biopharmaceuticals in development, including vaccines and gene therapy. The purity of biopharmaceutical products is of utmost importance, as any impurity can significantly impact the body's response to the medication, potentially leading to unwanted complications. Typically, a three-column chromatography technique is employed to achieve the high level of purification required.
Ion chromatography is a widely used analytical technique for water analysis. It is especially valuable for determining the concentration of ions and polar molecules in water samples. An essential benefit of ion exchange chromatography is its singular interaction in the separation process, where the analytical species interacts solely with the stationary phase. Due to its extensive range of applications and its connections to various markets, ion exchange chromatography holds a leading market share.
"Increasing Adoption of Artificial Intelligence and Automation for Chemical Analysis"
Technology plays a crucial role in enhancing product development and refinement. Progress in ion chromatography represents a crucial opportunity for market players, addressing a wide array of applications, notably environmental and chemical analysis. Moreover, the world is witnessing increased adoption of artificial intelligence and automation, promising significantly swifter and more accurate data analysis when these technologies are synergistically employed.
Combustion ion chromatography (CIC) is a specialized analytical technique that combines combustion with ion chromatography to measure and analyze the concentrations of various combustion-related gases and compounds.
Recent progress and increased simplicity in ion chromatography procedures are expected to contribute positively to the market's growth rate in the forecast period. Notably, innovations such as the introduction of novel organic polymers, diameter reduction of chromatographic tubes, enhanced ion exchange capabilities, improved column efficiency, incorporation of new chemical layers in columns, the advent of reagent-free ion chromatography (IC), and use of monolithic columns for liquid chromatography are driving market expansion.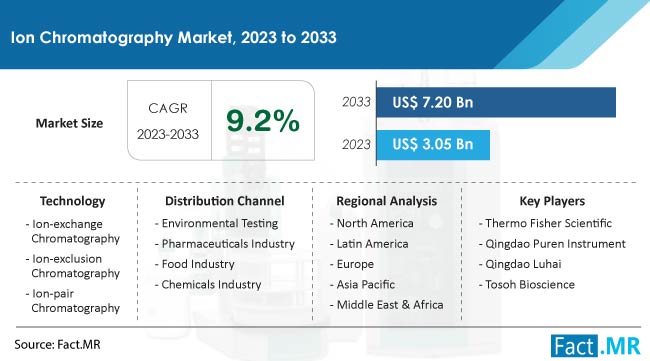 What are the Primary Hurdles Faced by Providers of Ion Chromatography Equipment?
"Substantial Initial Setup Costs and Specialized Training and Expertise Requirements"
The initial setup costs for ion chromatography equipment and ongoing operational expenses can be substantial. This cost factor may deter smaller laboratories or organizations with limited budgets from adopting ion chromatography solutions.
Ion chromatography often requires specialized training and expertise to operate and interpret results accurately. A shortage of skilled professionals or the need for extensive training can impede its widespread adoption. Certain sample matrices may pose challenges in ion chromatography, requiring additional sample preparation steps or limiting the technique's applicability. Compatibility issues can hinder its use in specific analytical tasks.
"Technological Limitations of Ion Chromatography Instruments"
Technological limitations of ion chromatography instruments, such as detection sensitivity, speed, or compatibility with certain analytes, can restrict their use for particular applications. Alternative analytical techniques, such as mass spectrometry or high-performance liquid chromatography (HPLC), may offer advantages in specific scenarios. Preference for these techniques can limit demand for ion chromatography equipment.
Regulatory requirements in various industries, particularly pharmaceuticals and environmental monitoring, are stringent. Meeting these regulations and ensuring data accuracy through ion chromatography can be challenging and may slow down adoption.
More Insights, Lesser Cost (-50% off)
Insights on import/export production,
pricing analysis, and more – Only @ Fact.MR
Country-wise Insights
Fact.MR's analysis indicates that both China and the United States will present lucrative opportunities for market participants in the years ahead.
What Opportunities Await Providers of Ion Chromatography Solutions in the United States?
"Comprehensive Regulations Governing Environmental Monitoring and Food Analysis"
Ion chromatography has become a widely utilized technology in the United States, finding applications across diverse sectors such as final production testing, pharmaceuticals, environmental monitoring, food analysis, and beyond. The United States Pharmacopeia (USP), a non-governmental, not-for-profit organization funded through the sale of publications like USP-NF and reference standards, plays a crucial role in establishing standards for the use of ion chromatography in pharmaceutical applications.
Several organizations, including the United States Environmental Protection Agency (USEPA), the American Society for Testing and Materials (ASTM), and the Association of Official Analytical Chemists (AOAC), are contributing to market growth in the country. These entities are actively involved in the development of standards and regulatory methods of analysis for various ion chromatography applications.
Why are Ion Chromatography Solutions in High Demand in China?
"Pollution Concerns Prompting Ion Chromatography Equipment Use for Environmental Monitoring"
The market in China is forecasted to expand at a CAGR of 6.7% from 2023 to 2033.
The Asia Pacific region presents lucrative prospects for leading players in the ion chromatography market. The market in this region is projected to expand at a significant pace throughout the forecast period. This is attributed to the expanding healthcare infrastructure and increasing disposable incomes in the region. Additionally, investments in biomedical industries contribute significantly to market growth, supported by growing government backing and affiliated agencies.
Environmental pollution issues in China have led to stricter regulations and a greater emphasis on monitoring and controlling pollutants. Ion chromatography plays a crucial role in analyzing and detecting ions and contaminants in environmental samples. Government initiatives and funding to enhance research and development capabilities and promote the use of advanced analytical instruments have positively impacted the ion chromatography market.
Category-wise Insights
Fact.MR states that the ion-exchange chromatography segment is anticipated to maintain its strong sales performance throughout the forecast period. Additionally, the pharmaceutical industry is poised to offer lucrative prospects for market participants in the years ahead.
What is Fueling the Surge in Demand for Ion-Exchange Chromatography?
"Extensive Use of Ion-exchange Chromatography in Water Testing and Food Analysis"
Demand for ion-exchange chromatography solutions is projected to record a CAGR of 6% during the forecast period. Growing adoption of ion-exchange chromatography for water testing and food quality monitoring is contributing to market growth. This technique is widely utilized in various environmental testing organizations to assess product quality, composition, and safety. It is also employed to detect the presence or absence of specific components in a sample.
Ion suppression chromatography, often referred to as ion chromatography with ion suppression, is an analytical technique used to separate and quantify ions or polar compounds in a sample, particularly in complex matrices. This technique is primarily employed in ion chromatography systems and is especially useful in environmental analysis, food and beverage testing, pharmaceutical research, and other applications where accurate determination of ions or polar compounds is essential.
Why is Ion Chromatography Widely Employed in the Pharmaceutical Industry?
"Substantial Government and Corporate Funding for Biotechnology and Pharmaceutical Research"
Ion chromatography is widely used in the pharmaceutical industry driven by government and corporate funding for biotechnology and pharmaceutical research. Furthermore, heightened research and development activities within this sector, particularly in areas such as cancer and HIV/AIDS, coupled with the increased focus of pharmaceutical and biotechnology companies on expanding their product portfolios, have emerged as significant drivers for market expansion.
A chromatography syringe, also known as an HPLC syringe, is a precision instrument used in high-performance liquid chromatography (HPLC) and other liquid chromatography techniques for the accurate and controlled injection of liquid samples into the chromatography system.
High-pressure ion chromatography (HPIC), also known as high-performance ion chromatography, is an advanced analytical technique used for the separation and quantification of ions and polar compounds in a wide range of samples. HPIC builds upon the principles of ion chromatography (IC) but incorporates higher pressure and modern instrumentation to enhance performance and sensitivity.
Know thy Competitors
Competitive landscape highlights only certain players
Complete list available upon request
Competitive Landscape
Key market participants are concentrating on strategic alliances and product launches to gain a competitive edge in the market. To increase their market share, businesses are also entering into alliances and mergers.
Market participants are putting more emphasis on sustainability by creating packaging analytical solutions that are environmentally friendly. Initiatives to cut back on the use of solvents, reduce waste production, and boost energy effectiveness support global sustainability solutions.
EconoFit Chromatography Column packs, which include mixed-mode, cation, and anion exchange resin columns in a prepacked style, as well as a pack tailored for polyhistidine protein purification, were introduced by Bio-Rad in June 2022.
Key Segments of Ion Chromatography Market Research
By Technology :

Ion-exchange Chromatography
Ion-exclusion Chromatography
Ion-pair Chromatography

By Application :

Environmental Testing
Pharmaceutical Industry
Food Industry
Chemical Industry

By Region :

North America
Latin America
Europe
Asia Pacific
Middle East & Africa
- FAQs -
The global ion chromatography market is valued at US$ 360.5 billion in 2023.
Worldwide sales of ion chromatography solutions are projected to increase at a CAGR of 9.2% from 2023 to 2033.
Demand for ion chromatography solutions is forecasted to reach a market value of US$ 7.2 billion by 2033.
The market in China is set to expand at a CAGR of 6.7% through 2033.
The ion-exchange chromatography segment is projected to advance at a CAGR of 6% from 2023 to 2033.