Liquid Dispensing Pump Market
Liquid Dispensing Pump Market Analysis by Product (Cosmetic Liquids, Liquid Soap Solutions, Medicinal Liquids, Toothpaste Liquids, Cleaning & Disinfectant Liquids), By Dosage (Up to 0.50 ml, 0.51 to 1.50 ml, 1.51 to 2.50 ml, Above 2.50 ml), By Design (With Caps, Without Caps), By End Use (Cosmetics & Personal Care, Food & Beverages, Cleansing & Disinfectant Products) & By Region – Global Market Insights 2023 to 2033
Analysis of Liquid Dispensing Pump Market Covering 30+ Countries Including Analysis of US, Canada, UK, Germany, France, Nordics, GCC countries, Japan, Korea and many more
Liquid Dispensing Pump Market Outlook (2023 to 2033)
According to Fact.MR, the global liquid dispensing pump market reached US$ 3.36 billion in 2022. Worldwide demand for liquid dispensing pumps rose at a CAGR of 5% from 2018 to 2022 and is anticipated to reach US$ 3.53 billion in 2023. Projections for 2023 to 2033 indicate a 4.8% compound annual growth rate (CAGR) for the sales of liquid dispensing pumps, resulting in a market size of US$ 5.64 billion by the end of 2033.
Pump dispensers are commonly used on liquid storage containers, such as tubes, jars, or bottles, to facilitate easy dispensing. These containers often contain viscous liquids, such as creams and lotions, ensuring consistent and uniform usage.
With increasing focus on bathroom hygiene and cleanliness, especially after COVID hit, demand for automatic liquid dispensing pumps has risen significantly. This has led to a surge in consumer's interest in purchasing automatic soap dispensers. The Centers for Disease Control and Prevention (CDC) emphasizes the importance of regular hand washing as a critical preventive measure against contracting COVID-19.
Companies manufacturing liquid dispensing pumps are benefiting from increased revenue prospects due to the growing adoption of sensor technology and contactless services. With advancements in control valves to reduce contact with surfaces during hand washing, manufacturers are leveraging long-term growth prospects in the healthcare sector.
End-user industries must invest in cutting-edge packaging solutions to meet the increased demand for premiumization and personalization. Pumps and dispensers have become more popular among consumers as a result of ongoing innovation in recent years. For instance, the brush pump is a significant convenience-driven development in the beauty and personal care business, allowing for the direct application of lotions or creams to the hair.
Some recent market developments include :
AptarGroup Inc., in May 2021, created "Future," a 100% recyclable mono-material pump for the personal care and beauty industries.
In 2020, Watson-Marlow Fluid Technology Group and Blacktrace Holdings Ltd., a provider of tools and services for laboratories, formed a strategic partnership. This partnership aimed to develop a new range of fluid-handling solutions for the biotechnology and healthcare sectors.
Report Attributes
Details

Liquid Dispensing Pump Market Size (2022)

US$ 3.36 Billion

Estimated Market Value (2023)

US$ 3.53 Billion

Forecasted Market Value (2033)

US$ 5.64 Billion

Global Market Growth Rate (2023 to 2033)

4.8% CAGR

India Market Value (2033)

US$ 462.73 Million

India Market Growth Rate (2023 to 2033)

5.2% CAGR

Germany Market Value (2033)

US$ 558.66 Million

Germany Market Growth Rate (2023 to 2033)

5.3% CAGR

Key Companies Profiled

Aptar, Inc.
NingBo Seng Cze Macrospray Co. Ltd.
CLC Co. Ltd.
Yoshino Kogyosho Co. Ltd.
Knida Company Limited
Mitani Valve
Indian Harness
Silgan Dispensing
Dhiren Plastic Industry
Redcom Packaging Private Limited
Don't Need a Global Report?
save 40%! on Country & Region specific reports
What are the Key Factors Influencing the Demand for Liquid Dispensing Pumps?
"Growing Investments in Visually Appealing Packaging for Liquid Dispensing Pumps"
The beauty and cosmetics sector requires personal care packaging because it enhances the product's aesthetic value and adds to its visual appeal. Many players consistently invest in visually appealing packaging for deodorants, skincare products, and other goods. Haircare brands have also increasingly adopted packaging pumps and dispensers.
Many shampoo and conditioner producers are allocating funds for packaging pumps and dispensers.
For instance :
Through a collaboration between Aptar Beauty + Home and haircare company MONAT, Studio One Strong Flexi-Hold Hairspray now features an innovative dispenser. This product was also honored with the 2019 ADF Innovation Award for the best personal care packaging.
In August 2021, Rieke, a member of TriMas Packaging, unveiled the "MonoTM-2e pump" dispenser pump for consumers in the personal care, beauty, and other related industries. Rieke's development and promotion of recycle-ready dispensers have resulted in significant advancements in packaging for the personal care and beauty sectors.
"Technological Advancements Facilitating Precise and Efficient Liquid Dispensing in F&B and Pharmaceutical Sectors"
Growing demand for packaged food & beverage (F&B) products is expected to drive market growth. Dispensing pumps enable quick and precise pouring of sauces, dressings, and other liquid culinary components. In the pharmaceutical industry, pumps are also utilized for the precise administration of drugs and medications, particularly due to the aging population's increasing need for medications and the rise in chronic illnesses.
Market growth is being fueled by innovations in cutting-edge dispensing technologies, the integration of the Internet of Things (IoT), and the automation of dispensing pumps. Manufacturers are investing significant efforts into developing advanced dispensing pumps that offer improved accuracy, dependability, and flexibility.
IDEX Corporation unveiled a new line of Warren Rupp diaphragm pumps in 2021. These pumps are appropriate for a variety of industries, including chemical processing, food and beverages, and pharmaceuticals.
What are the Major Restraints Impeding the Growth of the Liquid Dispensing Pump Market?
"High Initial Investment and Operational Complexity Associated with Liquid Dispensing Pumps"
One of the significant challenges for the market is the high initial investment required for the installation and setup of advanced dispensing systems. This cost encompasses not only the purchase of the dispensing pumps but also the infrastructure necessary for their integration, including control systems, sensors, and connectivity options. This initial investment can pose a barrier for small- and medium-sized enterprises (SMEs) or companies with limited financial resources.
Liquid dispensing pumps often incorporate intricate mechanisms and technologies to ensure precise and accurate dispensing. This complexity can present difficulties in terms of operation, maintenance, and troubleshooting.
Demand for specialized technical knowledge and expertise to operate and maintain these pumps can be a limiting factor for certain companies. The complexity increases the risk of system failures or malfunctions, resulting in downtime and heightened maintenance costs.
"Compatibility Issues, Limited Adaptability, and High Maintenance Cost"
The market caters to a wide range of industries with diverse requirements. Ensuring compatibility and adaptability of the pumps to different types of liquids, viscosities, and application scenarios can pose a challenge. Manufacturers must invest in research and development to create pumps capable of handling various liquids and adapting to different operational conditions. Failure to meet the specific needs of certain industries or applications can limit the market potential of liquid dispensing pumps.
While liquid dispensing pumps are designed to be reliable and durable, they still require regular maintenance and occasional repairs. The costs associated with maintenance, servicing, and replacement of parts can accumulate over time. These ongoing expenses may discourage some companies from adopting or expanding their use of liquid dispensing pumps, particularly if they have alternative dispensing methods that are more cost-effective in the long run.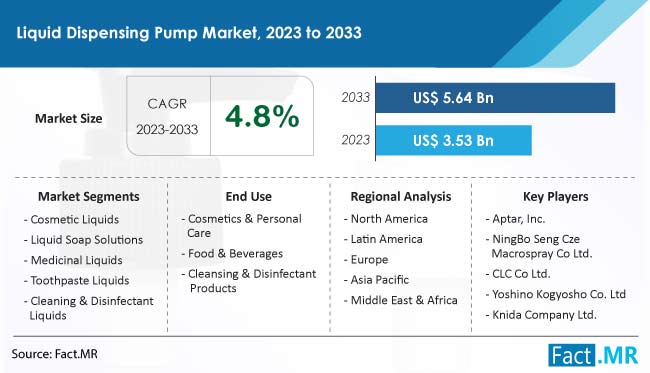 Country-wise Insights
What Makes the United States a Lucrative Market for Manufacturers of Liquid Dispensing Pumps?
"Manufacturers' Growing Emphasis on Enhancing Safety and Shelf-life of Liquid Dispensing Pumps"
Demand for liquid dispensing pumps in the United States is anticipated to reach a market valuation of US$ 1.54 billion by 2033, increasing at a steady CAGR of 4.6%.
Primary drivers behind the demand for liquid dispensing pumps in the United States include the increasing emphasis on product safety and the desire for extended shelf life. Silicone, plastic resin, certain metal products such as metal springs and washers, and rubber goods serve as the primary raw materials for manufacturing dispensing pumps. To mitigate the impact of volatile material costs, industry players are striving to develop high-margin solutions, enhance efficiency, and adjust prices accordingly.
Several manufacturers have secured patents for technological advancements in dispensing pumps, particularly those related to the pump locking system and dosage control fitting, which significantly impact the value chain. Compliance with food safety regulations necessitates the incorporation of high-quality plastic resin in food-grade dispensing pumps, leading to projected cost increases. The United States market is characterized by the presence of well-established competitors with a strong financial foundation.
How is Demand for Liquid Dispensing Pumps Shaping Up in China?
"Increasing Adoption of Advanced Dispensing Technologies and Rising Demand for Hygiene Products"
The liquid dispensing pump market in China is projected to reach US$ 1.39 billion by 2033, expanding at a CAGR of 4.9%.
Key factors driving the growth of the market in China are the increasing adoption of advanced dispensing technologies, rising consumer demand for convenience and hygiene products, and the growing emphasis on sustainable packaging solutions.
China, with its vast population and expanding consumer market, presents significant opportunities for the liquid dispensing pump industry. As the country experiences rapid urbanization, and increasing disposable incomes, the demand for liquid dispenser pumps is on the rise. The regulatory landscape in China governing the manufacturing, import/export, and usage of dispenser pumps plays a crucial role in shaping the liquid dispensing pump market.
More Insights, Lesser Cost (-50% off)
Insights on import/export production,
pricing analysis, and more – Only @ Fact.MR
Category-wise Insights
Which End-use Segment Accounts for High Sales of Liquid Dispensing Pumps?
"High Demand for Liquid Dispensing Pumps from Cosmetics and Personal Care Sector Due to Their Enhanced Product Dispensing and Improved Hygiene"
Sales of liquid dispensing pumps for cosmetics and personal care products are anticipated to rise at a steady CAGR of 5.2% during the forecast period.
Liquid dispensing pumps play a crucial role in the cosmetics and personal care industry, revolutionizing the way products are dispensed and enhancing the overall user experience.
Dispensing pumps offer hygienic application of cosmetics and personal care products by minimizing direct contact with fingers or hands. This helps preserve product integrity, prevent contamination, and extend the shelf life of the product. Pump mechanisms also reduce the risk of bacterial growth and maintain the efficacy of active ingredients.
The cosmetics and personal care industry has placed a growing emphasis on sustainability and eco-friendly packaging solutions. Liquid dispensing pumps can contribute to this trend by enabling the use of refillable or reusable containers, thereby reducing single-use plastic waste and promoting a more sustainable approach to product packaging.
Which Design is Extensively Used for Liquid Dispensing?
"Enhanced Product Protection and Ease of Use Offered by Dispensing Pumps with Caps"
Demand for liquid dispensing pumps with caps is expected to advance at a steady CAGR of 4.7% during the forecast period. Liquid dispensing pumps with caps provide a versatile packaging solution that combines the benefits of a dispensing pump and a protective cap.
Integration of caps with liquid dispensing pumps ensures adequate protection for the product. The cap acts as a barrier, preventing leakage, spillage, and contamination when the pump is not in use. This feature is particularly important for products prone to evaporation, oxidation, or degradation, such as lotions, serums, and liquid cosmetics.
Liquid dispensing pumps with caps provide a multifunctional packaging solution that combines product protection, controlled dispensing, and consumer convenience. The integration of a cap with the pump mechanism offers enhanced hygiene, travel-friendliness, and customizable branding options. The versatility of these pumps makes them a valuable choice for various industries, providing both functionality and convenience for consumers.
Competitive Landscape
Leading players in the market are making an effort to produce new products that utilize post-consumer recycled plastics, providing support for their efforts to create a circular economy in their manufacturing processes. Key players are concentrating on expanding their businesses through strategic acquisition prospects and the formation of alliances to improve their geographical presence, technologies, and product offerings.
Berlin Packaging completed the acquisition of Raepak Limited, a leading supplier of pumps, dispensers, sprayers, airless bottles, roll-on bottles, tubes, and other packaging containers in May 2021. This strategic move has allowed Berlin Packaging to expand its product offerings in the cosmetics and personal care sectors.
Bondi Sands and Silgan Dispensing Systems collaborated to introduce "Pure Self-Tanning Foaming Water" in January 2021. This innovative product utilizes Silgan Dispensing's EZ'R foamer, which is the first foam application in the market made entirely of plastic parts and can be recycled in polypropylene (PP) streams.
Know thy Competitors
Competitive landscape highlights only certain players
Complete list available upon request
Key Segments of Liquid Dispensing Pump Industry Research
By Product :

Cosmetic Liquids
Liquid Soap Solutions
Medicinal Liquids
Toothpaste Liquids
Cleaning & Disinfectant Liquids

By Dosage :

Up to 0.50 ml
0.51 to 1.50 ml
1.51 to 2.50 ml
Above 2.50 ml

By Design :

By Region :

North America
Latin America
Europe
Asia Pacific
Middle East & Africa
- FAQs -
Worldwide sales of liquid dispensing pumps are estimated at US$ 3.53 billion in 2023.
Demand for liquid dispensing pumps is forecasted to rise at a CAGR of 4.8% through 2033.
The global liquid dispensing pump market is forecasted to reach US$ 5.64 billion by 2033.
The market in India is predicted to advance at 5.2% CAGR through 2033.
Demand for liquid dispensing pumps is forecasted to increase at a CAGR of 2.9% in Japan.