Growing Emphasis on Solar Energy to Fuel Solar Pumps Market Growth
The hazardous effects of carbon emissions on the environment as well as on health is rapidly increasing the demand for products that run on solar energy. Developed nations and growing economies in the Asia-Pacific region have been shifting their focus towards renewable energy sources to reduce energy consumption. This, in turn, is expected to have a positive impact on the growth of solar pumps market. In addition, the governments of several countries are offering various incentive schemes such as subsidies for the installation of solar pumps to promote the use of renewable energy. This is therefore anticipated to create a plethora of opportunities for players operating in the solar pumps market. Solar pumps have zero operational costs coupled with higher efficiency and longer lifespan as compared to conventional pumps which in turn is prompting consumers to invest in solar pumps. In Fact. MR's report, it is estimated that the solar pumps market will account for US $ ~1.1 Bn in 2019 in terms of value and is anticipated to grow at a robust CAGR of 11.8% by the end of the forecast period 2019-2029.
Submersible Pumps to Acquire Majority Chunk of the Global Solar Pumps Market
The alternating current (AC) submersible pumps are specially designed to pump groundwater from boreholes or deeper wells, where surface pumps cannot be utilized. Owing to its high efficiency, productivity and low maintenance cost in the agriculture sector, the submersible solar pumps are definitely more in demand as compared to surface pumps. The submersible solar pumps segment is projected to create an absolute $ opportunity of more than US$ ~1.6 billion, and projected to be valued at more than US$ 2.4 billion by the end of the forecast period (2019 – 2029), predicts the report recently published by Fact.MR.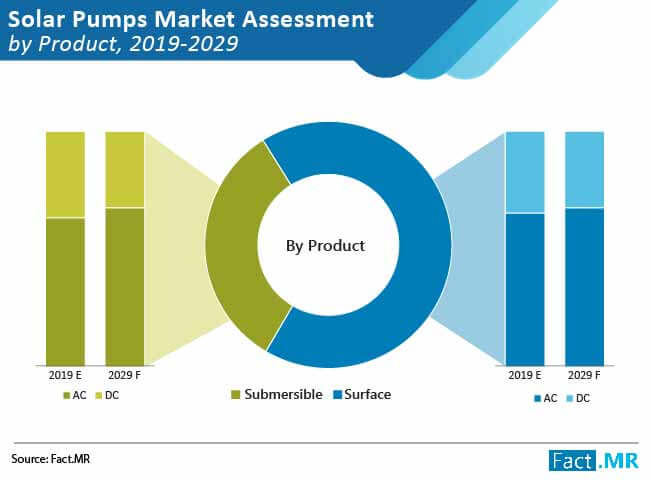 South Asia Set to Offer Lucrative Opportunities
The governments in South Asian countries are offering various subsidy schemes to help individuals and organizations in procuring these solar energy systems at reduced capital cost. For instance, in India, Ministry of New and Renewable Energy (MNRE) and the National Bank of Agriculture and Rural Development (NABARD) offer capital subsidies. Due to the high operating costs of diesel motors, South Asia is expected to witness substantial growth in the market owing to the operational efficiency and longer life span of the solar pumps. India and ASEAN countries are pegged to be prominent markets for solar pumps owing to the high demand from agriculture sector. Collectively, India and ASEAN countries are expected to account for nearly 90% of the total absolute $ opportunity in the market during the assessment period.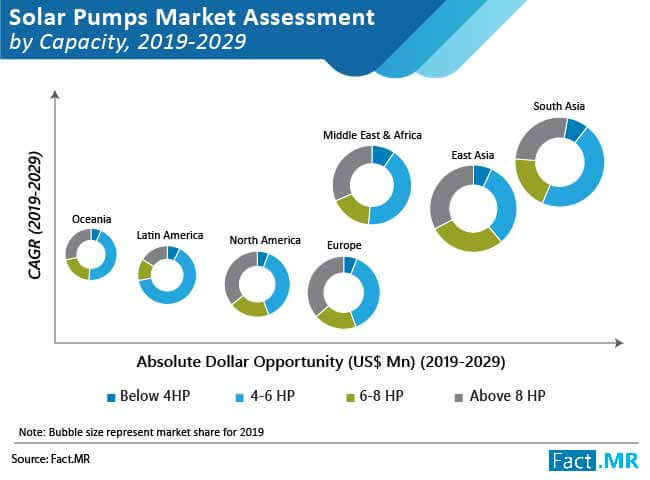 Product Launch and Expansion to Remain Key Agenda of Market Players
Prominent players are setting a new benchmark by expanding their product offerings in terms of higher efficiency and expanding their market presence to better serve the needs of consumers.
In 2019, the KSB SE & Co. KGaA extended its product portfolio by introducing submersible borehole pumps. New sizes developed by the company have a diameter of up to 50 inches
In 2019, Stanley Black & Decker have launched Stanley Earth, an energy efficient, solar-powered water pump for the farming sector.
In 2019, SunTech Drive LLC announced that the company has a strategic partnership agreement with Pentair in which Pentair will deliver new Pentair Pentek solar drives powered by SunTech technology.
Global Solar Pumps Market - Scope of the Report
Fact.MR recently published a market study on the global market for solar pumps. The study provides a detailed assessment on the key market dynamics, including drivers, trends, opportunities, restraints, and detailed information about the solar pumps market structure. The market study presents exclusive information about how the solar pumps market will grow during the forecast period of 2019-2029.
Key indicators of market growth, which include Year-on-Year (Y-o-Y) growth of the market, value chain, supply chain analysis, and Compounded Annual Growth Rate (CAGR) are explained in Fact. MR's study in a comprehensive manner. This information can help readers understand the quantitative growth prospects of the solar pumps market in the forecast period.
The study is relevant for stakeholders in the solar pumps market, including manufacturers, suppliers, distributors, and investors, and can help them in developing appropriate strategies to grow in the market. Stakeholders in the solar pumps market, investors, industry experts, researchers, and journalists, as well as business researchers can leverage the information and data presented in the Fact.MR study.
The study also includes statistics as well as facts related to macro as well as microeconomic factors that are impacting developments in the solar pumps market. It also offers actionable insights based on future trends in the solar pumps market. Furthermore, small businesses and new entrants in the solar pumps market too can make use of the information presented in this study, based on which, they can make appropriate business decisions in order to gain momentum in the market.
Key Segments of the Solar Pumps Market
Fact.MR's study on the solar pumps market offers information divided into four key segments— type, capacity, application, and region. This report offers comprehensive data and information about important market dynamics and growth parameters associated with these categories.
Type

Capacity

Application

Region

Submersible

Alternating Current (AC)
Direct Current (DC)

Farming

Irrigation
Livestock
Aquaculture

Surface

Alternating Current (AC)
Direct Current (DC)

Commercial

Swimming Pool
Pond Management

Middle East & Africa (MEA)
Key Questions Answered in Fact.MR's Solar Pumps Market Report
Which regions will continue to remain the most profitable regional markets for solar pumps market players?
Which factors will induce a change in the demand for solar pumps during the assessment period?
How will changing trends impact the solar pumps market?
How can market players capture the low-hanging opportunities in the solar pumps market in developed regions?
Which companies are leading the solar pumps market?
What are the winning strategies of stakeholders in the solar pumps market to upscale their position in this landscape?
Solar Pumps Market: Research Methodology
In Fact.MR's study, a unique research methodology is utilized to conduct extensive research on the growth of the solar pumps market, and reach conclusions on future growth parameters of the market. This research methodology is a combination of primary and secondary research, which helps analysts ensure the accuracy and reliability of conclusions.
Secondary resources referred to analysts during the preparation of the solar pumps market study include statistics from governmental organizations, trade journals, white papers, and internal and external proprietary databases. Analysts have interviewed senior managers, product portfolio managers, CEOs, VPs, marketing/product managers, and market intelligence managers, who have contributed to the development of this report as a primary resource.
Fact.MR offers custom research services that help clients to get specific research solutions
We are committed towards customer satisfaction and quality service.
---
Our Clients

Solar Pumps Market Forecast, Trend Analysis & Competition Tracking - Global Market Insights 2019 to 2029