Manufactured Soil Market
Manufactured Soil Market Analysis By Type (Garden Soil, Soil Mix, Manure & Compost), By Application (Cultivation, Lawns, Commercial Development, Sports Fields, Green Spaces), By End User (Residential, Commercial, Government) and By Region – Global Market Insights 2023 to 2033
Analysis of Manufactured Soil Market Covering 30+ Countries Including Analysis of US, Canada, UK, Germany, France, Nordics, GCC countries, Japan, Korea and many more
Manufactured Soil Market Outlook (2023 to 2033)
The global manufactured soil market is valued at US$ 7.9 billion in 2023 and is projected to expand at a CAGR of 5.5% to reach US$ 13.5 billion by 2033-end. Manufactured soils contain varying proportions of sand, clay, and organic matter. Manufactured soils have increased in popularity recently due to their accessibility. However, this desire for synthetic soils frequently ignores the benefits of using an established, well-balanced natural soil.
The benefit of using native soil is that it comes with pre-existing microbial communities well-suited for plant symbiosis, and this characteristic can be extended to topsoil manufactured through organic processes, achieving a comparable level of microbial diversity and richness as naturally generated soil. Engineered soils, carefully designed and blended to meet specific performance criteria, are finding applications in diverse sectors, ranging from construction and landscaping to environmental remediation.
Structural soil represents a transformative solution for urban landscapes, addressing the challenges of supporting vegetation while maintaining urban infrastructure. By creating an environment that encourages both plant growth and load-bearing capabilities, structural soil enhances urban aesthetics, environmental sustainability, and the overall livability of cities.
Modern agriculture, gardening, and landscaping now use soil blends as a versatile and strategic tool. These blends are painstakingly created mixes of different soil components. These mixtures allow growers to make growth media specifically tailored to the needs of various plants, conditions, and culture objectives.
Soil substitutes have become ground-breaking alternatives to traditional soil in a variety of growing situations in the fields of modern agriculture and horticulture. While ordinary soil may be unavailable or unsuitable for specialized cultivation, these cutting-edge media offer distinct advantages that enable successful plant growth.
May 2022: UPL, a leader in the field of sustainable agriculture solutions, teamed up with Kimitec's MAAVi Innovation Center to bring specialized bio-solutions technology to the United States market, particularly for soil treatments and amendments.
Trends Shaping Market Path
Urban Agriculture Revolution: Rising urbanization has spurred the adoption of innovative farming methods within limited urban spaces. Manufactured soils, engineered to meet the unique needs of urban farming, enable higher yields and efficient resource utilization. As more urban farmers seek to optimize their production, demand for specialized manufactured soil blends continues to grow.
Sustainable Agriculture Focus: The push for sustainable agricultural practices has elevated the importance of soil health and resource management. Manufactured soils formulated with organic materials, compost, and sustainable components align with eco-friendly cultivation practices, appealing to environmentally conscious growers and consumers.
Technological Integration: Advanced technologies, such as precision agriculture and data-driven farming, influence the manufactured soil market. Soil blends can now be customized based on real-time data and crop requirements, maximizing yields and minimizing waste.
Report Attributes
Details
Manufactured Soil Market Size (2022)
US$ 7.5 Billion
Estimated Market Value (2023)
US$ 7.9 Billion
Forecasted Market Value (2033)
US$ 13.5 Billion
Global Market Growth Rate (2023 to 2033)
5.5% CAGR
Garden Soil Segment Growth Rate (2023 to 2033)
5.5% CAGR
Soil Mix Segment Growth Rate (2023 to 2033)
6% CAGR
China Market Growth Rate (2023 to 2033)
5.1% CAGR
North America Market Share (2023)
34%
Key Companies Profiled

Miller Companies LC
ERTH Products, L.L.C.
B.D. White Top Soil Company Inc.
London Rock Supplies Limited
Ground Up, LLC,
ICL Group LTD.
Borealis AG
Origin Enterprises PLC
Don't Need a Global Report?
save 40%! on Country & Region specific reports
Which Factors are Driving the Continued Requirement for Manufactured Soil?
"Growing Adoption of Organic Agriculture across Regions"
In industrialized countries, there is a growing enthusiasm for organic farming. However, organic farming entails more than just the choice to abstain from using pesticides, fertilizers, genetically modified organisms, antibiotics, or growth hormones in crop and livestock cultivation.
The composition of soil directly affects its ability to support plant growth. The right balance of mineral particles determines the soil's water-holding capacity, drainage, and aeration. Organic matter enriches the soil with nutrients, improving fertility and overall soil structure. Microorganisms facilitate nutrient cycling and contribute to soil health.
Organic farming adopts a holistic strategy to enhance the productivity and well-being of diverse populations within the agroecosystem, encompassing soil organisms, plants, livestock, and people, with the primary goal of establishing environmentally conscious and sustainable enterprises.
"Stringent Environment Protection Regulations Governing Farming"
The market for artificial soil is expected to grow as a result of governments' strict regulations around organic farming. Organic agriculture is a strategy for raising crops, livestock, and fish using natural agricultural methods with a focus on environmental conservation.
Soil fertility is the heartbeat of productive agriculture, influencing the health of plants, ecosystems, and the sustenance of the world. Understanding its components, nurturing its balance, and adopting sustainable practices are fundamental steps toward ensuring abundant harvests, preserving natural resources, and fostering a future where the earth's vitality flourishes alongside agricultural endeavors.
As a result, use of artificial products like genetically modified organisms (GMOs) and external agricultural inputs like pesticides, veterinary drugs, additives, and fertilizers is prohibited throughout the entire farm cycle, from production and processing to handling and delivery, which encourages the use of manufactured soil.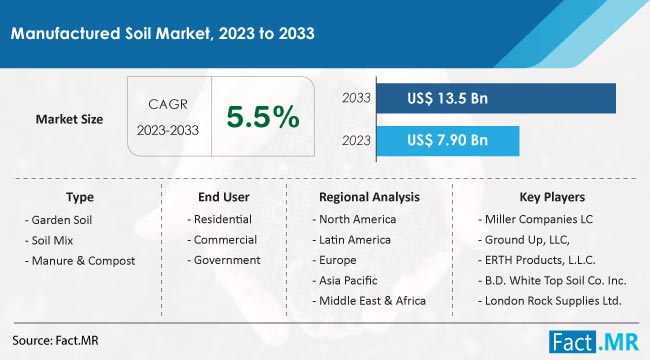 What Can Impeding the Sales Growth of Manufactured Soil?
"Challenges in Quality Control and Concerns about Economic Viability of Manufactured Soil"
Ensuring consistent quality across batches of manufactured soil is crucial for maintaining optimal plant growth. Variability in raw materials, blending methods, and composition can lead to inconsistencies in soil blends. Establishing robust quality control measures to deliver uniform products can be challenging, especially for large-scale production.
Developing high-quality manufactured soils that cater to specific plant requirements often involves careful selection and processing of raw materials. This can lead to higher production costs, which may be passed on to consumers. Striking a balance between producing cost-effective soil blends while maintaining quality can be a restraint in achieving widespread adoption, particularly for budget-conscious consumers.
"Limited Availability of Raw Materials Due to Environmental Concerns"
Many growers and consumers may not be familiar with the benefits and applications of manufactured soils. Educating potential users about the advantages and proper usage of these soil blends is essential for encouraging adoption and maximizing their benefits. Overcoming the educational barrier requires dedicated outreach efforts and resources.
Some key components used in manufactured soils, such as peat moss, face availability challenges due to environmental concerns and sustainability considerations. Identifying sustainable alternatives that provide similar properties is essential for ensuring soil stabilization.
More Insights, Lesser Cost (-50% off)
Insights on import/export production,
pricing analysis, and more – Only @ Fact.MR
Country-wise Insights
The ensuing section presents an outline of market revenue in prominent countries. Leading the way are the United States and China, recognized as leading markets. These metrics, as evaluated by Fact.MR, underscores a notable regional potential within the entire spectrum of countries scrutinized in the report.
What Makes the United States a Key Market for Manufacturers of Manufactured Soil?
"Rising Adoption of Indoor Farming, Hydroponics, and Vertical Gardening"
In 2023, North America is anticipated to hold 34% share of the global market. The manufactured soil market in the United States has witnessed remarkable growth in recent years, driven by factors such as urbanization, sustainable agriculture practices, and demand for tailored cultivation solutions.
Rise of urban agriculture and the demand for green spaces in urban environments have fueled the need for manufactured soils that cater to limited spaces and diverse plant requirements. Rooftop gardens, community plots, and urban farms are driving the adoption of manufactured soils.
With increasing emphasis on sustainable farming practices, manufactured soils offer a solution to improve soil health and productivity without depleting natural resources. These soils can be tailored to the specific needs of crops, promoting efficient nutrient utilization.
Popularity of indoor farming, hydroponics, and vertical gardening has led to a surge in demand for potting soil. Manufactured soils are being used to provide support and nutrients in controlled environments, enabling year-round cultivation.
What is Driving the Adoption of Manufactured Soil in China?
"Increasing Soil Degradation Challenges Pushing Need for Rejuvenation Solutions"
From 2023 to 2033, the market in China is projected to grow at a CAGR of 5.1%. China's manufactured soil market has witnessed significant expansion in recent years, driven by factors such as urbanization, modern agriculture practices, and the need for sustainable land management.
Rapid urbanization has led to the adoption of innovative farming practices such as vertical farming, where space is limited. Manufactured soils play a crucial role in providing optimized growth mediums for crops grown in vertical and indoor settings.
China's soil degradation issues have fueled the demand for manufactured soils that promote soil health and rejuvenation. These soils offer tailored solutions for land reclamation and restoration, particularly in areas affected by pollution and erosion.
Category-wise Insights
This section provides a synopsis of market revenue categorized by key sectors. Among these, the primary sectors are garden soil and cultivation. Fact.MR predicts that these segments are poised to offer promising prospects in the years ahead.
Why is Significant Revenue Generation Seen from Garden Soil Sales?
"Integral Role of Garden Soil in Fertility Enhancement and Drainage Improvement"
From 2023 to 2033, worldwide demand for garden soil is predicted to rise at a CAGR of 5.5%.
Garden soil, often referred to as topsoil, serves as the foundational medium for cultivating plants and supporting healthy plant growth in garden beds. It is a carefully crafted blend of organic materials and mineral components designed to provide a nurturing environment for plants to flourish. This composition plays a crucial role in determining the fertility, drainage, moisture retention, and overall structure of the soil, which are essential factors for successful gardening.
In essence, garden soil serves as the canvas upon which gardening endeavors are painted. The careful selection and blending of compost, manure, organic materials, and loam create an environment that nurtures plant growth, fosters biodiversity, and contributes to the beauty and productivity of gardens. Its multifaceted role in providing nutrients, moisture, and support underscores its importance in helping both novice and experienced gardeners achieve successful and thriving gardens.
What is Driving the Focus of Manufactured Soil Producers towards Cultivation?
"Extensive Use of Manufactured Soil in Cultivation for Improved Crop Quality"
Manufactured soil offers cultivators the ability to fine-tune the nutrient composition, ensuring that plants receive the precise nutrients required for each growth stage. This customization minimizes nutrient deficiencies, maximizes plant health, and ultimately leads to improved crop yields. The composition of manufactured soil allows for controlled water retention and drainage. By blending materials with varying water-holding capacities, cultivators can achieve an ideal balance that prevents overwatering, reduces runoff, and minimizes water wastage, especially in arid or water-scarce regions.
Incorporation of specific components, such as organic matter and minerals, enhances soil structure. This not only promotes root penetration and aeration but also prevents soil compaction-a common challenge in conventional agriculture that can impede root growth and nutrient uptake.
Know thy Competitors
Competitive landscape highlights only certain players
Complete list available upon request
Competitive Landscape
The manufactured soil market is exhibiting significant growth, driven by the demand for sustainable agriculture, urban landscaping, and innovative cultivation methods. As this market expands, a diverse array of companies and players are vying for prominence.
Strategies Employed by Key Market Players
Product Innovation: Key players are investing in research and development to create innovative soil blends that cater to specialized crops, cultivation methods, and environmental conditions.
Sustainable Practices: Companies are emphasizing sustainability by using recycled materials, focusing on reducing carbon footprints, and incorporating environmentally friendly practices in their manufacturing processes.
Customization: Offering customized soil blends that suit specific crops and growing conditions allows companies to differentiate themselves and provide solutions tailored to their customers' needs.
Educational Outreach: Players are engaging in educational initiatives to raise awareness among growers about the benefits and proper use of manufactured soils, fostering a deeper market understanding.

Mewab AB was purchased by Biototal Group AB in March 2021. Biototal Group AB is a Swedish firm that recycles organic and inorganic goods. Both organizations hope to increase their worldwide and regional geographic reach with this acquisition. Biototal Group AB anticipates becoming a major supplier of recycled agriculture products as a result of this acquisition. Mewab AB is a Swedish company that manufactures topsoil, landfills, and raw compost in addition to providing lime mud.
Key Segments of Manufactured Soil Industry Research
By Type :

Garden Soil
Soil Mix
Manure & Compost

By Application :

Cultivation
Lawns
Commercial Development
Sports Fields
Green Spaces

By End User :

Residential
Commercial
Government

By Region :

North America
Latin America
Europe
Asia Pacific
Middle East & Africa
- FAQs -
The global manufactured soil market stands at US$ 7.9 billion in 2023.
Worldwide demand for manufactured soil is predicted to rise at a CAGR of 5.5% from 2023 to 2033.
Demand for garden soil is projected to increase at a CAGR of 5.5% through 2033.
Sales of manufactured soil are set to reach US$ 13.5 billion by 2033.
The United States is poised to hold the top position in the global market through 2033.
The market in China is forecasted to exhibit a CAGR of 5.1% CAGR from 2023 to 2033.