Metaverse Gaming Market
Metaverse Gaming Market Analysis by Type (Hardware, Software), By Device (Mobiles, VR Headsets, PCs, Gaming Consoles), By Technology (NFT, Blockchain, Virtual Reality, Augmented Reality, Mixed Reality, Extended Reality) and By Region - Global Market Insights 2023 to 2033
Analysis of Metaverse Gaming Market Covering 30+ Countries Including Analysis of US, Canada, UK, Germany, France, Nordics, GCC countries, Japan, Korea and many more
Metaverse Gaming Market Outlook (2023 to 2033)
The global metaverse gaming market is valued at US$ 51 billion in 2023 and is forecasted to jump to a size of US$ 1,300 billion by the end of 2033, expanding at an astonishing CAGR of 38.2% from 2023 to 2033.
The purpose of the metaverse is to enthrall users and provide them with a remarkable experience. The metaverse helps create a more advanced, three-dimensional environment where user interaction and built-in gameplay are more individualized than in a two-dimensional setting.
The metaverse is, without a doubt, a fantastic way to create augmented reality, including a significant connection to the rest of the world, while participating in metaverse video games, live streaming of games, play-to-earn gaming with the non-fungible token (NFT) minting and trade, value exchange with crypto, etc.
Another important technology is cloud computing, which allows for the seamless integration of multiple players in a shared virtual world. This technology enables massive multiplayer games to run smoothly without any gaming hardware or interruption, creating a more seamless and engaging experience for players.
The NVIDIA Omniverse Cloud Platform, a set of cloud services that enables developers, artists, and business teams to create, publish, and execute metaverse game apps from any place, was introduced in September 2022.
One of the hottest technology platforms-the metaverse-is luring industry heavyweights from the worlds of social networks, technology, and online metaverse games to the market. With a significant user penetration rate for a variety of applications, including gaming controllers, social networking, education and instruction, and online virtual shopping, the metaverse is a rapidly growing trend.
The concept or idea of the metaverse gained popularity after Facebook, Inc. declared that the business was going to alter its name to Meta Platforms Inc., or simply 'Meta'. The company would be focused on creating the metaverse, a virtual universe. It is frequently used as a live, virtual environment to develop and take advantage of numerous prospects for brand interaction.
Report Attributes

Details

Market Size in 2022

US$ 36.81 Billion

Estimated Market Value (2023)

US$ 51 Billion

Projected Market Value (2033)

US$ 1,300 Billion

Global Market Growth Rate (2023 to 2033)

38.2% CAGR

Metaverse Gaming Hardware Market Share (2023)

48%

Leading Regional Market

North America

Key Companies Profiled

Magic Leap Inc.
Tencent Holdings Ltd
Facebook Inc.
Magic Leap Inc.
Roblox Corporation
Decentraland
Epic Game
The Sandbox
Improbable
Meta Platform
Don't Need a Global Report?
save 40%! on Country & Region specific reports
Why is the Metaverse Gaming Industry Expected to Boom?
"Popularity of Roblox and Fortnite Sparking Interest in Metaverse Gaming Industry"
Technological advancements, a rise in the use of virtual and augmented reality, the popularity of gaming and social media in virtual worlds, the ability to tailor games to specific users, live streaming and e-Commerce possibilities, industry innovation, experimentation, etc., are factors driving the market growth.
The tremendous popularity of prominent metaverse games like Roblox and Fortnite encourages new companies and developers to look into the business potential in the metaverse gaming industry, which leads to the expansion of the market. The emergence of metaverse gaming is further aided by the rise of mobile gaming and the expansion of high-speed internet connection.
"Rise of NFTs and Virtual Asset Ownership in Metaverse Gaming"
Users are embracing the metaverse more quickly and making investments to acquire virtual assets due to the satisfying experience of owning them. The ability to obtain virtual goods like property, cash, and NFTs by progressing through the game, taking part in activities, and discovering new areas has consequently changed how people view online gaming.
The industry has been growing due to the increasing ubiquity of chances to own virtual assets and the increasing popularity of such metaverse games.
How are Start-ups Set to Revolutionize the Metaverse Gaming Space?
"New Companies with Their Innovative Thinking Paving Way for Future of Metaverse Gaming"
Decentraland: One of the initial businesses that specifically set out to build a functional metaverse was Decentraland. It has a sizable platform with allowed real estate, specified virtual places, and an Ethereum-backed native token (LAND) for multiplayer games. It additionally made investments in Decentral Games to strengthen its capacity for hosting gameplay.
Somnium Space: This virtual reality platform offers a fully immersive virtual world that users can explore and interact with using VR headsets. Somnium Space features a wide range of activities and experiences, including games, concerts, and social events.
More Insights, Lesser Cost (-50% off)
Insights on import/export production,
pricing analysis, and more – Only @ Fact.MR
What Challenges Do Developers Face While Entering the Metaverse Gaming Sphere?
"Cost Barrier - Major Restraint of Metaverse Gaming Industry"
Metaverse games require extensive development and maintenance, which can be costly and time-consuming. Developing a metaverse game involves creating a complex virtual world with immersive gameplay as well as incorporating advanced technologies such as virtual and augmented reality. Maintaining a metaverse game requires continuous updates and improvements to keep players engaged and ensure the game remains relevant in a highly competitive market.
The high cost of development and maintenance can be a significant barrier for small-scale companies and developers who may not have the financial resources to invest in metaverse games. This can limit the number of companies and developers entering the market, resulting in a lack of competition and potentially limiting the growth and key innovations in the metaverse gaming industry. Additionally, the high cost of metaverse gaming development and maintenance can lead to higher prices for players, which may deter some potential customers and limit the reach of metaverse games.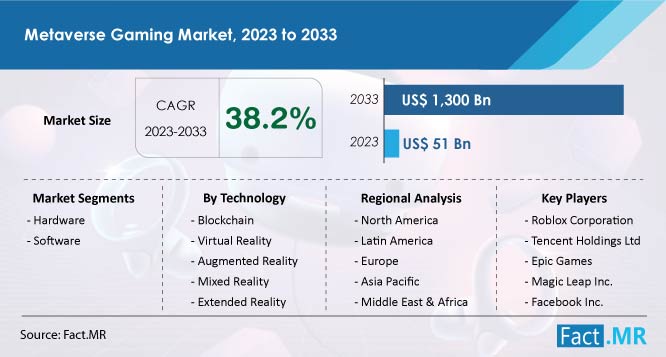 Country-wise Analysis
What is the Current State of Metaverse Gaming in the United States?
"Huge Role of Blockchain Technology in Transforming Metaverse Gaming"
The metaverse gaming industry in the United States is currently experiencing significant growth, which is driven by factors such as technological advancements, the popularity of gaming in virtual worlds, live streaming and e-Commerce possibilities, industry innovation, and the emergence of mobile gaming and high-speed internet connections.
The integration of blockchain technology is transforming metaverse gaming in the United States by allowing for the secure buying, selling, and trading of virtual assets, creating a new economy within the virtual world. The metaverse gaming industry in the United States continues to innovate with developers experimenting with new technologies and gameplay mechanics to create increasingly immersive virtual worlds.
For instance :
One recent development in the metaverse gaming industry in the United States was the acquisition of Roblox, a popular online gaming platform, by a special purpose acquisition company (SPAC) and its subsequent direct listing on the New York Stock Exchange in March 2021, which valued the company at US$ 38 billion.
How is Integration of Social Media Boosting Metaverse Gaming in China?
"WeChat Integration with Virtual World for Engrossing Gaming Experience"
Growth prospects of the metaverse gaming industry in China are promising, as the country has a large and growing gaming market, a tech-savvy population, and a strong gaming culture. The Chinese government has been actively promoting the development of the digital economy and supporting the growth of the gaming industry, which has created a favorable environment for the target market.
China has a strong gaming culture with millions of gamers across the country. This has created a huge potential market for metaverse games, particularly as younger generations are increasingly interested in immersive gaming experiences. Social media platforms like WeChat are hugely popular in China, and there is growing interest in integrating social media with virtual worlds to create more immersive and social gaming experiences.
For instance :
To improve the use of 3-D graphics within metaverse gaming platforms as well as other things, Tencent Holdings Limited, a leading provider of metaverse gaming in China, launched X.R/extended reality units in June 2022.
Why is the German Government Supporting Metaverse Entertainment?
"Rapidly Growing Demand for Enthralling and Social Gaming Experience"
Germany has a rooted gaming industry, a robust economy, and a population proficient in technology, so the country offers significant growth potential for the metaverse gaming sector. Germany has a long history of game development and the country is home to top metaverse gaming companies such as Ubisoft Blue Byte, Crytek, and Gameforge. This strong foundation provides a solid base for the growth of the metaverse gaming industry in the country.
Germany has a large and growing community of gamers who are increasingly interested in immersive and interactive virtual worlds. This trend is driven by the desire for more engaging and social gaming experiences. Germany is a leader in technology and innovation with a strong focus on research and development. This is driving advancements in areas such as virtual and augmented reality, which are key components of the metaverse gaming experience.
For example :
The VR Lounge in Berlin provides access to state-of-the-art VR technology and offers a variety of games and experiences for visitors. These types of centers are becoming more popular as they provide an opportunity for gamers to experience metaverse gaming in a social and interactive setting.
Know thy Competitors
Competitive landscape highlights only certain players
Complete list available upon request
Category-wise Analysis
Which Device Type is Highly Popular for Metaverse Gaming?
"Surging Popularity of Virtual Reality Headsets for Fascinating Gaming Experience"
Metaverse gaming can be played on a variety of devices, including computers, gaming consoles, mobile phones, and virtual reality headsets. However, virtual reality headsets are becoming increasingly popular for metaverse gaming due to their ability to provide a more thrilling and realistic experience.
The device mostly used in metaverse gaming depends on the type of game and personal preference of the user. Generally, PC gaming is preferred for high-end, immersive games that require advanced graphics and processing power.
Virtual reality (VR) headsets are also becoming more popular for a fully-engrossing metaverse gaming experience. Overall, the choice of device largely depends on the specific game and the individual preferences of players.
Which Technologies are Highly Demanded in Metaverse Gaming?
"VR & AR Technologies Revolutionizing Overall Gaming Experience"
Several technologies are in demand for metaverse gaming, including esports metaverse, virtual reality (VR), augmented reality (AR), blockchain, artificial intelligence (AI), and cloud computing. VR and AR technologies enable fully- immersive and interactive gaming experiences, while blockchain technology facilitates secure and transparent transactions for virtual assets. AI and cloud computing can enhance gameplay and allow for more complex and dynamic virtual worlds.
Virtual and augmented reality (VR/AR) technologies are high in demand as they create immersive and interactive virtual environments. VR headsets such as the Oculus Quest and HTC Vive allow players to fully immerse themselves in virtual worlds and interact with objects and other players in a more natural and intuitive way.
Competitive Landscape
The competitive landscape for the metaverse gaming market includes a mix of established gaming companies and new startups. Some of the key players in the market include Roblox Corporation, Epic Games, Unity Technologies, Linden Lab, Decentraland, and Somnium Space. These companies are investing heavily in research and development to create more immersive and engaging virtual worlds as well as exploring the integration of new technologies such as blockchain and NFTs.
The market is expected to become more competitive as more companies are entering the space and existing players are focusing on innovation.
Some of the recent developments in metaverse gaming are :
Epic Games and Haedan partnered in September 2022 with the intention of investing US$ 30 million in the creation of Haedan's metaverse gaming infrastructure.
Tencent Holdings Limited announced the opening of an F1 studio under the TiMi Studio Group subsidiary in October 2021 with a focus on metaverse development.
Key Segments of Metaverse Gaming Industry Research
By Type :

By Device :

Mobiles
VR Headsets
PCs
Gaming Consoles

By Technology :

NFT
Blockchain
Virtual Reality
Augmented Reality
Mixed Reality
Extended Reality

By Region :

North America
Latin America
Europe
Asia Pacific & China
Middle East & Africa
- FAQs -
The global metaverse gaming market is valued at US$ 51 billion in 2023.
Global demand for metaverse gaming is projected to surge at a CAGR of 38.2% from 2023 to 2033.
The market for metaverse gaming is anticipated to reach US$ 1,300 billion by 2033.
Hardware accounts for 48% share of the global market in 2023.
North America is set to be the most lucrative market for metaverse entertainment.