Pepper Spray Market
Pepper Spray Market Analysis By Product (Fogger, Stream, Gel), By Distribution Channel (Online, Offline), By End Use (Personal Use, Law Enforcement) & By Region - Global Market Insights 2023 to 2033
Analysis of Pepper Spray Market Covering 30+ Countries Including Analysis of US, Canada, UK, Germany, France, Nordics, GCC countries, Japan, Korea and many more
Pepper Spray Market Outlook (2023 to 2033)
The global pepper spray market stands at US$ 32.81 million in 2023. A new study by Fact.MR estimates that worldwide demand for pepper spray is forecasted to increase at a robust CAGR of 13.5% from 2023 to 2033 and reach US$ 116.4 million by the end of the study period.
Pepper spray, also known as OC spray (oleoresin capsicum spray), is a tear-inducing substance used for personal protection, managing riots, and maintaining order in crowds. It is used by both individuals and law enforcement entities. This self-defense product irritates the perpetrator's eyes, inducing bouts of severe coughing, a watery nose, and breathlessness. Pepper spray is a non-lethal weapon for personal safety and also finds utility in crowd control and violent situations. A single burst of pepper spray can incapacitate one or more attackers.
Sales of pepper spray products in Europe are predicted to be higher than the global average.
Pepper spray also offers defense against dangerous animals such as puma and bears. It stands as a highly effective deterrent with immediate impact. The fundamental objective of pepper spray lies in swiftly and efficiently immobilizing the aggressor.
Rise in incidents involving distressing occurrences such as eve-teasing, human trafficking, riots, and protests is projected to play a pivotal role in driving the pepper spray market growth over the coming 10 years. Encounters with harmful carnivorous animals during adventurous activities such as forest safaris and mountain treks are boosting the sales of pepper spray products.
While various tools and weapons are utilized for personal safety, including pocket knives, self-alert alarms, and silver self-defense key cases, the pepper spray solution is standing as the most preferred choice among women due to its widespread popularity and high efficacy.
Pepper spray is available in the form of fogger, stream, and gel. Compared to others, demand for pepper spray fogger products is high. Pepper spray foggers are relatively easy to use, requiring minimal training or skill. This user-friendly nature is making them accessible to a wide range of people who are looking for a straightforward means of protection.
Pepper spray foggers cover efficient areas when sprayed giving maximum time to escape from attackers. This effectiveness in providing personal protection is leading to high demand from individuals seeking reliable self-defense options. Overall, the combination of effectiveness, ease of use, safety considerations, and the general desire for personal security are driving sales of pepper spray products.
Report Attributes
Details

Pepper Spray Market Size (2023E)

US$ 32.81 Million

Forecasted Market Value (2033F)

US$ 116.4 Million

Global Market Growth Rate (2023 to 2033)

13.5% CAGR

North America Market Growth Rate (2023 to 2033)

12.5% CAGR

Europe Market Growth Rate (2023 to 2033)

14% CAGR

Key Companies Profiled

Counter Assault
Defense Technology
Fox Labs International Inc.
J&L Self Defense Products Inc.
Mace Security International, Inc.
SABRE - Security Equipment Corp
Super-Sparkly Safety Stuff, LLC
Suresafety
UDAP Industries, Inc.
Zarc International Inc.
Don't Need a Global Report?
save 40%! on Country & Region specific reports
Why is the Market for Pepper Spray Surging Ahead?
"Pepper Spray - Effective Personal Protection Tool"
Personal safety is becoming a significant societal concern. People are increasingly recognizing the importance of taking proactive measures to safeguard themselves from potential threats such as any crime incidents, or encounters with danger including theft. In response to this, individuals are actively seeking out effective and easily accessible tools that can provide them with a sense of empowerment and protection. Pepper sprays are one of the most effective self-defense tools.
Rapidly increasing urbanization is bringing several challenges related to crime and harassment. The proximity of individuals in crowded spaces can develop an environment where incidents of theft, assault, or harassment might be more prevalent. As a result, urban dwellers are increasingly seeking personal safety devices or products that can serve as a deterrent and provide a means of defense in potentially risky situations.
Increasing crimes and violence against women are increasing the need for women's safety products, including pepper spray. Such criminal activities are encouraging women to take charge of their safety and well-being. Women are actively seeking tools and resources that can help them navigate various violent environments with confidence and autonomy.
Pepper spray has emerged as a practical and accessible option for women to assert their right to personal safety. By carrying pepper spray, women can enhance their sense of security, allowing them to go about their daily lives with less apprehension and fear.
Women empowerment initiatives often include self-defense training and education, which further promotes the use of tools such as pepper spray as part of a comprehensive approach to personal safety. Thus, the rising awareness of personal safety, urban criminal activities, and the focus on women's empowerment has legalized the use of pepper spray for personal protection in the majority of regions across the globe.
What's Hindering the Sales Growth of Pepper Spray in Some Regions?
"Pepper Spray Usage & Effectiveness Limited by Certain Laws at Regional Level"
In certain regions, the pepper spray market size can be hampered to some extent due to stringent regulations that govern its possession and usage. These regulations are often put in place to maintain public safety and prevent misuse, but they can inadvertently limit the accessibility and adoption of pepper spray.
One of the primary concerns about the legal regulations on pepper spray is their misuse. Lawmakers and regulatory bodies might be cautious about allowing widespread access to a substance that, while non-lethal, can still cause significant discomfort and temporary incapacitation. There are also fears that individuals may use pepper spray as a tool for intimidation, harassment, or even criminal activities.
Similar to regulations on alcohol and tobacco, there might be age restrictions on purchasing pepper spray. This can limit its availability to individuals under a certain age, even though they might have valid reasons for seeking self-defense tools. Some countries might restrict sales of pepper spray to specific authorized vendors or require individuals to obtain it through licensed retailers. This is expected to limit market growth.
"Availability of Several Alternative Options for Personal Safety"
The market for self-defense tools and devices is expanding significantly allowing individuals to choose a wide range of options for personal safety. Among these options are personal alarms, tasers, and stun guns, each with its unique features and benefits. Thus, the availability of alternative options is diverting customers away from choosing pepper spray as their preferred self-defense option.
For instance, personal alarms are gaining popularity due to their simplicity and ease of use. These compact devices emit a loud and attention-grabbing sound when activated, which can startle an attacker and attract the attention of others nearby. Personal alarms are often small and can be easily carried on a keychain or in a pocket, making them a perfect choice for those who may not feel comfortable using pepper spray.
More Insights, Lesser Cost (-50% off)
Insights on import/export production,
pricing analysis, and more – Only @ Fact.MR
What are the Opportunities Present for Start-ups in the Pepper Spray Business?
"New Designs and Eco-friendly Solutions-Profitable Tactics for New Companies"
To compete with established market players, newcomers should continuously focus on key trends in the pepper spray market. Introducing innovative features or improvements in pepper spray design can set new entrants apart from established competitors. This includes ergonomic designs for easy handling, enhanced spray patterns for better coverage, integration with technology, or eco-friendly formulations.
As demand for environment-friendly and health-conscious products is growing, newcomers are developing pepper spray formulations that are free from harmful chemicals or use natural ingredients, appealing to eco-conscious consumers.
Collaboration with influencers, self-defense experts, or organizations focused on personal safety can help newcomers to expand their reach and credibility. Partnerships can also lead to endorsements, reviews, and recommendations, boosting product visibility.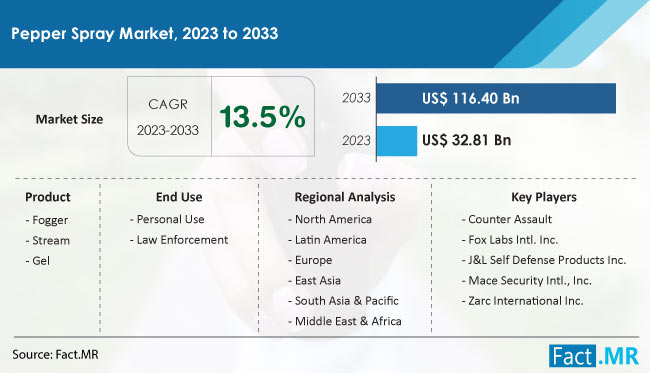 Country-wise Analysis
Why is Demand for Pepper Spray Increasing Consistently in the United States?
"Rising Use of Pepper Spray by Law Enforcement Officials to Control Violent Crowds"
The market for pepper spray in North America is forecasted to expand at a CAGR of 12.5% through 2033, led by the United States.
As per this pepper spray market analysis by Fact.MR, a market research and competitive intelligence provider, sales of pepper spray in the United States are increasing at a rapid pace due to the rising concerns over personal safety and self-defense. Rising demand for compact and easily accessible self-defense products such as pepper spray in the United States is resulting in high investments in R&D activities by some of the best pepper spray brands.
Legislations and regulations related to pepper spray are also playing a vital role in shaping their demand growth. Many states have relaxed restrictions on pepper spray possession and use, contributing to its widespread availability. Law enforcement agencies in the United States widely use pepper spray devices to control violent crowds whenever needed.
Why is Germany an Important Market for Pepper Spray Suppliers?
"Pepper Spray Popular as Animal Repellent in Germany"
Pepper spray product sales are set to surge across Europe at 14% CAGR over the decade, and Germany will be a key market in the region.
Pepper sprays are primarily used for self-defense against human attackers, but in Germany, in most cases, they are used against dangerous animals for protection. Pepper sprays are sold with the tag of animal repellent in Germany.
Germany is renowned for its stunning landscapes and outdoor recreational opportunities. The growing cases of animal attacks on humans during leisure activities such as camping, hiking, or trekking are boosting the sales of pepper spray in Germany.
Why are Pepper Spray Manufacturers Focusing on India?
"Growing Cases of Assaults against Women Increasing Pepper Spray Adoption Rates"
One of the key factors driving the sales of pepper spray in India is the increasing concern for personal safety, particularly among women. Incidents of harassment, assaults, and violence against women are leading to high demand for self-defense tools such as pepper spray.
Rapid urbanization and changing lifestyles in India are contributing to a growing awareness of personal safety and the need for self-defense measures. Various advocacy groups, NGOs, and women's rights organizations are actively promoting self-defense and empowerment initiatives, and are teaching how to use pepper spray in the most effective way. These organizations often recommend the use of pepper spray as a non-lethal means of protection.
Know thy Competitors
Competitive landscape highlights only certain players
Complete list available upon request
Category-wise Analysis
Which is the Most Popular Mode for Pepper Spray Sales?
"Online Platforms Perfect Place to Find the Best Pepper Spray Brands"
Sales of pepper spray via online platforms are increasing at a healthy pace. The convenience of doorstep delivery and time-saving aspects are bolstering the stance of digital merchants, pushing more people to buy pepper spray online.
Escalating adoption of diverse online portals in emerging markets, coupled with an upsurge in enticing deals and discounts, is incentivizing customers to opt for online purchases of pepper spray products. Additionally, the high accessibility of virtual stores is paving the way for e-Commerce to become a pivotal revenue stream for numerous suppliers of pepper spray.
Competitive Landscape
Leading companies are constantly researching and developing innovative pepper spray products with improved features, designs, and formulations. Differentiating their products through unique features is attracting a wider customer base looking for enhanced safety options.
SABRE is one of the most popular companies in the personal safety industry, known for its high-quality pepper sprays and self-defense products. Its products often feature advanced formulations such as the SABRE Advanced Pepper Spray 3 in 1 formula, which includes a UV marking dye to help identify attackers.
Key Segments of Pepper Spray Industry Research
By Product :

By Distribution Channel :

By End Use :

Personal Use
Law Enforcement

By Region :

North America
Latin America
Europe
East Asia
South Asia & Oceania
MEA
- FAQs -
The global pepper spray market stands at US$ 32.81 million in 2023.
The market for pepper spray products is projected to reach US$ 116.4 million by 2033.
Global demand for pepper spray is predicted to rise at a CAGR of 13.5% from 2023 to 2033.
Counter Assault, SABRE-Security Equipment Corp, and Fox Labs International Inc. are some of the top brands of pepper spray.
Demand for pepper spray in Europe is forecasted to increase at a CAGR of 14% through 2033.