Photonic Packaging Market
Photonic Packaging Market Analysis, By Packaging Material (Silicon-based, Gallium-based, Others), By Packaging Technology (Optical, Electrical, Thermal Management, Mechanical), By Packaging Structure (Single-chip Mutli-chip), By Mode (Single mode, Multi-mode), By Application & Region - Global Market Insights 2022-2032
Analysis of Photonic Packaging market covering 30 + countries including analysis of US, Canada, UK, Germany, France, Nordics, GCC countries, Japan, Korea and many more
Photonic Packaging Market Outlook (2022-2032)
The global photonic packaging market has reached a valuation of US$ 258.7 billion in 2022 and is expected to progress at a CAGR of 5.7% to reach US$ 452.3 billion by the end of 2032.
Sales of photonic packaging accounted for nearly 32% share of the global photonic market at the end of 2021.
Report Attributes

Details

Photonic Packaging Market Size (2021A)

US$ 246.4 Billion

Estimated Market Value (2022E)

US$ 258.7 Billion

Forecasted Market Value (2032F)

US$ 452.3 Billion

Global Market Growth Rate (2022-2032)

5.7% CAGR

Asia Pacific Market Share (2021)

~68.2%

Americas Market Growth Rate (2022-2032)

~6.6% CAGR

China Market Growth Rate (2022-2032)

~4.6% CAGR

Market Share of Top 5 Companies

~21.3%

Key Companies Profiled

Aim Photonics
boschman
Fiberoptics Technology Inc
IBM
Inphotec
Juniper Networks
Keysight
MSRI Systems
PHIX
Technobis
Tyndall National Institute
VLC Photonics
Know thy Competitors
Competitive landscape highlights only certain players
Complete list available upon request
Sales Analysis of Photonic Packaging (2017-2021) Vs. Market Outlook (2022-2032)
Integrated photonic and optical device packaging involves several financial, technical, and production obstacles. Packaging has traditionally been considered to be a high-cost stage in the overall production process, accounting for nearly 35% of manufacturing costs.
A roadmap for the packaging of integrated photonic devices becomes more important as new mass markets for integrated photonics emerge and unit demand rises rapidly.
This has made it necessary to create packaging procedures that are more affordable and volume scalable. Packaging can be thought of as the assembly of electronic and photonic devices from boards to chips, including mechanical housings such as hermetic and non-hermetic packages, micro-optics, optical fibers, and electronic IC packaging using wire bonding, thermal management, and flip-chip assembly.
The use of these cutting-edge production methods will necessitate the purchase of new precision packing tools and equipment. Advanced machine vision and robotic systems will be used more frequently in automated and passive optical packaging procedures in place of current operator assembly procedures.
Operator-driven assemblies are inappropriate for complicated multi-channel integrated photonic devices because they cannot offer the sub-micron alignment tolerances necessary for very high-volume manufacturing. Improvements gained in packaging machinery used for sophisticated electronics assemblies will also aid developments in electronic and photonic packaging.
Short Term (2022 Q2 to 2025): Growing photonics market will positively impact photonic packaging market growth.
Medium Term (2025-2028): North America and Europe projected to witness comparatively high photonic packaging demand due to increased penetration of optical and photonic products.
Long Term (2028-2032): Integration of advanced technologies such as Nano packaging and 3D printing to open opportunities for photonic packaging suppliers.
From 2017 to 2021, the global market for photonic packaging registered a CAGR of 4.1%. Fact.MR, a market research and competitive intelligence provider, reveals that the market will exhibit growth at 5.7% CAGR between 2022 and 2032.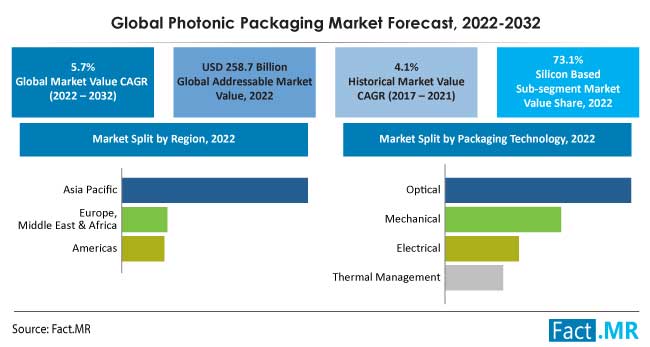 Market share analysis of photonic packaging based on packaging technology and region is provided in the above image. Under the packaging technology segment, the optical sub-segment dominates with 42.9% market share in 2022.
What's Driving High Demand for Photonic Packaging across Regions?
"Emerging Technologies for Photonic Packaging Paving the Way for High Market Growth"
It's interesting to consider how developing technologies, in addition to those already in use, can affect photonic packaging in the future. For instance, FR4 (fire-resistant, version 4) PCBs coupled with polymer waveguide technology are used to demonstrate evanescent coupling and can also be used to produce a platform. Here, greater cost-effectiveness and processing flexibility of the polymer waveguides (i.e., photolithography or direct laser-writing), especially for large areas, are the key advantages over glass interposers.
Moreover, the packaging of silicon photonic devices with electronic amplifiers, drivers, and other control circuitry is becoming a significant challenge as demand grows for higher levels of operational frequencies (>25 GHz) and co-integration photonic electronics.
To this, Nano-photonic packaging technology will act as a driver of the optical packaging market.
"Advancing Data Center Network Architectures Acting as Driving Factor for Photonic Packaging"
By extending photonics to the switching nodes, data center system architectures can be much more scalable and effective, in addition to improving chip technology. Many data centers are working on innovations to shift switching functions into the optical domain and loosen the constraints on digital functionality.
The bandwidth per fibre and scalability of the data processed in the switch fabric can be increased due to the high-density integration of silicon photonics with electronics. The optical data capacity of a silicon photonics device can expand at a rate as silicon photonics becomes widely used throughout data centers, thanks to improvements in silicon photonics manufacturing.
Owing to this, demand for photonic packaging is expected to rise in data centers as they are working to achieve technological advancement.
What Do Photonic Packaging Manufacturers Need to Watch Out For?
"New Precision Packaging Tools & Equipment Will be required to Implement Advanced Manufacturing Processes"
A major advancement in future packaging will be the transition to wafer-level packaging from device-level. Like electronic packaging, photonic device wafer-level packaging will benefit from developments and more closely resemble it.
Wafer-level packaging offers a remedy for better manufacturing process scalability, guaranteeing that the packaging is financially viable, especially for mass market applications.
As photonics become a more widely used technology platform for packaging, wafer-level packaging processes will start to be adopted during the next 5 years, becoming more standardized in 5-10 years.
Lastly, the described developments will need to align more closely with design standards and rules. A coherent set of packaging design standards and rules ensures developments in new materials, equipment, and processes ensuring future supply chains, from foundry and design, to test and packaging.
Country-wise Insights
Will Increasing Use of Photonics & Optical Devices in United States Drive Photonic Packaging Demand?
Increasing Federal government spending on the advancement of technologies such as 5G networks is a prominent factor that will impact the overall USA photonic packaging market. Currently, the commercial and military application areas for photonics are growing rapidly in the country.
The first wave of commercial products is focused on the data communications and telecommunications areas, but applications in analog data processing, sensing, laser ranging, coherent systems, and many other spaces are rapidly emerging.
A key innovation in recent years in the electronics industry has been the development of low-parasitic interposer technologies and through-silicon vias.
Thus, the United States photonic packaging market is expected to reach US$ 69.2 billion by 2032.
Why is the China Photonic Packaging Market Expected to Be Highly Lucrative?
The 13th and 14th 5-year plan of China promotes rapid electric mobility and industrialization. Prime areas of Chinese government investments in 2021 included quantum LIDAR, photonics, optical chips, industrial lasers, precision optics, and optical displays.
China is a rapidly growing photonic packaging market. Demand for industrial lasers, LiDAR, and optical systems is increasing, offering the photonics packaging industry a great deal of potential growth.
Additionally, local governments are paying attention to the photonics industry, thereby making efforts to boost the photonic packaging business and investments to help upgrade downstream industries within their regions or drive their local economy.
All in all, these factors will enable the growth of the Chinese photonic packaging market in the long run and generate an absolute dollar opportunity of US$ 42.6 billion over the 2022-2032 period.
Category-wise Insights
Why is Silicon Photonic Packaging Material a Popular Packaging Solution?
As photonic modules become more compact, there will be an increased demand to efficiently manage heat dissipation through non-thermoelectric means (passive). Thus, silicon materials are used to facilitate the increasing demand for improved electrical, thermal, and optical performance. Further, silicon material improves thermal conductivities and also demonstrates the extended lifetimes required for robust photonic modules.
Additionally, silicon photonic packaging is now widely accepted as a key technology in next-generation data interconnects and communications systems. It brings the advantages of integration and photonics-transmission of data over longer distances with high data densities in a platform where high levels of integration can be achieved with low manufacturing costs using conventional silicon integrated circuit infrastructure.
Owing to the above facts, the silicon sub-segment of the photonic packaging market is predicted to expand 1.7X by the end of 2032.
Why is Market Growth Being Led by the Datacom & Telecom Sectors?
According to the Fact.MR study, overall demand for Internet services is increasing at a rate of roughly 40% annually. This is motivated by a strong thirst for music and video. Mobile video access is expanding, as are video-focused social media applications. The amount of data used by each gadget is rising quickly.
By the end of 2023, North America smartphone users are anticipated to utilize 48 GB per month per smartphone. When included in optical communication systems, integrated photonics has the capacity to offer significant space reductions, financial savings, additional functionality, and power. They can also boost the capacity of current communication systems for transmission.
Photonic technology will play a significant role in 5G networks. It may be possible to transmit and route significant volumes of data traffic via 5G networks at a reasonable cost. Additionally, exciting research is being done on photonic beam-forming networks based on the packaged integrated photonic circuit.
Furthermore, integrated photonics might be able to assist with some of the radio system operations needed to advance towards 5G mobile networks.
Owing to the aforementioned factors, the market for telecommunications is expected to grow more than 1.8X over the decade.
Competitive Landscape
Prominent photonic packaging manufacturers are Aim Photonics, boschman, Fiberoptics Technology Inc, IBM, Inphotec, Juniper Networks, Keysight, MSRI Systems, PHIX, Technobis, Tyndall National Institute, and VLC Photonics.
The low-speed and high cost of photonic packaging is probably creating a significant bottleneck in producing competitive photonic equipment. As key market players are working to launch equipment to market, big multi-national players enter the Si-photonics segment. Also, there is an emerging need to develop automated and smart optical packaging processes to pave way for higher volume production.
The clear trend is for more compact photonic packaging designs with higher levels of integration (MEMs and electrical), effective and ideally passive thermal stabilization, and lower insertion loss. To solve this challenge, companies in photonic packaging are transforming towards developing scalable and standardized solutions from a legacy of individually customized prototypes. All in all, this will create higher relative profit margins in the optical packaging market.
In Sept 2020, MRSI Systems, in its new offering, introduced 'MRSI-S-HVM'. It has features such as wafer-level packaging, co-packing photonic and electronic chips, and a flexible 0.5 micrometer die bonder for silicon photonics.
In January 2022, Phix, a photonics packaging business, and Nanoscribe announced a cooperation to offer the photonic packaging industry on-fiber printing services. Phix is using this new technological method to produce standard lensed fibre arrays using Nanoscribe's nano-precision alignment capabilities with new high-performance 3D microlens printing technology (LFAs).
Fact.MR has provided detailed information about the price points of key manufacturers of photonic packaging positioned across regions, sales growth, production capacity, and speculative technological expansion, in the recently published report.
Segmentation of Photonic Packaging Industry Research
By Packaging Material :

Silicon-based
Gallium-based
Others

By Packaging Technology :

Optical
Electrical
Thermal Management
Mechanical

By Packaging Structure :

Single-chip

Area-array Packages (Ball Grid Arrays)
Surfacemount Packages (Quad-flat Packages)
Direct-chip Mounting
Dual-in-line Packages

Mutli-chip

By Mode :

By Application :

LiDAR & Imaging Devices (Optical Imaging)
LiFi (Light Fidelity)
Optical Sensors & Photodetectors
Photodiodes
Optical Communication Systems & Networking Components
Optoelectronic Devices
Others

By End Use Industry* :

Components & Materials
Mobility
Discrete Manufacturing
Environment, Energy & Lighting
Healthcare & Life Science
Telecommunications
Aerospace & Defense
Consumers & Professionals
Others
(*On the basis of components used)
By Region :

Americas
EMEA
Asia Pacific
- FAQs -
The global photonic packaging market is currently valued at US$ 258.7 billion.
Worldwide demand for photonic packaging is anticipated to reach US$ 452.3 billion by 2032-end.
During 2017-2021, sales of photonic packaging increased at 4.1% CAGR.
APAC leads the global photonic packaging market accounting for 67.8% market share in 2022.
Silicon-based photonic packaging accounts for 73.1% share of the global market.