Polyethylene Furanoate (PEF) Market
Polyethylene Furanoate (PEF) Market By Type (Plant-based, Bio-based), By Application (Fibers, Bottles, Films) & Region - Global Forecast 2022 to 2032
Analysis of Polyethylene Furanoate (PEF) market covering 30 + countries including analysis of US, Canada, UK, Germany, France, Nordics, GCC countries, Japan, Korea and many more
Polyethylene Furanoate (PEF) Market Outlook (2022-2032)
Global consumption of polyethylene furanoate is predicted to increase at a robust CAGR of 8.3% through 2032. As such, the global polyethylene furanoate (PEF) market is estimated to reach a valuation of US$ 76.7 million by 2032, up from US$ 32.7 million at the end of 2021.
Demand for polyethylene furanoate fibers is projected to increase at a high CAGR of 9.1% from 2022 to 2032, attributed to their growing usage for packaging purposes in various industries.
Report Attributes

Details

Polyethylene Furanoate Market Size (2022)

US$ 34.6 Million

Projected Market Value (2032)

US$ 76.7 Million

Global Market Growth Rate (2022-2032)

8.3% CAGR

APAC Market Share (2022)

28.3%

Key Companies Profiled

Avantium N.V.
AVA Biochem AG
Corbion
Swicofil AG
TOYOBO CO., LTD.
The Coca-Cola Company
Mitsui & Co., Ltd.
WIFAG-Polytype Holding AG
Gevo, Inc.
Toray Industries Inc.
Polyethylene furanoate, also termed polyethylene 2,5-furandicarboxylate, is a plant-based biopolymer that is 100% recyclable. It is gaining traction as a result of numerous companies producing 100% bio-based bottles, films, and fibers. Because of its better mechanical, thermal, and barrier qualities, the product is expected to see rapid expansion as a potential replacement for bio-based PET.
Know thy Competitors
Competitive landscape highlights only certain players
Complete list available upon request
Consumption Analysis of Polyethylene Furanoate (2017-2021) Vs Market Outlook (2022-2032)
"Increasing Adoption of Advanced Techniques in Polyethylene Furanoate Production"
According to Fact.MR, a market research and competitive intelligence provider, the global polyethylene furanoate market expanded at a CAGR of 6.1% from 2017 to 2021.
The population's development and adoption of advanced techniques, as well as important contributors to industry growth, have fueled market growth in terms of both value and volume. A major growth driver for the industry is the preference for Polyethylene furanoate (PEF) over the traditional approach.
Rising use of bio-based polymers in the medical industry is expected to open up a slew of new chances for market expansion. Growing demand for PEF-based materials in the packaging industry, particularly for beverage packaging of various kinds and, to a lesser extent, alcohol packaging, is expected to propel the PEF market forward over the coming years.
PEF-based materials have a high quotient of resistance to oxygen and carbon dioxide, which aids in the prevention of food oxidation. This is driving up demand for PEF-based products in the food and beverage industry, raising the overall value of the market.
The carbonated soft drink business is rapidly expanding, which has resulted in increased demand for bottles. Chlorosulfonated polyethylene is widely used in the building and construction industry.
Growing environmental concerns about reducing greenhouse gas emissions in the environment could be a major factor driving polyethylene furanoate market expansion. In addition, tight government rules prohibiting the use of non-recyclable plastics are expected to boost the market growth.
There has been a shift in the tendency towards the use of environment-friendly substitutes, which is expected to boost the growth of the polyethylene furanoate (PEF) market.
FDCA is produced from recycled material and is used to make polyethylene furanoate, which is a polyethylene terephthalate alternative. The need for FDCA has increased as a result of environmental regulations and direct action from governments and international agencies.
FDCA is primarily utilised in the production of PEF. By the conclusion of the forecast period, this is likely to increase demand for PEF. Due to different green efforts, rules, and regulations surrounding carbon emissions, the biopolymers business has been rapidly increasing. This is encouraging the use of biopolymers rather than petroleum-based polymers.
Global demand for polyethylene furanoate is projected to rise at a CAGR of 8.3% from 2022 to 2032.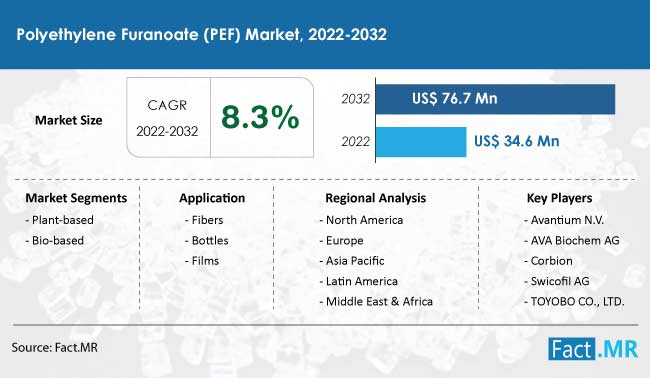 Why is Demand for Polyethylene Furanoate Growing Exponentially?
"Rising Need for Sustainable Packaging in e-Commerce Sector"
Many packaging products employ non-renewable materials, drawing unwanted attention to e-Commerce and limiting its ability to save money through recycling. Moreover, products such as PEF, carton board, and paperboard are expected to see significant growth as they offer to replace traditional packaging materials while saving money and being environmentally friendly.
Furthermore, customer interest in green packaging is at an all-time high, as industries such as food and beverages continue to see development in natural-ingredient-based products and organic products, among other things. PEF goods provide various advantages for e-Commerce distribution, including stronger tensile strength than PET products, fewer additives, recycled polyethylene terephthalate (R-PET), improved heat stability, and potentially superior long-term cost-efficiency.
Polyethylene furanoate products are also expected to contribute to the development of safe, recyclable small-size rigid and flexible packaging. Furthermore, emerging technologies such as 3D printing promise to help optimize package volumes, shapes, and minimize carbon emissions even more.
This is an increasing necessity in e-Commerce, as packaging technology has limited growth potential. The commercial promise of polyethylene furanoate goods will open up significant growth opportunities for players in the polyethylene furanoate industry.
Flexible packaging is one of the major drivers of the polyethylene furanoate market growth. It provides environmentally friendly and sustainable packaging solutions to a variety of food and non-food sectors. It helps to reduce the quantity of packaging material used and produces far less waste than traditional flexible packaging.
This packaging is made with natural resources and requires less transportation, making it an excellent sustainable option for a variety of eco-friendly businesses. These are the latest trends in the polyethylene furanoate market.
What is Impeding Sales Growth of Polyethylene Furanoate?
"Presence of Substitutes & Limited Raw Material Availability"
PEF market expansion is hampered by a scarcity of raw materials. The emergence of a polyethylene furanoate alternative, especially bio-based PET, is expected to stifle market expansion. Because polyethylene furanoate is still in its infancy, it is now more expensive for customers than other accessible alternatives like PET.
Multiple businesses' increased efforts to manufacture PTA utilising bio-based raw materials to produce 100% bio-based PET is expected to stifle industry expansion in the future.
Biopolymers now have a much lower production capacity than conventional plastics. It reduces their ability to substitute and drives up the cost of final items. Price considerations are projected to be a major stumbling block for the polyethylene furanoate market. PEF's difficulty to gain traction in the market is primarily due to its labor-intensive manufacturing process.
More Insights, Lesser Cost (-50% off)
Insights on import/export production,
pricing analysis, and more – Only @ Fact.MR
Which Region is Polyethylene Furanoate Suppliers Eyeing?
"Rising R&D Initiatives in Bio-based & Renewable Plastics Driving Market Expansion in North America"
North America accounts for 33.4% share of the global polyethylene furanoate market. The market is fueled by the presence of strong environmental regulations aimed at solid waste generation across North America.
Demand for polyethylene furanoate over other traditional goods is predicted to rise due to a growth in demand for sustainable packaging for various polyethylene furanoate applications across multiple industries such as pharmaceuticals and food & beverage.
Continuous R&D efforts in bio-based and renewable plastics, as well as increased sales of polyethylene furanoate films, are driving market expansion in North America.
Country-wise Insights
What Makes the United States a Huge Market for Polyethylene Furanoate?
"Growing Adoption of Next-generation Polyesters Driving U.S. Market Expansion"
The U.S. polyethylene furanoate market is projected to expand at a CAGR of 8.4% from 2022 to 2032.
Growing demand for biodegradable, ecological, and lucrative packaging materials, robust growth in the carbonated soft drink sector, and increasing adoption of next-generation polyesters are driving market expansion in the United States.
The surge in polyethylene furanoate use in the United States is primarily due to the rising demand for entirely recyclable bio-based plastics in end-use industries such as packaging, consumer goods, and agriculture.
The market is likely to be driven by rising demand for polyethylene furanoate for bottle manufacturing, the ban on single-use plastics, and the rising demand for polyethylene furanoate fibers.
Why is Polyethylene Furanoate So Prominently Used in China?
"Growing Usage of Cyclic Polyethylene Furanoate in Chine"
The market in China is anticipated to rise at a CAGR of 9.2% over the forecast period. The growth is mostly due to rising demand for biodegradable and cost-effective packaging materials, growing usage of cyclic polyethylene furanoate, and the prominent presence of polyethylene furanoate suppliers.
Due to rising demand for packaged and processed foods and the expanding trend of e-Commerce shopping in China, numerous end-use industries are driving PEF demand in the country.
Category-wise Insights
Which Polyethylene Furanoate Type Accounts for Most Consumption?
"Bio-based Polyethylene Furanoate Gaining Traction Due to Its Frequent Natural Occurrence"
Based on type, the market is segmented into plant-based, bio-based, and others. Bio-based polyethylene furanoate accounts for a significant share of the global polyethylene furanoate market.
Rising need for beverage packaging, increasing adoption of bio-based plastics, growing demand for recyclable products, and a shift in consumer preference for environmentally friendly alternatives, are all expected to drive the demand for bio-based polyethylene furanoate.
Increasing consumption of food and beverage items around the world is boosting the sales of bio-based polyethylene furanoate.
Which PEF Application is Expected to Garner Highest Market Share?
"Rapid Deployment of Polyethylene Furanoate Fibers Due to Their Unique Characteristics"
Fibers account for 47.2% share of the global polyethylene furanoate market and remain dominant over other applications such as bottles and films.
PEF fibers are superior in terms of characteristics and have the potential to replace PET fibres. Polyethylene furanoate fibers are regenerated from polyethylene furanoate-based bottles, and 100% bio-based t-shirts are produced. In addition to t-shirts, fibers are used in the wrapping of industrial products such as fertilisers, pesticides, and cement. They are also in rugs, apparel, and athletic equipment.
Don't Need a Global Report?
save 40%! on Country & Region specific reports
Competitive Landscape
The competitive landscape of the PEF market is defined by the current tactics and advancements followed by top market competitors in the industry. Top companies in the polyethylene furanoate market form collaborations, enhance service offerings, and expand their commercial activities to better enjoy a market placement.
For instance,
In 2020, Avantium, a Dutch biochemical business, raised funds for a campaign that aims to convert sustainably cultivated crops into plant-based plastic. The initiative drew interest from many big companies, including Danone, Carlsberg, and Coca-Cola. It is expected that the aforementioned brands will use Avantium's technology in their future goods.
Key Segments Covered in Polyethylene Furanoate Industry Research
Polyethylene Furanoate Market by Type :

Plant-based Polyethylene Furanoate
Bio-based Polyethylene Furanoate
Others

Polyethylene Furanoate Market by Application :

Polyethylene Furanoate Market by Region :

North America
Europe
Asia Pacific
Latin America
Middle East & Africa
- FAQs -
The global polyethylene furanoate market size is currently valued at US$ 34.6 million.
The global PEF market is predicted to rise at 8.3% CAGR through 2032.
The global market for polyethylene furanoate is set to reach US$ 76.7 million by 2032.
Increasing demand for sustainable packaging and consumer-friendly properties of PEF materials are majorly driving market growth.
Avantium N.V., AVA Biochem AG, Corbion, Swicofil AG, and TOYOBO CO., LTD. are key providers of polyethylene furanoate.
Fibers account for 47.2% share of the global polyethylene furanoate market.
North America accounts for 33.4% share of the global PEF market.