Precious Metal Market
Precious Metal Market Analysis By Type (Silver, Gold, Platinum Group Metals), By Application (Jewelry, Industrial, Investment, Dentistry, Cutlery), By End Use (Electronics, Medical, Automotive, Aerospace, Oil & Gas) and By Region – Global Market Report (2023 to 2033)
Analysis of Precious Metal Market Covering 30+ Countries Including Analysis of US, Canada, UK, Germany, France, Nordics, GCC countries, Japan, Korea and many more
Precious Metal Market Outlook (2023 to 2033)
The global precious metal market size stood at US$ 230 billion in 2022 and is forecasted to reach US$ 445.76 billion by 2033, expanding at a CAGR of 6.2%, as per a study conducted by Fact.MR, a market research and competitive intelligence provider.
The global precious metals industry has emerged as a beacon of stability and value in a world marked by economic uncertainty and market volatility. It has seen significant growth and change in recent years, attracting the attention of both seasoned investors and start-ups looking to capitalize on its enduring appeal.
Precious metals are in the spotlight in the global financial landscape, with investors and institutions turning to these timeless assets as a hedge against economic uncertainty and inflation. They are an appealing option for risk-averse investors because of their ability to preserve wealth and purchasing power. The industrial applications of these metals are expanding, boosting their demand in industries such as electronics, green energy, and healthcare.
Eminent Market Growth Drivers
Investors are looking for assets that have historically held their value in turbulent times, because of uncertainties and geopolitical tensions.
Precious metals, particularly gold, are regarded as safe investments, acting as a consistent store of value when fiat currencies and other assets falter.
Institutions and central banks have become more interested in precious metals, indicating a growing belief in their long-term value. Institutional investment not only increases demand for these metals but also improves market liquidity and visibility.
The COVID-19 pandemic caused supply chain disruptions and mining challenges, raising concerns about precious metal availability. These disruptions have resulted in supply shortages and, as a result, boosted product demand, driving up prices.
Technological advancements are broadening the industrial applications of precious metals. Gold and silver, in particular, have found new applications in electronics, renewable energy, and medical devices. These applications present demand and growth opportunities in the precious metals business.
Precious metals are increasingly being included in diversified portfolios by investors to reduce risks and boost overall returns. Precious metal prices often have a negative correlation with traditional asset classes, making them valuable diversification tools.
Report Attributes
Details
Precious Metal Market Size (2022A)
US$ 230 Billion
Estimated Market Value (2023E)
US$ 244.26 Billion
Forecasted Market Value (2033F)
US$ 445.76 Billion
Global Market Growth Rate (2023 to 2033)
6.2% CAGR
Asia Pacific Market Share (2022)
58%
Industrial Segment Market Share (2022)
45%
Gold Segment Market Share (2022)
81.5%
Key Companies Profiled

Newmont Corporation
Barrick Gold Corporation
Kinross Gold Corporation
Newcrest Mining Limited
Gold Fields Limited
Freeport-McMoRan
Polyus
Randgold & Exploration Company Limited
AngloGold Ashanti
Anglo American Platinum Limited
Impala Platinum Holdings Limited
First Majestic Silver Corp
First Quantum Minerals Ltd.
Fresnillo PLC
Gabriel Resources Ltd.
Glencore International AG
Harmony Gold
Lundin Mining Corporation
Pan American Silver Corporation
The Perth Mint
Don't Need a Global Report?
save 40%! on Country & Region specific reports
What is the Catalyst for the Growth of the Precious Metal Market?
"Rising Demand for Precious Commodities Due to Their Critical Role in Green Energy Generation"
The industrial sector relies on precious metals, particularly silver, platinum, and palladium. These metals are critical components in a wide range of high-tech applications, including electronics, green energy technologies, and medical devices. Silver is a critical component in semiconductors and photovoltaic cells, which are required for the manufacture of electronics and solar panels.
Platinum and palladium act as catalysts in automotive catalytic converters, which are necessary for reducing harmful emissions in vehicles. Demand for these precious metals is increasing as industries continue to evolve and the world transitions to cleaner energy sources and accelerates advanced technology. Consistent consumer interest in these metals helps sustain their demand.
"Use of Precious Metals as Hedges Against Currency Depreciation and Inflation"
Monetary policies implemented by central banks around the world have a significant impact on the precious metal business. The low-interest-rate environment and quantitative easing policies, which involve large amounts of funds being pushed into the financial system, have a substantial influence. These strategies are intended to spur economic recovery and promote several dynamics. They express concern about the depreciation of fiat currencies and the potential for purchasing power erosion. As investors lose faith in the stability of traditional currencies, they seek assets that have historically preserved value, with gold being a prime candidate.
Central banks become buyers of gold, emphasizing its role as a store of value. Investors in the precious metal business closely monitor actions and statements of central banks regarding interest rates and stimulus measures because they provide critical signals about the health of the economy and the attractiveness of these metals as hedges against currency depreciation and inflation. As a result, central bank policies influence not only demand for precious metals but also market sentiment and investment decisions.
Central bank policies, serve as a response to economic uncertainties and market volatility, motivating investors to seek the stability and enduring value offered by precious metals. These factors, together with others, create a dynamic and resilient market that continues to attract attention from investors and institutions alike.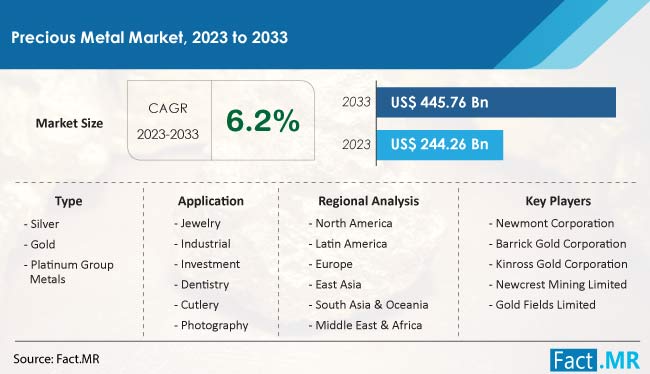 What are the Hindrances to the Sales Growth of Precious Metals?
"Growing Awareness of Environmental Impact of Sourcing Precious Metals"
Open-pit mining and heap leaching can cause deforestation, habitat destruction, soil erosion, and water contamination, raising concerns among investors who prioritize sustainability. Poor working conditions, child labor, and human rights violations in some precious metal mining operations compound environmental concerns, making ethical sourcing and responsible supply chain management critical for socially responsible investors.
Expansion of the precious metal landscape may be constrained by strict environmental regulations, the global move toward green investments, and investor interest in alternatives with smaller environmental footprints. To address these concerns and ensure its long-term viability in an environmentally conscious world, the industry is gradually adopting sustainable practices and transparent supply chains.
Mining companies and the precious metals industry as a whole are increasingly adopting sustainable and responsible mining practices to address these environmental concerns. This shift toward greener and more ethical operations not only addresses environmental constraints but also appeals to a broader base of investors, ensuring the long-term viability of precious metals in an environmentally conscious world.
More Insights, Lesser Cost (-50% off)
Insights on import/export production,
pricing analysis, and more – Only @ Fact.MR
What Tactics are Start-ups Resorting to for Substantial Profits?
"Focus on Environment-friendly and Ethical Sourcing Methods"
Start-ups looking to make a name for themselves in the competitive market can use a variety of strategies to gain a competitive advantage and stay ahead of the competition. Specialized precious metal trading platforms, sustainable sourcing and mining practices, and educational resources to inform and empower investors can all be significant differentiators from the rest.
Embracing technology and incorporating fintech can improve operational efficiency, security, and transparency. Use of blockchain for transparent supply chain tracking, provision of digital wallets, and the implementation of smart contracts can all attract tech-savvy investors.
Start-ups can also tailor their offerings to meet the needs of specific investors. Creating gold-backed cryptocurrencies or specialized investment products, for example, can capture niche markets. Given the global nature of the market, international expansion is a critical strategy. Start-ups must look into opportunities in different countries, taking into account differences in regulations, cultural preferences, and market dynamics. Start-ups that use environmentally friendly and ethical sourcing methods, as well as supply chain transparency, can attract socially responsible investors and gain a competitive advantage.
Country-wise Insights
Asia Pacific held 58% of the global precious metal market share in 2022. The market in North America is expected to expand at a CAGR of 6.5% during the forecast period (2023 to 2033).
What are the Factors Driving Demand for Precious Metals in India and China?
"Widespread Use of Precious Metals as Investments"
India and China are the global leaders in the market. India is one of the world's most significant consumers of gold, owing to its strong cultural affinity for the precious metal. Gold holds significant cultural and religious meaning, and it is widely employed in traditional rites and rituals.
This cultural legacy, paired with an expanding middle class, fuels considerable demand for precious metal jewelry as well as investment in the precious metal industry in the form of coins and bars. Festive seasons and weddings, in particular, fuel a substantial chunk of India's gold consumption, thus solidifying the position of the country as a vital player in the precious metal industry.
China, on the other hand, is notable for its dual role as a precious metals consumer and producer. The country is a major producer of gold, silver, and rare earth elements, giving it a prominent position in the supply chain. China plays an important role in the global supply chain for precious metals, making it a key market player. Innovative financial products and investment avenues related to precious metals have emerged in both India and China.
Why is the United States Precious Metal Market Flourishing?
"Well-Developed Financial Infrastructure Enabling Easy Precious Metal Acquisition and Sale"
The United States is poised to be a significant driver for precious metal market growth. The United States has a strong and well-developed financial infrastructure, making it a global hub for investment and trading. The nation is home to many metal dealers, refineries, and financial institutions, which make it easy to acquire and sell precious metals. As global economic uncertainty persists, American investors are increasingly looking to diversify their portfolios with these safe-haven assets.
Monetary and fiscal policies of the United States have a significant impact on the market. Interest rate hikes, inflation, and currency instability can have an impact on investor sentiment and demand for precious metals. Aside from its role as an investment destination, the United States is also a significant consumer of precious metals, particularly in the jewelry and industrial sectors. Demand for gold and silver metal coating in the manufacture of jewelry and various high-tech applications ensures a consistent level of consumption of precious metals, enhancing the vitality of the United States precious metal market.
According to data released by the United States Geological Survey in 2020, the total production of precious metals in the United States was estimated to be 1195.6 tons.
Category-wise Insights
The industrial application segment held 45% of the market in 2022. Over the next 10 years, the silver segment is expected to expand at a sluggish CAGR of 2.5%.
Why is Gold a Widely Preferred Type of Precious Metal?
"Historical Use of Gold as Safe-haven Investment During Market Volatility"
The gold segment has seen an upsurge in demand in recent years, and it accounted for 81.5% of the market in 2022.
Gold has an unrivaled historical legacy as a store of value and a symbol of wealth. It has universal acceptance and trust, making it the go-to asset during times of economic uncertainty and market volatility. Gold has long been regarded as a safe-haven investment, and this reputation is a powerful driver of its popularity.
Serving as both a monetary asset and an industrial commodity, gold has applications in a variety of industries, including electronics, dentistry, and even space exploration. The accessibility and liquidity of the gold market also contribute to its prominence. Gold can be purchased in a variety of forms, including physical bullion, ETFs, futures contracts, and mining company stocks, precious metal stocks, making it accessible to both individual and institutional investors. The ability to buy and sell gold quickly and efficiently increases its appeal in a volatile market landscape.
According to a World Gold Council study, global investment demand for gold surged by 40% in 2020 compared to 2019.
Competitive Landscape
The precious metal market is a dynamic and varied field with a wide set of stakeholders. Mining businesses are the backbone of the industry, responsible for the extraction and production of precious metals. Key players in the precious metal market such as Newmont Corporation, Barrick Gold, and Anglo American Platinum play a crucial role in guaranteeing a consistent supply of these metals to the market.
On the retail front, bullion dealers offer a wide choice of precious metal products to investors. The value of these metals in cutting-edge developments grows, strengthening their market significance as technology advances to shape the future of precious metals.
Barrick Gold announced the extension of the mine life for its Tongon gold project in Côte d'Ivoire in July 2023.
The remaining 85.1% of GT Gold's shares were purchased by Newmont Corporation in May 2021.
Barrick Gold Corporation's Loulo-Gounkoto third underground mine began delivering gold in April 2021.
Segmentation of Precious Metal Market Research
By Type :

Silver
Gold
Platinum Group Metals

By Application :

Jewelry
Industrial
Investment
Dentistry
Cutlery
Others

By End Use :

Electronics
Medical
Automotive
Aerospace
Oil & Gas
Others

By Region :

North America
Europe
Latin America
East Asia
South Asia & Oceania
Middle East & Africa
- FAQs -
The gold segment accounted for 81.5% share of the precious metal market in 2022.
Worldwide sales of precious metals stand at US$ 244.26 billion in 2023.
Demand for precious metals is forecasted to reach a market value of US$ 445.76 billion by 2033-end.
Sales of precious metals are forecasted to rise at a CAGR of 6.2% through 2033.
The market in North America is projected to expand at a CAGR of 6.5% over the forecast period.