Seed Cracker Market
Seed Cracker Market Analysis By Source (Sunflower Seeds, Pumpkin Seeds, Sesame Seeds, Flaxseeds, Chia Seeds), By Sales Channel (Online, Offline) & By Region - Global Market Insights 2023 to 2033
Analysis of Seed Cracker Market Covering 30+ Countries Including Analysis of US, Canada, UK, Germany, France, Nordics, GCC countries, Japan, Korea and many more
Seed Cracker Market Outlook (2023 to 2033)
According to Fact.MR's research, the global seed cracker market has reached a valuation of US$ 3.47 billion in 2023. Increasing at a CAGR of 5.6%, worldwide sales of seed crackers are projected to reach US$ 5.98 billion by 2033.
Seed crackers are a type of snack or cracker made primarily from a combination of various seeds. They are a popular alternative to traditional crackers and snacks, particularly for individuals seeking healthier and gluten-free options. Pumpkin seed crackers, sunflower seed crackers, flaxseed crackers, sesame seed crackers, chia seed crackers, and mixed seed crackers are some popular seed crackers.
Seeds used in seed crackers are known for their nutritional benefits. They are rich in essential nutrients such as protein, fiber, healthy fats, vitamins, and minerals. Seed crackers often provide a good source of plant-based protein, which is particularly beneficial for individuals following vegetarian or vegan diets.
Demand for sunflower seed crackers is forecasted to rise at a healthy CAGR of 5.7% from 2023 to 2033.
Sunflower seed crackers offer a range of health benefits, unique flavors, and versatility, making them a popular choice among consumers. Sunflower seeds are nutrient-dense, containing essential vitamins, minerals, healthy fats, and protein. They are a good source of vitamin E, which acts as an antioxidant in the body, as well as minerals such as magnesium, phosphorus, and selenium. These nutritional properties make sunflower seed crackers an appealing option for health-conscious individuals seeking a snack that provides both taste and nutrition.
Often known as gluten-free seed crackers, sunflower seeds are suitable for individuals with gluten intolerance. As awareness of gluten-related health issues has grown, there has been a significant demand for gluten-free alternatives across various food categories, including snacks. Sunflower seed crackers cater to this demand and provide a tasty option for those following gluten-free diets.
In 2021, Simple Mills introduced its latest product, the NEW Organic Seed Crackers, as part of its commitment to promoting holistic health for both the planet and its people. These crackers proudly hold the USDA Certified Organic label and are crafted using regenerative farming practices. With their signature flaky texture and crunch, Organic Seed Crackers provide a delightful snacking experience that can be enjoyed at any time of the day. Simple Mills' Organic Seed Crackers exemplify its dedication to offering nutritious and environmentally conscious food options.
Report Attributes
Details

Seed Cracker Market Size (2023E)

US$ 3.47 Billion

Forecasted Market Value (2033F)

US$ 5.98 Billion

Global Market Growth Rate (2023 to 2033)

5.6% CAGR

United States Market Growth Rate (2023 to 2033)

7% CAGR

Canada Market Growth Rate (2023 to 2033)

6.9% CAGR

Australia Market Value (2033F)

US$ 1.24 Billion

United Kingdom Market Value (2033F)

US$ 586.26 Million

Germany Market Value (2033F)

US$ 305.09 Million

Key Companies Profiled

Back to Nature
Seeds of Change
Mary's Gone Crackers
Simple Mills
Ezekiel 4:9
Banza
Food Should Taste Good
Patagonia Provisions
Quinoa One
Siete Foods
Bissonnette
The Village Baker
Rude Health
Pip & Nut
Primal Kitchen
Don't Need a Global Report?
save 40%! on Country & Region specific reports
Which Trends are Being Witnessed in the Market for Seed Crackers?
"Gluten-free Goodness of Seed Crackers Stimulating Product Demand"
One of the key advantages of seed crackers is their gluten-free nature. Unlike other crackers, which often contain wheat or other gluten-containing grains, seed crackers are without gluten. This makes them suitable for individuals with gluten intolerance or celiac disease.
Seed crackers are known for their crunchy texture and nutty flavor, which can vary depending on the type of seed used and any additional seasonings or spices added during the production process. They are commonly enjoyed as a standalone snack but can also be paired with dips, spreads, or cheeses. Due to their perceived health benefits and growing demand for healthier snack alternatives, seed crackers are rapidly gaining popularity.
"Availability of Healthy Seed Crackers Pumped With Nutritional Crunch"
Seed crackers are popular and highly demanded by health-conscious individuals due to their low carbohydrate content, suitability for vegan diets, and overall health benefits. As consumers are increasingly prioritizing healthier snack choices, seed crackers provide a satisfying and nutritious option that aligns with various dietary preferences and goals.
One of the primary reasons for the popularity of seed crackers among health-conscious individuals is their low carbohydrate content. Many health-conscious individuals, including those following low-carb or ketogenic diets, seek alternatives to traditional high-carbohydrate snacks. Low-carb seed crackers provide a satisfying crunch and texture without significantly impacting blood sugar levels, making them an ideal choice for those looking to reduce carb intake.
With growing interest in plant-based diets, vegan seed crackers are witnessing a rise in demand. These crackers are free from any animal-derived ingredients, making them suitable for vegans and vegetarians. Multi-seed crackers, which incorporate a variety of seeds such as pumpkin seeds, sunflower seeds, flaxseeds, sesame seeds, and chia seeds, have become increasingly popular. The combination of multiple seeds provides a range of nutritional benefits, including a good source of protein, healthy fats, fiber, vitamins, and minerals.
What's Hampering Demand Growth for Seed Crackers?
"Allergies & Dietary Restrictions Lowering Demand for Seed Crackers"
Seed allergies or dietary restrictions can limit the consumer base for seed crackers. Some individuals have specific allergies to certain seeds such as sesame seeds, which can prevent them from consuming seed crackers. Additionally, individuals with certain dietary restrictions such as those following a low-fat diet are cautious about consuming seed crackers.
"Higher Price Points Hindering Consumption of Seed Crackers"
The price point of seed crackers can also affect consumer purchasing decisions. Seed crackers, especially those made with organic or specialty ingredients, are priced higher compared to normal crackers. This higher price discourages price-sensitive consumers from choosing seed crackers, restricting the growth of the seed cracker market.
More Insights, Lesser Cost (-50% off)
Insights on import/export production,
pricing analysis, and more – Only @ Fact.MR
How are Start-ups Gaining Traction by Investing in the Seed Cracker Market?
"New Companies Focusing on Offering Unique & Distinctive Flavors of Seed Cracker"
Demand for healthier snack options, including seed crackers, has been increasing in recent years. Consumers are becoming more fitness-conscious and are actively seeking nutritious alternatives to traditional snacks. This growing demand is creating potential opportunities for newcomers to capture a share of the expanding consumer base.
The seed cracker business is offering room for innovations and catering to diverse consumer preferences. Consumers have varying dietary needs and preferences such as gluten-free, vegan, or low-carb options. Newcomers leverage these niches by introducing unique seed cracker variations that meet specific dietary requirements or offer distinctive flavors and textures.
New companies can differentiate themselves by introducing novel seed combinations, incorporating unique seasonings or spices, or exploring packaging formats that enhance convenience and freshness. Innovations can help attract consumer attention and drive brand differentiation.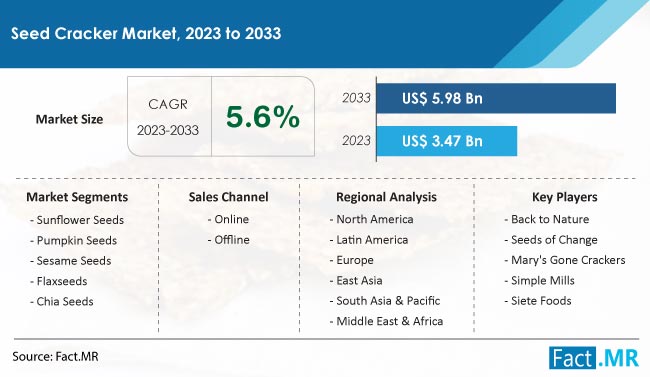 Country-wise Analysis
Why is Demand for Seed Crackers Increasing Rapidly in the United States?
"Seed Crackers Gaining Popularity as Healthy Snack Option"
In the United States, demand for seed crackers is estimated to increase at a CAGR of 7% from 2023 to 2033.
Demand for healthier snack options and the rising population of health-conscious consumers are driving the United States seed cracker market. Consumers are increasingly seeking convenient, nutritious, and flavourful alternatives to traditional snacks.
The United States market is characterized by top-seed cracker brands offering diverse flavors, including multi-seed options, gluten-free variants, and innovative ingredient combinations. Major retailers and online platforms in the United States are playing a crucial role in expanding the distribution network, making seed crackers accessible to a larger consumer base.
Why are Key Producers of Seed Crackers Attracted to Australia?
"Gluten-Free & Vegan Vibes: Catering to Australian Tastes with Seed Crackers"
Sales of seed crackers in Australia are projected to reach US$ 1.24 billion by 2033.
The country's health-conscious population, with a focus on natural and wholesome food choices, is contributing to the increasing demand for seed crackers. Australian consumers are particularly drawn to gluten-free and vegan options, driving the demand for seed crackers.
Presence of local artisanal brands as well as international players is further driving sales of seed crackers in the country. Additionally, the preference for locally sourced ingredients and sustainable production practices is gaining prominence among Australian consumers.
Why is Germany a Profitable Market in the European Region?
"Organic Seed Crackers Gaining Traction in Germany's Sustainable Snack Scene"
The market for seed crackers in Germany is projected to expand at a CAGR of 6.9% over the coming decade.
German consumers are known for their fitness attitudes and preferences for organic and natural food products. Seed crackers, with their nutritious profile and gluten-free nature, align well with German consumer demands.
There is a growing demand for clean-label, high-quality, organic-certified seed crackers made from locally sourced ingredients. Consumers in Germany appreciate sustainable packaging and transparent labeling practices.
Know thy Competitors
Competitive landscape highlights only certain players
Complete list available upon request
Category-wise Analysis
Why are Seed Crackers Widely Purchased through Online Platforms?
"Convenience, Accessibility to Wider Options, & Product Reviews Available"
Sales of seed crackers through the online medium are forecasted to increase at a CAGR of 6% through 2033.
Online shopping provides convenience to consumers. They can browse through a wide range of seed cracker brands and flavors from the comfort of their homes, without the need to physically visit multiple stores. Online platforms allow consumers to make purchases at any time that suits them, providing flexibility and saving time. Online shopping also eliminates geographical barriers and offers high discounts.
Consumers can access a variety of seed cracker brands, including international options, which may not be available locally. This expands the choices available to consumers and allows them to explore unique and diverse seed cracker offerings.
Online platforms also provide detailed product information, including ingredients, nutritional values, and certifications. Consumers can compare different brands, read customer reviews, and make informed decisions based on the experiences and feedback of others. This transparency and access to information help consumers choose the seed crackers that best align with their dietary preferences and requirements.
Competitive Landscape
Top companies in the seed cracker business are investing in research and development activities to introduce innovative seed cracker flavors, variations, and packaging formats. By continuously introducing new and unique products, they aim to attract consumer attention, drive repeat purchases, and differentiate themselves from competitors.
Effective marketing and branding strategies are also helping key players to build brand awareness, enhance brand reputation, and create a strong customer base. They are investing in targeted advertising, social media campaigns, influencer collaborations, and content marketing to reach their target audience and highlight the unique features and benefits of their seed crackers.
Mary's Gone Crackers is known for its gluten-free and organic seed crackers. Its Super Seed Crackers combine a variety of seeds, including flax seeds, pumpkin seeds, sunflower seeds, and sesame seeds, creating a crunchy and flavourful snacking experience.
Key Segments of Seed Cracker Industry Research
By Source :

Sunflower Seeds
Pumpkin Seeds
Sesame Seeds
Flaxseeds
Chia Seeds

By Sales Channel :

Online

Company-owned Websites
e-Commerce Sites

Offline

Supermarkets & Hypermarkets
Independent Retailers
Convenience Stores

By Region :

North America
Latin America
Europe
East Asia
South Asia & Oceania
MEA
- FAQs -
The global seed cracker market is valued at US$ 3.47 billion in 2023.
The market for seed crackers is forecasted to reach US$ 5.98 billion by 2033.
Demand for seed crackers is expected to increase at a CAGR of 5.6% from 2023 to 2033.
Rising at a CAGR of 6.9%, the German market is projected to reach US$ 305.09 million by 2033.
Some of the key market players are Back to Nature, Seeds of Change, Mary's Gone Crackers, and Simple Mills.