Soft Tissue Allografts Market
Soft Tissue Allografts Market Analysis, By Application (Orthopedic, Dentistry, Wound Care), By Type (Cartilage Allografts, Tendon Allografts, Meniscus Allografts, Dental Allografts, Others), By End User (Hospitals, Aesthetic Centers, Others) & By Region - Global Market Insights 2023-2033
Analysis of Soft Tissue Allografts Market Covering 30+ Countries Including Analysis of US, Canada, UK, Germany, France, Nordics, GCC countries, Japan, Korea and many more
Soft Tissue Allografts Market Outlook (2023 to 2033)
The global soft tissue allografts market is valued at US$ 4.98 billion in 2023 and is expected to reach US$ 8.11 billion by 2033. Global demand for soft tissue allografts is predicted to increase at a healthy CAGR of 5% during the next 10 years. This can be attributed to the rising number of orthopedic and oral surgeries across the world.
Soft tissue allograft procedure is the method of using tissues from another area of the body to treat the injured body part. Deformities or injuries such as musculoskeletal injuries, tissue tears as a result of accidents, severe burns, solid organ transplantation, and others are treated using the allograft technique.
When compared to an autograft, the allograft is an effective and painless method of treating injured body parts. Soft tissue allografts are used in treatment procedures related to knee surgeries, spinal surgeries, reconstructive surgeries related to rip ligaments, and orthodontic surgeries.
Allografts of soft tissue must pass a stringent screening procedure to assure patient compatibility during tissue rebuilding. It undergoes a three-stage screening procedure that entails donor screening, laboratory testing, and tissue processing.
According to the National Center for Biotechnology Information (NCBI), cortico-cancellous allografts are currently the most widely used transplant. They only exhibit osteoconductive properties and neither osteoinductive nor osteogenic traits.
Elderly people, due to ageing, experience orthodontic issues. On the other hand, traumas or injuries are the cause of dental decay in adults. Dental implants have a lengthy and complicated history as a support system for tooth replacement. The research on dental implant designs, components, and procedures is progressing rapidly. Due to the expanding dental implant market and rising demand for cosmetic dentistry, it is anticipated that the demand for soft tissue allografts is increasing rapidly.
Demand for soft tissue allografts for the treatment of ailments related to dentistry is expected to increase at a CAGR of 5.5% during the forecast period. This can be due to the increasing prevalence of dental problems.
People across the world are also placing a greater focus on maintaining good oral hygiene. One of the most recent trends driving the sales of soft tissue allografts is the enormous desire for dental aesthetics.
As per the FDI World Dental Federation study, dental caries is among the most common oral diseases globally and counts for nearly 10% of healthcare spending in the most of developed nations.
About 3.5 billion people worldwide are experiencing oral problems, with 3 out of every 4 of these persons living in middle-income countries, according to the WHO Global Oral Health Status Report (2022).
Report Attributes

Details

Soft Tissue Allografts Market Size (2023E)

US$ 4.98 Billion

Forecasted Market Value (2033F)

US$ 8.11 Billion

Global Market Growth Rate (2023 to 2033)

5% CAGR

China Market Growth Rate (2023 to 2033)

5% CAGR

Japan Market Growth Rate (2023 to 2033)

5% CAGR

Germany Market Growth Rate (2023 to 2033)

4% CAGR

Canada Market Growth Rate (2023 to 2033)

4% CAGR

Key Companies Profiled

Alliqua BioMedical, Inc.
Arthrex, Inc.
B. Braun Melsungen AG
BARD, A Becton, Dickinson Company
CONMED Corporation
Globus Medical, Inc.
Integra Lifesciences Corporation
Lattice Biologics Ltd.
Organogenesis, Inc.
Osiris Therapeutics, Inc.
Straumann
Xtant Medical
Zimmer Biomet Holdings, Inc.
Which Market Trends are Benefitting Soft Tissue Allograft Product Suppliers?
"Rising Sports-related Activities Increasing Chances of Injuries"
Demand for soft tissue allografts is expanding significantly as a result of the increasing activities related to athletics and other sports. Athletes are required to participate in rigorous training sessions that, in reality, are more demanding than the actual sport to complete modern training programs for athletics, field events, and various other contact sports such as American football.
The enhancement of athletic performance is closely connected with high-intensity training programs; however, overtraining also causes muscle and bone weariness and frequently results in injuries. Thus, there are more injuries among sportsmen, particularly as a result of overtraining. The competitiveness of sports has fueled the need among athletes for a speedy recovery and conveniently accessible techniques to treat musculoskeletal ailments.
According to a Johns Hopkins Medicine study, sports or other recreational activities are to blame for about 21% of all trauma-related brain injuries among American youth.
Around 50% out of the 33 million musculoskeletal injuries recorded in the United States each year involve soft tissue damage, such as tears in tendons and ligaments.
"Increasing Cases of Orthopedic Disorders"
According to the United Kingdom National Health Service's 2020 figures, tennis elbow was a prevalent ailment affecting 1-3 percent of the population, or 4–7 cases per 1,000 people annually.
Fresh-frozen meniscal allografts, fresh osteochondral allografts, soft tissue allografts, and commercially available cartilage products were the most commonly utilized allograft safety and tissue bank practice in the United States, as per the study 'Use of Allografts in Orthopaedic Surgery: Safety, Procurement, Storage, and Outcomes', published in December 2019.
Rising prevalence of osteoarthritis which causes severe pain and impairment is aiding the growth of the soft tissue allografts market. Orthopedic and overall bone health is becoming more and more linked to rising obesity rates and average population weights. Numerous co-morbidities, such as osteoarthritis, type 2 diabetes, sleep apnea, coronary artery disease, and hypertension are experienced more likely due to obesity.
Obesity has also been linked to the pathophysiology of many soft tissue ailments, including osteoporosis, accidents, osteoarthritis, and many more, and also, with the declination of bone mass and the production of proinflammatory cytokines. These elements develop the likelihood that obese patients will develop musculoskeletal diseases, which subsequently increases the demand for soft tissue allografts.
In several soft tissue restoration treatments, such as anterior cruciate ligament (ACL) reconstruction, one of the most common orthopedic surgeries, allografts have achieved significant clinical success. The need for musculoskeletal allografts is increasing as a result of their high success rates and increasing public awareness.
According to the American Academy of Orthopedic Surgeons' most recent research, more than 5 million musculoskeletal allografts have been authorised and distributed to surgeons over the last ten years.
Don't Need a Global Report?
save 40%! on Country & Region specific reports
Which Aspects Should Producers of Soft Tissue Allografts Work More On?
"High Cost of Soft Tissue Allograft Products"
Despite the treatments' potential to cure a range of soft tissue ailments, one of the main obstacles to their broad patient use is the expensive price of treatment procedures. The utilization of an allograft, longer treatment period, and high raw material cost increase the treatment price.
Numerous patients' quality of life can be markedly enhanced by tissue allografts. But infections brought on by bacterial contamination of allografts can be fatal or cause substantial morbidity. One of the key problems hindering sales growth, as per Fact.MR, a market research and competitive intelligence provider, is physicians' lack of acceptance of biological goods.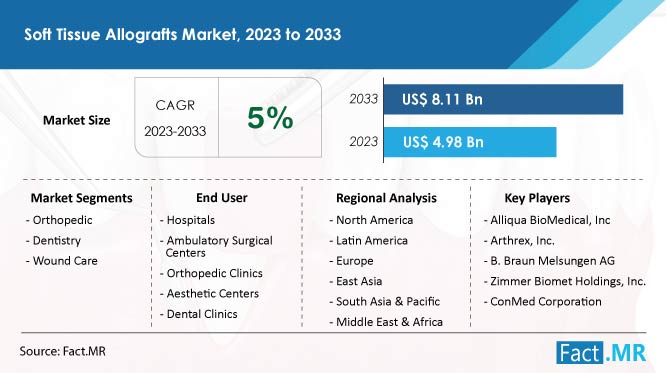 Country-wise Analysis
What is Supporting the Sales of Soft Tissue Allografts in the United States?
"High Incidence of Diabetes Increasing Number of Ligament Surgeries"
The United States holds a dominating position in the North American market. The rising diabetic foot ulcer cases, improved diabetes healthcare awareness campaigns, and increasing anterior cruciate ligament (ACL) surgeries are some of the factors driving the United States market growth. Also, key players in the region are introducing advanced soft tissue allografts products.
An anterior cruciate ligament implant to treat ACL tears without undergoing ACL repair was given marketing approval by the US Food and Drug Administration in December 2020. For the treatment of ACL rupture, the Bridge-Enhanced ACL Repair (BEAR) Implant technology is utilized to reconstruct using allograft, suture-only repair, or autograft.
The newest wound care product to enhance soft tissue recovery, AmnioExcel Plus Placental Allograft Membrane, was introduced by Integra LifeSciences Holding Corporation in February 2020.
Why is Germany a Leading Market in the European Region?
"Advancements in Healthcare Sector and Rising Cases of Oral Disorders"
Germany is a leading market for soft tissue allografts in the European region due to rapidly advancing healthcare systems. A robust distribution and rapid development in the local supply of soft tissue allograft products are driving sales growth in the nation.
The increasing cases of oral disorders in the nation are boosting the demand for sterile soft tissue allografts. The demand for dental services and the presence of dental surgeons have significantly increased in Germany in the past few years. The favourable dental healthcare policies are increasing the rate of orthodontic surgeries, which subsequently is growing the demand for soft tissue allografts.
What Will Benefit Manufacturers of Soft Tissue Allografts in Japan?
"Orthopedic Disorders – A Growing Burden on the Healthcare Sector"
The healthcare infrastructure in Japan is developing rapidly. Several companies in the soft tissue allografts market are focusing on the opportunity-rich market in Japan. Sales of soft tissue allografts in Japan are expected to evolve at a CAGR of 5% from 2023 to 2033.
The rate of the senior population in Japan is increasing swiftly. It is considered that people in Japan live up to 100 years. Thus, the prevalence of orthopedic disorders is growing rapidly in the nation. The rising cases related to orthopedic diseases increasing the demand for soft tissue allograft solutions.
More Insights, Lesser Cost (-50% off)
Insights on import/export production,
pricing analysis, and more – Only @ Fact.MR
Category-wise Analysis
Which Type of Soft Tissue Allografts are Most Widely Used?
"Cartilage Allografts Highly Preferred for Treatment of Osteochondral Abnormalities"
Soft tissue allografts are classified into cartilage allografts, tendon allografts, meniscus allografts, dental allografts, collagen allografts, and amniotic allografts. Allografts of cartilage are essential parts of orthopedic surgery treatments such as joint restoration. Treatment for chondral and osteochondral diseases typically involves cartilage allograft transplantation, most commonly in the knee. For patients who have joint cartilage pathology, these procedures can help reduce symptoms and enhance the quality of life.
Osteochondral allograft (OCA) has its scientific foundation such as the transplantation of fully grown or mature hyaline (joint) cartilage including living cartilage cells ('chondrocytes') that sustain the transplantation and support the development of the cartilage matrix indefinitely. For patients with cartilage and osteochondral abnormalities, osteochondral allograft transplantation is a flexible therapy option.
According to a research titled 'Osteochondral Allograft Transplant for Focal Cartilage Defects of the Femoral Condyles: Clinically Significant Outcomes, Failures, and Survival at a Minimum 5-Year Follow-up', it was estimated that osteochondral transplants show considerable clinical developments and reliability at mid-to-long-term follow-up, success rates of 86.2% and 81.8% for 5 & 10 years, respectively. OCA's improved efficacy is expected to increase sales growth.
Several key players are also engaged in producing advanced cartilage allografts. One of the most well-known businesses engaged in the creation of cartilage and bone allografts is Arthrex Inc.
CartiMax Viable Cartilage Allograft, a cartilage allograft that resembles putty and was developed by MTF Biologics, can be used to quickly treat defects in the foot, knee, and ankle.
Competitive Landscape
Rapid technological advancements are boosting the sales of soft tissue allografts. Several key players in the soft tissue allografts market are introducing advanced solutions, which is subsequently increasing the sales of soft tissue allografts. Also, increasing consumer knowledge and awareness of tissue allografts is supporting sales growth.
Fact.MR reveals new developments, trends in demand and supply chain management systems, and organic and inorganic marketing tactics in its recent report on the soft tissue allografts market.
AlloSource introduced AlloMend Extra-Large (XL) Acellular Dermal Matrix (ADM) in October 2021. This dermal transplant has the desired handling properties that allow for precise insertion.
Direct Biologics LLC introduced AmnioWrap placenta-based sheet allografts for clinical application in January 2021. A special three-layer graft called AmnioWrap is designed to be used on both acute and chronic wounds.
Know thy Competitors
Competitive landscape highlights only certain players
Complete list available upon request
Key Segments of Soft Tissue Allografts Industry Research
By Application :

Orthopedic
Dentistry
Wound Care

By Type :

Cartilage Allografts
Tendon Allografts
Meniscus Allografts
Dental Allografts
Collagen Allografts
Amniotic Allografts

By End User :

Hospitals
Aesthetic Centers
Orthopedic Clinics
Ambulatory Surgical Centers
Dental Clinics

By Region :

North America
Latin America
Europe
East Asia
South Asia & Oceania
MEA
- FAQs -
The global soft tissue allografts market is valued at US$ 4.98 billion in 2023.
Global sales of soft tissue allografts are projected to reach US$ 8.11 billion by 2033.
Global demand for soft tissue allograft products is predicted to increase at a CAGR of 5% from 2023 to 2033.
The United States, Germany, and Japan are profitable regional markets for soft tissue allograft producers.
Key market players are Arthrex, Inc., B. Braun Melsungen AG, and CONMED Corporation.