Submarine Power Cable Market
Submarine Power Cable Market Analysis By Core Type (Single-core, Multi-core), By Voltage (Medium, High), By Conductor Material (Copper, Aluminium), By Insulation Type (Cross-linked Polyethylene (XLPE), Ethylene Propylene Rubber (EPR)), By End Use (Offshore Wind Power Generation, Inter-country & Island Connection, Offshore Oil & Gas) and By Region – Global Market Report (2024 to 2034)
Analysis of Submarine Power Cable Market Covering 30+ Countries Including Analysis of US, Canada, UK, Germany, France, Nordics, GCC countries, Japan, Korea and many more
Submarine Power Cable Market Outlook (2024 to 2034)
The global submarine power cable market, which is an key component of the energy sector, is pegged at US$ 14.81 billion for 2024 and is projected to reach a valuation of US$ 46.83 billion by 2034-end, expanding at a CAGR of 12.2% from 2024 to 2034.
The global market is undergoing a fundamental shift, driven by the need to move to clean and sustainable energy sources. Submarine power cables, the unsung heroes of the energy industry, transport electricity across large miles of ocean, connecting offshore energy-producing plants to the onshore grid.
Demand for submarine power cables is being driven by the rapid construction of offshore wind farms, mainly across Europe and Asia. These cables are crucial for delivering sustainable energy from offshore wind farms to the mainland. Governments around the world are investing in cross-border grid interconnection projects, which help to drive submarine power cable market growth. These projects seek to improve energy security and promote electricity exchange among adjacent countries. Continuous advancements in cable design and materials improve underwater transmission cable efficiency and longevity, supporting market growth.
Key Market Growth Drivers
Fast construction of offshore wind farms is one of the most powerful growth drivers. These cables connect offshore wind turbines to onshore substations, providing the continuous delivery of clean energy to the grid.
As governments throughout the world boost their investments in offshore wind projects, the global market is expected to rise at an exponential rate.
In the energy industry, energy security and efficient power trading are critical. Countries are substantially investing in cross-border grid interconnection projects to develop interdependence and reduce dependency on a single energy source or supplier.
Continuous advancements in submarine cable design and materials are fueling market expansion. High Voltage Direct Current (HVDC) cables in particular are gaining popularity due to their capacity to transport enormous amounts of electricity over long distances with little energy loss.
Submarine cables are more environmentally friendly than standard overhead transmission lines because they cause less harm to marine habitats. This is consistent with the goals of reducing environmental effects while improving energy transmission capacity.
These technological improvements such as submarine AIP systems not only improve the efficiency of electricity transmission but also increase demand for sophisticated, long-lasting undersea power cables.
Report Attributes
Details
Submarine Power Cable Market Size (2023A)
US$ 13.2 Billion
Estimated Market Value (2024E)
US$ 14.81 Billion
Forecasted Market Value (2034F)
US$ 46.83 Billion
Global Market Growth Rate (2024 to 2034)
12.2% CAGR
Europe Market Share (2023)
45.5%
High Voltage Segment Share (2023)
66%
Key Companies Profiled

Prysmian Group
NKT A/S
Nexans SA
Sumitomo Electric Industries Limited
ABB Ltd.
General Cable Corp.
Furukawa Electric Group
LS Cable & System
Hengton Group Co., Ltd.
KEI Industries Ltd.
Hydro Group
ZTT
Tele Fonika Kable SA
Taihan Cable & Solution Co., Ltd.
Tratos
The Okonite Company
Hellenic Cables
Bhuwal Insulation Cable Pvt. Ltd.
Apar Industries
Don't Need a Global Report?
save 40%! on Country & Region specific reports
Which Market Dynamics are Influencing Demand for Submarine Power Cables?
"Integration of Offshore Wind Power to Decrease Greenhouse Gas Emissions"
Offshore wind farms have grown drastically and are an important part of the global transition to clean and renewable energy sources. Submarine power cables are critical in this shift since they connect these offshore wind projects to the onshore power grid. Submarine power cables serve as a link between these far offshore locales and power-hungry areas, ensuring that the clean energy generated is efficiently transported to customers.
Rapid expansion of offshore wind capacity, particularly in Europe and Asia, has created a significant need for undersea power cables. As technological advances in wind turbine design and construction boost the efficiency and capacity of these offshore facilities, the demand for high-quality, high-capacity underwater power cables grows.
"Globalization of Energy Trade Ensuring Energy Security and Sustainability"
Countries are increasingly turning beyond their borders to obtain reliable and diversified energy supplies as global energy demand rises. This technique is centered on cross-border grid interconnections, which are frequently powered by submarine power cables. These interconnection projects promote energy security and resource optimization by allowing effective electricity trade between neighboring countries and regions. Countries can balance supply and demand by creating resilient and interconnected grids, decreasing the vulnerability of their submarine power cable systems to supply outages and price variations.
Demand for underwater power cables is increasing as more countries engage in cross-border energy trading. These undersea cables are critical in carrying electricity across international waterways, providing a continuous flow of energy between countries. Submarine power cables, by connecting places with variable renewable energy potential, aid in the transmission of clean energy to areas where it is most required, lowering dependency on fossil fuels and contributing to a more sustainable and linked global energy environment.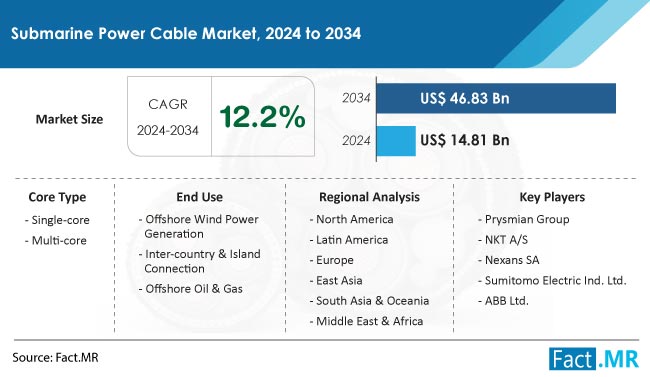 What is Impeding Submarine Power Cable Market Growth?
"Technological Challenges Associated with Submarine Cable Maintenance in Harsh Conditions"
Installing and maintaining submarine power cables in harsh marine settings may be extremely complex and demanding. Submarine power lines frequently travel over great ocean depths, changing bottom conditions, and stormy undersea landscapes. To ensure the safe and reliable operation of the cable, engineering solutions must account for these conditions.
Submarine cables are subjected to a variety of environmental stresses, such as high currents, temperature fluctuations, and pressure differentials. It is a difficult undertaking to design cables that can survive these circumstances over time.
To ensure cable integrity and performance under harsh conditions, intensive testing and the use of modern materials and construction processes are required. These technical complexities can impede the scalability of submarine power cable projects, as efficiently addressing wear and tear during the operational lifetime of the cable is critical for ensuring uninterrupted energy transfer.
Cable installation is a logistically complex procedure that frequently necessitates the use of specialized vessels and equipment to lay the cables on the seafloor. Dealing with such long wire lengths, guaranteeing adequate anchoring, and minimizing the danger of cable damage during installation can be technically difficult.
More Insights, Lesser Cost (-50% off)
Insights on import/export production,
pricing analysis, and more – Only @ Fact.MR
How are Start-ups Driving the Innovation Train in Submarine Power Cable Technology?
"Focus on Developing Eco-friendly Cable Materials and Cost-effective Installation Methods"
Start-ups must focus on specific strategies, such as the development of new cable materials, novel cable designs, or cutting-edge cable installation methods. Start-ups must form strategic alliances with established industry players, research institutions, or other start-ups. These collaborations can give start-ups important knowledge, resources, and market insights.
Collaboration can speed up R&D efforts, open doors to new markets, and boost the credibility of a start-up within the industry. Innovation is the lifeblood of success in the submarine power cable business. Start-ups should focus on developing disruptive technologies and approaches that threaten the status quo. Whether it is introducing eco-friendly cable materials, cost-effective installation methods, or ground-breaking cable designs, innovation can help firms achieve a competitive advantage and market attention.
Start-ups should look toward foreign markets, particularly in areas where offshore energy projects are gaining pace. Start-ups may effectively compete and survive in this dynamic and attractive industry by being adaptive, imaginative, and smart in their approach.
Country-wise Insights
Transmission of electrical power through subsea cables is a major market driver in developing economies such as India, the United States, Canada, the United Kingdom, and Germany.
What is Attracting Submarine Power Cable Manufacturers to the United States?
"Investments in Sustainable Energy Solutions Fueling Demand for Submarine Power Cables"
The United States is positioned to be a prominent catalyst for the growth of the submarine power cable market. The United States is experiencing a spectacular boom in offshore wind energy production. The United States has been actively investing in offshore wind projects due to its wide coastlines and great offshore wind potential, particularly in the Northeast and along the Atlantic coast. These efforts include the construction of large wind farms off its coasts, which necessitates the installation of modern submarine power lines to connect these offshore turbines to the mainland grid.
The country recognizes the significance of grid connectivity and cross-border energy trading in improving energy security and resource utilization. Cross-border interconnections, such as those proposed between the United States and Canada, attempt to facilitate electricity interchange between neighboring countries. These initiatives are fueling domestic demand for undersea power cables.
How is Germany Contributing to High Sales of Submarine Power Cables?
"Commitment to Energy Security, Technological Innovation, and Environmental Consciousness"
Europe accounted for 45.5% of the global submarine power cable market share in 2023, reveals Fact.MR, a market research and competitive intelligence provider.
Germany has emerged as a global pioneer in renewable energy transition, particularly in the offshore wind sector. The rise of offshore wind farms is directly proportional to the demand for submarine power cables, which are critical cable conduits for delivering the clean energy generated by offshore turbines to the mainland grid. A massive network of underwater power cables connecting these wind farms to the onshore grid and enabling the efficient distribution of renewable energy is required to meet these commitments.
A strong commitment to energy security and sustainability drives investments in cross-border grid interconnection projects in Germany. These measures strengthen energy security and develop interdependence with neighboring countries. The country has a solid industrial base, as well as cutting-edge cable manufacturing facilities and technological skills.
German firms are pioneers in the development of sophisticated cable designs and materials such as high voltage direct current (HVDC) cables, which improve transmission efficiency and reduce energy loss during long-distance electricity transmission. Submarine power cables align with the country's goal of minimizing the environmental effect of energy infrastructure projects because they cause less harm to marine ecosystems than typical overhead transmission lines.
Know thy Competitors
Competitive landscape highlights only certain players
Complete list available upon request
Category-wise Insights
High-voltage submarine cables accounted for 50% of global market revenue in 2023, while the medium-voltage segment is poised to rise at a steady CAGR.
Which End Use Holds a Leading Share of the Market?
"Extensive Use of Submarine Power Cables in Offshore Wind Energy Generation"
Asia Pacific accounted for 38.75% of the market in 2023. Owing to its critical role in easing the global shift to clean and sustainable energy sources, the offshore wind power generation segment has emerged as the market leader in the submarine power cable industry.
With their significant generation capacity and advantageous positions in wind-rich coastal areas, offshore wind farms have seen spectacular growth, particularly in regions such as Europe and Asia. Submarine power cables are essential in connecting remote, wind-rich places to population centers as governments throughout the world spend substantially on offshore wind projects to diversify their clean energy portfolios.
Significant investments and lofty goals established by governments and energy businesses highlight the offshore wind power generation segment's leadership. For example, in Europe, countries such as the United Kingdom, Germany, and Denmark have led the development of offshore wind farms, increasing in demand for undersea power cables.
Importance of offshore wind power generation is enhanced by the environmental considerations and sustainability goals that underpin the global energy shift. Offshore wind power is a clean, renewable, and infinite energy source that reduces dependency on fossil fuels and helps mitigate climate change. In this context, submarine power cables play a key role in guaranteeing the efficient and environmentally beneficial transmission of this clean energy to customers.
Competitive Landscape
The competitive landscape of this industry is characterized by a mix of well-established firms and new entrants. Major global firms with vast experience and skill in manufacturing high-voltage power cables intended to endure the harsh undersea environment, such as Nexans, Prysmian Group, and General Cable Technologies, are at the forefront of the submarine power cable market.
The market is a dynamic and ever-changing business that necessitates a careful balance of experience, innovation, and adaptation. As demand for offshore renewable energy grows, competition in this sector is set to heat up, making it critical for enterprises to keep ahead of technology improvements and regulatory changes to preserve their competitive position.
Prysmian Group announced the completion of the Viking Link Interconnector project in October 2023, which connects Norway and the United Kingdom via an underwater power cable system capable of carrying 1,400 MW of electricity. This is the world's longest inter-country subsea power cable connection.
Nexans announced the successful completion of the East Anglia THREE offshore wind farm project in July 2023, which connects the United Kingdom grid to a 450 MW offshore wind farm. Nexans delivered a submarine power cable system for this project.
Segmentation of Submarine Power Cable Market Research
By Core Type :

By Voltage :

By Conductor Material :

By Insulation Type :

Cross-linked Polyethylene (XLPE)
Ethylene Propylene Rubber (EPR)

By End Use :

Offshore Wind Power Generation
Inter-country & Island Connection
Offshore Oil & Gas
Others

By Region :

North America
Latin America
Europe
East Asia
South Asia & Oceania
Middle East & Africa
- FAQs -
Worldwide sales of submarine power cables are estimated at US$ 14.81 billion in 2024.
Europe accounted for 45.5% share of the global submarine power cable market in 2023.
Demand for submarine power cables is projected to reach a market value of US$ 46.83 billion by 2034-end.
Revenue from sales of submarine power cables is projected to increase at a CAGR of 12.2% through 2034.
Prysmian (Italy), Sumitomo Electric Industries Ltd. (Japan), and Nexans (France) are leading producers of submarine power cables.