Ride-on power trowels are construction equipment employed for trowelling concrete surfaces through floating and finishing operations. Operated by a human riding over the machine, ride-on power trowels provide smooth finishes to concrete surfaces. The power trowel situated at the bottom of the equipment is controlled by the riding operator based on the requirement.
Burgeoning Growth of Construction Sector driving Need for Ride-on Power Trowels
Growing need for mechanized concrete finishing in areas with large surfaces is the primary factor stoking demand for ride-on power trowels. Consumer expectations associated with smoothness and flatness of concrete surfaces in industrial, commercial, and residential buildings has been increasing, which in turn has bolstered demand for advanced ride-on power trowels for catering heavy load requirements. The construction industry is witnessing a burgeoning expansion, with emerging economies focusing more on their infrastructure development. Moreover, the once low-cost labor is demanding for higher wages in these economies, which in turn has driven the need for effective construction equipment such as ride-on power trowels. Operations related to construction activities in airports and huge warehouses involve heavy loads, which in turn make adoption of technologically advanced trowelling technologies that are well-suited for smooth finishing of high-tolerance concrete floors.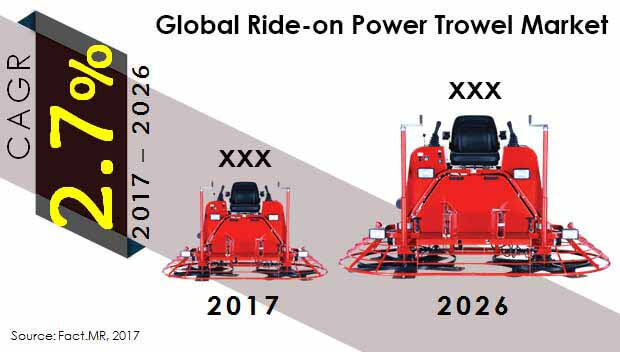 Intensifying demand for high production and superior floating & finishing jobs has been simulating technology improvements. Non-overlapping ride-on power trowels are in high demand among contractors on the back of their superior floating provision and cost-effectiveness. However, lack of operator comfort, and need for regular maintenance of this sophisticated equipment, coupled with the high operation costs are key factors expected to stymie adoption of ride-on power trowels, particularly among small contractors. According to a recent research study compiled by Fact.MR, global ride-on power trowel market will exhibit an average growth throughout the forecast period, 2017 to 2026. Over 33,000 units of ride-on power trowels are estimated to be sold globally by 2026-end.
Market Taxonomy
| | | |
| --- | --- | --- |
| Region | Product Type | Troweling Diameter |
| North America | Hydrostatic Ride-on power trowel | 36 inch |
| Latin America | Mechanical Ride-on power trowel | 48/49 inch |
| Europe | | 59/60 inch |
| Japan | | |
| APEJ | | |
| MEA | | |
(Additional information, including cross-sectional data and country-wise analysis & forecast is available in the report)
APEJ to Remain Dominant Market for Ride-on power trowel
Burgeoning infrastructural development in countries such as India and China, along with rising gross household disposable income of the population will stoke demand for ride-on power trowels in Asia-Pacific excluding Japan (APEJ). In terms of revenues as well as sales expansion, APEJ is estimated to remain the dominant market for ride-on power trowels, trailed by Europe and North America. Middle East & Africa (MEA), on the other hand, is expected to be the least lucrative market for ride-on power trowels through the forecast period.
Facilitated use and relatively lower cost of mechanical ride-on power trowels have made them preferred product for finishing of concrete surfaces in various construction sites. Revenues from mechanical ride-on power trowel sales will account for nearly three-fourth market share by 2026-end.
Ride-on power trowels with 36 inch and 48/9 inch trowelling diameter are anticipated to remain financially rewarding in the global market. In contrast, 59/60 inch diameter ride-on power trowels will remain less lucrative through the forecast period.
Competition Tracking
Many prominent players are focusing on engineering products, which enable more convenience in operations for extended durations. Emerging players are making significant investments in research & development activities for eating into shares of the market. Opportunities exist for market players with regard to development of advanced ride-on power trowels providing user-friendly controls, optimum operational requirements, and easy maneuverability.
Fact.MR's report profiles key players supporting expansion of the global ride-on power trowel market, which include Multiquip, Allen Engineering, Wacker Neuson, Atlas Copco, Parchem Construction, Dragon, Bartell, MBW, Shenhua, Dynamic, Masterpac, and Roadway.
Note: The insights mentioned here are of the respective analysts, and do not reflect the position of Fact.MR
Growth of the global ride-on power trowel market is expected to remain influenced by rising demand for smooth finishing of the concrete surfaces in huge areas such as housings, garages, airports, industrial buildings, and warehouses. This report, compiled by Fact.MR, provides in-depth analysis of the global ride-on power trowel market for the forecast period 2017-2026, offering key insights on the growth prospects of the market.
Scope:
The scope of the Fact.MR's report is to analyze the global ride-on power trowel market for the forecast period 2017-2026 and offer accurate and unbiased insights to the readers. Ride-on power trowel manufacturers, suppliers, and stakeholders in the global industry can benefit from the analysis offered in this report.
In-depth analysis regarding the energy saving properties, usage benefits, and long-term maintenance is detailed in this report. The comprehensive study offers insights on various market drivers, trends, and challenges shaping the future of the market, serving as a platform for future study, interest and understanding for the leading industries, trade magazines and journals related to the global ride-on power trowel market.
Summary:
The report introduces the current scenario of the market for ride on power trowel. The executive summary section of the report offers information regarding the future scope of the global ride-on power trowel market. Brief information on the vital aspects, facts, and statistics on the global ride-on power trowel market is emphasized in this section.
Overview:
This section offers an overview of the global ride-on power trowel market. This section comprises definition of the product – ride on power trowel, along with key insights on dynamics playing an important role towards the growth of the market. The overview also includes market value and year-on-year growth defining the future progress and decline of the global ride on power trowel. Data on the year-on-year growth provides readers with an overall view on expected progress reshaping growth during the forecast period.
In the next section, the report provides insights on major drivers, key trends, and retrains on the basis of demand, supply and macro-economic factors. The report also talks about an impact analysis of drivers and restraints that helps in decision-making and becoming more efficient.
The report further provides information on various technological advancements in the global ride-on power trowel market. Latest information and advancements regarding growth opportunities can prove to be beneficial for the leading manufacturers of ride on power trowel. With advancements in technology, keeping an eye on the latest trends and developments is important for ride-on power trowel manufacturers to frame key business strategies. Key insights concerning the list of distributor, supply chain, cost structure, pricing analysis, and raw material sourcing, are also provided in this section of the report.
Considering the broad-scope of the global ride-on power trowel market, the report offers in-depth insights on the forecast and segment-wise analysis. The ride-on power trowel market has been segmented on the basis of product type, trowelling diameter, and region. This sections offers segmentation analysis, along with a detailed country-wise forecast on all the parameters.
In the final section, the report offers information on the key competitors, along with a board view of the market players and company analysis. This competitive intelligence is based on the providers' categories across the value chain, and their presence in the global ride-on power trowel market.
Research Methodology
Fact.MR is committed to offer unbiased and independent market research solutions to its clients. Each market report of Fact.MR is compiled after months of exhaustive research. We bank on a mix of tried-and-tested and innovative research methodologies to offer the most comprehensive and accurate information. Our main sources of research include,
Primary research
Secondary research
Trade research
Focused interviews
Social media analysis
Fact.MR offers custom research services that help clients to get specific research solutions
We are committed towards customer satisfaction and quality service.
---
Our Clients

Ride-on Power Trowel Market Forecast, Trend Analysis & Competition Tracking – Global Market insights 2017 to 2026