Transfection Technologies Market
Transfection Technologies Market By Application (Protein Production, Therapeutic Delivery, Bio-medical Research), By Method (Reagent-based Method, Instrument-based Method), By Technology, By End User & By Region - Global Market Insights 2023-2033
Analysis of Transfection Technologies Market Covering 30+ Countries Including Analysis of US, Canada, UK, Germany, France, Nordics, GCC countries, Japan, Korea and many more
Transfection Technologies Market Outlook (2023-2033)
Worldwide transfection technology sales are valued at around US$ 1.10 billion in 2023. The global transfection technologies market is projected to register a CAGR of 7.5% and top a valuation of US$ 2.27 billion by the end of 2033.
Global demand for therapeutic delivery systems is expected to increase at a CAGR of 8% during the next 10 years. The technique of providing a pharmaceutical substance to have a therapeutic effect on people or animals is known as drug delivery or therapeutic delivery.
The importance of nasal and pulmonary medication delivery channels is increasing for the treatment of human diseases. These delivery methods, particularly for peptide and protein therapies, provide intriguing substitutes for parenteral drug administration. For this reason, many medication delivery devices have been developed and are being further researched. These include cyclodextrins, microspheres, gels, prodrugs, liposomes, and proliposomes, among others. Thus, their simple way of application is boosting sales growth.
The biotechnological method for creating a particular protein is known as protein production. It is often accomplished by altering an organism's gene expression to get it to express a recombinant gene in huge quantities. This involves the conversion of the recombinant DNA into messenger RNA (mRNA), translation of the mRNA into polypeptide chains, and eventual folding and targeting of the polypeptide chains into functional proteins at particular subcellular or extracellular sites. Systems for producing proteins, commonly referred to as expression systems, are employed in the biotechnology, medical, and life sciences fields.
Nucleic acids are introduced into eukaryotic cells through the transfection process using nonviral techniques. Gene transfection technologies make it possible to analyse how genes work and how proteins are expressed in cells using a variety of chemical or physical transfection techniques.
The applications for transfection have significantly increased with the invention of reporter gene systems and selection techniques for the steady maintenance and expression of transfected DNA. Transfection technology is segmented into physical-based transfection, chemical-based transfection, and viral-vector-based transfection. Furthermore, the transfection methods are classified into reagent-based methods, instrument-based methods, and virus-based methods.
The outlook for transfection technologies is incredibly appealing since these technologies have a wide range of uses in discovering precise biomarkers by understanding the molecular pathways of diseases, and these biomarkers can be helpful in the diagnosis of chronic diseases such as cancer.
The most significant factors expected to propel the growth of the transfection technologies market during the forecast period are broad-reaching applications in protein production and vaccine development, and proliferation in the prevalence of cancer and other chronic illnesses as the geriatric population is on an abrupt upsurge.
Report Attributes

Details

Market Size (2023E)

US$ 1.10 Billion

Forecasted Market Value (2033F)

US$ 2.27 Billion

Global Market Growth Rate (2023-2033)

7.5% CAGR

China Market Growth Rate (2023-2033)

7% CAGR

Japan Market Growth Rate (2023-2033)

6.5% CAGR

Germany Market Growth Rate (2023-2033)

6% CAGR

Canada Market Growth Rate (2023-2033)

6.5% CAGR

Key Companies Profiled

Bio-Rad Laboratories, Inc.
F. Hoffmann-La Roche AG
Life Technologies Corporation
Lonza Group AG
MilliporeSigma
PolyPlus Battery Company (PPBC)
Promega Corporation
Qiagen NV
SignaGen Laboratories
Thermo Fisher Scientific, Inc.
Know thy Competitors
Competitive landscape highlights only certain players
Complete list available upon request
What Opportunities Await Providers of Transfection Technologies?
"Rising Cases of Chronic Disorders & Viral Infections"
The prevalence of chronic disorders and viral infections are rising across the globe and are responsible for the higher rate of mortality and hospitalizations.
According to the Centers for Disease Control and Prevention, six out of ten Americans live with at least one chronic illness, such as diabetes, cancer, heart disease, or stroke. These and other chronic illnesses are the main contributors to health care costs as well as the major causes of death and disability in the United States.
According to a recently updated report by WHO,
Roughly 10 million deaths, or nearly one in six deaths, were caused by cancer in 2020, which makes it the leading cause of death globally.
Breast, colon, rectum, lung, and prostate cancers are the most common types of cancer.
In low- and lower-middle-income nations, cancer-causing infections including the human papillomavirus (HPV) and hepatitis are thought to be the cause of 30% of cancer cases.
At the end of 2021, the WHO estimated that 38.4 million individuals worldwide were HIV positive. Globally, 0.7% of adults between the ages of 15 and 49 are believed to have HIV.
Thus, increasing cases of HIV, boosts its treatment demand, fueling the market growth. As a result, the demand for transfection technologies is rising due to such ongoing trends.
"New Drug Development Prospects Increasing by Focusing on Epigenetic Biomarkers"
Genetic biomarkers commanded a substantial market share due to their widespread use, high reliance rate, and simplicity of analysis. More than 85% of tumours can now be identified with the help of genetic and proteomic biomarkers.
In the field of cancer diagnostics, epigenetics has received significant recognition. To create biomarkers and cancer-targeting medications, numerous players are performing in-depth studies to examine significant epigenetic alterations connected to cancer. Sales growth of the transfection technologies market is anticipated to be fuelled throughout the projected period due to the increasing pharmaceutical companies' cooperation in the development of novel medications that target epigenetic biomarkers.
"Increasing Funding for R&D as Infectious Diseases are Gripping the World"
Key market players in the transfection technologies market are strongly focusing on advancing the technologies and eliminating any present drawbacks. This is attributed to the fact that the prevalence of contagious diseases is rising rapidly across the world.
As an example, Thermo Fisher Scientific, a significant player in the market for transfection technologies, increased its research spending by more than $150 million in 2020, allocating around $1,181 million to R&D. The numbers are expected to drive the market forward as pharmaceutical companies' profits are likely to climb as a result of the recent COVID-19 pandemic.
Which Aspects Should Manufacturers of Transfection Technologies Focus On?
"Exorbitant Equipment Costs and Complications with Transfection Techniques"
The market may face difficulties because the transfection procedure requires expensive gear. Although chemical transfection techniques are somewhat less expensive, they are also more error-prone.
Additionally, the use of substances such as calcium phosphate can negatively impact how cells function. The amount of total DNA needed in calcium phosphate transfection is typically 10–50g in 450 litres of sterile water and 50 litres of 2.5 M CaCl2 per 10-cm plate, however, this amount varies greatly amongst plasmid preparations, as well as with various cells and conditions.
Due to their bigger holes and ion imbalance, techniques such as electroporation and microinjection are seen as dangerous since they might mutilate cells while penetrating the cellular membrane. This is expected to impede the sales of transfection technologies.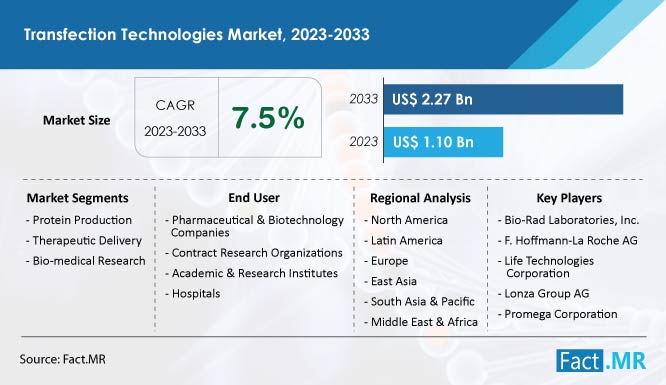 Country-wise Analysis
Why is North America the Most Profitable Market for Transfection Technologies?
"Substantial Existence of Leading Manufacturers"
The global market is currently dominated by North America, due to the factors such as the rising incidence of infectious diseases, which necessitate the use of antibiotics, and the expanding use of cell-based products, which necessitate the use of transfection techniques to treat chronic illnesses such as tuberculosis, cancer, and cardiovascular disorders. The United States and Canada both are the largest users of transfection technologies and the presence of key market players supports sales growth.
In January 2022, Cellino Biotech, an independent manufacturer of cell treatment products, raised US$ 80 million in a Series A investment transaction. To increase the availability of stem cell-based treatments, Cellino intends to construct the first independent human cell foundry by 2025.
How is Demand for Transfection Technologies Progressing in Asia Pacific?
"Presence of Target Patient Pool and Growing Spending on Healthcare"
India, Japan, China, and South Korea are the leading marketplaces in the Asia Pacific region. India is rapidly developing in the genome sequencing sector.
Growing healthcare spending in Asia Pacific is anticipated to create a favourable environment for established international manufacturers wanting to grow their transfection technologies business. This region also has a growing patient pool with consequent untapped market potential. Additionally, the governments in the region are actively involved in encouraging the use of cell and gene therapies, which supports sales growth.
For instance, in November 2019, a leading symposium on cell and gene therapy in the Asia Pacific convened a collaborative session to examine the CAR-T industry's prospects in this region.
Why are Suppliers of Transfection Technologies Attracted to European Countries?
"Rapid Developments in Gene & Cell-based Therapies"
The best market for producing items for cell and gene therapy is in Europe. More than 238 firms involved in regenerative medicine are based in Europe.
Nearly a quarter of the therapeutic developers for regenerative medicine come from Europe. Thus, rapid developments in cell and gene therapies are boosting the demand for transfection systems in European countries such as the U.K., Germany, and Italy.
More Insights, Lesser Cost (-50% off)
Insights on import/export production,
pricing analysis, and more – Only @ Fact.MR
Category-wise Analysis
What Makes the Reagent-based Method Widely Popular?
"Fewer Complications & Higher Affordability"
High gene transfer efficiency, low cytotoxicity, and versatility are all features of the reagents for transfection. Additionally, In-vivo transfection for use in gene therapy applications may utilize this reagent-based method. Reagent-based transfection technologies are also expanding significantly as a result of their affordability and fewer complications in transfection procedures.
For instance, Helix-IN, a revolutionary, patented Cationic Hydroxylated Amphiphilic Multi-block Polymer developed by OZ Biosciences, revolutionised Polyfection (CHAMP Technology). This brand-new bi-functional copolymer is biodegradable, pH-responsive, ionizable, and biocompatible. As a result, the market is being driven by the increased reagent adoption that results from the availability of products.
Competitive Landscape
Some of the key players in the transfection technologies market are Bio-Rad Laboratories, Inc., F. Hoffmann-La Roche AG, Life Technologies Corporation, Lonza Group AG, MilliporeSigma; PolyPlus Battery Company (PPBC), Promega Corporation, Qiagen NV, SignaGen Laboratories, and Thermo Fisher Scientific, Inc.
Easy introduction of DNA, RNA, siRNA, or oligonucleotides into eukaryotic cells can be accomplished quickly, simply, and repeatedly via cationic lipid transfection technologies. It permits the highly effective transfection of various cell types, such as adherent, suspension, insect, and primary cultures. Thermo Fisher Scientific, Inc. has a wider portfolio range of cationic-lipid transfection reagents.
February 3, 2022: To increase their proficiency in the design and production of unique DNA vectors, Polypus, a supplier of transfection reagents, bought e-Zyvec, a company based in France.
For instance, in March 2019, Lonza introduced CellBio Services, a broad spectrum of distinctive services tailored to the needs of research applications. These include cell-line expansion, transfection, and cell banking services.
Key Segments of Transfection Technologies Industry Research
By Application :

Protein Production
Therapeutic Delivery

Biotherapeutics
Electro-chemotherapy and Electro-immunotherapy

Bio-medical Research

Cancer Research
Transgenic Models
Gene and Protein Expression Studies
Cell-based Microarrays for Drug Discovery and Development

By Method :

Reagent-based Method

Lipid Mediated Transfection (Lipofection)
Calcium Phosphate
DEAE-dextran
Catonic Polymers
Activated Dendrimers
Magnetic Beads

Instrument-based Method

Electroporation
Microinjection
Laserfection
Biolistic technology

Virus-based Method

By Technology :

Physical Transfection
Biochemical-based Transfection
Viral-vector-based Transfection

By End User :

Pharmaceutical & Biotechnology Companies
Contract Research Organizations
Academic & Research Institutes
Hospitals

By Region :

North America
Latin America
Europe
East Asia
South Asia & Oceania
MEA
- FAQs -
The transfection technologies market is valued at US$ 1.10 billion in 2023.
Global demand for transfection technologies is expected to increase at a CAGR of 7.5% from 2023 to 2033.
Revenue from the sales of transfection technologies is projected to reach US$ 2.27 billion by 2033.
North America holds a dominating position in the global transfection technologies market.
[18:18] Vaishnavi Mendhi Thermo Fisher Scientific, Bio-Rad Laboratories, Inc., F. Hoffmann-La Roche AG, and Life Technologies Corporation are some of the key market players.