Transparent Aluminum Market
Transparent Aluminum Market Analysis By Material (Aluminum, Oxygen, Nitrogen), By End-use Industry (Building & Construction, Healthcare, Military & Defense, Aerospace) and By Region- Global Market Report (2023 to 2033)
Analysis of Transparent Aluminum Market Covering 30+ Countries Including Analysis of US, Canada, UK, Germany, France, Nordics, GCC countries, Japan, Korea and many more
Transparent Aluminum Market Outlook (2023 to 2033)
The global transparent aluminum market size is valued at US$ 6.41 million in 2023. The market is projected to expand rapidly at 10.5% CAGR and top a valuation of US$ 17.4 million by 2033-end, according to Fact.MR, a market research and competitive intelligence provider.
Transparent aluminum, also known as aluminum oxynitride (ALON), is a revolutionary material with extraordinary qualities and has gained popularity across a variety of industries. This cutting-edge ceramic material is perfect for a variety of applications, including the construction, defense, automotive, and aerospace electrical inserts industries. Its exceptional strength, optical clarity, and resistance to harsh environments make it an excellent choice.
The automobile industry is turning to transparent aluminum for lightweight, shatter-resistant windows and windshields, especially when it comes to electric vehicles (EVs). The insulating benefits of transparent aluminum and its capacity to lower the requirement for artificial lighting and heating make it a valuable material for sustainable building designs in the construction sector.
Transparent aluminum is used in the military and defense industry for applications such as military optics and armored vehicles because of its shatter-resistant qualities. Additionally, the remarkable optical clarity of the material is utilized in high-end optics, like cameras and scopes, for use in everything from surveillance to astronomy.
Key Market Growth Drivers
Transparent aluminum is a preferred option for many applications due to its shatter-resistant qualities. It is utilized in protective gear, military optics, and armored vehicles where it is crucial to retain clarity even under adverse circumstances. The market is still growing because these industries need strong, safe materials.
By lowering the demand for artificial lighting and heating in construction applications, transparent aluminum contributes to these objectives by using less energy. Sustainability-related materials are becoming more and more popular as environmental rules tighten.
High-quality, visually appealing products are becoming more and more valued by consumers. Because of its optical clarity, strength, and durability, transparent aluminum is a great material for high-end designs in industries like consumer electronics, construction, and automotive.
The aerospace industry is always looking for lighter and more effective materials to improve aircraft performance. Aircraft windows and cockpit canopies made of transparent aluminum increase safety and fuel economy.
Transparent aluminum can lead to decreased maintenance costs because of its strength and resistance to damage. This feature is very helpful in sectors like construction and defense where long-term performance is crucial.
The lightweight characteristics of transparent aluminum help electric vehicles (EVs) operate more efficiently and have longer-lasting batteries.
The capacity of transparent aluminum to enhance building insulation and minimize the requirement for artificial lighting and heating is in line with the worldwide movement towards environmentally friendly building materials.
The market is growing because of a combination of unique material qualities, endurance to temperature changes, lightweight design, and environmental friendliness. The market must, however, overcome obstacles such as high production costs, limited awareness of the benefits of transparent aluminum, competition from alternative materials, problems with the supply chain, and legal restrictions.
Report Attributes
Details
Transparent Aluminum Market Size (2022A)
US$ 5.8 Million
Estimated Market Value (2023E)
US$ 6.41 Million
Forecasted Market Value (2033F)
US$ 17.4 Million
Global Market Growth Rate (2023 to 2033)
10.5% CAGR
North America Market Growth Rate (2023 to 2033)
11.8% CAGR
Oxygen Material Segment Growth Rate (2023 to 2033)
10.85% CAGR
Military & Defense Segment Market Share (2022)
45%
Key Companies Profiled

POLYCRYSTAL design GmbH
CeramTec GmbH
Surmet Corporation
Saint-Gobain
CoorsTek Inc.
INNOVACERA
Murata Manufacturing Co.
KYOCERA Fineceramics Europe GmbH
Ceranova
AMERICAN ELEMENTS
Konoshima Chemical
Don't Need a Global Report?
save 40%! on Country & Region specific reports
Why is Popularity of Transparent Aluminum Materials Rising Fast?
"Optical Clarity of Transparent Aluminum and Ability to Reduce Carbon Emissions"
Transparent aluminum is light in weight and finds wide applications in the aircraft industry, where every ounce of weight reduction translates to greater fuel economy and cost savings. Transparent aluminum replaces heavier materials in cockpit canopies and windows, helping reduce the overall weight of aircraft and improve performance and fuel efficiency. Weight reduction is also essential in the automotive sector to increase battery life and boost energy efficiency, particularly with the increased emphasis on electric vehicles (EVs). Transparent aluminum windows and windshields not only improve safety but also significantly increase the energy efficiency of electric vehicles as they are shatter-resistant.
The ability of transparent aluminum to reduce carbon emissions and increase transportation efficiency as the world adopts more sustainable practices is also driving market growth. Traditional materials like glass or plastics cannot match this remarkable mix of materials of optical clarity, strength, and resilience. Its optical clarity, which allows for high transparency in the visible and infrared spectrum, makes it extremely valuable in industries where visual sharpness is important.
"Growing Emphasis on Environmental Responsibility in Building Construction"
The eco-friendly features of transparent aluminum are propelling its uptake in a world where environmental responsibility and sustainability are becoming more and more important. Transparent aluminum is used in industries such as building since it is an environmentally friendly and energy-efficient material. It improves insulation and lets in natural light, which lowers the demand for artificial heating and lighting in buildings. It conforms to the worldwide trend toward energy efficiency, low greenhouse gas emissions, and sustainable building designs.
The capacity of transparent aluminum to advance sustainability also attracts businesses seeking to achieve green requirements and show their dedication to environmental responsibility at a time when customers place a high value on environmental friendliness. The eco-friendly qualities of transparent aluminum stand out as a significant driver for market growth, making it a material of choice for industries looking to reduce their carbon footprint and adopt eco-conscious practices as environmental regulations become stricter and the demand for green materials rises.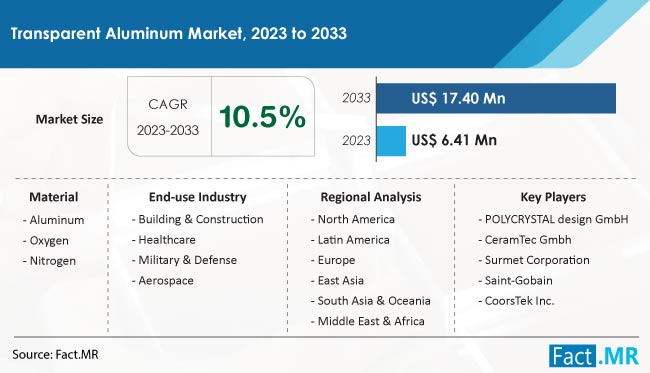 What's Lessening Opportunities in the Transparent Aluminum Business?
"Limited Justification for High Price of Transparent Aluminum"
Despite its remarkable qualities, transparent aluminum is up against fierce competition from more conventional and well-established materials like glass, plastics, and various ceramics. These materials are frequently less expensive and have long dominated several sectors. These conventional materials continue to be popular in industries like construction where cost-effectiveness is a top priority.
Increased strength and optical clarity of transparent aluminum may not always justify its higher price point in instances where these qualities are not essential. For instance, in the building sector, persuading developers to choose transparent aluminum over traditional glass for window applications may prove difficult due to the material's high cost and the necessity to demonstrate its long-term advantages. It is necessary to draw attention to the distinctive qualities of the material, investigate affordable transparent aluminum production techniques, and identify specialized uses where its special qualities provide a clear benefit.
More Insights, Lesser Cost (-50% off)
Insights on import/export production,
pricing analysis, and more – Only @ Fact.MR
What Strategies Must Start-ups Implement to Navigate Through This Competitive Market?
"Focus on Social Responsibility and Sustainable Practices"
Start-ups can stay ahead of the competition by utilizing a range of strategic techniques that use their creativity and agility. By developing partnerships with other organizations of various sizes, start-ups can gain access to resources, knowledge, and networks that would otherwise be unavailable to them.
Innovative transparent aluminum technology has the potential to help start-ups expand their market reach and increase productivity. Additionally, diversification is a wise strategy. Increasing revenue streams and reducing risk can be achieved by diversifying product and service offerings into adjacent or related sectors.
Investors and customers of today place a higher value on companies that practice social responsibility and environmental responsibility. Start-ups that embrace sustainable and ethical business practices can expand their consumer base and connect with an expanding global movement. Start-ups can gain important insights, contacts, and cooperation opportunities by actively engaging in industry events, conferences, and forums.
Creating a strong professional and mentor network can help businesses advance in the cutthroat market by giving them access to resources, advice, and support. Start-ups can outperform their competitors and carve out a strong and sustainable position in the market by combining these strategic methods with their natural agility and creativity.
Country-wise Insights
The North American market is predicted to expand at a substantial CAGR through 2033 and account for 50% of the global transparent aluminum market share by 2033. The Asia Pacific market will also be key for market players over the decade.
Why is the United States Highly Profitable for Transparent Aluminum Producers?
"Strong Emphasis on Sustainability and Robust Industrial Landscape"
The North American market is projected to expand at a CAGR of 11.8% from 2023 to 2033. The United States is poised to considerably fuel the expansion of the transparent aluminum market. The United States has a well-established presence in key areas where the application of transparent aluminum is extensive, such as aerospace, defense, and automotive. The commitment of the country to technological innovation, as well as its substantial R&D projects, lays a fertile groundwork for the material's adoption and advancement.
The aerospace industry in the United States is a major driver for the transparent aluminum market due to its low weight and immense strength, making it a popular choice for applications such as airplane windows and cockpit canopies. As the aircraft industry strives to reduce weight to improve fuel efficiency and safety, demand for transparent aluminum remains constantly strong.
Emphasis on sustainability and energy efficiency matches with the environmentally favorable properties of transparent aluminum, which reduces the need for artificial lighting and heating in construction applications.
Why Would Investing in China Be a Wise Decision for Manufacturers of Transparent Aluminum?
"Growing Emphasis on Safe, Energy-Efficient, and Sustainable Materials"
China is poised to play a key part in fueling transparent aluminum market growth. China's manufacturing prowess, rising industrialization, and burgeoning infrastructural development contribute significantly to the demand for sophisticated materials. China's commitment to technical innovation, combined with its huge research and development skills, is likely to broaden the applications of transparent aluminum in a variety of industries.
Demand for lightweight, robust, and energy-efficient materials in China is driving transparent aluminum development for automotive applications, as the focus on electric vehicles (EVs) increases. The construction industry in China is expanding at an exponential rate and is embracing sustainable building principles. The capacity of transparent aluminum to increase insulation and minimize the need for artificial lighting and heating matches the eco-friendly construction designs of the country, further encouraging its use.
Know thy Competitors
Competitive landscape highlights only certain players
Complete list available upon request
Category-wise Insights
Based on material, the oxygen segment is forecasted to expand at 10.4% CAGR through 2033, while the military and defense segment, based on end-use industry, accounted for a leading market share in 2022.
Why is Transparent Aluminum Widely Used in the Military and Defense Sector?
"Transparent Aluminum Facilitating Effective Protection Against Missile Threats"
The military and defense segment accounted for 45% of global revenue share in 2022.
According to data released by USAspending in December 2022, the Department of Defense (DOD) had US$ 1.9 trillion distributed among its six sub-components in the United States, opening up new opportunities for a transparent aluminum market.
The key reason for the widespread use of transparent aluminum in this arena is its remarkable safety and security properties. The shatter-resistant qualities of the material, as well as its capacity to preserve optical clarity even under difficult conditions, make it invaluable in the creation of armored vehicles, military optics, and protective equipment. The use of materials that can withstand significant stress while staying clear is non-negotiable in high-stakes circumstances where the safety of humans and equipment is vital.
Transparent aluminum armor excels at protecting against missile threats while allowing for optical clarity. This longevity of the material is a cost-effective alternative since it can lower maintenance and replacement costs over time. As security concerns increase, the defense and military industry is a driving force, continually seeking materials that satisfy the highest performance and safety standards, and transparent aluminum proves to be a smart choice in meeting these criteria.
Competitive Landscape
The competitive landscape of the transparent aluminum market is distinguished by a broad range of important players and companies, each of which contributes to the material's expanding use across several industries. Surmet Corporation, CeramTec, Saint-Gobain, and CoorsTek are among the leading firms driving the latest innovation in the transparent aluminum industry and promoting the usage of transparent aluminum.
Surmet Corporation, for example, specializes in transparent ceramics and has a strong presence in the aerospace and defense sectors, where the material's outstanding characteristics are of great significance.
CeramTec, another prominent competitor, provides sophisticated ceramic solutions, such as transparent aluminum, for use in industries such as automotive and optical.
Saint-Gobain, a global leader in construction and building materials, incorporates transparent aluminum into its sustainable building solutions, helping promote environmentally responsible building practices.
CoorsTek, recognized for its high-performance ceramics, provides translucent aluminum solutions to a variety of industries.
These firms, among the key suppliers of transparent aluminum, play an important role in the industry of transparent aluminum advancement, constantly pushing the boundaries of what this extraordinary material can do across several sectors.
Segmentation of Transparent Aluminum Market Research
By Material :

By End-use Industry :

Building & Construction
Healthcare
Military & Defense
Aerospace
Others

By Region :

North America
Europe
Latin America
East Asia
South Asia & Oceania
Middle East & Africa
- FAQs -
The military and defense segment accounted for 45% share of the global transparent aluminum market in 2022.
Worldwide sales of transparent aluminum stand at US$ 6.14 million in 2023.
Demand for transparent aluminum is forecasted to reach a market value of US$ 17.4 million by 2033-end.
The global market for transparent aluminum is forecasted to expand at a CAGR of 10.5% through 2033.
The market in North America is projected to advance at a CAGR of 11.8% over the forecast period.