Urinary Catheters Market
Urinary Catheters Market Analysis By Product (Intermittent Catheters, Foley/Indwelling Catheters, External Catheters), By Type (Coated Catheters, Uncoated Catheters), By End User (Hospitals, Specialty Clinics, Ambulatory Surgical Centers), By Application & Region - Global Market Insights 2023-2033
Analysis of Urinary Catheters Market Covering 30+ Countries Including Analysis of US, Canada, UK, Germany, France, Nordics, GCC countries, Japan, Korea and many more
Urinary Catheters Market Outlook (2023-2033)
Worldwide urinary catheter sales are valued at US$ 6.04 billion in 2023. The global urinary catheters market is projected to register 6.5% CAGR and reach a valuation of US$ 11.34 billion by 2033.
A urinary catheter is a partially flexible hose used to drain urine from the bladder. Plastic, rubber, and silicone urine catheter are some of the forms of urinary catheters, based on material. Also, coated catheters and uncoated catheters are some of the types of urinary catheters.
Urine Incontinence (UI), urinary retention, prostate surgeries, or other medical problems such as spinal cord injuries, multiple sclerosis, or dementia are all circumstances where doctors advise using urinary catheters.
Urinary catheters are further classified into intermittent catheters, Foley/indwelling catheters, and external catheters. Global demand for intermittent catheters is expected to increase at the same CAGR of 6.5% during the forecast period. An intermittent catheter is a medical tool used to drain the bladder. The best method for patients with spinal cord injuries and neurogenic bladder issues to empty their bladders is intermittent urinary catheterization. In contrast to indwelling catheters, which frequently cause UTIs, these items are favoured.
For male patients, external catheters act as a greater option, such as inhabited catheters, which need to be inserted through the urethra. Male external catheters are the preferred choice in instances of urinary incontinence/urine retention for many patients who prefer self-catheterization. Additionally, these catheters come in several sizes and designs, allowing patients a wide range of options to pick from based on their needs. Large corporations sell cutting-edge external catheter products.
In contrast to non-silicon sheaths, BD (C.R. Bard) offers an exclusive line of male urinary catheters, such as the ULTRAFLEX male external catheter, which enables stable implantation.
One of the types of catheters that are frequently used in hospitalized patients for extended periods is the indwelling catheter, commonly known as a Foley catheter. The Foley catheter includes a little balloon at the end that is filled with water and put into the bladder through the urethra to stop the tube from sliding out of the body. Thus, the market for Foley catheters is progressing healthily due to their widespread use in hospitals and specialty clinics.
Some of the major reasons influencing the growth of the urinary catheters market include the rising cases of malignancies in the urinary tract or reproductive organs, an increase in patients with urethral obstructions and urinary tract infections (UTIs), and the rapidly growing rate of the geriatric population.
Report Attributes

Details

Market Size (2023E)

US$ 6.04 Billion

Forecasted Market Value (2033F)

US$ 11.34 Billion

Global Market Growth Rate (2023-2033)

6.5% CAGR

China Market Growth Rate (2023-2033)

10% CAGR

Japan Market Growth Rate (2023-2033)

3.5% CAGR

Germany Market Growth Rate (2023-2033)

4% CAGR

Key Companies Profiled

AngioDynamics Inc.
B. Braun Melsungen AG
Boston Scientific Corporation
Coloplast Group
ConvaTec Group Plc
Cook Medical Inc.
Fresenius Medical Care AG & Co. KGaA
Hollister Inc.
Medline Industries Inc.
Medtronic Plc.
Teleflex Inc.
Wellspect HealthCare
Know thy Competitors
Competitive landscape highlights only certain players
Complete list available upon request
Did COVID-19 Have Any Effect on Market Revenue Growth?
"COVID-19 Had Positive Impact on Sales of Urinary Catheters"
The market for urinary catheters benefited from the COVID-19 pandemic.
The Standardized Utilization Ratio (SUR) for urinary catheters and central lines both increased in 2020 during the COVID-19 outbreak, according to the National Center for Biotechnology Information.
The central line SUR increased by 4.9% from 0.88 before the COVID-19 outbreak to 0.92 during the pandemic.
Urinary catheter SUR increased during the pandemic, rising from 0.79 before COVID-19 to 0.84 following COVID-19, a 7.4% increase.
In addition, the pandemic highlighted the urgent need for infection control. Because of this, several producers are creating products such as coated urine catheters with monitoring of temperature for ICU patients as a greater defence against secondary infections, which is increasing the demand for urinary catheters.
To lower the danger of COVID-19 transmission, governments of various nations encourage patients with urological diseases to use teleconsultation services. For their health-related worries, many patients now seek counselling online. For patients who are unable to travel to medical facilities for treatment, many industry participants are establishing platforms that offer online counselling and direction.
For example, Friends, a brand of adult diapers from Nobel Hygiene, created a campaign in India asking everyone to identify the symptoms as they had spent more time at home during the lockdown. This campaign brought attention to the problem of urine incontinence experienced by older family members and provides telematic help to continue caring for people with urinary incontinence.
As a result, such elements are influencing the demand for urinary catheters favourably.
Which Key Opportunities are Present in the Urinary Catheters Market?
"Rising Prevalence of Urological Disorders"
A few of the key variables that are projected to drive product demand globally include the rising prevalence of urological disorders such as urine retention, benign prostatic hyperplasia, cystitis, urinary incontinence, and kidney stones that cause bladder dysfunction. The demand for urinary catheters is anticipated to increase as more patients with these urinary dysfunctions need catheterization for the management and drainage of urine.
For instance, according to the National Health Service (NHS) in England, roughly 61% of men and 34% of women have lower urinary tract disorders.
Furthermore, according to Phoenix Physical Therapy, UI affects 200 million individuals globally. Urinary catheters are thus increasingly in demand for post-operative convenience as the frequency of urological dysfunctions and associated procedures increases.
"Rapidly Growing Rate of Senior Population"
Due to the relatively high frequency of urinary disorders in the population of people 60 and older, the elderly group has been identified as the main customer demographic for urinary catheters. Urine retention, urinary incontinence, benign prostatic hyperplasia (BPH), bladder blockage, and prostate cancer are becoming very prevalent among the elderly population, mostly among men. Asymptomatic bacteriuria (ASB) is also exponentially more common in older women than in younger women.
According to the American Society of Nephrology (ASN), the incidence of ASB is 1-2% in young women and rises to 6-16% in women between the ages of 65 and 90. Women over the age of 90 have the highest prevalence, which ranges from 22-43%.
Additionally, compared to non-institutionalized patients, institutionalised patients have a larger proportion of ASB, which affects 25 to 50% of women and 15 to 35% of men.
These illnesses necessitate the use of urethral catheters over an extended period, which also drives their sales in nursing homes and home care facilities.
More Insights, Lesser Cost (-50% off)
Insights on import/export production,
pricing analysis, and more – Only @ Fact.MR
What can Hinder Urinary Catheter Sales to Some Extent?
"Complications Associated with Catheterization Procedures"
The catheter-associated urinary tract infections (CAUTIs), which account for more than 40% of institutionally acquired infections, are one of the common nosocomial diseases in hospitals and other medical facilities. Urinary catheterization is a challenging treatment that requires experienced medical professionals to complete.
Negligence of any kind might result in infections and other problems. The sales growth is being severely hampered by the rising fear of CAUTIs and related health problems as well as the accessibility of alternative treatment choices.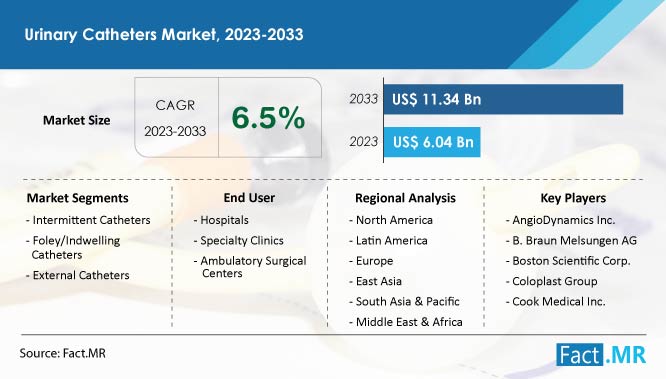 Country-wise Analysis
What is the Demand Outlook for Urinary Catheters in the U.S.?
"Rising Cases Related to Bladder and Urinary Disorders"
Sales of urinary catheters are increasing in the U.S. due to several variables, including the rising prevalence of bladder cancer & urinary incontinence, and the rapidly growing rate of the ageing population.
Urinary incontinence affects one-third of men and women in the US, according to the Urology Care Foundation's 2019 review. Overactive bladders, which include symptoms of urgency, frequency, and urge incontinence, affect about 33 million people in the nation.
In addition, major market participants in the country are introducing technologically sophisticated catheters.
For instance, the US Food & Drug Administration (US FDA) gave the Signal Catheter product of Safe Medical Design Inc. permission in February 2019.
Therefore, the aforementioned variables are having a favourable influence on market growth.
What is Supporting the Sales of Urinary Catheters in Germany & the U.K.?
"Rising Prevalence of Prostate Cancer & Spinal Cord Injuries"
Prostate cancer is the second most cause of cancer in men. Being overweight, obesity and improper diet are some of the reasons for prostate cancer.
In Germany, more than 67959 men are living with prostate cancer according to the WHO report 2020.
Favourable healthcare policies, rising demand for advanced medical devices and equipment, and increasing cases of spinal injuries are boosting sales of urinary catheters in the U.K. According to several studies, more than 50,000 people living in the U.K. are experiencing spinal cord injuries. Thus, the therapeutic catheters market in European countries is progressing healthily.
What's Driving Demand for Urinary Catheters in Asia Pacific Countries?
"Higher Risk of UTIs in South Korea & India"
The most common infectious diseases in the Asia Pacific region are urinary tract infections (UTI). It imposes a heavy financial cost on society and is linked to high rates of morbidity and mortality, especially in hospitals.
As a result, factors such as constipation, vaginal deliveries, obesity, surgeries, and chronic respiratory problems are raising UTI risks, particularly in older women. These factors are also fuelling sales growth in Asia Pacific countries such as India, Japan, South Korea, and China.
Additionally, rising respective governments' spending on healthcare, investments by several major market players in planting manufacturing units, and awareness campaigns regarding UTIs by several organizations are anticipated to further fuel market growth during the projection period.
The Urological Society of India, for instance, created guidelines for raising awareness of urine incontinence in India.
Similar efforts are being made by the Korean Incontinence Society in South Korea to raise public awareness of urological problems involving the pelvic floor and lower urinary tract.
Thus, all the above-mentioned aspects are boosting the demand for urinary catheters in the region.
Category-wise Analysis
Why is Demand for Male Urinary Catheters Increasing Rapidly?
"Rising Cases of Benign Prostatic Hyperplasia & Urine Incontinence in Males"
Male urinary catheters and female urinary catheters are two types of catheters, based on gender. Demand for male urinary catheters is rising rapidly across the globe. The dominance is caused by the rapidly increasing prevalence of benign prostatic hyperplasia and urine incontinence among males worldwide.
Male patients are more likely than female patients to adopt a urinary catheter. Urine catheters are rarely used in the treatment of urinary incontinence in female patients since other items, such as pads, are more popular. Thus the sales of male urinary catheters are comparatively high than catheters for women.
Competitive Landscape
To increase their market share, key players in the urinary catheters market constantly introduce new devices and broaden their reach by moving farther afield.
The Japanese company Terumo Corporation purchased Sequent Medical, a US-based producer of medical devices. Therefore, to obtain economies of scale, the major manufacturers in the catheters industry are moving their production plants to other nations.
Additionally, a majority of catheter producers team up with significant medical device distributors to sell and distribute their goods internationally or in certain nations. As a result, makers and distributors of medical devices frequently form strategic collaborations. These partnerships not only help producers get a license to sell their products, but they also lessen their liability in the event of product recalls and unfavourable outcomes.
For instance, in March 2019, Coloplast Corporation and the American healthcare provider Premier Inc. announced a three-year purchase arrangement for the Coloplast urology product line, which includes catheters. With its integrated supply chain, advising, and data analytics solutions, Premier Inc. has a network alliance of around 4,000 American hospitals that might be used to expand Coloplast's relationships at a lesser cost.
Urinary Catheters Industry Research Segmentation
By Product :

Intermittent Catheters
Foley/Indwelling Catheters
External Catheters

By Type :

Coated Catheters
Uncoated Catheters

By Application :

Urinary Incontinence
Urinary Retention
Benign Prostatic Hyperplasia (BPH)/Prostrate Surgeries
Spinal Cord Injuries

By Gender :

By End User :

Hospitals
Specialty Clinics
Ambulatory Surgical Centers

By Region :

North America
Latin America
Europe
East Asia
South Asia & Oceania
MEA
- FAQs -
Worldwide demand for urinary catheters is valued at US$ 6.04 billion in 2023.
The market for urinary catheters is set to reach a value of US$ 11.34 billion by 2033.
Global sales of urinary catheters are expected to increase at a CAGR of 6.5% during the next 10 years.
Demand for intermittent catheters is predicted to increase at a CAGR of 6.5% between 2023 and 2033.
Increasing cases of urological disorders, rising number of surgical procedures, and growing rate of senior population are boosting market growth.