Veganism in 2021 and Beyond: Sustainable, yet Profitable
Published : 14 Jun 2021 Industry: Food & Beverage
Vegan lifestyle continues to make deeper inroads.
Far more people identify themselves as vegan than ever before. And, proponents believe the 'movement' is still in its infancy.
Amidst the fanfare, it may be easy to miss the fact that 'vegan-based' is already a multi-million marketplace; niche vegan brands are wooing VCs and hedge fund investors.
As the pandemic causes more people to reflect on lifestyle choices, organic, plant-based, and vegan are set to gain further momentum.
In this Article: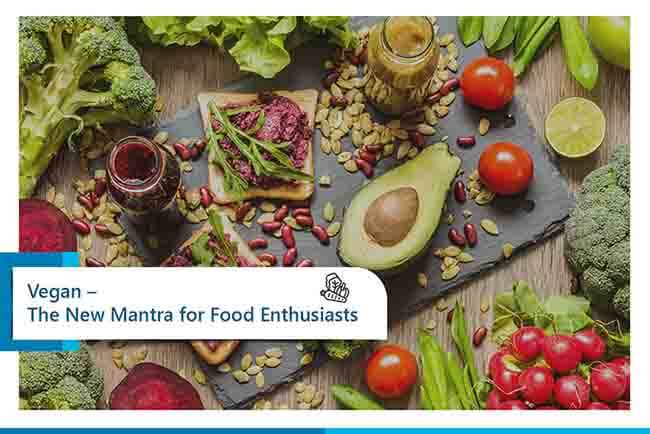 Global food habits are acquiring new culinary dimensions--from rising popularity of functional foods to the increasing consumption of plant-based alternatives.
Increasing animal welfare and food processing concerns are prompting consumers to explore environmentally-friendly food alternatives, providing an impetus to vegan food demand.
Veganism usually involves abstaining from consuming animal-based products, including meat, dairy and eggs.
The Vegan Society defines veganism as,
"Veganism is a philosophy and way of living which seeks to exclude—as far as is possible and practicable—all forms of exploitation of, and cruelty to, animals for food, clothing or any other purpose; and by extension, promotes the development and use of animal-free alternatives for the benefit of animals, humans and the environment. In dietary terms it denotes the practice of dispensing with all products derived wholly or partly from animals."
From ensuring health benefits to enhanced environmental sustainability claims, vegan diets are gaining varied degrees of popularity around the globe.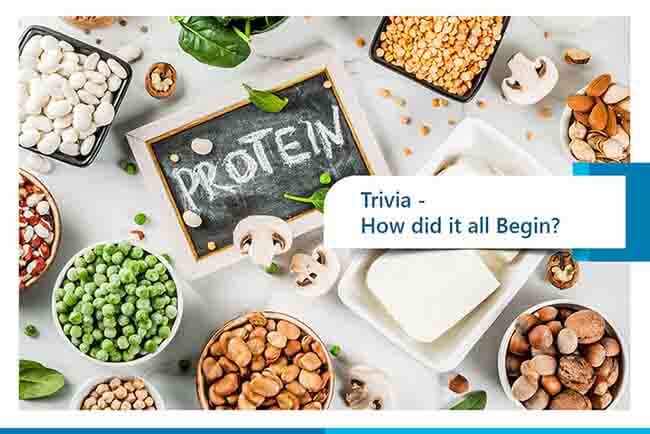 The roots of veganism can be traced back to the mid-twentieth century, with the establishment of the Vegan Society in 1944 by a British woodworker named Donald Watson.
This was in response to a severe outbreak of tuberculosis among Britain's dairy cows, infecting 40% of the total livestock population.
Watson believed that to protect transmission to humans, people ought to embrace non-animal based foods.
Beginning in the 1960s and the 1970s, a vegetarian food movement emerged as part of the counterculture in the United States which highlighted concerns about diet, the environment and a distrust of food producers, spurring interest in organic gardening.
Forthcoming decades witnessed extensive research by several consortia of scientists and doctors who argued that animal fat based diets were detrimental to human health.
Furthermore, in 2003, two major North American dieticians' associations indicated that well-planned vegan diets are suitable for all life stages.
Vegan diets became increasingly mainstream starting in the 2010s, especially in the latter half.
The Economist declared 2019 as "the year of the vegan", while the European Commission acquired the right to adopt and implement an act on food information concerning suitability of food for vegans in Article 36 of Regulation (EU) No. 1169/2011 of the European Parliament and of the Council.
Since 2017, over 12,500 chain restaurant locations have begun offering Beyond Meat and Impossible Foods products, including Carl's Jr outlets offering Beyond Burgers and Burger King outlets serving Impossible Whoppers.
Plant-based meat sales in the US have grown 37% in the past two years. Also, the U.S School Nutrition Association found 14% of school districts across the country were serving vegan school meals, reflecting a change happening in many parts of the world, including Brazil and England.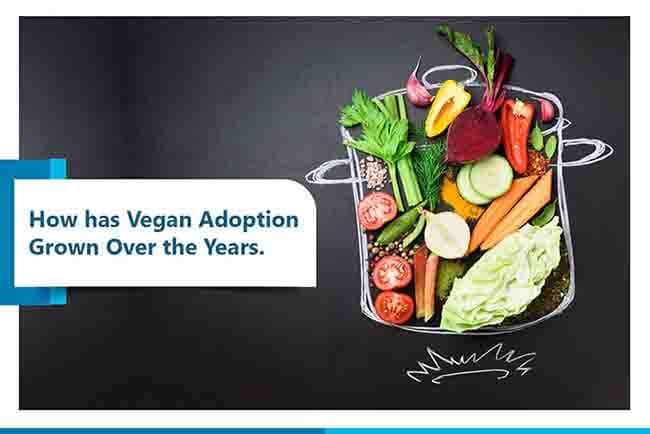 Gaining momentum since the mid-2010s, vegan foods demand has experienced a noteworthy upsurge, with estimates pegging the market value at over US$ 10 billion in the past half-a-decade.
Maximum demand has been stimulated across the North American, European and Asian regions respectively, as animal welfare concerns acquire precedence.
As per estimates published by the Vegan Society, demand for meat free food expanded by a stellar 987% from 2012 to 2017.
Bulk of this increased consumption was led by dairy alternatives, including cheese, ice-creams, yogurt and other dairy-based snacks.
This is largely attributed to the fact that over 60% of the global population suffers from lactose intolerance.
Estimates on the Food Revolution Network establish that global demand for plant-based foods is surging impressively since a long time- registering a 600% increase in people identifying as vegans across the U.S in the past five years.
The figure amounted to 350% in the U.K, compared to around a decade earlier. Likewise, Portugal registered an increase of 400% in vegetarianism since the past decade.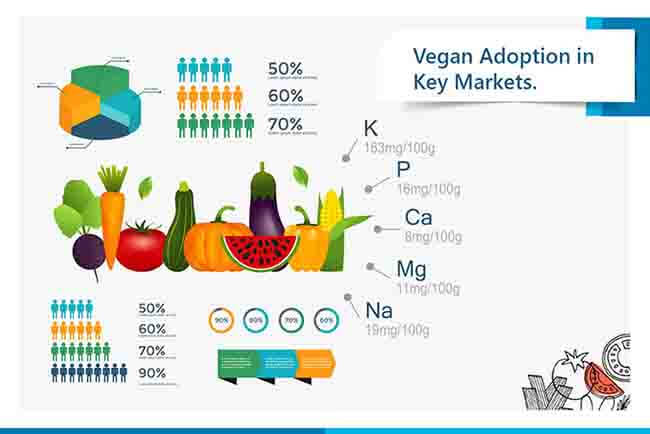 Attributed to the fact that modern-day veganism originated in England, it is no surprise that the U.K. is expected to remain the epicenter of worldwide vegan foods consumption and practices across forthcoming years.
As per the Vegan Society, proportion across Britain has expanded 4x from 0.25% (150,000) in 2014 to 1.16% in 2018 (600,000).
Nearly two in five Britons purchased vegetarian or meat-free food, while a fifth purchased free-from food.
Rapid penetration of soya, rice and other alternatives to dairy products, as well as dairy-free margarine, are testimony to the immensely high growth potential of the U.K market.
Also, in Veganuary 2020, over 100,000 Britons pledged to go vegan, rising twofold compared to 2019.
The number of vegan people across the U.S has varied over time. However, majority of surveys conducted across North America estimate a size of 2-6%, up from only 1% from 2014.
Furthermore, over half a million participants signed up for Veganuary's 2021 challenge, representing a quarterly increase from 2020.
According to the Plant Based Foods Association, retail sales of plant-based foods have increased by 11% as of 2018, bringing the total plant-based food market value to US$ 4.5 billion.
Whether for health reasons, animal welfare or climate change concerns, vegan statistics show that plant-based food consumption continues to rise.
Furthermore, as per Sentient Media, 63% of US adults refuse to purchase meat from companies practicing unethical animal treatment.
For several years, India has been touted as the global vegetarian capital, with government surveys estimating that around 23 to 37% of the population consuming plant-based diets.
Significant progress is visible with respect to dairy products consumption.
As of 2019, India produced 175 billion liters of milk in 2019, rendering it the world's largest milk producer.
It was expected that production would surge by 4% in 2020, adding another 9.7 billion liters.
At the same time, alternatives to dairy based products have been grabbing major eyeballs across the county.
Consequently, several players have increased their foray into the Indian market. Some notable vegan milk brands include Urban Platter, GoodMylk, Karma Milk Pvt. Ltd., and So Good.
Social media has played a pivotal role in furthering this vegan trend across the country. A surge in videos exhibiting cruelty to animals in the meat and dairy industries is also leading to this shift.
Increasing frequency in the number and engagement capability of vegan influencers among internet-savvy youngsters has been pivotal to the increase of vegan influencers in India.
Platforms such as Instagram and Facebook have enabled influencers ascribe an aesthetic touch to vegan diets, debunking the myth that vegan food is just 'twigs and leaves'.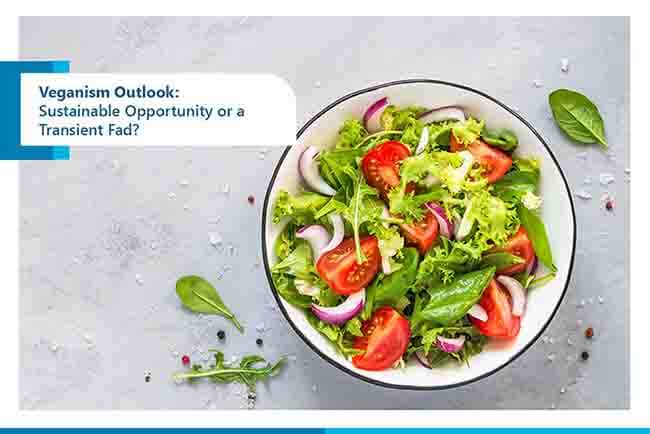 As the Gen-Z population multiplies, newly carved concepts, perceptions and beliefs evolve.
Perceptions related to planet friendliness, sustainability and economic viability has led to a prolific disruption of existing trends across key industries--including the food & beverage sector.
The most overt trend is that of availability of plant based alternatives to dairy products.
Research has concluded that Gen-Z tends to invest heavily in consuming foods devoid of animal derived ingredients, with an 80% increase in kale, nearly 60% enhanced sales of tofu and an astronomical over 200% surge in avocados purchases compared to Gen-X. There is increased scrutiny of the brands consumers patronize.
Millennials today are increasingly conscious about the impact their decisions will actuate on global environmental sustainability concerns.
Hence, they are endowed with a deep sense of responsibility and disquietude, compelling them to research extensively on the products they consume.
With increased brand transparency, key manufacturers are able to retain customer loyalty, an imperative trend which is ensuring the survival and deep penetration of vegan food brands across major geographies.
Extensive social media and marketing campaigns have increased sensitization levels among conventional meat eaters.
This has prompted them to make the life-changing decision of switching over to more plant-based alternatives, another major trend influencing enhanced sales of vegan products.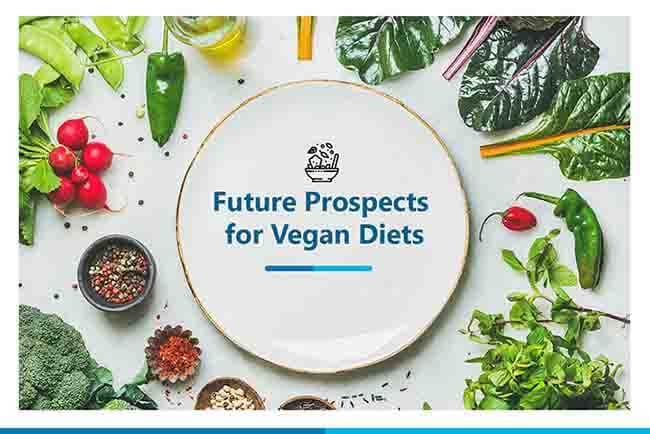 The popularity of vegan foods is only expected to incline in the long-run, as an astounding proportion of consumers exhibit and inclination towards healthier alternatives.
Several prominent food giants are now foraying into offering plant-based alternatives in place of their existing conventional animal-based food products.
Prominent brands such as KFC, Pizza Hut, Dairy Queen and California Pizza Kitchen are all increasingly experimenting with unconventional food options.
For instance, in November 2020, fast-food giant McDonald's announced it will introduce a line of plant-based meat alternatives called McPlant beginning 2021.
Through this portfolio, the company intends to offer plant-based burgers, chicken substitutes and breakfast sandwiches.
On a similar plane, food giant Tyson Foods will debut a new line of plant-based products in select retail markets and e-commerce channels across the Asia Pacific under the brand titled First PrideTM starting in June 2021.
This represents the company's first venture with regard to plant-based analogues across Asia. Initially, the company will launch these products in Malaysia, followed by Thailand, Indonesia and other Southeast Asian countries.
In May 2021, Beyond Meat Inc., a prominent plant based meat manufacturer, introduced the first-ever value 6-pack of its iconic Beyond Burger® in Canada.
The new product range offers enhanced taste with added convenience and value for shoppers since they are sold in the frozen meat aisle at a suggested price of nearly CAD$ 20 (US$ 3 per patty).
The burger contains 20 grams of protein derived from simple, plant-based ingredients with 35% less saturated fat than ground beef and is made with no GMOs, soy, gluten or cholesterol.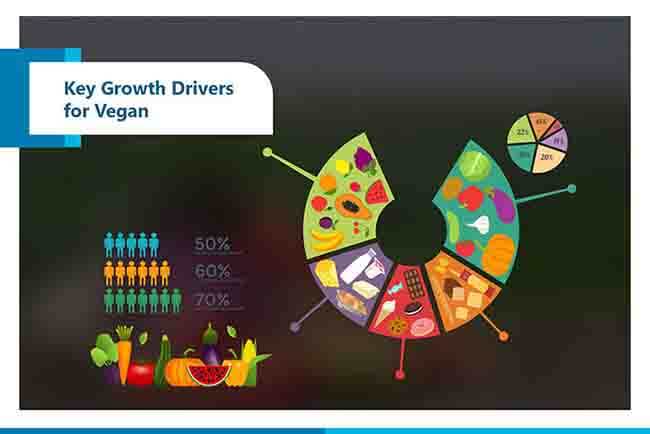 Growing Prevalence of Lactose Intolerance around the World
Globally, lactose intolerance episodes are aggrandizing at an alarming rate, with over three-fifths of the global population suffering from it.
Lactose intolerance is most prevalent across people of East Asian descent, with 70 to 100% of people affected in these communities.
This condition is most common in Finland, affecting an estimated 1 in 60,000 newborns.
The disorder is also very common amongst West African, Arab, Jewish, Greek and Italian populations as well. In India, the frequency ranges between 60-65% of the population.
Prevalence is the least amongst populations with a long history of dependence on unfermented milk products, such as Northern Europeans, with a prevalence rate of around 5%.
Consequently, major food giants are introducing analogues to milk and milk products, which is opening up frontiers for vegan producers.
Products such as soy, almond milk and coconut milk are all rapidly penetrating the global veganism trends.
Furthermore, oat milk, rice milk and cashew milk are also acquiring major traction.
How is Increasing Concern for Animal Welfarism Pivoting Vegan Foods Demand?
Rising animal welfarism concerns, both morally and environmentally motivated, have provided the fuel for further expansion of vegan food adoption amongst people in major regions.
In the recent past, instances of neglect and animal cruelty have acquired precedence, especially across farms.
Several undercover investigations by government agencies in the United States have reported that animal abuse abounds in the factory farm industry.
According to the People for the Ethical Treatment of Animals (PETA), each year, more than 100 million animals- including mice, rats, frogs, dogs, cats, rabbits, hamsters, guinea pigs, monkeys, fish and birds- are killed in the U.S.
The rise of the factory farm has meant that billions of animals have had to endure a cruel and barbaric life.
More than 80% of factory farmed pigs contract pneumonia upon slaughter, while chickens in battery farms live in cages smaller than a floor space of an iPad. Moreover, these animals are forced to grow at an alarming rate.
Furthermore, cows are slaughtered just after three lactation cycles.
Such trends are sensitizing farm owners and consumers alike to switch towards plant-based diets, greatly enhancing scope of vegan food products.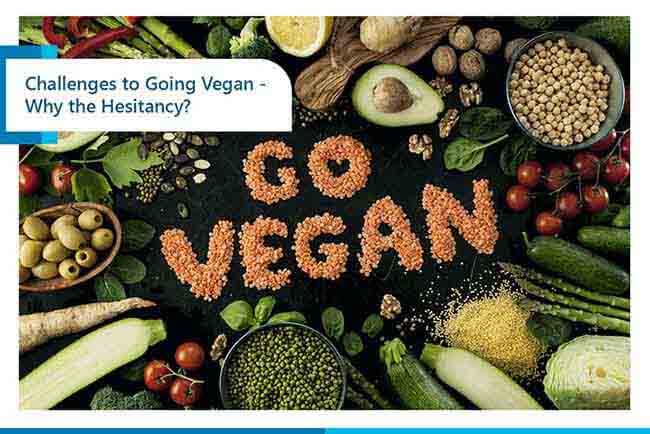 Despite grabbing significant eyeballs, vegan diet adoption is likely to experience limited penetration.
A survey by the British Nutrition Foundation (BNF) has revealed that 61% of the people are unlikely to follow plant-based diets in 2021, with 45 to 54 year olds representing a major chunk.
It concluded that most people are confused about its definition- with most of them believing that it involves completely curtailing meat consumption and occasionally omitting dairy consumption.
While more than 2/5th equate plant-based diets to vegan, 20% correlate it with becoming vegetarians.
A significant barrier towards adoption a vegan diet is conforming to renewed tastes and preferences.
Transitioning to a plant-based diet from a conventional fat-laden diet is a challenge for people accustomed to specific tastes.
Past consumer trends have ushered in epicurean foods which combine fat, sugar and salt into products with addictive taste and texture.
Hence, people are often reluctant to sacrifice their pallets to embrace more sustainable options.
Furthermore, while following vegan diets, the risk of contracting micronutrient deficiencies, particularly of vitamin D, calcium, omega-3 fatty acids and zinc.
A deficiency may compromise an individual's immune system, greater susceptibility to bone fractures, high blood pressure, rashes or fatigue.
In addition, complete vegan diets may induce heme-iron deficiency.
Another concern highlighted by healthcare experts is the inadequate intake of vitamin B-12. Vitamin B-12 plays several important roles within the human body- being imperative for the formation of red blood cells and DNA.
Food experts and nutritionists posit that meat, poultry, eggs, shellfish and milk products are the primary sources of B-12, putting vegetarian and vegan eaters at heightened risk of its deficiency, resulting in increased episodes of fatigue, megaloblastic anemia and memory problems.
Furthermore, vegans and vegetarians tend to consume fewer calories than their omnivore counterparts.
A popular study compared the nutritional quality of over 1,400 people's diets which included vegans and vegetarians, as well as people who consumed meat as well as vegetables, revealing that pure vegetarians and vegans consumed 600 calories fewer than people consuming meat as well as plants.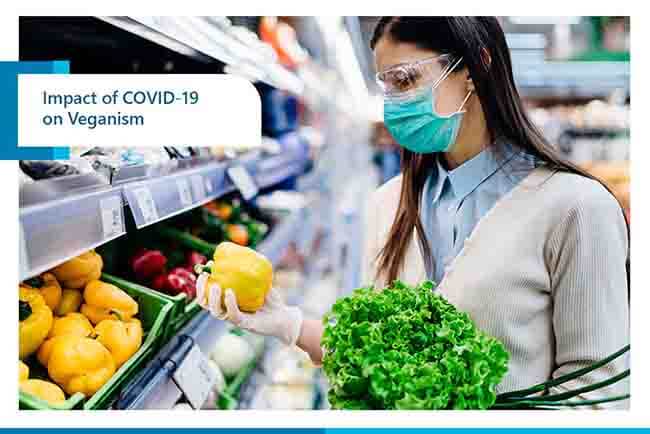 The COVID-19 pandemic has reformulated global food & beverage consumption patterns, ushering in healthy eating trends across prominent regions.
In addition, mandatory lockdowns have sensitized the global community to pay attention to climate change and animal welfare.
This has significantly impelled sales of vegan foods in the past year alone.
According to the Good Food Institute (GFI), the retail market for plant-based foods was worth US$ 7 billion in 2020, representing over 2x growth from 2018, representing a 27% increase in dollar sales compared to the previous year.
This increase is a direct outcome of the growing awareness regarding the possibility of transmission of infectious diseases through animal vectors such as bats, pigs and cows.
Experts posit that diseases which are passed from animals to humans are a direct consequence of different species interacting with each other on an enhanced scale, as land used for farming extends into natural habitats.
A report published by the Compassion in World Farming, agriculture poses the biggest threat to 86% of the 20,000 species at risk of extinction.
The human food system is the principal driver of global climate change.
Furthermore, the global food system is responsible for a third of greenhouse gas emissions.
A silver lining was observed in this regard, with global CO2 levels declining by over 6% (2.3 billion tons), as the pandemic halted major economic activities, especially with regard to transportation, touted to be associated with rising plant-based food consumption.
With rising awareness about the outbreak of zoonotic diseases such as COVID-19, consumers are compelled to switch to alternative diets, accelerating prospects for vegan foods.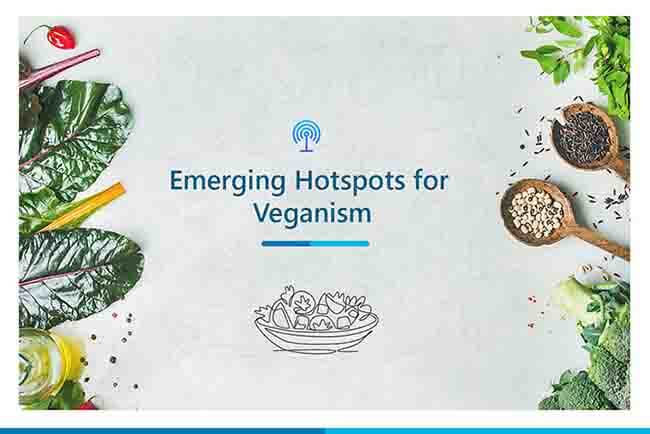 How is Australia Generating Vegan Foods Demand?
Australia is poised to emerge as the 2nd largest vegan foods investment hotspot, doubling in value since the past half-a-decade.
Research suggests over 2 million people, or over 10% of the Australian population, have transitioned to a vegetarian diet, attributed to rising cases of obesity and related diseases.
Since 2016, 400,000 individuals have opted for meat-free meals, expected to save nearly 11 million more farmed animals from slaughter, and millions more marine animals.
Furthermore, an additional 760 million liters of water will be saved every day.
As the demand for meat-free and dairy-free food grows, supermarkets and restaurants have been responding by adding more plant-based options to shelves and menus.
Is Israel a Promising Region for Vegan Foods?
As of 2017, Israel had the world's largest per capita consumption of vegan foods- approximately 400,000.
Presently, it comprises over 5% of the local population. Health, environment and cruelty are the major defining trends across the Middle Eastern nation.
Data from Good Food Institute Israel projects that the country's plant-based protein market expanded 13x faster in 2020 compared to animal food.
The market grew by over 18% from 2019. Maximum growth was experienced in the plant-based burgers and minced or ground meat categories (57%).
How is Austria Emerging as a Vegan Foods Hub?
According to Veganz, Austria generated 1.6% of the total vegan foods demand as of 2019 across Europe.
This trend is expected to increase steadily, with almost a tenth of the population already adopting vegetarian diets.
Traditionally, Austria has always been a meat intensive consumption country.
Its trademark dish, Schnitzel, comprises of plate-sized piece of fried pork with a slice of lemon and a thimbleful of potato salad.
This dish now has a vegan counterpart to it. Furthermore, Christmas and Easter markets now feature vegetarian options as well.
How are Growth Prospects for Vegan Food in New Zealand?
As animal welfarism acquires precedence, New Zealanders are increasingly making the switch towards meat analogues, dairy alternatives and plant-based foods, sending demand for vegan foodstuffs soaring through the roofs across the country.
It is expected that by 2025, 25% of the population is likely to abandon meat consumption altogether.
Opting for plant-based meat is becoming highly convenient with each passing day. Start-ups such as Sunfed Meats and companies such as Angel Food are swiftly gaining major momentum, as millennials and the younger generation spearhead the plant-based food consumption movement.
Companies at Forefront of Vegan Revolution
As the vegan revolution acquires momentum, numerous start-ups and existing food giants are experiencing enhanced growth prospects, impelling them to introduce numerous food combinations with emphasis on maintaining the taste and texture of conventional meat and dairy products while incorporating plant-based ingredients. Significant developments have been witnessed since the beginning of 2021.
In March 2021, Meatless Farm Co. joined forces with football giant Real Madrid on a joint mission to help drive education and action on more sustainable eating around the world.
The team's nutritionists will work with the company to show how plant-based food can work with a performance based diet to bring about an environmental balance.
Around the same time, Swedish oat beverage company Oatly announced plans for its first U.K factory located in Peterborough.
This new factory will provide Oatly an end-to-end solution, supplying the local area with at least 200 new jobs.
This factory is part of its commitment to build factories fit for the future, encouraging efficient resource usage and minimal wastage.
In April 2020, Daiya Foods introduced a new range of gluten-free, thin crust pizzas and sherds made with chickpea proteins.
The introduction of these multiple food offerings reinforces the company's commitment to promote healthy eating and reducing the environmental footprint associated with excessive meat and dairy foods consumption.
Is Veganism the Answer to Environmental Sustainability?
Bringing up animals for food is undoubtedly energy and resource intensive- with the inevitable consequence of animal byproducts contamination of essential abiotic components such as land, water bodies and air.
By shunning animal products, vegans are de facto environmentalists- or so it seems at face value.
Statistics evidently point towards the debilitating impact human actions are infliction on the environment in response to the unceasing hunger for meat and dairy products.
Scientists at the Smithsonian Institution advocate that for every minute spent to create room for farmed animals, seven football fields' worth of land is bulldozed.
Of all the agricultural land in the U.S., 4 out of 5 pieces are used for raising animals for meat and growing grain to feed them.
Furthermore, producing a little over 2 pounds of beef generates more greenhouse gases compared to driving a car for three hours, and utilizes more energy than leaving house lights on for the same time period.
Hence, according to the United Nations, a transition to vegan diets is an important step necessary to combat the worst effects of climate change.
However, experts have highlighted that terminating meat consumption is not as desirable for the planet as projected.
According to BBC, past reports of the Sahel, an area of the Sahara, conclude that conversion of livestock pastures to croplands resulted in widespread desertification.
Furthermore, areas relying on grazing livestock to keep natural reforestation at bay could lose biodiversity.
And, if those currently making a living from farming animals in rural areas can no longer do so, the inevitable growth of urban areas would also have a negative impact.
Hence, while veganism is expected to prevail, it is unlikely that the world will go completely vegan in the near future.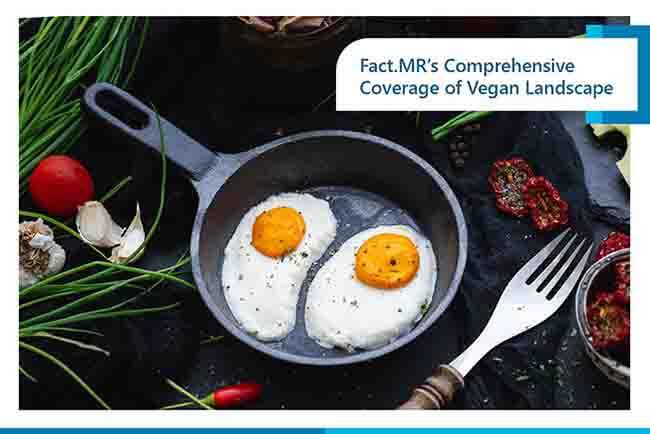 High Demand Anticipated for Vegan Eggs
Fact.MR's projections indicate a sturdy growth trend for vegan eggs for the forthcoming decade. According to its latest research, demand for vegan eggs is poised to register a staggering 14% CAGR, with countries such as the U.S, Canada and the EU expected to emerge as potential markets.
Recently, in May 2021, Crackd, the no-egg egg introduced its wide range of vegan egg products across major supermarkets. Crackd is a pea-protein alternative to eggs. This product cooks like a beaten egg, possessing the same texture as a conventional egg. A research conducted by the company in collaboration with the Vegan Society reveals that 98% of non-vegans are attracted to its products.
Rising Sporting Activities Spurring Vegan Protein Sales
As participation in sporting activities increase, vegan food alternatives sales are skyrocketing, opening new growth frontiers for the forthcoming decade. Contemporary sporting events require athletes to possess less body mass to improve flexibility and fitness. Consequently, players are switching over to more sustainable alternatives, spurring sales of vegan proteins.
Adoption of vegan protein products, as projected by Fact.MR, is expected to register an impressive incline, projecting an expansion rate close to 13% CAGR for the 2021-2031 forecast period. The U.S. shall likely emerge as the hotbed for vegan protein market, as nearly 10 million (3%) of the population has adopted a vegan diet in the past few years.
How are Flexitarian Lifestyles Improving Prospects for Vegan Supplements?
Rising penetration of plant-based eating is prompting hardcore animal-based consumers to strike a balance in their food habits, rendering them flexitarians in their consumption outlook. This is prompting them to adopt vegan supplements on an enhanced scale.
Growth is expected to remain robust across the North American and European markets. According to popular estimates, over 80% of Americans regularly take vitamins and supplements, while a 2016 research revealed that over two-fifths of people in the U.K consume supplements regularly.
Hence, major brands such as Future Kind, Holland & Barrett, Abundant Earth and GO Healthy are experiencing enhanced sales. The vegan supplements market is projected to expand at around 11% CAGR until 2031.
What is Majorly Driving Demand for Vegan Oatmeal?
According to Fact.MR's latest report, vegan oatmeal sales are anticipated to incline steadily until 2031, poised to grow at an impressive CAGR exceeding 9% in value terms. Growing demand for instant and healthy breakfast is likely to fuel sales in the forthcoming decade. Preference for organic vegan oatmeal is expected to be maximum.
Amongst all oatmeal products, demand for vegan oat milk is expected to remain highly popular. In May 2021, Singapore-based Only Earth has launched its oat and coconut milk in India. These are accessible through several online retail channels, including Amazon, QTROVE and Big Basket. Similarly, Indian start-up Bevry intends to launch its cold brew coffee series made from oats and become the country's Oatly.
How is Vegan Yogurt Grabbing so many Eyeballs?
Sales of vegan yogurt have reached an all-time high, as frequent episodes of lactose intolerance and a general increase in animal welfarism trends prompt consumers to opt for vegan alternatives. Sales of vegan yogurt experienced a substantial increase, rising by over 30,000 metric tons consistently year-on-year. This upward trend is being sustained even today.
Demand for almond-milk based yogurt is surging credibly, given its low cholesterol and unsaturated fat content. Companies in the global food processing and production industry are seeking to capitalize on the mindful choices food consumption trends, catapulting sales of vegan yogurt. Asia-Pacific excluding Japan generated bulk of the revenue, reaching US$ 3.5 billion in 2019.
Vegan Baking Ingredients in Vogue amid Innovations Fostering Plant-based Bakery Products
Sales of vegan baking products closed in at 38,000 tons in 2019, according to Fact.MR's estimates.
An interesting trend pervading the vegan baking market is the shift towards probiotics-fortified ingredients, in the wake of increased concerns associated with healthy food consumption.
Consumer awareness regarding the benefits associated with consumption of probiotics is gradually increasing, causing an upward movement in the sales of products incorporated with the healthy ingredient. Additionally, development of probiotics resistant to higher temperatures, varying pH levels, and longer shelf-life is enabling their incorporation into bakery products.
- Request for
More Information

-
Vegan Protein Market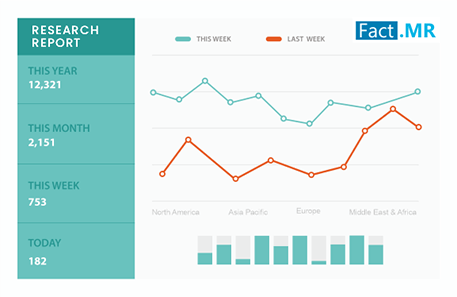 Vegan Protein Market Analysis, By Source (Quinoa, Green Peas, Nuts, Oats), By Nature (Organic, Conventional), By Form (Liquid, Powder), By Flavor (Unflavored, Vanilla, Chocolate), By Application (Beverages, Supplements) & By Region Forecast - Global Review 2021 to 2031