Gemcitabine HCl Market to Grow 1.7X during 2020-2027; Favorable Government Policies to Boost Revenue Growth, Finds Fact.MR
Published : 24 Mar 2020 Industry: Healthcare
Tech-driven advancements in non-invasive treatment and molecular diagnostics have been resulting in significant shifts in the healthcare sector over the last few decades. In addition, they have been playing an instrumental role in addressing all sorts of oncological disorders effectively.
Cancer is among the leading causes of mortalities across the globe. Alerted by the situation, governments in developed and developing regions are conducting awareness programs to reach the sections of the society where cancer awareness is abysmal. Moreover, agencies such as the food & drug administration (FDA) are showing promptness in approving drugs for cancer treatment. As these trends gain momentum, the global gemcitabine HCl market value will expand nearly 1.7X over 2020-2027, growing at a healthy growth rate.
Key Takeaways of Gemcitabine HCl Market Study
Generic gemcitabine HCl drugs account for over 70% of the total market value. Low costs associated with these drugs are responsible for their healthy growth curve.
Adoption of gemcitabine HCl is prominent in pancreatic cancer, and would capture over 2/5 of market value. This application is driven by an upsurge in caseloads of pancreatic cancer worldwide.
Hospitals continue to remain the primary end-user, wherein gemcitabine HCl worth over half a billion dollars would be utilized. Manufacturers are also targeting cancer centers for sustained margin growth.
North America maintains its primacy in the gemcitabine HCl market. Conducive regulatory environment and shortage of injectable drugs are critical in defining market growth in the region. Asia Pacific (APAC) is also representing lucrative opportunities owing to rise in per capita healthcare expenditure.
"Development of generic drugs is relatively efficient compared to branded drugs in terms of time and cost as they are not required to undergo clinical trials and toxicity studies. Gemcitabine HCl are increasingly shifting towards generic drug development and are marketing them by filing Abbreviated New Drug Applications (ANDA)", says Fact.MR Analyst.
Strategic Collaborations – Key Growth Engine
Manufacturers are entering into strategic collaborations with hospitals for cancer research studies for various cancer types in order to develop novel drugs and therapeutic treatments. For instance, Biocept, Inc. teamed up with MedStar Georgetown University Hospital, the U.S., for research on-resistance of biomarkers in patients suffering from non-small cell lung cancer (NSCLC). In addition, market players have begun Patient Support Programs (PSP's). For instance, Roche initiated the Blue Tree Program to share insights on the economic and psycho-social burden of patients' journey. The company is also focusing on lowering the cost of manufacturing generic drugs, which could increase the profit pool as well as decrease the overall burden on patients.
Find More Valuable Insights on Gemcitabine HCl Market
Fact.MR, in its new offering, offers a comprehensive assessment of the global gemcitabine HCl market, showcasing data on historical demand (2014-2018) and forecast data for the period, 2019-2029. The study provides readers with essential insights on the gemcitabine HCl market on the basis of type (branded and generic), application (Pancreatic Cancer, Breast Cancer, Ovarian Cancer, Non-small-cell lung carcinoma (NSCLC), and Others), end-users (Hospitals, Cancer Centers, and Others), and across key regions (North America, Latin America, Europe, Asia Pacific, and Middle East & Africa).
About Healthcare Division at Fact.MR
Fact.MR's healthcare and research professionals guide organizations at each step of their business strategy by helping you understand how contemporary influencers impact transformation in the healthcare sector. Our expertise in recognizing the challenges and trends affecting the global healthcare industry provides valuable insight and support, helping identify critical issues and construct relevant solutions. For more information on our deep domain expertise, click here.
- Request for
More Information

-
Gemcitabine HCl Market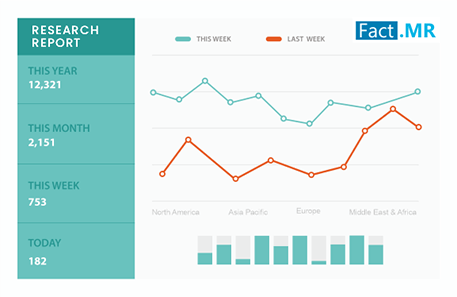 Gemcitabine HCl Market By Type (Branded, Generic), By Application (Pancreatic Cancer, Breast Cancer, Ovarian Cancer), By End-user (Hospitals, Cancer Centers) & Region - Forecast to 2020 to 2027