UV Cured Adhesives Market
UV Cured Adhesives Market Analysis By Resin Type (Silicone, Acrylic, Polyurethane, Epoxy), By End-use Industry (Medical, Electrical & Electronics, Transportation, Packaging, Furniture) & By Region - Global Market Insights 2023 to 2033
Analysis of UV Cured Adhesives Market Covering 30+ Countries Including Analysis of US, Canada, UK, Germany, France, Nordics, GCC countries, Japan, Korea and many more
UV Cured Adhesives Market Outlook (2023 to 2033)
The global UV cured adhesives market is projected to advance at a CAGR of 5.5% from 2023 to 2033. As a result, worldwide demand for UV cured adhesives is expected to increase from a value of US$ 4.54 billion in 2023 to US$ 7.75 billion by 2033-end.
UV-cured adhesives cure or harden when exposed to ultraviolet (UV) light. These adhesives are formulated with special photoinitiators that react when exposed to UV radiation, initiating a rapid polymerization process. UV-cured adhesives are characterized by their eco-friendliness and contain a combination of oligomers, monomers, photoinitiators, and UV-clear filters designed to facilitate fast curing. They exhibit outstanding qualities, including swift curing rates, robust bonding capabilities, and minimal emissions of volatile organic compounds (VOCs).
UV-curable adhesives possess remarkable strength and flexibility, capable of withstanding both extreme temperatures and high humidity levels. Their resistance to chemicals, coupled with their rapid curing properties makes them exceptionally well-suited for a diverse array of applications in industries such as bonding, encapsulation, coating, tacking, and sealing.
Silicone, acrylic, polyurethane, and epoxy are some of the resin types of UV-cured adhesives. Silicone-based UV adhesives can withstand a wide range of temperatures, from extreme cold to high heat without losing their adhesive properties. This is increasing their uses in industries such as automotive and electronics, where temperature fluctuations can be significant.
Silicone-based adhesives are often used in medical and healthcare applications due to their biocompatibility and low toxicity. They are safe for use in medical devices, skin contact applications, and implants. Silicone-based UV adhesives exhibit good adhesion to a wide range of substrates, including glass, metals, plastics, and ceramics. This versatility makes them suitable for diverse applications.
The combination of their physical properties, chemical resistance, and curing speed is making silicone-based UV cured adhesives a sought-after choice in several industries where reliable bonding, flexibility, and durability are critical factors.
Report Attributes
Details
UV Cured Adhesives Market Size (2023E)
US$ 4.54 Billion
Forecasted Market Value (2033F)
US$ 7.75 Billion
Global Market Growth Rate (2023 to 2033)
5.5% CAGR
Leading Regional Market
North America
Key Companies Profiled

3M Company
Beacon Adhesives Inc.
Delo Industrie Klebstoffe GmbH & Co. KGaA
Denka Company Limited
Dow Corning Corporation (Dow Chemical Company)
Dymax Corporation
Epoxy Technology (Meridian Adhesives Group LLC)
H.B. Fuller Company
Henkel AG & Co. KGaA
Master Bond Inc.
Panacol-Elosol GmbH
Permabond LLC
Sika AG
Don't Need a Global Report?
save 40%! on Country & Region specific reports
Why are UV Cured Adhesives Gaining Traction across the World?
"Rising Demand for Compact Electronic Devices Necessitating Adoption of UV Adhesive Bonding"
The trend towards smaller and more compact electronic devices is a hallmark of modern technological advancements. Consumers and industries alike demand electronics that are not only powerful but also portable and compact. This shift towards miniaturization is having a profound impact on the types of materials and adhesives used in electronic manufacturing.
Many electronic components are sensitive to heat. Traditional adhesives that rely on heat to cure can damage or compromise these components. UV LED curing, on the other hand, generates minimal heat during the curing process. This is particularly advantageous when bonding delicate electronic elements such as microchips, sensors, and circuit boards. UV adhesive bonding is excelling in these areas, making them a critical component in the production of compact and high-performance electronic gadgets.
"Growing Environmental Awareness and Stringent VOC Regulations"
Growing environmental awareness and increasingly stringent regulations governing the use of volatile organic compounds (VOCs) are prompting end-use industries to reevaluate their adhesive choices. VOCs are chemicals that can readily evaporate into the atmosphere leading to air pollution and potentially harmful health effects. Solvent-based adhesives typically contain high levels of VOCs, releasing them into the environment during and after application.
UV curing adhesives have low VOC content, as they do not rely on solvents for curing. This significantly results in reduced emissions of harmful pollutants during the curing process. Sustainability has become a central theme in modern manufacturing. The precise and efficient nature of UV curing reduces the likelihood of adhesive waste and rework, further minimizing environmental impact.
"High Emphasis on Development of Cost-effective UV LED Curing Technology"
Development of efficient and cost-effective UV LED curing technology is a breakthrough in the world of adhesives and coatings. This advancement is not only making UV-cured adhesives more accessible but also highly attractive to a broader spectrum of industries.
UV LED curing systems are exceptionally energy-efficient compared to traditional mercury vapor lamps. They consume less electricity, generate minimal heat, and have a longer operational lifespan. This translates to low operating costs for manufacturers and makes UV-cured adhesives a more cost-effective choice in the long run.
"Increased Adoption of UV Curable Inks and Coatings"
Growth of UV-curable inks and coatings in industries such as packaging, printing, and wood finishing influences the UV-cured adhesives market significantly. Industries that rely on UV-curable inks and coatings often share customer bases with sectors that use UV-cured adhesives. For example, a manufacturer producing printed packaging materials may also require UV-cured adhesives for assembling those packages or bonding various components within the packaging, such as labels, seals, or handles.
The technology used in UV-curable inks, coatings, and adhesives relies on UV radiation to cure and harden rapidly. This commonality in technology creates synergies, as manufacturers can invest in UV curing equipment that serves multiple purposes, making production lines more versatile and cost-effective. This interplay is enhancing the popularity of UV-cured adhesives in various sectors and promoting further innovation in UV technology.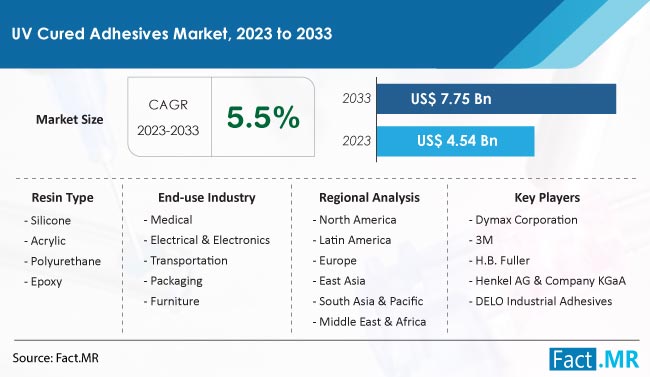 What is Hampering the Profitability of UV Cured Adhesive Manufacturers?
"High Production Costs of UV Curing Adhesives"
The manufacturing process for UV glue or adhesives involves specialized materials and technology, including photoinitiators and UV curing equipment. These materials and equipment can be expensive, driving up production costs.
Formulation of UV-curable adhesives often requires specific raw materials, some of which may be costly or subject to price fluctuations. For example, certain photoinitiators and oligomers used in UV-cured adhesive formulations can be expensive, thus increasing overall production expenses. As a result, UV-cured adhesives are priced higher than alternative adhesive options.
"Wide Availability of More Cost-effective Alternative Adhesives"
Solvent-based, water-based, and hot melt adhesives have been used for decades and are trusted solutions in many applications. Industries may be hesitant to switch to UV-cured adhesives due to the cost-effectiveness of alternatives.
Some industries have established manufacturing processes and equipment that are optimized for traditional adhesive types. Switching to UV light adhesives may require significant investments in new UV equipment and training of personnel.
More Insights, Lesser Cost (-50% off)
Insights on import/export production,
pricing analysis, and more – Only @ Fact.MR
What Strategic Moves Should Start-ups Make in This Competitive Market?
"Focus on Innovation and Sustainable UV-cured Adhesives with Improved Bond Strength"
New companies in the UV cured adhesives market should focus on product innovation. Developing unique formulations or specialized UV-cured adhesive products for specific industries or applications can provide a competitive edge. Innovation in terms of bond strength, curing speed, or environmental sustainability can attract end users looking for advanced solutions.
UV-cured adhesives offer several environmental benefits such as low VOC emissions and low energy consumption. Thus, sustainability trends can attract environmentally conscious customers.
Nexa3D, a start-up founded in 2014 is currently a leading player in 3D printing technologies. It also offers UV-cured resins and adhesives for additive manufacturing.
Country-wise Analysis
UV cured adhesive producers in the United States are focusing on sustainability and environmental aspects. The market in Germany emphasizes precision and innovation while in Japan they are excelling in precision applications and technological advancements. These differences are still making each market a valuable contributor to the global UV cured adhesives industry.
Why is Demand for UV-Cured Adhesives Increasing in the United States?
"High Demand for UV Cured Adhesives Due to Stringent Regulations Governing VOC Emissions"
Demand for UV-cured adhesives in the United States is increasing at a healthy pace. Strict environmental regulations in the United States and consumer demands for sustainable products are pushing manufacturers to seek eco-friendly adhesive solutions. UV-cured adhesives are widely popular due to their low VOC emissions and reduced energy consumption during the curing process.
UV cured adhesives are used extensively in the aerospace sector due to their applications such as quick bonding. Compared to traditional adhesives, UV-cured adhesives act as a game changer and offer effective and lightweight bonding solutions.
Presence of key market players such as 3M Company, Dymax Corporation, and others is driving the sales growth of UV-cured adhesives in the United States. These companies are continuously focusing on innovations to meet the evolving demands of various end-use industries.
What are the Prospects for Manufacturers of UV Cured Adhesives in Germany?
"Extensive Utilization of UV Cured Adhesives in Automotive and Healthcare Sectors"
Germany is well-known for its manufacturing process and innovations. UV-cured adhesives are widely adopted across German industries such as automotive, medical devices, and others due to their precision and quick curing properties. The well-developed automotive sector of Germany is driving the adoption of UV-cured adhesives. These adhesives are widely used for applications such as glass bonding, interior components, and lightweight vehicle construction.
What is the Demand Projection for UV Cured Adhesives in Japan?
"Increasing Investments in UV Cured Adhesives with Heat Resistance and Biocompatibility Features"
Japan is renowned for its advanced electronics industry. UV-cured adhesives are finding extensive use in microelectronics, semiconductor packaging, and LCD manufacturing due to their precision and rapid curing technology. Japanese companies are investing heavily in R&D activities to develop innovative UV cured adhesive formulations to meet specific industry needs, such as high-temperature resistance or biocompatibility.
Know thy Competitors
Competitive landscape highlights only certain players
Complete list available upon request
Category-wise Analysis
According to Fact.MR, a market research and competitive intelligence provider, UV cured adhesives are extensively used in electronics for bonding and encapsulating components. Their enhanced thermal stability and electrical insulation properties are increasing their importance in the electrical and electronics sector. UV-cured adhesives' biocompatibility and low toxicity features are also expected to drive their use in medical applications during the next 10 years.
Which Industry Accounts for Widespread Adoption of UV Cured Adhesives?
"High Use of UV Cured Adhesives in Electronics Sector for Enhancing Production"
UV cured adhesives are significantly consumed in the electronics industry. The increasing need for rapid assembly lines in the electronics industry is prompting manufacturers to optimize production lines, which could be rectified by adjusting production parameters such as capital and labor. Manufacturers in the electronics industry are adopting UV-cured adhesives to enhance production rates.
In 2020, Delo, an adhesive manufacturer, partnered with equipment manufacturer Mühlbauer to supply high-speed RFID inlay production lines to Impinj, featuring UV-cured adhesives as a critical element. This industry collaboration reflects the swift integration of UV-cured adhesives into electronics assembly lines.
Competitive Landscape
Leading UV cured adhesive manufacturers are focusing on continuous research and development activities to create new adhesive formulations with improved properties. By expanding their product portfolio, these manufacturers are striving to reach a broader range of industries and applications. Strategic partnerships with distributors and agents are boosting their sales graph.
In April 2023, Dymax Corporation unveiled its latest innovation the 1045-M adhesive, a UV LED curable adhesive specifically designed for use in medical equipment assembly applications.
Key Segments of UV Cured Adhesives Industry Research
By Resin Type :

Silicone
Acrylic
Polyurethane
Epoxy

By End-use Industry :

Medical
Electrical and Electronics
Transportation
Packaging
Furniture

By Region :

North America
Latin America
Europe
East Asia
South Asia & Oceania
MEA
- FAQs -
The global UV cured adhesives market is valued at US$ 4.54 billion in 2023.
Worldwide demand for UV-cured adhesives is projected to reach a market value of US$ 7.75 billion by 2033.
Sales of UV-cured adhesives are forecasted to increase at a CAGR of 5.5% from 2023 to 2033.
Silicone, acrylic, polyurethane, and epoxy are the main resin types of UV cured adhesives.
UV-curable adhesives are acrylate or epoxy-based resins that polymerize and cure upon exposure to specialized UV light sources.
North America currently leads the global market for UV cured adhesives.