Radiation Cured Products Market
Radiation Cured Products Market By Type (Coatings, Inks, Adhesives), By Formulation (Electron Beam Curing, Ultraviolet Curing), By Application (Paper & Film, Plastic, Wood, Glass), By Region - Global Insights to 2031
FACT6941MR
Oct-2021

List of Tables : 92

List of Figures : 137

170 Pages
Radiation Cured Products Market Outlook
According to radiation cured products industry analysis by Fact.MR, volume demand is anticipated to expand at a CAGR of 6.5% from 2021 to 2031, with overall value anticipated to reach 4.3 Bn, owing to continued investments in radiation cured product development for market diversification.
Dynamic trends in the radiation curable coatings market and radiation cured inks market are also set to provide significant thrust to market growth.
A recent study by Fact.MR on radiation cured products or RCPs throws light on product pricing, market risks, in-detail study of economies of agglomeration and scale, techno-economic strongholds, and other business aspects.
Interested to Procure The Data
Key Points Covered in Radiation Cured Products Industry Survey:
Market Estimates and Forecasts (2016-2031)
Production Capacity Analysis of Prominent Manufacturers
Radiation Cured Products Pricing Analysis
Product Pricing Optimization Strategy
Demand for Radiation Cured Products
Sales of Radiation Cured Products
Functions of Radiation Curable Coatings
Demand for Radiation Cured Products in Automotive Sector
Demand for Radiation Cured Products in Furniture
Key Drivers and Restraints Shaping Market Growth
Segment-wise, Country-wise, and Region-wise Analysis
Competition Mapping and Benchmarking
Radiation Cured Products Market Share Analysis
COVID-19 Impact on Demand for Radiation Cured Products and How to Navigate
Recommendation on Key Winning Strategies
Historical Vs Future Market Analysis of Global Radiation Cured Products Market
As per Fact.MR, a market research and competitive intelligence provider, over the past half-decade, strong tailwinds from the furniture & plastic industry have driven the market for radiation cured products, while other end-use industries also supported market growth considerably.
In terms of both, volume and revenue, radiation cured coatings accounted for the highest share of the radiation cured products (RCP) market in 2020. The second-largest product segment of radiation cured items was inks, which was followed by radiation cured adhesives.
Moreover, as majority of RCP producers are also involved in the manufacturing of its raw materials, the RCP industry has a high degree of backward integration. In terms of raw material acquisition and supply, this backward integration provides participants a particular competitive edge.
As the radiation curing process is instantaneous and takes much less time than traditional thermal curing, it is employed for a wide range of applications. Global RCP demand is primarily driven by technology's environmental compliance and a boost in infrastructure operations, which has resulted in an increase in demand for wood coatings.
Radiation curable technology generates extremely little to no waste, which is then disposed of as regular trash. In comparison to other curing technologies, the process consumes less room, time, and energy.
The demand-side portrays a considerable market reach for the product under the umbrella of economies of agglomeration and collaboration posture of radiation cured goods makers across regions. This not only helps companies expand but also helps in pricing the product competitively.
The COVID-19 wave struck industries on a macro scale in 2020, with the most noticeable impact visible on the automotive industry, which saw sales and output stall, with the effect cascading to radiation cured products as well. Furthermore, RCP supply, which is largely concentrated in the furniture industry, was severely harmed by the lack of market diversification.
On the other hand, medical applications of RCPs such as coating & adhesive components, among others, have resulted in growth of the radiation cured products (RCP) market from Q2 2020 to Q3 2021. Over the same time period, this has lowered the total impact on RCPs by 1.5%.
Over the forecast period, the market is set to recuperate and the explanation has been divided in 3 comprehendible periods:
Short-run: Over the short-run forecast period, demand for radiation cured products (RCPs) is anticipated to grow at a much faster pace assisting market recovery by Q4 of FY2021.
Medium-run: Over this term, it is anticipated that RCP manufacturers would increase investments in product development for its diversification across end-use industries
Long-run: Evolution of inexpensive substitutes of RCPs and strong sustenance of top contenders are anticipated to be observed over the long-run forecast period.
Below points summarize the RCP market over the long-run forecast period:
Currently, plastic industrial application of radiation cured products captures nearly 45% market share and is anticipated to hold dominance till 2031.
Medical is the most prominent application with the market anticipated to be expanding at 5.6% CAGR through 2031.
Top players contribute 25% of the market share, offering limited types.
Why Economies of Agglomeration is the Prominent Driving Factor for Radiation Cured Products?
Economies of agglomeration serve as the foundation for increasing the sales the bulk products around the world. As far as radiation cured products are concerned, major producers such as 3M, Allnex, BASF SE, PPG Industries Inc., and Evonik Industries AG, among others, have strategically located their operations near end-use industry clusters over the last two decades.
Allnex is a leading global provider of ultraviolet radiation cured products/electron beam radiation cured products. "The resin, in general, is one of the most important components of the coating since it provides the majority of the final coating's chemical and mechanical capabilities, as well as some haptic effect," said Gregory Gerin, Global Marketing Director at Radcure, Allnex.
Other industry experts have added that with the market being highly concentrated on product offerings, manufacturers have chosen to prefer economies of agglomeration to hold a competitive edge over others.
Radiation cure product manufacturers have observed the opportunistic pocket of erecting production facilities in cluster zones of prominent end-use industries. The market is running on many such strategic moves and has been lately witnessing huge traction. This also lessens the logistics costs involved.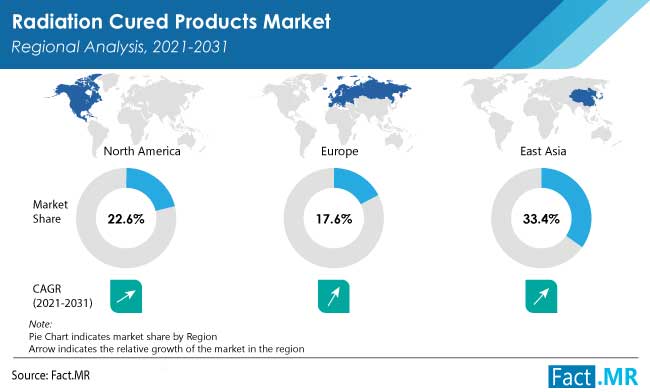 Country-wise Analysis
What are the prominent Contributing Factors to the U.S. Radiation Cured Products (RCP) Market?
Over the period of 2016-2020, the United States radiation cured products market showcased a compound annual growth rate of 3.9% and held 74% of North America's market share. Over the assessment period of 2021 to 2031, the market in the United States is expected to progress at a CAGR of 4.7%.
The United States, being centred with top governing and regulating bodies, has been bolstering market growth over the past half-decade. Further, it has remained the driving force behind the adoption of low-pollution coating technologies such as radiation cured coatings.
Key manufacturers positioned in the United States are 3M, EnergyCuring USA, and Allnex, who possess significant production capacities and have been relying on technological advancements to acquire a higher market share. These companies also have significant reserves being spent on enhancing radiation curable product formulations.
How Does China's Prominence in Technological Aspects Affect the Market for Radiation Cured Products?
Currently, China dominates the demand and supply of many products across the globe. The Chinese government's subsidy support was always an important factor bolstering demand and accounting for positive growth over the medium-run forecast period.
Boost in demand for radiation cured products is set to enhance the competition among end-use industries to offer smooth and effective solutions, and is also set to boost demand for curing techniques over the period of 2021-2031. Demand for advanced coating solutions is anticipated to open avenues for radiation cured product suppliers.
Key manufacturers such as Eversorb and Hi-tech are poised to benefit from the government providing ease of market access and enough support infrastructure for developing newer solutions.
How Has Radiation Cured Products Demand been Shaping across Evolving Markets?
India: India has been highly active in developing its economy, and has been concentrating on its construction industry. Major end-use industries are likely to showcase positive response, and the market is highly anticipated to provide extensive support at the global level. Comprehending the aforementioned factors, the market for radiation cured products in India is set to grow 2.1X by 2031.
Japan: Japan is one of the prominent producers of radiation cured products. With a majority of end-use industries being situated in the country, key players have strategically planned to erect production units to eliminate channelling costs. In 2020, demand for radiation cured products for wood applications was valued to occupy 35% market revenue share.
Germany: With outstanding technological capabilities, Germany is well-known for its excellence in the automotive sector, and holds a prominent position in the radiation cured products space. Reinforced collaboration between end-use industries and key players has strengthened market growth and is said to bolster demand for the product over the coming years. The Germany radiation cured inks market is estimated to showcase better growth prospects over the decade.
An Adaptive Approach to Modern-day Research Needs
Category-wise Analysis
Why is the Medical Sector Anticipated to Hold Strong Market Position?
RCP manufacturers, including as 3M, Allnex, and RAHN, among others, have developed and introduced product lines for medical applications over the past half-decade. RCP usage in medical applications accounts for 10%-12% of total radiation cured consumption.
Rising demand from medical equipment manufacturers will act as a cushion for radiation cured product suppliers across the globe. Consumption of RCPs for medical application is anticipated to gain 1.5X market valuation over the period of 2021 to 2031.
The contribution of the medical end-use industry to the radiation cured adhesives market is quite high compared to its significance over the radiation cured products sector.
How are Upcoming Construction Projects in Emerging Markets Poised to Open Doors for Radiation Cured Product Manufacturers?
Over the past half-decade, the construction industry started witnessing huge traction in emerging countries. Countries such as India and China have announced a large number of upcoming projects, which has lured vital players to the region.
Increase in construction projects boosts the use of radiation cured wood coatings for infrastructure applications, thereby propelling demand for radiation cured products.
In Asia, use of radiation cured coatings in printed electronics, film resists, printing plates, semiconductor resists, and color filter resists is extensively observed in the manufacturing of switch boards and others.
These applications account for 35% of overall market for radiation-curable products in Asia. Radiation-curable materials are widely used in wood, bamboo, paper, and plastic coatings in China, accounting for over 56% of the total market.
Competitive landscape
Out of these manufacturers, BASF SE, Sartomer, and 3M Company are holding dominance, not only over technology but also in terms of production capacity and supply across the globe. Alongside, with top-end technology & facilities, tier 1 players contribute significant share at the global level.
Avail customized purchase options for your needs
Radiation Cured Products Industry Report Scope
Attribute

Details

Forecast Period

2021-2031

Historical Data Available for

2016-2020

Market Analysis

Value in US$ Mn, Volume in KT

Key Regions Covered

North America
Latin America
Europe
East Asia
South Asia & Oceania
Middle East Africa

Key Countries Covered

U.S.
Canada
Mexico
Brazil
Mexico
Argentina
Germany
Italy
France
U.K.
Nordic
Spain
Japan
China
India
Malaysia
Thailand
Australia
GCC Countries
South Africa
Turkey

Key Market Segments Covered

By Type
By Formulation
By Application
Region

Key Companies Profiled

Flint Group
FUJIFILM Sericol UK Ltd.
DIC Corp.
DYMAX Corp.
Allnex
Momentive
Nordson Corp.
BASF SE
PPG Industries Inc.
Red Spot Paint & Varnish Company Inc.
Craig Adhesives and Coatings
Dexerials Corp.
Evonik Industries AG
3M Company
Sartomer
Sun Chemical Corp.
Ashland Global Holdings Inc.
Baldwin Technology Company Inc.
Covestro (Formerly Bayer MaterialScience)
Royal DSM N.V.

Pricing

Available upon Request
Radiation Cured Products Industry Key Segments
By Type

By Formulation

Electron Beam Curing
Ultraviolet Curing

By Application

Radiation Cured Products for Paper & Film
Radiation Cured Products for Plastic
Radiation Cured Products for Wood
Radiation Cured Products for Glass
Radiation Cured Products for Metal