Footwear Market
Footwear Market, Forecast, Trend, Analysis & Competition Tracking -Global Market Insights 2021 to 2031
FACT120MR
Jan-2021

List of Tables : 342

List of Figures : 120

170 Pages
About the Report
Apparel and footwear is one of the largest consumer goods industries on a global scale. With maturity and massive size of the industry, the sector projects a positive outlook. Digitalization, sustainability, and personalization are important trends influencing the world market for footwear today, with consumer demands affecting strategies by market leaders.
With innumerable options, modern consumers, particularly millennials, are reflecting greater demand for personalized products, from brands and retailers. To gain customer loyalty, vendors are increasingly focused on data analysis in terms of consumer needs.
Further, many start-ups are also entering the market through Internet channels. Heavily advertising strategies on social media platforms or alternative shopping models, including subscription boxes, are gaining traction in the sector. Retailers are increasingly using machine learning and big data tools to collect and study customer data for optimized response.
In a new market study, market research and consulting firm, Fact.MR, analyzes the major factors that will influence demand in the decade ahead. The study also provides an analysis of demand in over 20+ countries, with an in-depth section on the effects of COVID-19 on this sector.
Will Future Sales Outshine Historical Growth?
Between the period 2016 to 2020, the global footwear market has reflected steady growth from around US$ 346 Bn to US$ 411 Bn. Major manufacturers had increasingly displayed interest in offerings for mass-produced fashion designs, including smoking slippers, peep-toe booties, ballet flats, ankle boots, cutout shoes, and novelty shoes which was a was a major contributor.
According to the Fact.MR study, the COVID-19 pandemic is adversely affecting the growth of the industry in the short term. However, recovery is likely to be strong, owing to the essential nature of footwear products, towards 2021.
The market is projected to reach a valuation of US$ 430 Bn by the end of 2021, rising at over 4% CAGR through 2031. Asia Pacific excluding Japan, led by China, will remain a prominent market. Innovations in functional designs and performance materials will play important roles in market developments for the foreseeable future.
Know More Details About the Report
How is Medical & Therapeutic Footwear Set to Fare?
Several types of footwear with characteristics focused on older people or patients with chronic diseases are gaining ground. With old age, the feet are prone to experience increased stiffness in soft tissues and decreased range of motion. A study by the Lower Extremity and Gait Studies Program in the School of Allied Health at La Trobe University in Melbourne stated that, geriatrics with foot pain display superior outcomes with extra-depth footwear.
According to the study, therapeutic footwear users were more likely to gain in terms of pain relief, reduced lesions, and more. Specialized footwear is also being marketed to people with diabetic foot ailments. Conventional, economy footwear cannot accommodate irregular foot issues such as hammer toes, bunions, and claw toes, creating growth opportunities for footwear manufacturers.
Anti-bacterial footwear, and shoes for overweight people and people with allergies, have met increasing popularity in recent years. In the United States, for instance, the Medicare program sponsors a pair of these medical shoes each year.
Crocs have claimed that their shoes have therapeutic benefits, and have received certification from the U.S. Ergonomics Council and the American Podiatric Medical Association. The brand also claims that its products provide extra room and antimicrobial properties to improve circulation, while minimizing the risk for wound infection and open sores.
These products will continue to hold major market share, as the global boomer age group continues to flourish. A challenge associated with medical or therapeutic footwear is unattractive design. This, however, creates new opportunities for companies to gain an edge over the competition.
Also, the need for doctor recommendations to purchase select medical shoes also holds back adoption. However, increased efforts by consumers to actively seek information about products will aid growth in the long term.
What is the Impact of Income Inequality on Footwear Sales?
In most developing countries, income inequality has been seen to worsen, especially in urban areas. According to a study by the London School of Economics, the share of national income by the top 10 percent of the global population has risen from around 27 percent in the 1970s to more than 40 per cent in 2015.
On the other hand, share earned by the bottom half has fallen from around 25% percent to 15%. The bottom 50% has an income share that is now around 3 times lower. In terms of inclusive growth, existence of income mobility over a longer period of time may mitigate the impacts of widening income inequality.
Currently, more than 50% of the world population is located in urban areas, and this number will continue to grow. According to The World Bank, around 60% of the world population will live in urban areas by 2030. This is especially true in countries such as Mexico (81.9%) and Brazil (90.5%). While emerging economies such as India and Bangladesh display lower numbers, recent years have reflected substantial change.
By 2030, the shares of Bangladesh and India are expected to grow to over 44% and 40%, respectively. In this context of sustained globalization and migration to higher income areas, global brands of footwear will find enormous potential for growth, especially with low-cost offerings. For rural consumers, functionality, durability, and quality will remain key. For urban regions, fashion holds the lead in the buying decision process.
Avail customized purchase options for your needs
Will Sustainability Goals in the Footwear Industry Remain Important?
According to Footwear Distributors and Retailers of America, footwear and apparel industries have witnessed increased focus on supply chain sustainability. Within footwear manufacturing, some key aspects that are being considered are raw material selection, overall footwear design, and manufacturing processes. Footwear designs with fewer components and lower material volume are finding traction through efficient production processes.
For instance, Allbirds, a sneaker startup operating in Silicon Valley and New York City, has launched shoes that are made with eucalyptus trees and merino wool for the uppers and sugar cane fiber for the soles. Offerings from the company also comprise castor bean oil and recycled plastic. Allbirds also uses 90% post-consumer recycled cardboard for packaging.
In 2018, Nike was recognized by Textile Exchange for using the highest volume of recycled polyester. Between 2010 and 2018, the brand converted 6.4 billion plastic bottles into recycled footwear and apparel. Nike's proprietary Flyknit material is made in-part with recycled plastic. Nike also launched sneakers made from Flyleather, a new material made from at least 50% recycled leather fiber.
Nothing New has also launched sneakers that are made with only recycled material. Uppers are 100% post-consumer recycled plastic, while the other components are produced from fishing nets, recycled cotton, cork, and rubber.
Reebok first launched its Cotton + Corn NPC UK sneaker, featuring a 100% cotton upper, insoles made from castor bean oil, and a sole derived from corn. Even the packaging is 100% recycled. This trend in footwear manufacturing is likely to continue through the coming decade.
What are the Primary Challenges Affecting Footwear Manufacturers?
The prospects of the footwear market are largely positive in the long-term. However, market players will face varying challenges that limit the potential for growth in the sector. For instance, high levels of competition from regional and local players affect profitability, owing to rapid changes in design and material and new suppliers. Complexity in terms of accurately forecasting supply chain factors and fashion trends also limits footwear manufacturers.
Frequent changes in portfolios also affect quality control. Expenses associated with long-term storage and environmental safeguards can impact finances. Over-ordering through online channels and the resultant rise in returns is also a challenge to the market. Rising cost of labor in emerging economies and volatility in raw material prices, and growing power of the consumer in countries such as China and India, where domestic demand and prices are increasing, create pitfalls for manufacturers.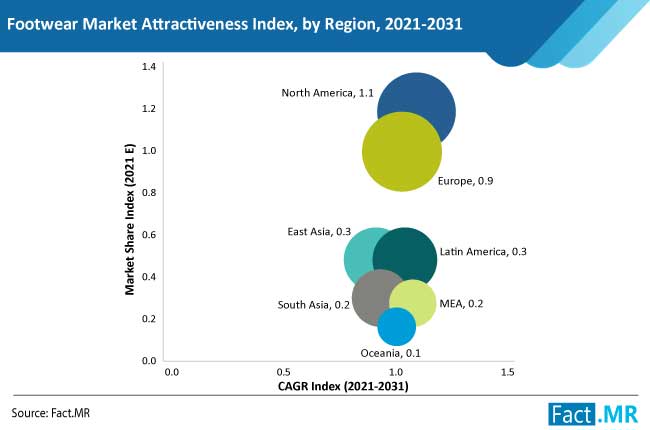 An Adaptive Approach to Modern-day Research Needs
Country-wise Analysis
How are Footwear Sales Faring in the United States?
According to the Footwear Distributors and Retailers of America, the U.S. imports over 7 pairs of shoes for every man, woman, and child in the country, and annual sales have now crossed US$ 85.6 billion. In 2018, overall U.S. exports of footwear, comprising largely of footwear parts, grew around US$ 127 million. Leading export destinations of US-based footwear include Vietnam, Canada, and China.
In 2018, imported footwear accounted for 99 percent of the overall U.S. market for footwear, as per data from the United States International Trade Commission (USITC). Stronger consumer spending on footwear has increased U.S. imports by US$ 927 million, to reach an overall valuation of US$ 26.6 billion.
China remained the leading supplier of footwear to the United States, accounting for over 50% of total U.S. footwear imports in 2018. However, its share has displayed steady decline, from approximately two-third of U.S. imports as compared to 2014. On the other hand, the shares of second-tier Asian suppliers such as Indonesia, Vietnam, and Cambodia have displayed an increase. U.S. imports from Italy and Mexico, known for leather footwear, also rose in 2018, gaining US$ 172 million and US$ 84 million, respectively, over that of 2017.
According to USITC, the rate of consumer spending in the U.S. rose by 3 percent, compared with an increase of under 1 percent in 2017. In 2018, sales of fashion footwear was surpassed by sports leisure footwear. Growth in the sales of sandals and boots also contributed to the rise of fashion footwear sales, as comfort and functional fashion have gained traction.
What is the Role of Fast Fashion Footwear in the United Kingdom?
Currently more than 500,000 people in the U.K. are employed in textiles, fashion, and footwear retail in the United Kingdom. Retail sales of footwear and leather goods provide 11%, with around 59,000, employers working in the sector as per Fashion UK. Another 8 percent, 43,000 employers, operate in the wholesaling of footwear and clothing. 34,000 are in the manufacturing of apparel and footwear.
The leading company in the U.K. in terms of market capitalization is the Burberry Group plc. This luxury fashion firm is valued at over US$ 10 billion, and had revenue of over US$ 3.8 billion in 2017. The company sells its products mainly through retail and wholesale channels, with retail sales accounting for close to 80% of revenue as compared to wholesale.
Fast-fashion retailer Next Plc is the next largest fashion company in the United Kingdom, with a market value of 7.1 billion pounds. The company is highly active in the retail market in the U.K., where it generates an average of its 4 billion pounds of annual sales. 2% of the company's revenue comes from international retail.
Footwear is a small sector of the U.K.'s GDP, accounting for approximately 1%. Footwear with leather bodies accounts for the largest market share at around 47%, followed by textile footwear, rubber/plastic footwear, and others at approximately 20%, 17%, and 3%, respectively.
Why is France Displaying Rapid Rise in Footwear Industry?
According to the Fact.MR report, France is the largest and fastest-growing footwear market in Europe, reflecting a CAGR of over 6% through the assessment period. French shoes are associated with luxury goods, high-end craftsmanship, and its massive fashion industry.
A key factor bolstering the rise of the French footwear sector is its diversity. Companies work with a wide range of footwear products, including pumps, shoes, sandals, sneakers, espadrilles, boots, and more, with a focus on fashion and design.
Widespread adoption of specialized manufacturing techniques such as double-stitching, Goodyear stitching, and more, with a wide range of materials such as fabric, leather, and synthetics, are key to catering to the needs of varying consumer demographics.
As per the Federation Francaise de la Chassure, overall turnover of 95 leading French companies accounted for 713 million Euros in 2019. Sales accounted for 19 million pairs, and foreign trade, particularly exports, accounted for 3.9 billion Euros and 121 million pairs.
Leading countries for exports of French footwear include Germany, Italy, the United Kingdom, Spain, and the United States of America. On the other hand, imports account for 6.7 billion Euros and 479 million pairs. Leading import countries include China, Vietnam, Italy, Portugal, and Indonesia. B2C consumption in the French market accounts for 8.7 billion euros.
How is Trade Influencing the Spanish Footwear Sector?
According to the Federation of Spanish Footwear Industries (FICE), during the first nine months of 2020, Spanish footwear exports reached 125 million pairs, an estimated 2.3% increase in comparison to the figures of 2019. However, the value of exports in the period was only approximated at 2 billion euros, a 7.8% slump.
As per FICE data, the EU (European Union) remains the leading buyer of Spanish footwear, accounting for close to 80% of overall exports in volume and value. Italy, France, the United Kingdom, Germany, and Portugal are the main destinations for Spanish footwear within the EU. The Fact.MR study predicts a CAGR of over 5% through the end of 2031 for this country's footwear sector.
Are Footwear Exports from Germany Rising?
According to the German Footwear and Leather Goods Industry, in the first half of 2019, sales in the German footwear industry grew by 2.8%, as overall sales of footwear manufacturers managed to hit 1.60 billion euros, compared to the months in 2018. During the same period, foreign trade developed strongly. In terms of value, exports rose by 7.5% to reach 3.7 billion euros. Correspondingly, the number of exported shoes rose to 174 million pairs. In addition, 2% more shoes were imported.
Between the 2008 and 2018 time period, production price for shoes in Germany rose by more than 15%. Retail prices for consumers grew by more than 11% in the same time period, which remains a challenge for manufacturers. Brexit, the direction of the new EU Commission, the USA-China trade war, and the COVID-19 pandemic are key factors influencing developments.
In 2018, Germany was the 4th largest exporter of footwear, selling around 406 million pairs of shoes, accounting for more than 2% of the total world exports, while remaining the 7th largest consumer market.
Will China's Footwear Industry Continue to Reflect High Potential?
According to the Fact.MR report, the Chinese footwear market is the largest in not only Asia Pacific excluding Japan, but the world, surpassing the value of the United States, accounting for over US$ 50 Bn in 2020.
As a result of the ongoing trade war between China and the U.S., government-imposed tariffs have been levied on Chinese imports, including footwear. The consequent increase in prices affected the lead of Chinese footwear in the U.S. market.
Nike Inc. announced in May 2019 that it planned to set up augmented reality (AR) technology for its iPhone application, to improve footwear sizing for users in China, in July 2019. Retail units equipped with AI and machine learning software are likely to generate potential in customer service experience.
In May 2019, Xtep International Holdings Ltd, a Chinese sportswear company, announced its acquisition of outstanding shares of the 'K-Swiss' brand from E-Land Footwear USA Holdings Inc. This will generate lucrative opportunities for the Chinese company on the premium market segment.
Sneaker stalwarts Adidas and Puma are getting out ahead of a coronavirus-induced drop in sales with newly released insights into the virus' impact on their businesses in China affecting more than 80% of the sales in the short term. However, recovery has initiated post the initial stage of the pandemic.
What are the Prospects for India in Footwear Sales?
India is the second-largest producer of footwear in the Asia Pacific excluding Japan region, after China, accounting for 13% of global footwear production of 16 billion pairs. According to the Council for Footwear Leather and Accessories, India produces over 2000 million pairs of different categories of footwear, of which, leather shoe uppers are a 100 million pairs, leather footwear accounts for over 900 million pairs, and non-leather footwear for more than 1,000 million pairs.
India exports around 115 million pairs of footwear annually. Close to 95% of its production goes towards domestic demand. Major production centers in India for footwear are Ranipet, Chennai, Mumbai in Maharastra, Ambur in Tamil Nadu, Jalandhar in Punjab, Kanpur in U.P., Delhi, Agra, Ludhiana, Karnal, Faridabad, Sonepat, Kolkata, Pune, Ernakulam, and Calicut. Over 1 million people are engaged in the footwear manufacturing industry in India.
Major footwear styles exported from India include casuals, dress shoes, sport shoes, moccasins, sandals, horrachies, boots, ballerinas, and chappals made from a wide range of materials, including plastic, rubber, and P.V.C.
The footwear sector of India is de-reserved and de-licensed in nature. This allows for capacity expansion. The Government of India has also permitted 100% Foreign Direct Investment through the automatic route for the footwear sector.
Favorable environment for investments and increasing cost competitiveness are key influencers of the Indian market. Close to 90% of India's exports of footwear go to European countries and the United States.
Between 2016 and 2017, major markets for Indian footwear were USA and the U.K., with a share of over 14%, Germany with more than 12%, France with 6.5%, Italy nearly 5%, Poland at 4%, and UAE, Spain, Belgium, and the Netherlands at over 3%. These 10 countries altogether account for around 80% share in India's total footwear exports.
Category-wise Insights
Are the Commercial Prospects for Fashion Footwear Lucrative?
Footwear is produced in a vast variety on the basis of style and functionality, including casual, fashion, occupational, therapeutics, athletic, protective, and others. Of these, sales of fashion footwear accounted for more than 109 Bn in 2020.
Major investments by international fashion houses and collaborations with prominent designers by market leaders are key factors bolstering sales. Also, the popular trend of fast fashion is projected to aid growth in the long term.
Why is Natural Rubber Important in Footwear Production?
Footwear products are manufactured from a wide range of materials to meet the functional and aesthetic requirements of users. Prominent materials used in footwear production include leather, natural rubber, synthetic rubber, EVA, PVC, PU, and textile.
Natural rubber is projected to hold the lead in terms of footwear component production, accounting for one-fifth of the market. Affordability, high levels of resilience, and widespread adoption in budget footwear offerings are key factors that support the growth of this segment.
Which Price Range of Footwear is Most Popular?
Footwear can be broadly classified into economy, mid-range, premium, and super-premium variants. According the Fact.MR report, sales of economy footwear will account for more than 40% of the overall market share throughout the assessment period.
According to a Brookings Institution report, just over 50 percent of the world's population, or some 3.8 billion people, live in middle-class households, and around the same number of people are living in households that are poor or vulnerable to poverty. This is a key factor driving economy footwear sales.
What is the Role of General Merchandise Stores in Footwear Sales?
Manufacturers are distributing their wares through specialist stores, online stores, general merchandise stores, and departmental stores. Sales are fairly evenly distributed through these different channels. However, general merchandise stores will account for the largest market share through the projection period.
Robust supply chains, widespread penetration, and wide and affordable ranges of footwear products are key factors that make general merchandise stores popular. Online sales are expected to display faster growth though, especially post the COVID-19 era. Wider product options, discounts, and convenience will aid growth in the segment.
Have a report related query? Speak to us directly
Competitive Landscape
The global footwear market is fairly fragmented and competitive in nature, owing to the presence of numerous regional and local players in the industry. Major manufacturers are focused on product launches and strategic collaborations to bolster their portfolios and geographic expansion strategies to strengthen market position.
For example, in November 2020, Von Wellx announced the opening of two production units in Agra. The decision was made by the company to transfer its production base from China to India post the COVID-19 crisis.
In October 2020, Khadi and Village Industries Commission announced the launch of the very first high-quality khadi fabric footwear range, in line with the Government of India's MSME policy, worth 5,000 crore rupees.
In January 2021, Nike Inc. unveiled its Air Max 90 and Air Force 1 shoe models with green and white color pallets, as a part of the St. Patrick's Day promotion strategy, priced at US$ 150 and US$ 110, respectively.
Report Scope
Attribute

Details

Forecast Period

2021-2031

Historical Data Available for

2016-2020

Market Analysis

USD Million for Value

Key Regions Covered

North America
Latin America
Europe
Japan
Asia Pacific Excluding Japan
Middle East & Africa

Key Countries Covered

US
Canada
Brazil
Mexico
Argentina
Germany
U.K.
France
Spain
Italy
Nordic
China
Japan
India
Malaysia
Thailand
Singapore
Australia
GCC Countries
Nigeria
Israel
South Africa

Key Segments Covered

Product Type
Material
Price-based
Sales Channel
Region

Key Companies Profiled

Nike Inc.
Adidas AG
PUMA SE
Sketchers U.S.A. Inc.
Under Armor Inc.
Wolverine Worldwide Inc.
Crocs Inc.
ASICS Corporation
Deichmann SE
The ALDO Group Inc.(indicative list)

Report Coverage

Market Overview
Key Market Trends
COVID-19's Impact
Demand Analysis
Market Background
Segmental Analysis
Regional Profiling
Market Structure Analysis and Competition Analysis

Customization & Pricing

Available upon Request
Key Segments of Footwear Market
Product Type

Casual
Fashion
Occupational
Therapeutic
Athletic
Protective
Others

Material

Leather
Natural Rubber
Synthetic Rubber
EVA
PVC
PU
Textile

Price-based

Economy
Mid
Premium
Super-Premium

Sales Channel

Online
Specialists
General Merchandise
Department Stores
Others

Region

North America (U.S. & Canada)
Latin America (Mexico, Brazil, Argentina, & Rest of LATAM)
Europe (Germany, U.K., France, Italy, Spain, Nordic, & Rest of Europe)
Middle East and Africa (GCC Countries, Nigeria, Israel, South Africa, & Rest of MEA)
Japan
Asia Pacific excluding Japan (China, India, Malaysia, Thailand, Singapore, Australia, & Rest of APEJ)
Footwear Market- Report Scope
A new market study published by Fact.MR on the global footwear market provides readers with exhaustive analysis on key market dynamics, including the drivers, restraints, opportunities, and trends, along with comprehensive data on the structure of the market. The report also provides information on the growth of the footwear market throughout the assessment period of 2021 to 2031.
Major indicators of growth, including value chain and Year-on-Year (Y-o-Y) growth of the market, in addition to compounded annual growth rate (CAGR) and supply chain analysis, have been covered in the market study. The data allows readers better comprehension of the prospects of the footwear market through the forecast period.
The report can prove to be very relevant for key stakeholders in the footwear industry, including suppliers, manufacturers, investors, and distributors, aiding them in the development of informed strategies to take advantage of the trends in the market space. Stakeholders in the footwear market - investors, industry experts, researchers, and journalists, can make use of the data presented in the Fact.MR study.
The study also covers key statistics on the economic factors that shape the development of the footwear market. It also gives actionable data on the potential of future trends in the footwear market. Also, small-scale players and new entrants in the footwear industry can leverage the information given in the report, to support informed business decisions, gaining traction in the footwear market.
Report Summary
This market report offers an exhaustive analysis on different features, including product development, regulatory landscape, demand, sales, and revenue generation in the global footwear market.
In-depth estimates about the market have also been given through optimistic and conservative scenarios in terms of sales of footwear during the projection period. A comparison of price points by region and global average price is also covered in the study.
Key Questions Answered in Report
Which regions will remain the more lucrative regional markets for footwear market players?
Which factors will induce changes in the demand for footwear during the assessment period?
How will changing trends impact the footwear market landscape?
How can market players capture the low-hanging opportunities in developed regions?
Which companies are leading the footwear market space?
What are the winning strategies of stakeholders in the footwear market to upscale their position in this landscape?
Research Methodology
In Fact.MR's study, a unique methodology for research has been implemented to conduct detailed research on the developments in the footwear market, and to reach conclusions on the basic growth parameters of the market for the future. This research methodology is a combination of primary and secondary research, which helps analysts maintain the accuracy and reliability of the conclusions drawn.
Secondary resources referred to by analysts during the preparation of the footwear market study include statistics from government organizations, trade journals, white papers, and internal and external proprietary databases. Analysts have interviewed product portfolio managers, CEOs, senior managers, market intelligence managers VPs, and marketing/product managers, all of whom have contributed to the development of the study on the global footwear market as a primary resource.
Need an Exclusive Report for your Unique Requirement?
- Our Clients -

- Evaluate How Fact.MR's Report Can Help. -
Is the market research conducted by Fact.MR?
Yes, the report has been compiled by expert analysts of Fact.MR, through a combination of primary and secondary research. To know more about how the research was conducted, you can speak to a research analyst.
What research methodology is followed by Fact.MR?
Fact.MR follows a methodology that encompasses the demand-side assessment of the market, and triangulates the same through a supply-side analysis. This methodology is based on the use of standard market structure, methods, and definitions.
What are the sources of secondary research?
Fact.MR conducts extensive secondary research through proprietary databases, paid databases, and information available in the public domain. We refer to industry associations, company press releases, annual reports, investor presentations, and research papers. More information about desk research is available upon request.
Who are the respondents for primary research?
Fact.MR speaks to stakeholders across the spectrum, including C-level executives, distributors, product manufacturers, and industry experts. For a full list of primary respondents, please reach out to us.
Is a sample of this report available for evaluation?
Yes, you can request a sample, and it will be sent to you through an email.