Water Bikes Market
Water Bikes Market By Technology (Pontoon, Hydrofoil, Surfboard), By Product Type (Manual and Electric Water Bikes), By Ownership (Personal and Rental Water Bikes) - Global Market Insights 2021 to 2031
FACT1242MR
Sep-2021

List of Tables : 56

List of Figures : 127

170 Pages
Water Bikes Market Outlook
Newly-released water bikes industry analysis shows that global demand enjoyed year-on-year (YoY) volume growth of 18.7% in 2021, to total more than 3,500 units. Pontoon water bikes displayed positive year-on-year growth of 18.6%, while hydrofoil water bikes were up 21.1% in 2021.
Over the next ten years, the global water bikes market is projected to expand 9X, as per analysis by Faxct.MR.
Interested to Procure The Data
Revenue Analysis of Water Bikes from 2016 to 2020 Compared to Demand Outlook for 2021 to 2031
As per the research by Fact.MR, a market research and competitive intelligence provider, historically, from 2016 to 2020, market value of water bikes increased at around 11.5% CAGR, with the U.S., Canada, Spain, Italy, and China holding high shares in the global market.
With all considerations such as high price of water bikes, use of water bikes for racing, and upsurge in sales of electric water bikes, it has been revealed that water bikes market growth to 2031 is forecast to expand at a high CAGR of close to 24%.
The global market expected to experience prominent growth in 2021 with worldwide revenue up 19.6% year-over-year. Fact.MR estimates that global revenue from water bikes will grow 9X reaching US$ 181.1 Mn by 2031, at a ten-year compound annual growth rate (CAGR) of 24%.
As per Fact.MR's market insights, global market revenue totaled US$ 16.8 Mn in 2020.
Demand for conventional water bikes is set accelerate at a moderate pace.
Demand for hydrofoil water bikes is projected accelerate at a high pace.
Top 2 manufacturers of water bikes held 79% market share in 2020.
While demand was impacted by COVID-19, over the decade, long-term forecasts look good, especially for electric water bikes.
Which Factors are Propelling Demand for Water Bikes?
Increasing urbanization and change in pace of living, with an increasingly hectic lifestyle becoming normal, has inclined consumers towards some form of activity, which has boded well for the demand for water bikes.
Water biking is one of the water sports activities that helps burn a significant number of calories due to the pedalling involved. Besides, it also helps relaxes the mind. Use of water bikes for racing is also pushing the market upwards.
The market is not yet solidly established around the world and ongoing product design and development is expected to aid expansion going further. Water bicycle market trends are customers opting for rental water bikes instead of buying new one and buying electric water bikes.
Manufacturers are increasingly taking efforts to develop electric water bikes ideal for multiple industries.
For instance, Manta5, a leading brand in water bikes, has been emphasizing on design and development of fully electric models of water bikes.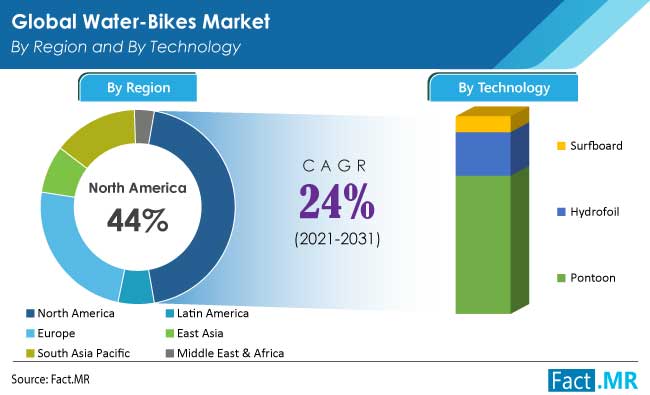 What Opportunities Can Start-ups Grab in the Water Bikes Industry?
Investments in water bikes are anticipated to increase in the near future. Foreign direct investment regulations aim to attract global OEMs to expand their facilities. Further, the outlook for regional markets is strong and healthy, owing to strong demand for sports activities. Pontoon is expected to remain a preferred design in the market.
There is a massive opportunity for water sports product manufacturers to start manufacturing water bikes. However, growing demand for hydrofoil design in the water bikes industry is anticipated to create significant opportunities for this new design during the assessment period.
An Adaptive Approach to Modern-day Research Needs
What Difficulties are Faced by Water Bike Suppliers?
Manufacturers are facing shipping and production issues, and offering competitive pricing on products. Demand for water bikes is rising at a good pace but manufacturers are out of stock.
A key legal consideration for manufacturing water bikes is especially if the fabrication site is located in a different jurisdiction than the project site. Governing laws determine applicable, zoning restrictions, licensing, permitting and safety requirements, labour relations, and applicable statutes of limitation and repose.
To overcome these challenges, regulations are required to be addressed are standards of prefabricated material quality and safety, accreditation to international trade, life determination and declaration, etc., which are not easy and pose a challenge to companies manufacturing water bikes.
Which Regional Market Offers Lucrative Opportunity for Sales of Water Bikes?
North America has significantly high penetration of water bikes, owing to high demand from municipal parks, beaches, hotels, and resorts. North America is expected to account for over 40% global water bike demand throughout the analysis period.
However, in 2020, demand for water bikes in North America dropped by 15.1% year-on-year, and reached 1,402 units.
The region is expected to account for US$ 9.2 Mn in total revenue by 2021-end. Canada and U.S. states such as Ontario, California, Florida, and New York, among others, are areas responsible for prominent demand for water bikes in the North American region.
Avail customized purchase options for your needs
Country-wise Analysis
Why is the U.S Witnessing High Demand for Water Bikes?
Currently, the U.S accounts for over 4/5 of North American sales of water bikes in terms of volume. Yearly, more than 40 million Americans participate in water sports. The number of of water bike manufacturers in the U.S is expected to rise significantly over the coming years.
Owing to these factors, the U.S. represented over 84% of North American and over 38% of global water bike demand in 2020. According to the Outdoor Industry Association, each year, the U.S. spends more than US$ 14 Bn on water sports activities as compared to US$ 11 Bn on movies tickets.
With the U.S. being one of the core markets for water bikes, any ups and downs in the country may have a considerable impact on the global market.
How is China's Growing Prosperity Expected to Boost Adoption of Water Bikes?
There are few local manufacturers positioned in China supplying water bikes globally. Demand for water bikes in China is expected surge, owing to high demand for water bikes in amusement parks, outdoor public playgrounds, and for various other applications.
However, Chinese industrialists are aiming to intensify their business through launching innovative products at competitive pricing in the global market. With its pace of development, the water bikes industry in China is projected to surpass a valuation of US$ 4 Mn by 2031.
How Has Demand for Water Bikes Been Shaping Up across Established & Emerging Markets?
Spain: Similar to the U.S., Spain has been an early adopter of water bikes. The Spanish economy is highly dependent on the service sector, generating up to 70% of its GDP, in which tourism activities hold a substantial share.
Demand for 2-person water bikes and 4-person water bikes is expected to rise substantially in Spain over the coming years. The country is famous for water sports activities near beaches, and many people celebrate their holidays in Spain at such destinations. This expected to bolster demand for water bikes in Spain.
The market in Spain holds more than 1/4 market share in the European region.
Italy: Behind Spain, Italy is expected to be the one of the leading markets in Europe for water bikes. Italy is listed at a top manufacturing country of water bikes.
Application of water bikes in touring is high in the country. Like Spain, Italy is also highly dependent on the tourism sector, which is directly related with the country's GDP. Additional investments in the tourism industry of the country are expected to propel market growth here.
Australia & New Zealand (ANZ): Australia and New Zealand have a long history of using water bikes owing to their prominent tourism market. Heavy focus on improvement in sales and distribution networks by manufacturers in these countries is anticipated to push up sales of water bikes.
Australia & New Zealand hold more than 3/4 market share in the South Asia & Pacific region.
Category-wise Insights
Why are Electric Water Bikes Highly Popular across the World?
Electric water bikes have emerged recently, even though manual water bikes have seen substantial demand growth. Sales of electric water bikes are expected to intensify, owing to benefits such as assistance in pedalling and easy ride for aged people.
At 910 BPS, electric water bikes are expected to reach a market valuation of US$ 42.5 Mn by 2031. Top manufacturers of electric water bikes are Manta5 and Redsharkbikes.
Which Technology is Anticipated to Drive Market Expansion?
Revenue from pontoon-based water bikes is expected to increase at a CAGR of over 23% during the forecast period.
Pontoon technology is a firstborn technology in the market, and due to its innovative design and performance, it is expected to hold prominent market share going ahead too.
Latest innovations in water bikes, such as hydrofoil water bike technology, are giving tough competition to pontoon water bikes. In comparison with other technologies, pontoon technology is quite mature. Up-gradations in pontoon technology have been carried by manufacturers since its inception, which has caught the attention of customers.
Why are Rented Water Bike Preferred?
Rental water bikes totalled around US$ 11 Mn revenue in 2020, according to the global market analysis conducted by Fact.MR. Demand for solo type water bikes is anticipated to push overall water bike sales.
Customers are preferring to acquire water bikes on rent instead of buying a personal one. Rental water bikes are expected to hold more than 60% global market share.
How Has COVID-19 Impacted Revenue Generation from Water Bikes?
COVID-19 has lowered demand for water bikes owing to shutdown of manufacturing industries. After unlock activities started, demand rose to peak levels, which led to the inability of manufacturers to fulfil the requisite demand.
A negative impact on the market was due to strict restrictions on beach tourism and water sport activities. Net impact on the market was reflected in a low, though negative growth of 14.2% in 2020 as compared to previous projections. As compared to actual market estimates for 2020, the market observed a drop of US$ 6.5 Mn in the recalibrated estimates.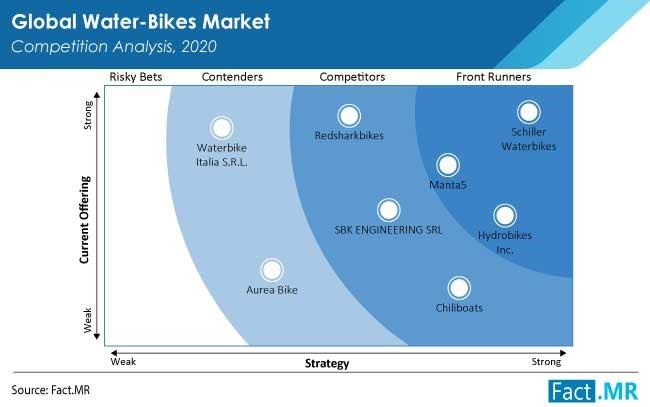 Competitive Landscape
According to the market research analysis, top manufacturers of water bikes are Schiller Waterbikes, Manta5, Hydrobikes Inc., Aurea Bike, SBK ENGINEERING SRL, Redsharkbikes, and Waterbike Italia S.R.L.
Market players are focusing on expansion, investments, delivery focus, portfolio expansion, and brand development.
Similarly, recent developments related to companies manufacturing water bikes have been tracked by the team at Fact.MR, which are available in the full report.
Water Bikes Industry Report Scope
Attribute

Details

Market size value in 2020

USD 16.8 Million

Market forecast value in 2031

USD 181.1 Million

Growth Rate

CAGR 24%

Forecast Period

2021-2031

Historical Data Available for

2016-2020

Market Analysis

Units for Volume and US$ Mn for Value

Key Regions Covered

North America
Latin America
Europe
East Asia
South Asia & Pacific
MEA

Key Countries Covered

U.S.
Canada
Brazil
Mexico
Germany
U.K.
France
Spain
Italy
Russia
BENELUX
China
Japan
South Korea
India
ASEAN
Australia & New Zealand (ANZ)
Turkey
South Africa
North Africa
GCC Countries

Key Market Segments Covered

Technology
Product Type
Ownership
Region

Top companies in water bike market

Schiller Waterbikes
Manta5
Hydrobikes Inc.
Aurea Bike
SBK ENGINEERING SRL
Redsharkbikes
Waterbike Italia S.R.L

Other Companies Analyzed

QINGDAO HAOYANG BOAT Co., Ltd.
Wuxi Funsor Marin Equipment Co., Ltd
Guangzhou Powerful Toys Co., Ltd.
Guangzhou Suntop Inflatables Co., Ltd.

Pricing

Available upon Request
Key Segments Covered in Water Bikes Industry Research
By Technology

Pontoon
Hydrofoil
Surfboard

By Product Type

Manual Water Bikes
Electric Water Bikes

By Ownership

Personal Water Bikes
Rental Water Bikes