Viral Antigens Market Insights: Advancement in Image Analysis and Improvised Informatics Solutions to Boost Growth
Adoption of viral antigens in vaccine development by clinicians and researchers has been increasing on a significant pace. Advancements in image analysis software and informatics platforms for viral antigen detection are driving the vaccine development research, which is expected to fuel the viral antigens market growth over the forecast period (2020-2025). Most of the recently developed techniques such as Electron Microscopy workflow are promising for advancement in viral research. For example, with development in image systems, it is possible to capture image in real time and produce immunoassay results which are efficient and reproducible. Frequent outbreaks of infectious diseases caused by viruses, such as influenza, hepatitis, AIDS, and recently COVID-19, are creating urgency in the vaccine research and development. The result is expected to lead to rapid growth of the viral antigens market.
The usage of viral antigens will be further driven by development of multiple imaging modes. With rapid advancement in both science and technology, it has become possible to capture both picture and videos of viral antigens immunogenicity analysis in HD mode. Advanced automated tools have also been developed that capture high quality HD images in different phases and present reproducible images both in red and green fluorescent contrasting forms, for differential cell analysis. Using, differential objectives on an automated turret, the devices can be used to address a variety of parallel applications.
Viral Antigens Market Analysis by Technique: ELISA Remains Highly Preferred
ELISAs are widely used as an effective tool in the detection and diagnosis of virus infection. These immunoassays are garnering momentum as safe, specific, and rapid, owing to the ability to produce recombinant viral proteins. Adoption of ELISA for identifying viral antigens is expected to account for major share of the stakeholders' bottom lines and increase at a significant CAGR of 8.2% during the forecast period.
Electron microscopy is rapid emerging as a powerful technique to identify viral antigens and determine their structural organization and localization within viruses and vaccines. With greater awareness of electron microscopy among professionals in vaccine research, market stakeholders are directing their focus to this category. Adoption of electron microscopy is projected at a solid 9.4% CAGR through 2025.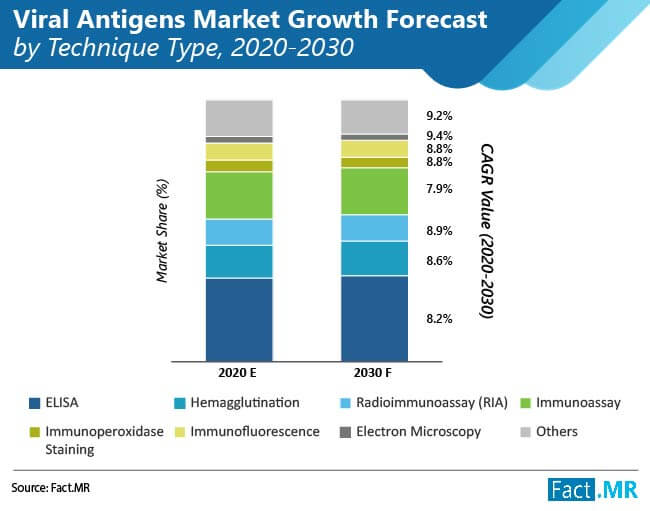 For more comprehensive insights on the viral antigens market segmentation, request a report sample
Regional Analysis: North America to Account for Major Share of Viral Antigens Market Value
North America is expected to hold approximately 48% of the global viral antigens market value during the forecast period. In the U.S., key players are channelizing efforts to increase flexibility, productivity and throughput capabilities and redefine control productivity. Favorable government policies for vaccine development and significant advancements in biomedical research infrastructure are contributing to growth of the North America's viral antigens market.
Europe is expected to hold second largest share in the viral antigens market, attributing to increased funding for clinical research in all life science disciplines. With greater availability of resources and workforce, market players are eyeing opportunities in East Asia which is expected to show a significant growth rate in the coming years.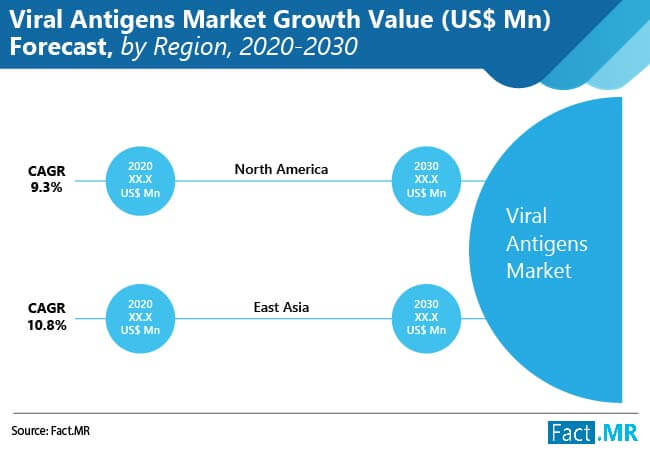 To get in-depth insights on the regional growth prospects of the viral antigens market, ask an expert analyst.
Viral Antigens Market: Competition Analysis
Technological advancements in biopharmaceutical industry are offering significant growth opportunities for players in the viral antigens market, leading to the launch of new and advanced products. Moreover, increase in the product development and new launches, including the launch of several novel recombinant antigens for the development of antibody tests for COVID-19 will further accelerate the expansion of the viral antigens market. For instance, in 2020, Creative Diagnostics launched new immunoassay kits for direct detection of the new coronavirus and antibodies against SARS-CoV-2. Later, The Native Antigen Company and OXGENE signed a mutual agreement to increase production of COVID-19 antigens for manufacturing diagnostic kits and vaccine development and supporting more researchers in their critical work.
COVID-19 Impact Analysis
Increasing demand for viral antigens in COVID-19 vaccine development and diagnostic kits is expected to propel growth of the global viral antigens market. According to the WHO, currently there are more than 2 million active coronavirus cases worldwide, which are initiating the adoption of viral recombinant antigens that are capable of producing recombinant viral proteins. Increasing cases of coronavirus have significantly led to a spike in demand for COVID-19 antibody detection kits focused towards prevention, early detection and monitoring of the disease. Moreover, growing incidence of acute diseases such as cancers, AIDS, hepatitis & infectious diseases is influencing the use of the high competency of viral antigens to reduce the risk of such diseases.
Analysts' Viewpoint
"The advent of technologically advanced vaccine research platforms and increase R&D activities in viral proteins remain major growth drivers of the viral antigens market. Significant efforts to develop rapid diagnostic kits and vaccines for the novel coronavirus will also uplift growth prospects of the market".
Viral Antigens Market: Report Scope
The recent study on viral antigens market by Fact.MR incorporates a five-year forecast period from 2020 to 2025 and explicates on vital dynamics such as the key drivers, opportunities and restraints impacting the market growth. The report provides an in-depth study concerning the revenue, market share and year-on-year growth across the following segments: component type, technique, and end user.
In addition, a regional landscape incorporating the above mentioned segments has been embedded within the report. Regional analysis is done based on the following geographies: North America, Europe, Asia-Pacific, Latin America and Middle East & Africa. In the final section, a competitive landscape providing information on the prominent market players, their revenue, market share, collaborations and product launches has been included.
Viral Antigens Market–Report Scope
Fact.MR recently published a market study on the global market for viral antigens. The study provides detailed assessment on the key market dynamics, including drivers, trends, opportunities,and restraints, as well as detailed information about the viral antigens market structure. The market study presents exclusive information about how the viral antigens market will grow during the forecast period of 2020-2030.
Key indicators of market growth, which include year-on-year (Y-o-Y) growth of the market and compounded annual growth rate (CAGR), are explained in Fact.MR's study in a comprehensive manner. This information can help readers understand the quantitative growth prospects of the viral antigens market during the forecast period.
The study is relevant for stakeholders in the viral antigens market, including, manufacturers, suppliers, distributors, and investors, and can help them in developing appropriate strategies to grow in the market. Stakeholders in the viral antigens market, investors, industry experts, researchers, and journalists, as well as business researchers can leverage the information and data presented in Fact.MR's study.
It also offers actionable insights based on the future trends in the viral antigens market. Furthermore, small businesses and new entrants in the viral antigens market can make use of the information presented in this study, based on which, they can make appropriate business decisions to gain momentum in the market.
Key Segments of Viral Antigens Market
Fact.MR's study on the viral antigens market offers information divided into three important segments—component, technique,end user and region. This report offers comprehensive data and information about the important market dynamics and growth parameters associated with these categories.
Component

Technique

End User

Region

Influenza Viral Antigens
Coronavirus Antigens
Zika Virus Antigens
Ebola Virus Antigens
Dengue Virus Antigens
Herpes Simplex Virus (HSV) Viral Antigens
Rotavirus Viral Antigens
Epstein-Barr Virus Antigens
Hepatitis A-E Virus Antigens
Parainfluenza Virus Antigens
Measles Virus Antigens
Adenovirus Viral Antigens
Mumps/Parotitis Virus Antigens
Varicella Zoster Virus (VZV) Antigens
Others

ELISA
Immunoassay
Hemagglutination
Radioimmunoassay (RIA)
Immunoperoxidase Staining
Immunofluorescence
Electron Microscopy
Others

Hospitals
Clinics
Laboratories
Diagnostic Centers
Blood Banks
Research Institutes

North America
Latin America
Europe
South Asia
East Asia
Oceania
Middle East & Africa
Key Questions Answered in Fact.MR's Viral Antigens Market Report
Which regions will continue to remain the most profitable markets for viral antigens market players?
Which factors will induce a change in demand for viral antigens during the assessment period?
How will changing trends impact the viral antigens market?
How can market players capture the low-hanging opportunities in the viral antigens market in developed regions?
Which companies are leading the viral antigens market?
What are the winning strategies of stakeholders in the viral antigens market to upscale their position in this landscape?
Viral Antigens Market: Research Methodology
In Fact.MR's study, a unique research methodology is utilized to conduct extensive research on the growth of the viral antigens market, and reach conclusions on the future growth parameters of the market. This research methodology is a combination of primary and secondary research, which helps analysts ensure accuracy and reliability of conclusions.
Secondary resources referred to analysts during the production of the viral antigens market study include statistics from government organizations, trade journals, white papers, and internal and external proprietary databases. Analysts have interviewed senior managers, product portfolio managers, CEOs, VPs, marketing/product managers, and market intelligence managers, who contributed to the development of this report as a primary resource.
Comprehensive information acquired from primary resources and secondary resources acts as a validation from companies in the viral antigens market, and makes Fact.MR's projection on the growth prospects of the viral antigens market more accurate and reliable.
Fact.MR offers custom research services that help clients to get specific research solutions
We are committed towards customer satisfaction and quality service.
---
Our Clients

Viral Antigens Market Forecast, Trend, Analysis & Competition Tracking - Global Market Insights 2020 to 2025