Line Marking Robots Market
Line Marking Robots Market By Tracking Technology (GPS, GLONASS, DPS + GLONASS), By Wheel (Three and Four Wheel Line Marking Robots), By Mode of Operation (Automatic Line Marking Robots, Manual + Automatic Line Marking Robots), By Region - Forecast 2021-2031
FACT1547MR
Oct-2021

List of Tables : 98

List of Figures : 238

170 Pages
Line Marking Robots Market Outlook
Newly-released line marking robots market analysis by Fact.MR, a market research and competitive intelligence provider, shows that global demand enjoyed year-on-year (YoY) growth of 25% by volume in 2021, to total around 390 units.
By tracking technology, devices equipped with DPS + GLONASS technology are expected to witness high CAGR growth of 30% by volume to total around 360 units by 2031, while GLONASS line marking robots are expected to witness CAGR growth of 23% by volume to total to around 620 units by 2031.
Interested to Procure The Data
Revenue Analysis of Line Marking Robots from 2016 to 2020 Compared to Demand Outlook for 2021 to 2031
As per the global line marking robots market research by Fact.MR, historically, from 2016 to 2020, market value experienced growth of 27% CAGR, wherein, the U.S., Canada, U.K, Germany, and Italy held significant share in the global market.
With growing modernisation and rising investments in sports across regions, the market is forecast to expand at a mammoth CAGR of 29% by value over the coming 10 years.
The market saw a marginal downfall in demand for line marking robots in 2020 with worldwide revenue down 0.2% in comparison to 2019.
Fact.MR estimates that line marking robots revenue will grow 12.6X from 2021 to 2031, reaching nearly US$ 160 Mn by 2031, with creating an absolute dollar opportunity of around US$ 150 Mn during the assessment period of 2021 to 2031.
As per Fact.MR's line marking robots industry insights, global market revenue totaled US$ 10 Mn in 2020.
Demand for automatic line marking robots will accelerate at the highest pace as AI-based automation will essentially guide robots.
Sales of three wheel line marking robots are expected to maintain high growth and at a CAGR of 28% by volume.
Sales of three wheel type line marking robots are likely to reach 3,300 units by 2031.
The North America line marking robots market share in 2021 is expected to be more than half of the global market.
How is Automation in Line Marking Robots Accelerating Demand across Regions?
Conventional line marking machines are manually operated. They are walk-behind machines that are used to apply paint on various surfaces, and are less efficient and have higher probability of error.
Automation has led to eliminate human error, increase level of accuracy, and aided in reducing time consumed during the process, along with enhanced safety.
Deployment of line marking machines have eased the operation of marking various types of lines in the field. These include hash marks, yard numbers, coaching zones, track marking, pitch and field lines, etc.
In addition, adoption of various positioning technologies such as GPS and GLONASS in line marking robots is owing to increase in demand due to their accuracy and hassle-free operations.
Robots that are integrated with GPS technology has grown in demand at a CAGR of 25% during the historical period (2016-2020), and expected to increase 26% by volume CAGR through 2031.
Considering global stadium numbers, there are a total of 4,864 stadiums in over 224 countries. These devices are perfectly designed for marking lines across fields for sports such as football, hockey, rugby, etc., and tracks.
There has been increase in investments in the field of sports. Popularity of football is rising in many developing nations. As per estimates, there are more than 5,300 clubs and 7,000 football teams in the English football league.
Football field marking machines have high demand due to their extensive use. As the enrolling rate is increasing day by day, popularity and investments in sports have led the adoption rate of line marking machines surge.
Collaboration with various sports authorities, clubs, schools, and universities will enable manufacturers to mark their competitive stand in this highly consolidated market. With the development of infrastructure and push towards sports at various educational institutes, utilization of line marking robots for college-level sports competition is set to gain high traction.
For instance, companies such as Tiny Mobile Robots and Turf Tanks have already partnered with local and national authorities in football, rugby, and lacrosse stadiums and running tracks for the supply of line marking robots.
Developing long-term partnerships with sport authorities and educational institutes will streamline the supply chain of line market robots.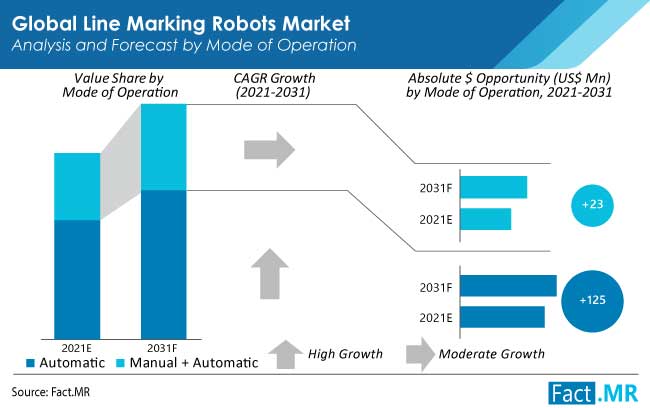 Will Rental Services, Corporate Sponsorships, and Private Expenditure Take the Market towards High Profit Margins?
Line marking robots are sophisticated and one of a kind technology gaining high attraction in the market. High demand is due to their flawlessness and swift operations.
Automatic line marking robots demand is likely to expand at a CAGR of 30% by value during the forecast period, while that for manual + automatic line marking robots is expected to rise at CAGR of 22% by value.
In order to increase market reach, manufacturers are opting for line marking robots rental services as their secondary business to cater to short-term customers. This helps end users in gaining access to high-quality product and results in high profit margins for market players.
Companies such as Turf Tank, Tiny Mobile Robots, and Boels Rental lead the rental line marking robot space. Availability at lower prices and for specific use time are likely to raise demand for rental services of line marking robots.
Study by various organisations reveals that the best measurement for sports expenditure is countries per capita expenditure on sports. For instance, India spends 11 rupees per year per capita on sports, whereas China spends almost 200 times that. Countries with higher expenditure tend to align towards more automation in the field for saving time and gaining higher efficiency.
For gaining popularity and positioning as prominent entities with brand advertising, various sports authorities, clubs, and teams gain private sponsorships. These sports regulating bodies generate their own cash, while they source the product from various line marking robot manufacturers and develop corporate sponsorships.
Likewise, the bodies receiving these highly automated machines in the form of sponsorships allows growth in volume sales of line marking robots.
An Adaptive Approach to Modern-day Research Needs
What are the Restraints That Line Marking Robot Suppliers Encounter?
There is higher cost of manufacturing and ownership along with low penetration in countries having less expenditure on sports, especially developing nations.
These device are loaded with a number of sensors, chips, and high-end software. The manufacturing as well the service gets expensive. This results in higher manufacturing, owning, and maintenance cost. These factors restrain low-income end users from owning the product.
On similar grounds, countries with lower sports budgets and teams with less number of sponsors face the same dilemma. Developing nations such as countries in Latin America, South Asia, and Africa have less per capita expenditure on sports and limited sports infrastructure. This limits the use of high-end technology in the field.
In addition, they lack skilled workers to operate these machines, and this has also contributed to the lower adoption rate. As a result, in these areas, the conventional line marking machines market is significantly matured than automated machines.
What is the Regional Outlook for Line Market Robot Manufacturers?
North America is expected to account for over 53% of line marking robot demand throughout the analysis period. The Canada line marking robots market size in 2021 is likely to be 22% by volume of total North America, and by 2031, it is expected to reach 390 units.
Europe is expected to be next in line by accounting for almost 36% demand by volume. Higher popularity of football and several field events in the region has led to surging demand across the continent.
Similarly, East Asian countries are also expected to witness decent demand due to high in-house consumption, state-of-the-art manufacturing capability, and better technology penetration.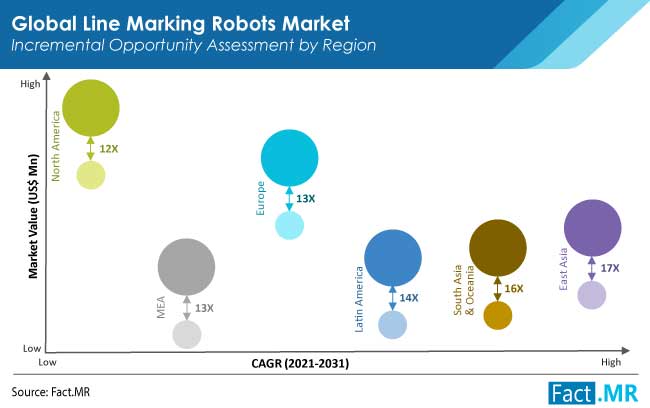 Country-wise Analysis
Why is the U.S. a Global Leader for Line Marking Robot Demand?
In 2020, the U.S. dominated the global market capturing 79% of the North America market share. It is expected to rise at a CAGR of 26% and account for 1,580 units by 2031.
This humongous demand for sports field marking equipment is likely to be due to high number of stadiums in the country, along with famous big leagues in field and track events.
The country's expenditure on sports and technology is huge, which is evident from its performance in global level events such as the Summer Olympics, Para Olympics, rugby leagues, etc.
Which Other Countries are Leading the Demand Graph at a Global Level?
U.K.: Following the trends of line marking machines in the U.S. and Canada, the U.K. is next in the line in terms of both, demand and manufacturing. Some of the leading manufacturers in the country are Fleet Line Markers and Pitchmark. The U.K. market is expected to hold 22% by volume of Europe's demand.
Germany: Germany holds around 6% of global demand and 18% of Europe's demand by volume. The country is Europe's largest sporting goods market. Popularity of field sports such as football, hockey, and handball in the country have propelled the growth opportunity for the line marking robots market.
Italy: Popularity of football in the country is immense. Track events such as cycling and indoor sports such as volleyball are most preferred. These sports use line marking machines to a great extent, which has led to higher demand for line marking robots in Italy. The market is expected to expand at a CAGR of 26% by volume and reach almost 220 units by 2031.
Russia: Russia has a long history of sports and supremacy in events at a global level. Early technology adoption has aided sales of line marking robots in the country. Russia holds around 3% of global demand by volume, creating a potential market for manufacture to pool in capital for further expansion.
Avail customized purchase options for your needs
Category-wise Insights
Why are GPS Line Marking Robots the Star of the Show?
Positioning systems in these machines provide accuracy and easy operability. GPS is preferred due to its acceptance and wide use at the global level. Many countries use this technology and are familiar with its capabilities.
Devices with GPS account for almost 70% of the global market share by volume.
Why are Line Marking Robots with Speed Between 2.1– 5 m/s Highly Sought-after?
Revenue from line marking robots with marking speed between 2.1– 5 m/s is expected to increase at a CAGR of 28.5% during the forecast decade. This category serves most of the requirements in field and track marking.
Thus, adoption rate of this category is higher, and it holds around 63% market share by revenue.
By Paint Capacity Which Category Holds the Most Revenue Potential?
Paints capacity holds an important place since this defines the weight, working hours, speed, and line marking capacity of the device.
Paint capacity between 10-15 liter line marking robots hold the highest share of around 45% by value in the market. Also, demand for paint capacity of 15-20 liter line marking robots is likely to reach around 1,010 units in 2031.
Competitive Landscape
Majority of the companies discussed in the report have focused on expansion, investments, acquisitions, delivery focus, portfolio expansion, and brand development.
Some of the key developments are:
In 2020, two leading companies - Tiny Mobile Robots and Turf Tank - secured funding from various sources. Tiny Mobile Robots secured funding of US$ 2 Mn from an angel investor. Similarly, Turf Tank secured an investment of US$ 13.5 Mn from a Danish-based company.
Similarly, recent developments related to companies offering line marking robots have been tracked by the team at Fact.MR, which are available in the detailed report.
Line Marking Robots Industry Report Scope
Attribute

Details

Forecast Period
2021-2031
Historical Data Available for
2016-2020

Market Analysis

Volume(Units) and Value(US$ Mn)

Key Regions Covered

North America
Latin America
Europe
East Asia
South Asia
Oceania
MEA

Key Countries Covered

U.S.
Canada
Brazil
Mexico
Germany
U.K.
France
Spain
Italy
China
Japan
South Korea
India
Indonesia
Malaysia
Singapore
Australia
New Zealand
Turkey
South Africa
GCC Countries

Key Market Segments Covered

Tracking Technology
Wheel
Mode of Operation
Marking Speed
Paint Capacity
Region

Key Companies Profiled

SWOZI AG
Tiny Mobile Robots
Turf Tank ApS
Pitchmark
Fleet Line Markers Ltd
FountainLine Line Markers

Pricing

Available upon Request
Segments Covered in Line Marking Robots Industry Research
By Tracking Technology

GPS
GLONASS
DPS + GLONASS

By Wheel

Three Wheel Line Marking Robots
Four Wheel Line Marking Robots

By Mode of Operation

Automatic Line Marking Robots
Manual + Automatic Line Marking Robots

By Marking Speed

1-2 m/s Line Marking Robots
2.1-5 m/s Line Marking Robots
>5 m/s Line Marking Robots

By Paint Capacity

Below 10 Liter Line Marking Robots
10-15 Liter Line Marking Robots
15-20 Liter Line Marking Robots
Above 20 Liter Line Marking Robots

By End User

Sport Authorities

National
District / State Level

Universities
Schools
Recreational Parks
Youth Clubs
Others