Inulin Market
Inulin Market Size, Growth Report By Source (Agave Inulin, Chicory Inulin), By Form (Powdered, Liquid Inulin), By Nature (Organic, Conventional Inulin), By End Use (Inulin for Clinical Nutrition, Dietary Supplements, Functional Food & Beverages, Dairy Products) - Regional Forecast to 2031
FACT1607MR
Dec-2021

List of Tables : 80

List of Figures : 205

170 Pages
Inulin Market Outlook
The inulin market forecasts that the market is slated to reach US$ 2.2 Bn by the end of the 2021-2031 forecast period as per Fact.MR's recently revamped report. Consumers are likely to show a greater inclination towards powdered inulin, surging at a CAGR of 6%. Furthermore, applications are likely to be dominant in the functional food & beverage segment, yielding US$ 170 Mn in revenue.
Report Scope
Attribute

Details

Market Size Value in 2021

US$ 1 Bn

Market Value Forecast in 2031

US$ 2.2 Bn

Growth Rate

8.2%

Key Companies Profiled

BENEO-Orafti SA
Steviva Brands Inc.
THE IIDEA Company
Cosucra Groupe Warcoing SA
Sensus B.V.
Naturel West Corp EU B.V.
The Tierra Group
NOW Health Group Inc.
Jarrow Formulas Inc.
The Green Labs LLC
PMV Nutrient Products Pvt. Ltd
TrooFoods Ltd.
Nutriagaves de México SA de CV
Natura BioFoods
Nova-BioRubber Green Technologies Inc.

Pricing

Available upon Request
Interested to Procure The Data
2016-2020 Inulin Market Outlooks Compared to 2021-2031 Forecast
Historically, from 2016 to 2020, demand for inulin surged at a CAGR of around 6%. Growth was majorly underpinned by their documented benefits with regard to maintaining gut health and digestion. Furthermore, inulin is effective in controlling glycemic status and improving lipid profile in type 2 diabetic patients.
The market witnessed a further demand spike in 2020, during the COVID-19 pandemic, especially in the pharmaceutical sector. As consumers became increasingly conscious about maintaining a good immune system, consumption of functional foods containing inulin has increased manifold.
Growing popularity of prebiotic ingredients and increasing awareness campaigns for low fat and calorie reduction are expected to fuel the global inulin market during the forecast period. Moreover, government authorized food and drugs organizations across several nations have recognized inulin as a safe product, ensuring consumer safety. According to Fact.MR, the market is poised to register a CAGR of 8.2% from 2021 to 2031.
Consistent Demand for Natural Sweeteners Driving Inulin Adoption?
Consumers are actively seeking sweeteners of both sorts, including natural and artificial sweeteners, since they are becoming more aware of the negative consequences of excessive sugar intake. Consumption of artificial sweeteners has increased in recent years, mostly with the goal of losing weight and lowering the risk of diabetes. Artificial sweeteners, on the other hand, include man-made substances that are detrimental to human health. Furthermore, artificial sweeteners have a high calorie level, which disturbs health-conscious customers.
Natural and organic sweeteners, on the other hand, have low calorie content and are free of hazardous chemicals. As a result, natural sweeteners such as agave syrup, stevia, and inulin have gained popularity. This dramatic shift in consumer adoption effectively resolves fundamental issues associated with the use of sugar and artificial sweeteners. Given that growing demand for natural sweeteners among health-conscious consumers is expected to boost inulin usage, the inulin market is expected to grow over the next decade.
An Adaptive Approach to Modern-day Research Needs
A Strong Supply Chain will Bridge the Gap between Processing Facilities and Feedstock Resources
With rising demand from main inulin producers, Latin America and Western Europe offer feedstock for inulin such as agave, chicory, and Jerusalem artichoke. However, nations in the Asia Pacific region are constructing inulin processing plants because to benefits such as an availability of resources and cheap labor.
China and India, in particular, are seeing the construction of numerous inulin processing facilities, resulting in a large need for inulin feedstock. These processing facility developments in the Asia Pacific area have been bolstered by well-established transportation routes and supply chains. With the availability of a robust supply chain and shipping routes, the accessibility of inulin feedstock has risen substantially in the Asia Pacific area, boosting the expansion of the inulin market in the global arena throughout the forecast period.
Rising Per Capita Spending on Dietary Supplements and Functional Foods Will Benefit the Inulin Market
Dietary supplements and exogenous nutrition are becoming increasingly popular among modern consumers. A growing number of proactive consumers who are interested in health and fitness are ardent buyers of dietary supplements and functional foods. Increasing spending on clinical nutrition and functional foods is also propelling the global inulin market, and this trend is projected to continue during the forecast period.
Country Wise Analysis
Why U.S. is dominating the Inulin Market?
U.S. is the largest shareholder in the Inulin market with total revenue of US$ 285.1 Mn. The inulin consumers in the U.S. are mostly in their mid-30s and late 40s. The mid 30s section is keen on consuming dietary supplements while the late 40s section are slowly becoming fond of supplements. Owing to all these factors the US Inulin market is set to augment at a CAGR of 6% during the forecast period.
What are the Growth Prospects for Inulin Market in the U.K?
UK is predicted to be one of the most lucrative markets for the inulin industry. With the presence of favorable regulatory policies for including the functional ingredients specifically in the food & beverages end user segment. Therefore, the UK market is set to register a steady CAGR of 5% during the forecast period.
How Lucrative is the Market in Japan for Inulin Manufacturers?
With plethora of resources combined with economic labor, the Japanese Inulin market is forecasted to be the largest market in the Asia Pacific region with a CAGR of 5.5%. Furthermore, the ease of well-established shipping routes and supply chain are one of the major factors driving the inulin market in Japan.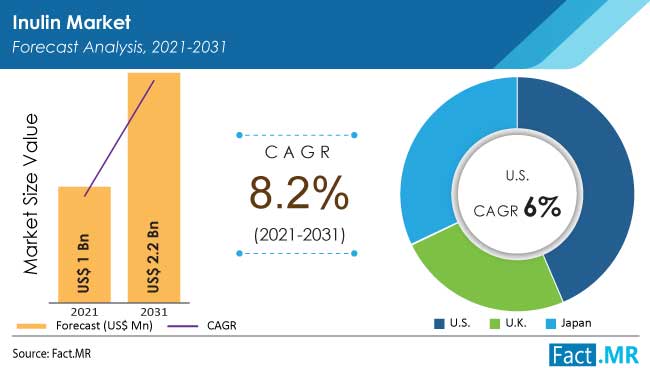 Category Wise Insights
Chicory Roots are the Most Preferred Source for Inulin
The Inulin source segment is categorized into agave inulin, chicory inulin and Jerusalem artichoke. Chicory roots is one of the most popular and preferred source for inulin manufacturers as it is available in liquid as well as powder form. This segment is forecasted to augment at a CAGR of 6.5% during the assessment period.
Which is Most Consumed form of Inulin?
On the basis of form, the inulin market is segmented into liquid and powder forms. The powdered form is the most consumed form of inulin owing to its convenience of blending into everyday food items so effortlessly. The powered form is anticipated to grow at a CAGR of 6% during the forecasted period.
Which Inulin Nature Type is the Most Lucrative in the Market?
On the basis of nature, inulin is segmented into organic and conventional nature type. The conventional inulin holds the lion's share in the market. The organic insulin segment is also going to grow at a substantial CAGR. Thus, the former segment is expected to grow at a CAGR of 5% during the forecast period.
Which is the Most Profitable End User Segment?
On the basis of end user segment, clinical nutrition, dietary supplements, functional food & beverages, dairy products, infant formula, breakfast cereals & cereal bars, meat products and animal nutrition. The functional food & beverages segment is going to be the most profitable segment with total revenue of US$ 170 Mn. This segment is going to register a market growth of 5%.
Avail customized purchase options for your needs
Competitive Landscape
Manufacturers in the inulin market are spending in R&D efforts to make required changes to inulin and create higher quality inulin. Manufacturers are also concentrating on product development to guarantee that the company's product range stays creative in light of current market trends and end-user input.
For example, BENEO offers Orafti®, a naturally sourced fiber derived from chicory root that does not sacrifice taste or texture. It may be used to make a variety of culinary items.
Inulin Market Key Segments
By Source

Agave Inulin
Chicory Inulin
Jerusalem Artichoke Inulin

By Form

Powdered Inulin
Liquid Inulin

By Nature

Organic Inulin
Conventional Inulin

By End Use

Inulin for Clinical Nutrition
Inulin for Dietary Supplements
Inulin for Functional Food & Beverages
Inulin for Dairy Products
Inulin for Infant Formula
Inulin for Breakfast Cereals & Cereal Bars
Inulin for Meat Products
Inulin for Animal Nutrition