Artificial Sweetener Market Outlook (2022-2032)
The global artificial sweetener market is valued at US$ 7 billion in 2022 and is likely to touch US$ 12 billion by 2032, expanding at a CAGR of 5.5% during the forecast period (2022-2032).
The United Kingdom is expected to account for 30% of the global market by the end of 2032. Demand for aspartame-based artificial sweeteners is anticipated to develop at a CAGR of 4% during the forecast period.
Report Attributes

Details

Artificial Sweetener Market Size (2022)

US$ 7 Billion

Projected Market Value (2032)

US$ 12 Billion

Global Market Growth Rate (2022-2032)

5.5% CAGR

United Kingdom Market Share (2022-2032)

30%

Chinese Market Growth Rate (2022-2032)

3%

Aspartame Segment Growth Rate (2022-2032)

4%

Key Companies Profiled

Roquette Freres
Hermes Sweeteners Ltd.
Ajinomoto Co., Inc.
McNeil Nutritionals
PureCircle
NutraSweet Property Holdings, Inc.
Zydus Wellness Ltd
JK Sucralose
MORITA KAGAKU KOGYO CO. LTD.
Sunwin Stevia International, Inc.
Know thy Competitors
Competitive landscape highlights only certain players
Complete list available upon request
Consumption Assessment of Artificial Sweeteners (2016-2021) Vs. Market Projections (2022 to 2032)
Foods sans sugar are extremely popular due to their reduced calorie content and characteristics. As a result, instead of fatty sugar, the food industry now includes a variety of artificial sweeteners. Artificial sweeteners are sugar substitutes that are synthesized and have a sweet flavor.
Artificial sweeteners are now used as a substitute for sugar as it keeps glucose levels low and is widely used in prepared food sources such as jams, sticks, sweet beverages, and other similar goods. Saccharin, aspartame, and sodium benzoate are the most prevalent artificial sweeteners.
Aspartame is commonly used as a sugar substitute in developed countries. It is better than conventional sugar and is used in low-calorie sweets, tea, cereal, espresso, milk specifics, yogurt, sugar-free gum, and other products. Moreover, artificial sweeteners are often used to make milk, beverages, bread items, confectionaries, and other products healthier while retaining flavor.
The global artificial sweetener market is likely to gain from greater public awareness and rising demand for sugar-free goods and low-calorie sugar alternatives. Furthermore, food producers are focusing on sugar-free and low-calorie alternatives, boosting the global artificial sweetener market.
The global artificial sweetener market is projected to post a CAGR of 5.5% during the forecast period (2022–2032).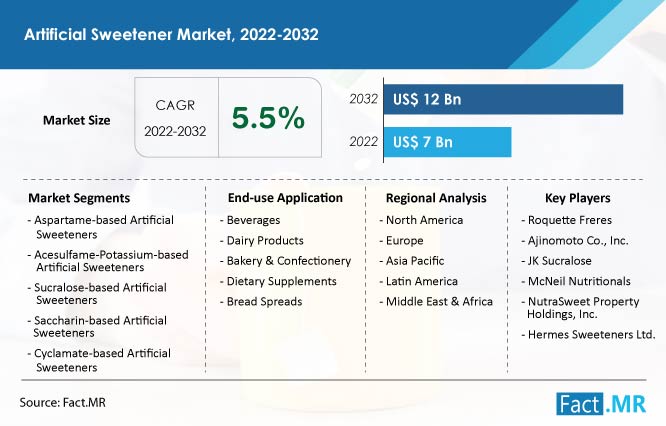 Why is the Worldwide Artificial Sweetener Market Continuing to Expand?
"Increasing Preference for Low- or Zero-Calorie Foods & Beverages"
Artificial sweetener usage is increasing as health-conscious customers seek low- or zero-calorie versions of food and beverages. This is a significant factor anticipated to spur the growth of the global artificial sweetener market during the forecast period.
Food makers are adopting high-intensity artificial sweeteners to produce light items with lower calories and appealing flavor profiles in response to customer demand.
For instance, sugar-free gums have shown significant sales growth compared to regular gums.
Other products that contain artificial sweeteners include tabletop sweeteners, diet beverages, frozen dairy products, and yogurt.
Due to their sedentary and busy lifestyles, city dwellers find it difficult to maintain a healthy lifestyle. This typically leads to unhealthy habits like inconsistent eating and the intake of sugary drinks to satisfy thirst and hunger at inappropriate times.
As the world's population becomes more unhealthy, low-calorie drinks are expected to gain appeal.
PepsiCo announced a plan in July 2021 to lower sugar content by 25% in its iced tea and soda beverage ranges throughout the EU by 2025. The company hopes to capture the interest of health-fanatic consumers in the region by developing goods with lower sugar content.
These aspects are expected to promote the growth of the global artificial sweetener market during the forecast period.
"Global Market Witnessing Substantial Growth Post-COVID"
The outbreak of COVID-19 had a moderate impact on the sales of the artificial sweetener market.
The COVID-19 pandemic caused ambiguity in Brazil's sugarcane distribution between sugar and ethanol. Moreover, the volatility in crude oil prices and the Renovabio ethanol program hugely influenced the global sugar market by changing Brazil's export levels.
As per the National Federation of Co-operative Sugar Factories, the worldwide price of sugar tumbled by more than 20% in March 2020, as the oil price dropped by 35%, encouraging refineries to restrict the sugarcane utilized for ethanol products, raising sugar availability in the worldwide industry (increased supply than demand led to the product's low price).
Nevertheless, this low price did not continue long and climbed by the end of April 2020. In the post-COVID-19 period, the global artificial sweetener market is likely to witness substantial growth.
"Implementation of Sugar Taxes in Several Nations to Provide Growth Opportunities"
With the implementation of sugar taxes in several nations, the majority of consumers are switching from sugary beverages to zero-calorie or low-calorie variants. This tax is intended to reduce the incidence of obesity in both children and adults.
Sugar taxes and levies have been established in nations such as Hungary, the United Kingdom, France, and Finland to reduce obesity rates. Such efforts are projected to provide revenue-generation opportunities in the artificial sweetener market during the forecast period.
Moreover, these taxes have resulted in a plethora of product changes. These changes, in turn, are estimated to provide a significant boost to the use of artificial sweeteners, including high-intensity artificial sweeteners.
While skeptics of the high-intensity artificial sweetener have argued that it causes a slew of health concerns, important institutes like the National Cancer Institute have disputed this. Furthermore, favorable research and FDA approvals are pushing food and beverage industries to return to these specific artificial sweeteners with no hesitation.
More Insights, Lesser Cost (-50% off)
Insights on import/export production,
pricing analysis, and more – Only @ Fact.MR
Country-wise Insights
Why is the United Kingdom Predicted to be Europe's Most Profitable Market?
The United Kingdom is expected to account for 30% share of the global artificial sweetener market during the forecast period. The country is expected to be the most profitable market in Europe due to increasing consumer awareness of healthy food products and strong food safety laws.
Moreover, in recent years, the United Kingdom's government has effectively executed various initiatives aimed at improving lives by introducing novel healthy products that can lower diabetes, cholesterol, and obesity. This effort is projected to increase demand for artificial sweeteners, hence contributing to the artificial sweetener market growth in the United Kingdom.
What are the Factors Promoting Market Growth in China?
The Chinese artificial sweetener market is estimated to expand at a CAGR of 3% during the forecast period. China has experienced an unprecedented increase in obese people, particularly children. The artificial sweetener market in China is projected to develop owing to increased measures to reduce sugar intake and growing consumer health awareness.
According to official Healthy China 2030 project documents, the government plans to reduce local sugar intake by at least 17%, implying that Chinese consumers should consume no more than 25g of sugar per person by 2030, down from 30g previously.
The country also has a weight-loss trend, which limits the use of table sugar and promotes artificial sweeteners, natural sweetener blends, and nutritive sweeteners.
Moreover, improved economic situations and changing lifestyles have increased the demand for convenience foods. The Chinese artificial sweetener market is expanding as dietary habits such as zero-calorie or low-calorie items become more popular in the processed and packaged food segment.
Category-wise Insights
Why is Aspartame the Most Popular Artificial Sweetener?
The aspartame segment is anticipated to develop at a CAGR of 4% during the forecast period. Aspartame is a common element in artificial sweeteners since it is significantly sweeter than sugar and thus less expensive than other artificial sweeteners.
Moreover, the increasing usage of aspartame as a tabletop sweetener is boosting the growth of the segment. Makers of artificial sweeteners are also seeking to approach pharmaceutical manufacturers to address the rising demand for aspartame as a sweetening and flavoring agent in pharmaceuticals.
Which End-use Application is Expected to Lead Global Market Growth?
The beverage segment is expected to lead the global artificial sweetener market during the forecast period. Artificial sweeteners have nearly completely supplanted sugar in the beverage industry, particularly in carbonated beverages.
Artificial sweetener properties such as clean labels and natural profiles are boosting the artificial sweetener market. Furthermore, the amount of sugar used in soft drinks is decreased without compromising taste or appearance, allowing beverage manufacturers to supplant sugar with artificial sweeteners.
Competitive Landscape
The global artificial sweetener market is fragmented with major and small regional competitors. Major market players are utilizing modern technologies to offer artificial sweeteners that are efficient, safe, and inexpensive.
Moreover, to consolidate their position in the worldwide artificial sweetener market, leading market players are concentrating on producing novel products and implementing methods such as acquisitions and mergers.
Codexis and Tate & Lyle extended their collaboration in 2021 to improve the manufacturing of Tate & Lyle's latest sweetener - Tasteva M Stevia Sweetener.
AnalytiCon Discovery and Roquette revealed in 2021 that their R&D investment in developing Brazzein, a protein sweetener naturally found in African berries known as Pentadiplandra, had been successful.
Tate & Lyle PLC, a worldwide food and beverage solutions maker, acquired Sweet Green Fields, the top stevia solutions provider, in December 2020. The acquisition helped the former expand its market position as a leading provider of advanced sweetener solutions with the capacity to manufacture foods and beverages that are lower in calories and sugar and have cleaner labeling for customers worldwide.
Segmentation of Artificial Sweetener Industry Research
By Product Type :

Aspartame-based
Acesulfame-Potassium (Ace-K)-based
Sucralose-based
Saccharin-based
Cyclamate-based
Others

By End-use Application :

Beverages
Dairy Products
Bakery & Confectionery
Dietary Supplements
Bread Spreads
Pharmaceuticals
Personal Care Applications

By Form :

By Region :

North America
Europe
Asia Pacific
Latin America
Middle East & Africa