Temporary Power Market
Temporary Power Market Forecast, Trend, Analysis & Competition Tracking - Global Market Insights 2020 to 2030
FACT1672MR
Jan-2021

List of Tables : 23

List of Figures : 85

170 Pages
About the Report
The temporary power market has come to the forefront to bridge the energy demand from semi-permanent sources. Usage of temporary power in the building, construction, and renovation industries is imperative. While temporary power sources save electricity to fit the bill, its installation requires applicable codes, standards, and regulations.
The perks of using temporary power over conventional one are unlimited and well-researched rendering the market highly lucrative for equipment manufacturers, suppliers, and the export & import industry. In a new report, ESOMAR-certified firm Fact.MR provides a thorough analysis of the potential, growth, and scope of the temporary power market.
Historical and Future Outlook
Demand for temporary power has grown exponentially over the last five years owing to burgeoning requirement for high fuel efficiency, improved power output, and reduced operational costs. While steady expansion of the construction industry has catapulted sales, various regulations, initiatives, and governmental investments have further catalyzed temporary power requirements.
As stated by the European Commission (EC), the construction industry contributed approximately 9% of the EU's GDP in the past, while buildings accounted for the largest share of final energy consumption (40%) from 2015 to 2020. While North America and Europe exhibit high potential, Asia Pacific remains immensely lucrative.
High requirement for cost-effective and efficient power is projected to boost revenue of temporary power manufacturers through 2030. According to Fact.MR, the global temporary power market is set to ascend at over 5% during the forecast period, with construction and building industry set to gain further momentum.
How is Focus on Energy Efficiency Boosting Temporary Power Equipment Sales?
Temporary power has gained popularity among diverse end-user segments such as construction & renovation, mining, utilities, and others as it is very suitable in supplying the required power in a cost-effective, hassle-free way. Rising energy concerns and subsequent initiatives taken by governmental organizations have stimulated the growth of temporary power.
As per the European Commission's report, in December, 2020, the European Union (EU) has committed to reduce energy consumption by 20% by the year 2020 compared to baseline projections, while for 2030, the EU has the binding target of reducing at least 32.5%.
Furthermore, according to the "Energy Efficiency and Conservation- U.S." report by the. Energy Information Administration (EIA), there was a historic slowdown in energy efficiency globally in 2018, improving marginally by 1.2% as compared to 2017. This is providing manufacturers and suppliers an opportunity to enhance their presence across the temporary power market.
What % of Revenues are on Account of Demand from Construction Industry?
According to the European Commission (EC), the construction industry is an integral part of the European economy. Rising number of industrial, commercial, and residential buildings construction and renovation is augmenting demand for temporary power, prompting manufacturers and suppliers to offer efficient and cost-effective services and materials. To provide further boost, the "European Construction Sector Observatory (ECSO)" initiative was undertaken by COSME, which regularly carries out comparative assessments on the construction sector in all 27 EU countries and the UK.
As per the Global Statistical Data published in 2020, the construction industry in the South and South-East Asia is highly potential and forecast to grow at over 6% by volume through 2025. In 2015, Japan's Ministry of Land, Infrastructure, Transport and Tourism announced its new "i-construction" standard for surveying, construction, and other tasks which utilize 3D data. In order to achieve a world-leading "Super Smart Society", the Japanese Government and construction industry have joined hands.
According to the Office for National Statistics, in Great Britain, construction output grew by 1% in the month-on-month all work series in October 2020 while the 'new work' and 'repair & maintenance' segments exhibited growth of 0.3% and 2.3% respectively.
Approximately 95% of construction, architecture, and civil engineering firms are micro-enterprises or Small and Medium-sized Enterprises (SMEs), providing stimulus to the temporary power market. According to EC, EU SME value added has grown ~4% in 2019 and ~4.2% in 2020. Despite the possibility of up and downs in the SME sector, they remain as a focal point in shaping the growth and scope of the temporary power suppliers.
According to the Associated General Contractors (AGC) of America, construction industry is a major contributor to the United States economy. As per their data, the industry creates nearly US$ 1.3 trillion worth of structures every year, employing over 680,000 people with over 7 million employees.
Avail customized purchase options for your needs
Key Challenges
While temporary power has all in one solutions for space and time constraints, tight budget, and energy waste, there are a few restraints likely to come in the way of the future growth of the temporary power sources.
For instance, renewable energy plants, which are the key sources of temporary power, has several drawbacks such as fluctuating weather patterns. Thus, power equipment dependent on solar energy would be rendered ineffective on a cloudy day while those running on wind power would be unusable on a non-breezy day.
Additionally, there are sets of rules and codes to be complied with during the installation and uninstallation process of temporary power set-up. And hence, it requires experts' handling and maintenance.
Moreover, the outbreak of the COVID-19 pandemic has induced a temporary blip across key end-user industries such as mining, building & construction, decelerating growth of the temporary power industry. According to the Construction Institute Organization (CII), in the U.K., over 80% of construction businesses plunged into recession immediately after the pandemic's outbreak.
However, with the world getting back to the track by adopting the 'new normal', the market is recovering fast and forecast to grow exponentially in the coming years.
Country-Wise Analysis
What's Driving Growth in the U.S.?
Backed by the rapidly evolving utilities, oil & gas, and mining industry, the temporary power equipment manufacturers are poised for growth in the U.S. As per the U.S. Geological Survey 2020, 23 materials deemed as "critical minerals" were analyzed, while the report stated that U.S. has been growing exponentially in terms of mining industry, being dependent on mineral imports since the 1970s.
Despite the trough in the energy sector due to the pandemic, demand for temporary power is anticipated to exhibit an upward curve owing to the requirement from building & construction, oil & gas, and others in the near future.
As stated in the United States Energy Information Administration's (EIA) report, U.S. oil production reached 12 million barrels per day (b/d) in December, 2018 and 12.8 million b/d in December, 2019, while the U.S. natural gas gross withdrawals reached 109.4 billion cubic feet per day (Bcf/d) in December, 2018 and 116.8 Bcf/d in December, 2019.
Attributed to these broad trends, the U.S temporary power market is slated to expand significantly across the upcoming forecast period.
Why Germany's Renewable Energy Sector is Key to Temporary Power Demand?
Germany is set to maintain the lead, owing to the rise in demand for the diesel generator, gas generator, and other temporary power sources. The fast expansion of the building & construction industry is expected to drive the demand for temporary power in Germany, while the events & hospitality, and mining industry will have significant contribution in increasing the market revenue.
According to the European Commission (EC), the construction industry in Germany is segmented into micro, small, and medium. As stated by EC, in Germany, the production in construction registered an overall growth rate of 10.4% between the years 2010 and 2016.
As per the statistics published by the AG Energiebilanzen, in Germany, the contribution of renewables in the energy segment has risen to 35% in 2018 from 29% in both 2015 and 2016. Such investments are providing a fillip to suppliers, and manufacturers of temporary power sources, equipment, and generators across the country.
Why are Temporary Power Manufacturers Eying the UK Market??
While the U.K. is set to remain lucrative for the Europe temporary power manufacturers, the rising investments on the renewable energy sector is expected to further spur the growth of the key market players. According to the Energy UK Organization, renewables account for the production of more than 20% of the UK's electricity and which has risen steadily to reach close to 30% in 2020.
Furthermore, several regulations and investment schemes are working in favor of the manufacturers in the temporary power industry. For instance, the Feed-in Tariff (FiT) is designated to support small scale renewable installations up to 5MW. Generators are paid a tariff through FiT for every unit of electricity they produce.
Another new scheme named 'a Feed in Tariff with a Contract for Difference (CfD)' has been initiated to support and encourage renewable energy production in the United Kingdom, which in turn is expected fuel the sales in the temporary power sector.
France Temporary Power Market Driven by Country's Construction Industry
France remains highly promising in terms of demand and sales of temporary power, due to the surging demand from the industrial building & construction, utilities, and mining industries. According to the European Commission (EC), in France, the number of enterprises in the broad construction sector in France totaled 8.3 million in 2016, while companies in the narrow construction sector accounted for 60.7% of the total, followed by real estate activities (26.3%), architectural and engineering activities (11.0%) and manufacturing (2.0%).
As stated by the IEA, France has a low-carbon electricity mix owing to its large nuclear fleet, while the country has started a highly ambitious energy transition under the Energy and Climate Change Law 2019. This energy transition includes strategic designing of a national low-carbon footprint, carbon budgets, a carbon price trajectory, and a planning framework for energy investment.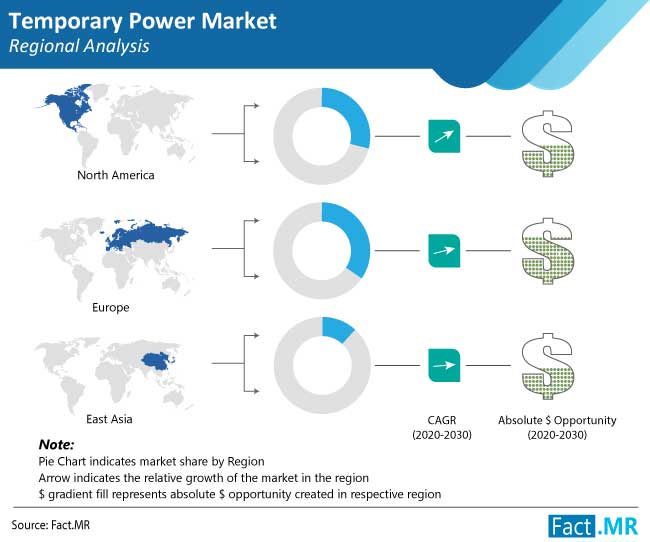 An Adaptive Approach to Modern-day Research Needs
Market Scenario in Canada
Canada remains a lucrative country in the largest market for temporary power in North America. The growing investment in the various power plants coupled with the high requirement from the utilities industry is expected spur the growth of the temporary power manufacturers in Canada.
As per the North American Industry Classification System (NAICS) Canada Manual, the utility sector in Canada accounts for nearly 2% GDP growth in Canada. As per the report published by The Conference Board of Canada, the Canadian electricity sector is expected to invest US$ 293.8 billion through 2030 to maintain existing assets and meet market growth. As per the report, the expected investments are US$ 195.7 billion in generation, US$ 35.8 billion in transmission, and US$ 62.3 billion in distribution.
Furthermore, the increase in diesel fuel consumption depicts the high requirement of temporary power in Canada. According to the United States Department of Agriculture (USDA) Government, the diesel fuel consumption increased in 2018 and 2019. Despite a few constraints faced due to the pandemic, the market is highly potential in Canada.
How is the Power System Transformation Upscaling Growth in China?
Highly developed utilities and construction industry is spurring growth of the manufacturers of temporary power generators in China. As per the report named "China Power System Transformation Analysis" published by IEA in February, 2019, China's Power System Transformation has a two-fold objective: to provide a summary of the state of play of power system transformation (PST) in China and a comprehensive discussion of PST internationally. And the second objective is, it presents findings from a detailed power sector modelling exercise for China in 2035.
As per the report named "Infrastructure Investment in China" published by the Reserve Bank of Australia, a significant proportion of investment in China since the early 1990s has been directed towards increasing the amount and improving the quality of infrastructure. As per this data, since 2004 to 2014, investment in infrastructure has accounted for between 25% and 35% of total Fixed Asset Investment (FAI) in China.
Italy Temporary Power Market to Remain in Focus
Italy is expected to witness significant rise in the demand for temporary power owing to the surge in demand from the diverse end-user industries starting from events and hospitality to construction..
As per the report named "Italian Hotel Market" published by the Hospitality Net Organization, Italian hospitality industry has grown at over ~2.5% since the past decade. Despite suffering a setback due to the COVID-19 pandemic, the requirement for hospitality & events segment is expected to aid in the growth of the temporary power equipment suppliers in Italy.
According to the European Commission (EC), the Italian construction sector is a vital part of the national economy, with its gross value added accounting for 18.7% of GDP. As per the report, the housing industry in Italy has been exhibiting significant growth since 2014, with the number of residential sale transactions increasing by 16.3%, from 444,636 in 2015 to 517,164 in 2016. On the other hand, the narrow construction and real estate segments have been a significant part of the Italy construction industry, with a share of 52.9% and 19.7% respectively in 2016.
What's Attracting the Temporary Power Suppliers to Spain?
The Spanish landscape is grabbing several temporary power manufacturers' eyeballs in recent year, stimulated by flourishing demand from utilities, oil, and construction industry.
The United Nations Climate Conference (COP25) was organized in Madrid in December, 2019 in order to deal with the creation of carbon market and the commitment to increase the nationally determined contributions as per the Article 6 of the Paris Agreement.
As the country is focusing on increasing the use of renewable energy to fulfil the requirement from diverse end-user industries, the revenue for the temporary power suppliers is expected to grow significantly in the near future.
Category-wise Insights
Why Diesel Generator is Preferred over Others?
Diesel generators are presently highly sought-after sources for temporary power due to their abundance, light-weight, and cost effectiveness. Dual fuel generator, gas generator, solar generator are other key sources for the temporary power.
As per the statistics published by the United States Department of Energy in 2015, nearly 15 countries account for more than 75% of the world's oil production and hold approximately 93% of its reserves. United States, China, and others being in the list, holds high potential for further growth due to the abundance of the fuels for such generators.
According to the research unit of China National Petroleum Corp (CNPC), China's total oil demand will top out at around 690 million tonnes a year, or 13.8 million barrels per day (bpd) by 2030. As stated in their report, China's diesel demand has peaked and the demand for gasoline is forecast to peak by 2025.
This is expected to have a significant contribution in growing the key power source segments of temporary power in the coming years.
Utilities to Emerge as the Primary End-Use Industry
The utilities sector is responsible for providing basic amenities such as water, electricity, natural gas, and others, highly require the supply of temporary power. Hence, it is expected to emerge as the primary application area in the upcoming forecast period.
As per The World Bank's Data, average per capita electricity consumption globally is 2,782 KWh and is increasing steadily with the growing demand. The EIA's November, 2020 report states that Japan was the fifth largest energy consumer in the world in 2019, while China became the largest energy consumer in the world.
China's energy consumption accounts for nearly 18% of the global energy consumption since its consumption surged by 8% since 2009. Also, according to China Electricity Council, total electricity consumption in China rose by 4.5% in 2019, with the residential and services sectors recording the highest growths of 5.7% and 9.5% respectively.
As per the report, electricity consumption in the industrial sector increased by 3.1%, contributing to 48% of the consumption growth and accounted for 68% of the total electricity consumption in China in 2019. With the utilities industry gaining traction, the demand for temporary power is expected to rise exponentially in the coming years.
Interested to Procure The Data
Competitive Landscape
While the global temporary power market tends to remain moderately fragmented, the growing concern regarding energy consumption remains a key driver to bolster the growth of the manufacturers. In order to sustain in the cut-throat competition, the key players are started with diversifying their products to meet the high demand from the key end-user industries.
For instance,
Larson Electronics LLC launched its new range of Power Distribution Panels with KVA Transformers which consists of a power line feed. Load center with breakers, transformer, and outlets in 2020
Hybrid Power Hire launched its new extensive range of temporary power set up and equipment such as Self Contained Hybrid Power Systems, Nano Series equipment which are available in models from 400VA to 3kVA and with battery capacity from 740 Whrs to 5kWhrs, and others in the last year
Sudhir Rental Solution launched their new exclusive range of temporary power generators available on rent for cost-effective usage, such as, 30kVA-62.5 kVA Diesel Generator, 365kVA-440kVA Hire Genset, and others in 2020
Aggreko Plc. launched its new broad range of temporary power equipment and solutions such as Aggreko Industrial Power Generator, Aggreko Loadbanks, Aggreko Electrical Distribution, and others in 2020
Enerwhere launched its new advanced range of temporary power solutions such as Solar Hybrid Systems, Solar Rooftop Systems, Data Monitoring System to keep track of the power supply and improve it, and others in 2020
Temporary Power Market Report: Scope
Attribute

Details

Forecast Period

2020-2030

Historical Data Available for

2015-2019

Market Analysis

USD Million for value

Key Regions Covered

North America
Latin America
Europe
South Asia
East Asia
Middle East & Africa, Oceania

Key Countries Covered

US
Canada
Germany
U.K.
France
Italy
Spain
Poland
Russia
China
Japan
South Korea
India
Thailand
Malaysia
Vietnam
Indonesia
Australia
New Zealand
GCC Countries
Turkey
Northern Africa
South Africa

Key Segments Covered

Power Source (Diesel Generator, Gas Generator, Dual Fuel Generator, Solar Generator)
End Use (Utilities, Oil & Gas, Mining, Construction, Manufacturing, Events & Hospitality, and Others)
Region

Key Companies Profiled

Larson Electronics LLC
Cummins, Inc.
Aggreko Plc.
Energyst B.V.
SES Smart Energy Solutions FZCO
Hybrid Power Hire
Bennett Engineering LLC
Sudhir Rental Solution
Ashtead Group plc.
Enerwhere
Altaaqa Global
APR Energy

Report Coverage

Market Forecast
brand share analysis
competition intelligence
DROT analysis
Market Dynamics and Challenges
Strategic Growth Initiatives

Customization & Pricing

Available upon Request
Temporary Power Market by Category
Power Source

Diesel Generator
Gas Generator
Dual Fuel Generator
Solar Generator

End Use

Utilities
Oil & Gas
Mining
Construction
Manufacturing
Events & Hospitality
Others

Region

North America
Latin America
Europe
South Asia
East Asia
Middle East & Africa
Oceania
Need an Exclusive Report for your Unique Requirement?
- Our Clients -

- Evaluate How Fact.MR's Report Can Help. -
Is the market research conducted by Fact.MR?
Yes, the report has been compiled by expert analysts of Fact.MR, through a combination of primary and secondary research. To know more about how the research was conducted, you can speak to a research analyst.
What research methodology is followed by Fact.MR?
Fact.MR follows a methodology that encompasses the demand-side assessment of the market, and triangulates the same through a supply-side analysis. This methodology is based on the use of standard market structure, methods, and definitions.
What are the sources of secondary research?
Fact.MR conducts extensive secondary research through proprietary databases, paid databases, and information available in the public domain. We refer to industry associations, company press releases, annual reports, investor presentations, and research papers. More information about desk research is available upon request.
Who are the respondents for primary research?
Fact.MR speaks to stakeholders across the spectrum, including C-level executives, distributors, product manufacturers, and industry experts. For a full list of primary respondents, please reach out to us.
Is a sample of this report available for evaluation?
Yes, you can request a sample, and it will be sent to you through an email.