Floating Power Plants Market
Floating Power Plants Market Analysis By Power Source (Non-renewable, Renewable), By Power Rating (High, Medium, Low), By Platform Type (Floating Structures, Power Barges, Power Ships) & Region – Global Market Insights 2023 to 2033
Analysis of Floating Power Plant Market Covering 30+ Countries Including Analysis of US, Canada, UK, Germany, France, Nordics, GCC countries, Japan, Korea and many more
Floating Power Plants Market Outlook (2023 to 2033)
The global floating power plants market stands at US$ 1.6 billion in 2023. As per this detailed Fact.MR research study, worldwide demand for floating power plants is projected to increase at a robust CAGR of 9% and reach a market value of US$ 3.8 billion by 2033-end.
A significant source of decentralized and flexible power generation is the floating power plant (FPP). It turns out to be the best substitute for both long-term and temporary power factors. The floating power plant combines electricity-producing technology with marine technology. This kind of power plant can move on its own and connect to the national grid as necessary. It is thought to be the best option for the production of power because it can operate in single- or mixed-cycle modes.
Compared to land-based power plants, floating power plants have advantages such as mobility. The use of floating power plants has grown dramatically in an on-grid application that aids in meeting electricity demand. Some of the reasons influencing market growth include several advantages over land-based power plants and existing and planned floating power projects in both developed and emerging economies.
In 2023, high-power floating power plant hold 60% of the overall revenue share. Large-scale power needs in emerging economies and the rapid expansion of infrastructure in end-use industries, including healthcare, manufacturing, and construction are the key factors driving the demand for high-power floating power plants.
As floating power plants can meet rising energy demand, particularly in isolated and rural locations, they can potentially replace land-based power plants. They offer many benefits, including quick electricity delivery to areas with poor infrastructure, a smaller footprint than land-based power plants, the ability to be relocated to where the electricity is needed, and a secure power supply in the event of earthquakes and floods.
The floating power plant market is anticipated to increase over the coming years due to the rising demand for clean energy and government initiatives to promote clean energy. Due to a lack of power infrastructure and rising demand for distributed energy storage systems, the market is expanding rapidly. Market expansion is also being driven by the establishment of strict rules in response to environmental degradation and the benefits of floating power plants over land-based facilities.
Report Attributes
Details

Floating Power Plants Market Size (2023)

US$ 1.6 Billion

Projected Market Value (2033)

US$ 3.8 Billion

Global Market Growth Rate (2023 to 2033)

9% CAGR

Market Share of High-power Floating Power Plants (2023)

60%

Germany Market Growth Rate (2023 to 2033)

6% CAGR

China Market Growth Rate (2023 to 2033)

12% CAGR

United States Market Size (2023)

US$ 500 Million

Japan Market Growth Rate (2023 to 2033)

5% CAGR

Market Share of Renewable Floating Power Plants (2023)

65%

Key Companies Profiled

Caterpillar, Inc.
Siemens AG
Kyocera Corporation
General Electric Company
Principle Power, Inc.
Ideol SA
Karadeniz Holding
Yingli Solar
SeaTwirl AB
Upsolar Global Co., Ltd.
Floating Power Plant A/S
MAN Diesel & Turbo SE
Mitsubishi Corporation
Don't Need a Global Report?
save 40%! on Country & Region specific reports
Which Key Aspects are Exerting their Influence on the Expansion of the Floating Power Plants Market?
"Increasing Demand for Green Energy across the World"
With the world transitioning towards cleaner and more sustainable energy sources, floating power plants offer a range of advantages that align with the growing environmental consciousness and energy transition goals. The floating power plants market is expanding because of the rising demand for green energy.
As governments and businesses prioritize renewable energy to reduce greenhouse gas emissions and combat climate change, floating power plants present an attractive solution for generating clean and carbon-free electricity. Floating power plants are designed to harness renewable energy sources such as solar, wind, tidal, and wave energy.
Offshore wind farms, a prominent type of floating power plants, have witnessed a surge in demand due to their potential to tap into strong and consistent wind resources over open water. Offshore wind power is becoming a major contributor to green energy goals in coastal regions and countries with significant maritime territories.
With increasing concerns about environmental sustainability and social responsibility, many businesses and governments are actively seeking green energy solutions. Investing in FPPs demonstrates a commitment to reducing the carbon footprint and promoting eco-friendly practices.
Governments worldwide are offering incentives, subsidies, and policy support to promote the adoption of green energy. These favorable policies have created a conducive environment for floating power plant investments and accelerated their demand.
"Ongoing Advancements in Floating Platform Technologies"
Technological advancements in floating power plants have been instrumental in improving their efficiency, reliability, and economic viability. These innovations have accelerated the adoption of floating power plant as a viable and sustainable solution for power generation.
Significant improvements have been made in the design and construction of floating platforms. Advanced materials and engineering techniques have resulted in more stable and durable platforms that can withstand challenging marine environments, including rough seas and adverse weather conditions. This enhanced stability ensures the safety and longevity of floating power plants.
Innovations in mooring and anchoring systems have made floating power plants more secure and adaptable. Dynamic positioning systems, tension-leg platforms, and various anchoring technologies ensure precise positioning and stability, allowing floating power plants to be deployed in deep waters and even in locations with strong currents.
Incorporation of digital technologies and the Internet of Things (IoT) in floating power plants has enabled real-time monitoring, predictive maintenance, and data-driven optimization. These smart systems provide valuable insights into floating power plant performance, enabling operators to identify and address potential issues proactively.
What is Limiting the Installation of Floating Power Plants?
"High Initial Capital Cost and Regulatory & Permitting Challenges"
Despite the numerous advantages and rising interest in green energy, the demand for floating power plants faces certain challenges and barriers that are hindering its growth. Some of the key factors hampering the demand for floating power plants include:
High Initial Capital Costs: Establishing floating power plants can involve substantial upfront investment, particularly for offshore installations. The initial capital costs for platform construction, mooring systems, and energy generation equipment can deter potential investors and project developers.
Regulatory and Permitting Challenges: Floating power plant projects often require multiple permits and approvals from various authorities due to their location in marine environments. Lengthy and complex permitting processes can delay project timelines and increase costs.
Dependency on Weather Conditions: The energy output of floating power plants is subject to natural weather variations, such as wind speed, solar irradiation, and wave intensity. This intermittent nature of renewable energy can pose challenges to grid stability and reliable power supply.
More Insights, Lesser Cost (-50% off)
Insights on import/export production,
pricing analysis, and more – Only @ Fact.MR
How Can New Market Participants Establish Their Roots in This Business?
"New Companies Offering Thin-film Flexible Floating Power Plant Solutions"
While installing a solar power plant on land takes up a lot of room, floating power plants are more manageable and compact. Flexible floating power plant systems require less support infrastructure, and surface tension keeps the array near the water's surface.
The electrical performance of the floating power plant system is unaffected while the reliability is increased by this technology. According to recent research by Fact.MR, a market research and competitive intelligence provider, new companies are offering thin-film flexible floating power plant solutions that adapt to the motion of the waves and catch solar energy from a variety of incident angles.
An effective, affordable, and long-lasting solution for floating solar power generation is offered by Norwegian start-up Ocean Sun. The technology of the firm is based on customized silicon solar modules installed on flexible floating frameworks. The utility type, dual-glass, silicon crystalline modules that constitute the foundation of floater units are protected by a patented non-permeable barrier. Furthermore, the modules are fastened to the membrane with a special fixation mechanism. This allows for better thermal contact with the water body as a result. Additionally, the company provides cables, attaching features, and a unique junction box.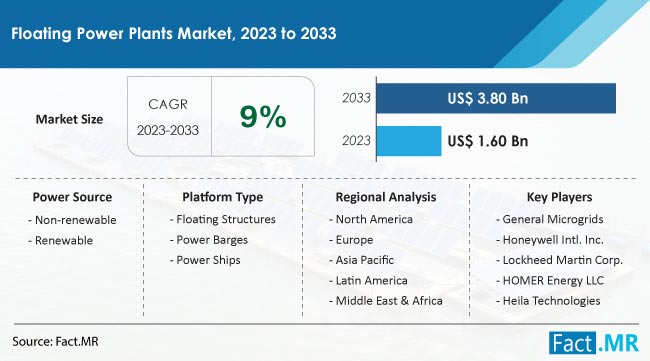 Country-wise Insights
What is Stimulating the Demand for Floating Power Plants in the United States?
"Presence of Well-established New Nuclear Plants and Solar Farms"
In 2023, the market in the United States is valued at US$ 500 million.
Strong emphasis on the development of motor ships that run on LNG rather than other cleaner fuels and the presence of well-established new nuclear plants and solar farms are driving market growth in the United States. Due to the implementation of stringent regulatory reforms that prioritize initiatives for cleaner power generation, the country is anticipated to experience outstanding growth during the forecast period.
Which Country Leads Floating Power Plant Demand in Europe?
"Rapid Innovations in Power Plant Sector in Germany"
Floating power plant demand in Germany is set to rise at a CAGR of 6% through 2033.
Germany has been a frontrunner in offshore wind energy. Floating wind farms provide access to deeper waters, where traditional fixed foundations cannot be feasible, enabling the development of wind projects in more distant and windy regions.
Market growth is attributed to the expanding usage of renewable energy sources for producing electricity and the development of infrastructure across a range of end-use sectors. Rapid innovations in the power plant sector and high demand for wind turbine generators are boosting market value in Germany.
What's Attracting Key Market Players to China?
"Rise in Government Initiatives for Promoting Renewable Energy Projects"
The floating power plant market in China is predicted to surge at a CAGR of 12% over the next ten years.
The Chinese government has been actively promoting renewable energy projects, offering financial incentives, subsidies, and policy support for floating power plant development. This support has created a conducive environment for investment in FPPs.
China boasts vast solar resources, particularly in its southern areas. Increasing demand for energy storage systems is supporting market expansion. Floating solar installations can harness these resources effectively, enhancing solar power generation potential and complementing existing land-based solar projects.
Know thy Competitors
Competitive landscape highlights only certain players
Complete list available upon request
Category-wise Insights
Which Power Source Accounts for Higher Revenue Generation?
"Rise in Shift towards Clean Energy Driving Demand for Renewable Floating Power Plants"
Based on power source, the market is divided into non-renewable and renewable.
With 65% market share, renewable floating power plants are dominating the global market in 2023.
Renewable floating power plants are gaining popularity due to the implementation of favorable environmental legislation encouraging the use of clean fuels for power generation. Solar and wind energy are the two main sources of electricity produced by floating renewable energy installations. Platforms with these technologies attached to them float in the water. While wind installations commonly occur offshore in the sea or ocean, the majority of solar installations are made in still waterways such as lakes or ponds.
71% of the Earth's surface is made up of water bodies, and the remaining 29% is made up of land. These floating renewable energy farms are very advantageous for regions or countries with a limited amount of land and growing populations because they can be moved to locations with high energy needs and do not pollute the air or water in the area as they operate.
Competitive Landscape
Key market players are focusing on new developments, quality control, and product standards to increase their revenue. To reduce emissions and maximize logistics savings industry participants are concentrating on local production of floating power plant equipment.
Leading companies invest heavily in research and development to advance floating power plant technologies. They focus on improving energy conversion efficiency, platform design, mooring systems, and integration of energy storage solutions. By staying at the forefront of technological innovations, these companies gain a competitive edge in the market.
For instance :
In 2021, modern floating substation technology was introduced by Linxon. This method can produce electricity while reducing the carbonization of the electrical grid. Additionally, this floating substation technology aids in the production of renewable electricity.
Key Segments of Floating Power Plants Industry Research
By Power Source :

By Power Rating :

By Platform Type :

Floating Structures
Power Barges
Power Ships

By Region :

North America
Europe
Asia Pacific
Latin America
Middle East & Africa
- FAQs -
The global floating power plants market is valued at US$ 1.6 billion in 2023.
The market for floating power plants is expected to reach US$ 3.8 billion by 2033.
The floating power plants market is set to surge at a CAGR of 9% through 2033.
The market in Canada is set to rise at a CAGR of 8% from 2023 to 2033.
Floating structures, power barges, and power ships are the leading platform types in the market.