Galacto Oligosaccharides Market
Galacto Oligosaccharides Market Analysis by Product Type (Liquid, Powder), By Primary Function (Prebiotics, Sweeteners), By End Use (Food & Beverages [Dietary Supplements, Bakery Products, Dairy Products], Animal Feed, Pharmaceuticals & Personal Care) and By Region – Global Market Insights 2023 to 2033
Analysis of Galacto Oligosaccharides Market Covering 30+ Countries Including Analysis of US, Canada, UK, Germany, France, Nordics, GCC countries, Japan, Korea and many more
Galacto Oligosaccharides Market Outlook (2023 to 2033)
The global galacto oligosaccharides (GOS) market is valued at US$ 1.03 billion in 2023 and is predicted to reach US$ 2.47 billion by 2033, expanding at a high-value CAGR of 9.1%, as per the latest study by Fact.MR.
Lactose, predominantly present in cow's milk as well as several root vegetable and bean varieties, is a sequence of galactose molecules coupled with glucose molecules, known as a galacto oligosaccharide. Undigested galacto oligosaccharides migrate to the colon and encourage the growth of healthy bacteria and bowel movements.
As people pay more attention to the quality of food and beverages, the market is expected to rise significantly over the forecast period. It is a colorless chemical that is water soluble and extends shelf life by reducing microbial contamination. GOS are extremely stable throughout a range of temperature ranges, making its use in a variety of applications possible. Additionally, the low calorific value of GOS makes them acceptable for use by diabetics.
Demand for galacto-oligosaccharides is expected to grow due to changing consumer tastes, an increase in immunological health and gastrointestinal development concerns, and other market factors. An increase in R&D activities, new product development, investments, and the global population's growing health consciousness are factors contributing to market growth.
Report Attributes
Details

Galacto Oligosaccharides Market Size (2022)

US$ 949.27 Million

Estimated Market Value (2023)

US$ 1.03 Billion

Forecasted Market Value (2033)

US$ 2.47 Billion

Global Market Growth Rate (2023 to 2033)

9.1% CAGR

China Market Value (2033)

US$ 282.07 Million

China Market Growth Rate (2023 to 2023)

7.8% CAGR

Japan Market Value (2033)

US$ 61.85 Million

Japan Market Growth Rate (2023 to 2033)

6.4% CAGR

Key Companies Profiled

Yakult Pharmaceuticals Pvt Ltd.
Royal Friesland Campina N.V.
Nissin Sugar Co. Ltd.
Ingredion Incorporated
Kerry Inc.
Friesland Campina
Taiwan Fructose Co. Ltd.
Samyang Genex Co.
What are the Factors Stimulating the Demand Growth for Galacto Oligosaccharides?
"Increasing Worldwide Prevalence of Immune System and Gastrointestinal Disorders"
Growing consumption of dairy products such as butter and cheese and increased public awareness of chronic diseases are propelling market growth. A growing health-conscious populace around the world is also anticipated to support the market's expansion. Shifting consumer tastes and rising prevalence of immune system and gut development issues are also propelling market growth.
The galacto-oligosaccharides (GOS) market is expected to exhibit significant growth in the future, primarily due to continuous research and development investments. These investments are anticipated to create profitable opportunities for the market. Furthermore, the presence of plant-based probiotics addresses the nutritional needs of individuals with lactose intolerance and offers significant potential for market expansion.
Starting in February 2021, Clasado Biosciences has exclusively partnered with British Rowing to distribute its prebiotic supplement, Bimuno Travelaid. This supplement utilizes non-digestible galacto-oligosaccharides technology, specifically designed to promote optimal stomach health for rowing athletes during their travels.
"Technological Advancements in GOS Production Processes for Enhanced Purity"
Galacto-oligosaccharides are commonly produced through enzymatic transgalactosylation, where galactose is converted using galactosidase. The end product's purity is often limited to around 55% GOS based on total carbohydrate content. This is due to the presence of unreacted lactose, as well as the formation of glucose and galactose residues. To obtain high-purity GOS, unwanted mono- and disaccharides are eliminated from raw GOS through a process known as simulated moving bed (SMB) chromatography.
High processing costs associated with this purification phase contribute to the elevated price of pure GOS and hinder their marketability. Over the past few decades, there has been a growing interest in developing competitive biotechnological methods that could potentially replace chromatography. Furthermore, recent advancements in selective oxidation and selective fermentation offer two promising processes for purifying GOS from microbes.
To achieve GOS purity ranging from 60% to 95%, a combination of yeast strains with rapid monosaccharide metabolism and lactose-positive microorganisms with efficient lactose consumption is utilized. This technique is employed in the production of ingredients for the food and beverages (F&B) industry.
Glucose can be removed either alone or in combination with galactose by lactose-negative yeast species. However, this method often yields purity values below 60% because lactose is still present. During the projected period, these technological advancements in GOS manufacturing are anticipated to fuel market growth.
Don't Need a Global Report?
save 40%! on Country & Region specific reports
Which Factors Can Potentially Impede Market Growth?
"Limited Awareness, High Production Cost, and Regulatory Challenges Associated with GOS"
One of the main restraints for the galacto oligosaccharides market is the limited awareness and understanding of the general population regarding the benefits of GOS. Many consumers may not be familiar with GOS and their potential health advantages, which can hinder their widespread adoption.
Production of galacto-oligosaccharides can be complex and expensive. GOS are typically derived from lactose, which requires specific enzymatic processes. The high production costs associated with GOS can make them less economically feasible for manufacturers, which may limit their availability and affordability.
The food and dietary supplement industries are subject to strict regulations and standards. Manufacturers of galacto-oligosaccharides must comply with these regulations, which can involve extensive testing, safety assessments, and compliance with labeling requirements. These regulatory challenges can increase costs and create barriers to entry for new players in the market.
"Supply Chain Disruptions Limiting Availability of GOS"
Availability and reliability of raw materials needed for the production of GOS can pose a challenge. Galacto-oligosaccharides are primarily derived from lactose, which is sourced from dairy products. Any disruptions or limitations in the dairy industry's supply chain can impact the availability of GOS.
The galacto oligosaccharides market faces competition from other prebiotics and functional ingredients that offer similar health benefits. Substitutes such as inulin, fructo-oligosaccharides, and resistant starches may provide comparable advantages, making it challenging for GOS to differentiate itself and gain market share.
Acceptance of galacto-oligosaccharides as an ingredient in food and beverages by consumers can influence its market growth. Some consumers may be skeptical about novel ingredients and their safety, which can create a barrier to their adoption. Building consumer trust and acceptance is crucial.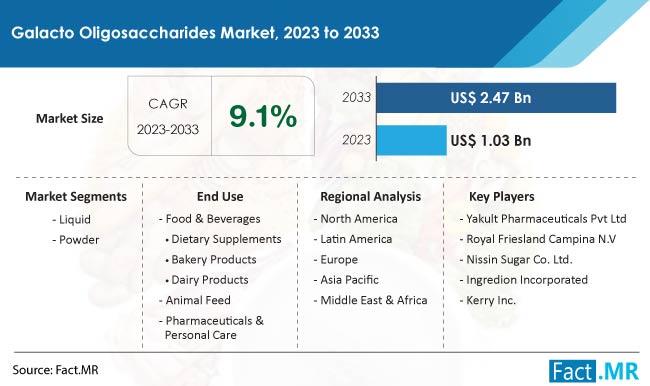 Country-wise Insights
Why are Sales of Galacto Oligosaccharides High in Germany?
"Increased Infant Population and Rising Demand for Ready-to-Eat Meals"
The market in Germany is anticipated to grow as a result of the increased infant population and rising ready-to-eat meal consumption. Use of dietary supplements has increased as a result of the high prevalence of blood pressure and diabetes-related disorders. Due to expanding family incomes, consumers' tastes for beverages and confectionery products are evolving.
Health promotion campaigns and the growing use of personalized nutrition are key drivers. Additionally, regulations mandating the use of clear labels, an increase in the use of prebiotics in infant formula as a breast milk alternative, and rising consumption of high-quality dairy products are anticipated to contribute to market growth.
Another element boosting market revenue growth in the country is the rising incidence of dangerous animal diseases such as swine flu and porcine epidemic diarrhea virus (PEDV.
What is the Demand Outlook for Galacto Oligosaccharides in China?
"Growing Dairy Product Consumption and High Prevalence of Lactose Intolerance"
The market in China is anticipated to reach US$ 282.07 million by 2033, expanding at a robust CAGR of 7.8%.
Dairy products play a significant role in the daily diets of people in China. However, the prevalence of lactose intolerance has been on the rise in recent years. As vegetarianism and veganism become more mainstream, there is an increasing demand for galacto-oligosaccharides (GOS) in the market. Moreover, it is worth noting that vegan products offer comparable nutrition to their dairy-based counterparts. The growth of vegan enterprises in these countries is also contributing to the sales expansion of galacto oligosaccharides.
Prebiotic fibers are being used more frequently in the food and beverages (F&B) industry. The growing number of diabetic and obese patients, which is driving up demand for prebiotic products in China, is another factor prompting enterprises to use prebiotic components as emulsifiers.
Demand for premium packaged and processed dairy products is growing, along with a rising preference for online distribution channels. Easy access to raw materials and a growing clientele are also contributing factors. Other factors driving market revenue growth in this area include the expansion of supermarkets and department shops, population increase, rising disposable income, and desire for western dairy products.
More Insights, Lesser Cost (-50% off)
Insights on import/export production,
pricing analysis, and more – Only @ Fact.MR
Category-wise Insights
Why are Liquid Galacto-oligosaccharides Widely Preferred?
"Rising Incorporation of Liquid Galacto-oligosaccharides into F&B Production"
Use of liquid galacto oligosaccharides is anticipated to rise at a CAGR of 8.5% during the forecast period. This form is highly soluble in water and other liquids, making its incorporation into various food products and beverages convenient. Its solubility allows for easy mixing and distribution throughout the product matrix.
Liquid galacto-oligosaccharides can be used in a wide range of food and beverage applications. They are commonly added to infant formula, dairy products, beverages, confectionery, bakery items, and nutritional supplements to enhance their nutritional profile and provide prebiotic benefits.
By promoting the growth of probiotic bacteria, GOS support digestive health and help maintain a balanced gut microbiota.
Which End Use Accounts for High Sales of GOS?
"Extensive Use of Galatco Oligosaccharides in Infant Food Sector as Prebiotic Ingredients"
Demand for galacto-oligosaccharides for food & beverage production is forecasted to advance at a CAGR of 8.2% over the forecast period.
Galacto-oligosaccharides are widely used in the food and beverages industry as functional ingredients due to their prebiotic properties and potential health benefits. Incorporation of galacto-oligosaccharides in food and beverages allows manufacturers to develop products with added health benefits and appeal to consumers looking for functional and nutritious options. The diverse applications of GOS make them versatile ingredients in the food and beverages industry.
Galacto-oligosaccharides are commonly added to infant formula as a prebiotic ingredient. They help promote the growth of beneficial gut bacteria in babies, support healthy digestion, and contribute to the development of balanced gut microbiota. Galacto-oligosaccharides can be used in the production of bakery items, such as bread, cookies, and cakes, as well as confectionery products, such as chocolates and candies. They can act as sugar substitutes, providing sweetness with added prebiotic benefits.
Sports drinks, functional beverages, and dairy-based beverages use GOS for improved texture, mouthfeel, and stability while also providing prebiotic effects.
Competitive Landscape
The competitive landscape for the galacto oligosaccharides market involves several players operating globally. The competitive landscape of the global galacto oligosaccharide market is moderately consolidated, with a small number of large companies operating at both global and regional levels. These major players focus on developing new products and forming strategic alliances to expand their product portfolios and establish a robust global market presence.
In March 2021, Friesland Campina's subsidiary, Biotis, launched Biotis Gas-O, a dairy-based syrup that offers benefits for physical, mental, and digestive health. The key ingredient in this product is galacto-oligosaccharides, which can be incorporated into various drink formats and functional foods.
Know thy Competitors
Competitive landscape highlights only certain players
Complete list available upon request
Key Segments of Galacto Oligosaccharides Industry Research
By Product Type :

By Primary Function :

By End Use :

Food & Beverages

Dietary Supplements
Bakery Products
Dairy Products

Animal Feed
Pharmaceuticals & Personal Care

By Region :

North America
Latin America
Europe
Asia Pacific
Middle East & Africa
- FAQs -
As of 2022, the market for galacto oligosaccharides will reach nearly US$ 950 Mn
The galacto oligosaccharides industry is expected to surpass a CAGR of 9% from 2022-2032.
The galacto oligosaccharides market is expected to reach nearly US$ 2.24 Bn by 2032
Increasing inclination towards veganism along with growing prevalence of lactose intolerance are the key trends driving galacto oligosaccharides sales.
Yakult Pharmaceuticals Pvt Ltd, Royal Friesland Campina N.V, Nissin Sugar Co., Ltd, Ingredion Incorporated, Kerry Inc, Quantum Hi-Tech (China) Biological Co., Ltd, Saputo Dairy UK, Baolingbao Biology Co., Ltd, Samyang Corporation and New Francisco Biotech
Liquid galacto oligosaccharide is expected to hold 59% market share for galacto oligosaccharide.
Food and Beverage industry is expected to possess more than 50% of market share for galacto oligosaccharides.
The galacto oligosaccharides industry is expected to possess nearly 45% market share throughout Europe.
The galacto oligosaccharides industry is expected to possess nearly 25% market share throughout Asia Pacific.