Anthocyanin Market
Anthocyanin Market By Source (Fruits, Vegetables, Legumes & Cereals), By Application (Food & Beverages, Pharmaceutical Products, Personal Care), By Sales Channel (Direct Sales, Distributors/Suppliers, Online Sales) & Region - Global Market Insights 2022 to 2032
Analysis of Anthocyanin market covering 30 + countries including analysis of US, Canada, UK, Germany, France, Nordics, GCC countries, Japan, Korea and many more
Anthocyanin Market Outlook (2022-2032)
Expanding at a CAGR of 4.3%, the global anthocyanin market is projected to increase from a valuation of US$ 338.6 million at the end of 2021 to US$ 527.8 million by 2032.
Report Attributes

Details

Anthocyanin Market Size (2022)

US$ 348.7 Million

Projected Year Value (2032)

US$ 527.8 Million

Global Market Growth Rate (2022-2032)

4.3% CAGR

APAC Market Share (2022)

28.5%

Key Companies Profiled

Symrise AG
Cayman Chemical Company
Extrasynthese
Organic Herb Inc.
Roha Dyechem Private Limited
Kanegrade Ltd.
Beton Nutrition Corporation
California Natural Color
Biogold Industries LLP
Anthocyanin is a flavonoid that is an excellent category of vegetable-based pigments used as natural colorants in a range of industries. It has no taste or flavor and comes in a variety of anthocyanin colors.
The use of anthocyanin in the food and beverages industry is expected to increase at a higher CAGR of 4.8% from 2022 to 2032. Considering worldwide regulatory organizations' approval as an effective and beneficial ingredient, anthocyanin has acquired universal recognition in the food & beverage industry.
Know thy Competitors
Competitive landscape highlights only certain players
Complete list available upon request
Anthocyanin Consumption Analysis (2017-2021) Vs Market Outlook (2022-2032)
"Rising Research & Development Initiatives to Assess Features of Anthocyanin"
As per Fact.MR, a market research and competitive intelligence provider, from 2017 to 2021, the global anthocyanin market experienced a CAGR of around 3%.
In recent years, innovations in the chemical analysis of flavonoids have led to the creation of antioxidant protection medicines against a variety of chronic diseases. Anthocyanin has been one of the most studied flavonoids, with the progress made in the epidemiology of anthocyanin in regards to metabolism and biosynthesis, phytochemical studies, and plant frequency due to the efforts of food scientists.
The anthocyanin market continues to expand as a result of increased expenditure on research & development to assess the features of anthocyanins. The anthocyanin market is projected to be transformed by constantly evolving trends in end-use sectors.
Because of the growing focus on anthocyanin's health benefits and its widening range of applications in multiple industries, the market is growing. The consumption of anthocyanin-rich products is also related to a change in consumers' lifestyles, which is spurred by a public consciousness of well-being and health. Anthocyanin usage helps decrease the occurrence of cardiovascular disease, and lung problems.
Rapid urbanization and a rise in disposable income are two factors that are predicted to drive the anthocyanin market over the forecast period. Changes in consumption habits paired with an increase in demand for dependable food items and the development of natural product concentrates are driving the market growth.
Anthocyanin demand is projected to rise at a CAGR of 4.3% from 2022 to 2032.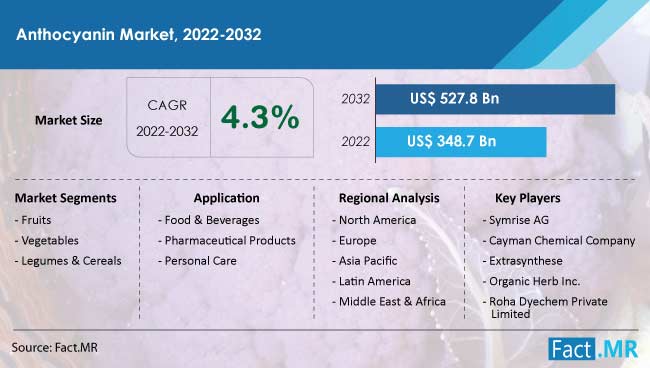 Which Key Market Dynamics are Driving Demand for Anthocyanin?
"Rising Adoption of Pharmaceuticals & Specialty Drugs"
Anthocyanin is gaining appeal as a component in medicines and specialty treatments due to its possible health advantages. Anthocyanin's therapeutic impact, along with its neuroprotective, anti-oxidative, and anti-cancer properties, makes it an attractive element in medicines and specialized therapies.
Anthocyanin also has outstanding benefits in the treatment of visual and cardiovascular problems, which is reviving its popularity in the pharmaceutical industry. Its ability to demonstrate antiviral activities as well as its efficiency against carcinogenesis is boosting its attractiveness in the pharmaceutical and specialized medicine sectors.
"Expansion of Premium Beauty and Personal Care Products Industry"
Anthocyanins are increasingly being used in beauty care items such as body lotion and face cream due to their strong antioxidant activity and a variety of health advantages ranging from avoiding chronic illness to enhancing skin look.
As a result, several important companies are using anthocyanin as the main component in their personal care products to keep up with the trend. Tatcha LLC, for example, sells a skincare product called "The Dewy Skin Cream" that is high in anthocyanin.
"Anthocyanin – A Natural Dye for Indicator-based Smart Packaging"
The use of smart packaging technologies for food goods has increased. The variety of applications for anthocyanin pigments is expanding thanks to advancements in smart packaging technologies. Natural dyes are being used by food scientists to produce new indicator-based smart packaging solutions.
Anthocyanin is developing as a natural dye as markers of natural colors such as anthocyanin prompt the shelf life and quality of perishable goods. This development would provide new potential for anthocyanin market players, as the usage of anthocyanin as a natural dye for indicators is likely to contribute to speeding commercial adoption.
What Issues Could Have a Detrimental Effect on Anthocyanin Demand Growth?
"Side Effects of Anthocyanin and Government Directives on its Use Restraining Market Growth"
The major concern with anthocyanins is their proclivity for degradation, especially when separated. Because several physicochemical factors have been identified as interfering with anthocyanin stability, understanding basic anthocyanin chemistry and correct storage are necessary to better understand and manage the extraction process.
Most medicines have drawbacks, such as weight gain and the inability to maintain appropriate blood glucose levels. As a result, eating a diet rich in fruits and vegetables is a far safer and cheaper way to control blood glucose levels and increase insulin production. During the projected period, both of these reasons are expected to be important restraints on the anthocyanin market growth.
The enforcement of strict government rules governing anthocyanin consumption is projected to stymie the expansion of the anthocyanin market.
More Insights, Lesser Cost (-50% off)
Insights on import/export production,
pricing analysis, and more – Only @ Fact.MR
Which Regional Market is at the Forefront of Anthocyanin Consumption?
"Rising Demand for Natural Colorants Driving Market Value in North America"
North America accounts for 33.2% share of the global anthocyanin market, owing to rising demand for natural colorants and viscosity modifiers.
Anthocyanin's health benefits have increased its demand in the pharmaceutical business. People in North America are becoming more health-conscious, resulting in an increase in the demand for healthy and nutritious foods in the market. The market for anthocyanin is driven by its use as a natural coloring component in nutritious foods.
More Insights, Lesser Cost (-50% off)
Insights on import/export production,
pricing analysis, and more – Only @ Fact.MR
Country-wise Insights
What are the Growth Prospects in the U.S. Anthocyanin Market?
"High Preference for Natural Food Color Additives"
Anthocyanins demand in the U.S is expected to rise at a CAGR of 5% from 2022 to 2032. Demand is especially spiking amidst growing preference for natural food color additives amid growing adverse health impacts on the human body due to the consumption of synthetic flavors and preservatives.
According to the U.S. Department of Agriculture, consumer demand for organically produced products is likely to remain on an elevated trajectory, providing incentives for farmers to offer a broad range of food products. Most of these products comprise organically grown fruits and vegetables.
Besides direct consumption, fruit and vegetable-derived anthocyanins are finding applications across the domestic pharmaceutical industry. Laden with anti-oxidant, anti-cancer and anti-viral properties, anthocyanin is effectively utilized in the production and manufacturing of chemotherapy and anti-inflammatory drugs. Moreover, they are also being incorporated to treat diabetes.
How is Demand for Anthocyanin Being Driven in China?
"Rapid Deployment of Anthocyanin in Cosmetics & Personal Care Products"
The market in China is anticipated to rise at a CAGR of 4.9% over the forecast period. Rising demand for anthocyanins in personal care products is driving the market expansion in China.
Prominent presence of anthocyanin color manufacturers, rising demand for fruit and vegetable-based anthocyanins, increasing consumption of anthocyanin-rich food products are the factors driving the market growth.
Category-wise Insights
Which Source of Anthocyanin is Most Popular?
"Fruit-based Anthocyanins Highly Preferred Owing to Their Unique Properties"
By source, the market is segmented into fruits, vegetables, legumes & cereals, and other sources. Demand for fruit-based anthocyanins is expected to rise at a significant CAGR over the forecast period.
Many fruits such as cherries, berries, purple grapes, beets, red beans and red cabbage are all high in anthocyanin, which has anti-microbial, anti-allergic, anti-diabetic, anti-inflammatory, and antioxidant properties.
Fruit-based anthocyanins have wide applications in the pharmaceutical and food industries. Anthocyanin market sales have also expanded due to the different health benefits it gives, such as lowering the risk of heart disease and respiratory difficulties.
Why is the F&B Industry a Frontrunner of Anthocyanin Demand?
"Growing Usage of Anthocyanins as Colorants in Food & Beverage Industry"
Based on the application, the global anthocyanin market can be classified into food & beverages, pharmaceutical products, personal care, and other applications. The food and beverages industry accounts for 41.4% share of the global anthocyanin market.
As a colorant, anthocyanin is widely used in the food and beverage sector. The growing demand for colorants in the food and beverage industry is driving global anthocyanin consumption.
In the food sector, the introduction of additives raises technological considerations. Multi-stage production methods, large-scale product variation, the growing popularity of anthocyanin-infused bakery products, and the necessity for quality standardization have all required additive adoption in the food industry.
Natural anthocyanin has strong antioxidant capabilities and is more popular as a food ingredient. The rising consumption of natural anthocyanins in beverages, confectionery, and bread fillings is driving the market value. The majority of buyers are looking for foods and beverages that would aid them in maintaining good health.
Don't Need a Global Report?
save 40%! on Country & Region specific reports
Competitive Landscape
Top companies in the anthocyanin market are expected to focus on developing products that meet customer needs over the forecast period. Innovative advertising and marketing methods are improving market penetration in narrow niches. To boost customer base and market share, social media channels are likely to be employed extensively.
Prominent anthocyanin producers are focused on creating novel analytical techniques for identifying and quantifying anthocyanin in plant materials. Partnerships, mergers and acquisitions, joint ventures, and expansion of existing facilities are projected to be some of the key strategies used by prominent market players to enhance their market share over the coming years.
For instance :
In April 2021, Chr. Hansen Natural Colors acquired SECNA Natural Ingredients Group, integrating it into its portfolio.
In July 2019, DDW The Color House acquired the DuPont Natural Colors Business - a part and parcel of DuPont Nutrition & Biosciences.
Key Segments Covered in Anthocyanin Industry Research
Anthocyanin Market by Source :

Fruits
Vegetables
Legumes & Cereals
Other Sources

Anthocyanin Market by Application :

Food & Beverages
Pharmaceutical Products
Personal Care
Other Applications

Anthocyanin Market by Sales Channel :

Direct Sales
Distributors/Suppliers
Online Sales

Anthocyanin Market by Region :

North America
Europe
Asia Pacific
Latin America
Middle East & Africa
- FAQs -
From 2017 to 2021, the global anthocyanin market experienced a CAGR of 3%.
The global anthocyanin market is predicted to be valued at US$ 527.8 million by the end of 2032.
Food & beverages account for 41.4% share of the global anthocyanin market.
At the end of 2021, the APAC anthocyanin market stood at US$ 96.2 million.
The global market for anthocyanins is anticipated to expand at a CAGR of 4.3% during the forecast period (2022-2032).
Symrise AG, Cayman Chemical Company, Extrasynthese, Organic Herb Inc., and Roha Dyechem Private Limited are key suppliers of anthocyanins.
Increasing demand for anthocyanins from the pharmaceutical industry, rising adoption of anthocyanins for personal care products, and growing usage in the food & beverage industry are driving market growth.