Gelatin Market
Gelatin Market Analysis by Source (Porcine, Bovine Skin, Bovine Bone, and Fish & Poultry), by Type (Type A, Type B), by Function (Thickening, Gelling, Stabilizing, Emulsifier, Binding Agent, Fat Replacer, Coating Agent), by Application and by Region – Forecast 2022-2032
Analysis of Gelatin market covering 30 + countries including analysis of US, Canada, UK, Germany, France, Nordics, GCC countries, Japan, Korea and many more
Global Gelatin Market Outlook
The gelatin market is predicted to grow at a moderate CAGR of 5.8% during the forecast period covering 2022 to 2032. The gelatin market share is estimated to reach a value of nearly US$ 5.9 Billion by 2032, expanding from US$ 3.1 Billion in 2021.
Attributes

Details

Gelatin Market Share (2021)

US$ 3.1 Billion

Gelatin Market Size Value (2022)

US$ 3.3 Billion

Gelatin Market Size Value (2032)

US$ 5.9 Billion

Gelatin Market Growth Rate (2022-2032)

5.8%

Gelatin Market Key Players

Darling Ingredients
Tessenderlo Group
Nitta Gelatin
Gelita
Weishardt
Italgelatine
Lapi Gelatine
Gelinex
Junca Gelatines
Torbas Gelatine
India Gelatine & Chemicals among others.
Demand for gelatin, made by partially hydrolyzing collagen sourced from bovine, porcine, chicken, and even marine sources, is growing. In addition to this, the availability of natural gelatin in the market, mostly in two different forms that is powder and sheets, offers end-users with choices. Owing to its outstanding gelling, stabilising property, and foaming qualities, gelatin is incorporated in various types of food and beverage products.
Increasing gelatin sales as a commercial food stabiliser can be ascribed to expanding global consumption of pasta, salads, yogurts, ice creams, jams, and jellies. With the booming population and consumerism across the world, it is poised to boost the gelatin market share in the coming days.
Know thy Competitors
Competitive landscape highlights only certain players
Complete list available upon request
Global Gelatin Market Historical Analysis (2015-2021) Vs. Forecast Outlook (2022-2032)
As per the previous gelatin market demand analysis report, covering the years 2015 to 2021, the overall growth of the global market was recorded to be 6.3%. The marginal decrease in the year-on-year growth rate predicted by this new market research report on gelatin for the time to come is recognized to be resulting from the negative implications of the economic slowdown following the Covid-19 pandemic.
In the aftermath of Covid-19, most industries related to non-essential items are struggling to recover and revive their pre-pandemic era market presence. In such a scenario, the rejuvenation of the business by gelatin market players is commendable. With the gradual easing of pandemic restrictions, the gelatin market statistics have recovered swiftly and are projected to accelerate with the passage of time.
What is the Future of Global Gelatin Market?
"Over the projection period, the market demand for gelatin is expected to be driven by rising demand for convenience and functional beverages and food items, as well as its increased use in pharmaceutical products."
Demand for gelatin as thickeners are predicted to rise during the projected years as a result of rising population and per capita income levels in countries such as India and China and other areas as well. Thickeners' use in cosmetics and personal care products is also expected to drive the global gelatin market expansion in the future years.
In the present market, demand for gelatin is higher than that made from a variety of basic
ingredients, including chicken, fish, horse skins, and pectin. However, alternative sources of gelatin were established pertaining to the socio-cultural and health risks connected with all-natural beef gelatin. However, horses, fish, and poultry are observed to have lower protein content, which is predicted to limit their progress as a feedstock for gelatin synthesis to some extent.
Interestingly, in recent years, fish gelatin has gained ample traction owing to its extensive use in non-edible applications. For instance, in immune-detection processes, such as that one in western blotting and immunostaining, fish gelatin is most commonly employed as a blocking solution for eliminating background noise. Proliferation in the use of gelatin for such industrial purposes is also poised to expand the gelatin market key trends and opportunities in the future days ahead.
The gelatin market trends are predicted to rise as demand for gelatin-based biomedical products to improve hair texture and quality grows in the cosmetic business. The usage of gelatin in personal care products to further augment the gelatin market future trends during the forecast period with the growing consumer demand for haircare treatment products.
More Insights, Lesser Cost (-50% off)
Insights on import/export production,
pricing analysis, and more – Only @ Fact.MR
What are the Several Constraints Experienced for the Gelatin Market Growth?
As it is a general practice to govern the food sector by strict standards, particularly those using animal-based raw materials and components in product creation, so the gelatin market trends are highly regulated in the regional markets. European and North American countries are heavily involved in the development of such rules. For example, in European countries, gelatin market players must adhere to the norms and regulations outlined in REGULATION 2016/355 of the EU.
Adhering to specified residual limits and undergoing specialized procedures for eliminating any incidence of illness of consumers as per the guidelines might impact the gelatin market growth to some degree. Such requirements may make the process of sourcing raw materials somewhat more complicated, which might also slow down the emerging trends in gelatin market in the upcoming days.
Furthermore, throughout the projected period, a lack of expertise and value production for the manufacturing of gelatin out from stated raw materials is likely to limit market expansion.
In addition to this, continuously rising production prices along with skyrocketing utility costs are likely to decrease its applicability in the personal care sector and are also expected to be putting a damper on gelatin market opportunities in the near future.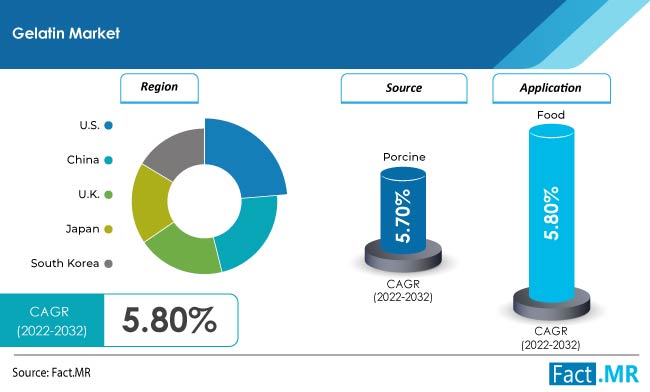 Region-wise Outlook
What is the Gelatin Market Outlook for the North America Region?
The United States is estimated by this new market research report on gelatin to be the leading market in the world, accounting for over 40% of worldwide sales by 2022.
Consumption of gelatin-based items such as cosmetics, food, rejuvenation drinks, and medicinal products drives regional demand for gelatin. Over the projected period following it, the usage of top-grade collagen in the creation of skeletal and muscle tissue restoration patches is likely to fuel US gelatin market expansion.
In addition, throughout the projected period, increased demand for gelatin in the manufacturing of meat casings is predicted to propel market expansion. All these factors are expected to further boost the US gelatin market by taking it to a total valuation of nearly US$ 2.1 Billion by the end of this forecasted period in 2032.
The growing trend of convenience packaged foods in Canada and Mexico, as a result of changing lifestyles and habits, is likely to drive up gelatin consumption in North America through confectionary products, desserts, and drinks.
Mexico is also likely to be an important manufacturing location in the food and beverage, personal care, and pharmaceutical industries and is anticipated to be contributing significantly to the global gelatin market growth in the North American region.
What is the Gelatin Market Outlook for the Asia Pacific Region?
With the rising desire for healthy, creative, quick, and convenient food from the burgeoning population in the Asia Pacific region, the regional gelatin market is predicted to be the fastest expanding market. China being the leading market in the region with respect to the total volume of gelatin produced and exported, is estimated to be worth approximately US$ 300 Million in the current year 2022.
Japan and South Korea are also the other two leading gelatin markets in the Asia Pacific region, with a total valuation of US$ 200 Million and US$ 100 Million, respectively. As per the recent developments in the gelatin market, as mentioned in this report, China is the fastest-growing country in the Asia Pacific region and second in the world order, with a CAGR of 5.2%.
What is the Growth Outlook for the Gelatin Market According to Different Segments?
"Rising global concern over the ill effects of artificial ingredients is anticipated to help the organic gelatin segment to take over the conventional gelatin market soon."
Type A gelatin is made from porcine gelatin after it has been acidified by suitable chemicals. On the other hand, type B gelatin is often obtained from bovine gelatin after the process of alkalization. In the local markets, these gelatine powders are commonly referred to as edible gelatin because these are most widely used in food preparation.
On the Basis of Source Which Segment is the Top Performing Segment for the Global Gelatin Market?
Porcine, bones, and skin of bovine animals or tendons from cattle and pigs are commonly utilized as raw materials for gelatin manufacture. Porcine is traditionally the largest used base material segment contributing almost 50% of the total output of the global gelatin market. This segment also is anticipated to expand faster than any other by a year-on-year growth rate of 5.7% during the forecast years spanning over 2022 to 2032.
Due to the prevalence of the pork industry, gelatin derived from pig skin is available at a lower cost and contributes more than other sources to higher sales of gelatin in terms of volume. On the other hand, gelatin made from fish's cold skin does not react with mammalian antibodies and is more often used in medicinal applications.
What are the Major Applications of the Gelatin by Different Market Segments?
In a variety of food, cosmetics, personal care, and pharmaceutical applications, gelatin can be added as a thickening or gelling agent and also as a stabilizer. By 2022, the global demand for gelatin as a stabilizer is expected to reach 30 Metric Tonnes in terms of volume. Rising consumption of street food items such as pastas, salads, yogurt, ice creams, jams, and jellies is to blame for such exponential growth of the gelatin market opportunities in the food and beverages sector.
Food and beverage, care products, and pharmaceuticals mostly prefer to use organic gelatin. It is a key ingredient in the production of nutritional supplements, edible coatings, and soft drinks resulting in the highest sales of gelatin in the food and beverage industry. As obvious, the food category is the top-performing segment of the global gelatin market and is expected to grow at a rate of 5.8% during the projected period.
Don't Need a Global Report?
save 40%! on Country & Region specific reports
What is the Competitive Scenario for the Gelatin Market?
Major players contributing to the growth of global gelatin market growth includes Darling Ingredients, Tessenderlo Group, Nitta Gelatin, Gelita, Weishardt, Italgelatine, Lapi Gelatine, Gelinex, Junca Gelatines, Torbas Gelatine, and India Gelatine & Chemicals among others.
Gelatin market key players are constantly investing and engaging in ongoing research to generate high-quality and pure products that can also be tailor-made to meet specific customer demands. Furthermore, gelatin business promoters tend to achieve global presence through powerful sales networks, including third-party distribution channels across the countries.
Recent Developments in the Global Gelatin Market
SelJel, which is a Turkish gelatine manufacturer, has been bought by Gelita AG. Gelita AG is predicted to be bolstering its status as the gelatin industry's world leader with this joint venture agreement.
Textura, which is a new line of texturizers supplied by PB Leiner, was unveiled in the recent past. It's a high-end texturizer that doesn't have a competitor on the market is completely pure gelatin which needs far less handling and saves close to 50% of time for both manufacturers and home customersusing it.
DRG Gelatin is a new medicinal gelatin made available in the market by Nitta Gelatin Company that was launched last year. Inside its soft capsule application, the product was created expressly to suppress cross linking processes and improve dissolving of the active ingredient.
Key Segments
By Source :

Porcine
Bovine Skin
Bovine Bone
Fish & Poultry

By Type :

By Function :

Thickening
Gelling
Stabilizing
Emulsifier
Binding Agent
Fat Replacer
Coating Agent
Others

By Application :

Food

Bakery & Confectionary
Nutrition Products
Beverage
Daily Products
Meat Products
Other Food Products

Pharmaceutical & Healthcare
Cosmetics
Photography
Others

By Region :

North America
Latin America
Europe
Asia Pacific
Middle East and Africa (MEA)
- FAQs -
The global gelatin market is estimated to record a CAGR of 5.8% during the forecast period.
The global gelatin market is predicted to be valued at US$ 5.9 Billion by 2032.
The global gelatin market was valued at US$ 3.1 Billion in 2021.
United States (US) accounts for the largest revenue share in the global gelatin market at US$ 1.2 Billion in 2022.
China is predicted to witness the highest CAGR in the gelatin market with China with leading CAGR of nearly 5.2%.