Bovine Gelatin Market
Bovine Gelatin Market Analysis By Form (Powder, Capsule & Tablets, Liquid), By Nature (Organic, Conventional), By End Use (Food & Beverages, Cosmetics & Personal Care, Pharmaceuticals), By Distribution Channel (B2B, B2C, Hypermarkets, Specialty Stores, Drug Stores, Pharmacies) & By Region – Global Market Report (2023 to 2033)
Analysis of Bovine Gelatin Market Covering 30+ Countries Including Analysis of US, Canada, UK, Germany, France, Nordics, GCC countries, Japan, Korea and many more
Bovine Gelatin Market Outlook (2023 to 2033)
The global bovine gelatin market size stands at a value of US$ 1.4 billion in 2023 and is projected to climb to US$ 2.7 billion by 2033-end, expanding at a healthy CAGR of 6.6%. Bovine-derived edible gelatin is a type of gelatin produced from the collagen found in the tissues of cattle, specifically cows. This gelatin is intended for human consumption and is widely used in the food business for various purposes.
Bovine-derived gelatin that has undergone a procedure known as hydrolysis is known as hydrolyzed bovine gelatin, often referred to as hydrolyzed bovine collagen. The collagen proteins are divided into tiny peptides during this process, which makes them easier for the body to digest and absorb.
Rapid set gelatin is a type of gelatin that, in contrast to ordinary gelatins, has the property of forming a gel or hardening more quickly and effectively. Various culinary and industrial applications where a quicker gel formation or setting time is sought may benefit from this. When making quick-setting desserts or jellies or in particular industrial applications where a quick gelation process is necessary, rapid-set gelatin is frequently employed.
Collagen, a protein-based substance obtained from bovine animal tissue such as skin and bone, is the source of bovine gelatin, a protein-based transparent and flavorless additive. It is primarily employed as a gelling ingredient in the manufacturing of medicinal drugs, food, cosmetics, and vitamin capsules. It assists in easing joint and bone discomfort. Additionally, it improves cognitive performance and lessens the appearance of skin aging.
Since bovine gelatin can shield skin against problems like zits, acne, and tanning, it is frequently employed in the cosmetics business. The need for cosmetic treatments is anticipated to grow, supporting the bovine gelatin market, as people become more self-conscious about their looks and the prevalence of skin disorders rises due to stressed lives and sun exposure.
Report Attributes
Details
Bovine Gelatin Market Size (2022A)
US$ 1.3 Billion
Estimated Market Value (2023E)
US$ 1.4 Billion
Forecasted Market Value (2033F)
US$ 2.7 Billion
Global Market Growth Rate (2023 to 2033)
6.6% CAGR
Capsules & Tablets Segment Share (2023)
52.5%
Europe Market Share (2023)
39.5%
Germany Market Growth Rate (2023 to 2033)
6.5% CAGR
United States Market Growth Rate (2023 to 2033)
4.7% CAGR
Food & Beverages Segment Share (2023)
51%
Key Companies Profiled

Weishardt
Tessenderlo Group
Lapi Gelatine Spa
Gelita
Bernard Jensen
Junca Gelatines SL
Nitta Gelatin, Inc.
PAN Biotech GmbH
Shanghai Al-Amin Biotechnology Co., Ltd.
Don't Need a Global Report?
save 40%! on Country & Region specific reports
What's Sparking a Surge in the Popularity of Bovine Gelatin?
"Growing Focus on Health and Wellness among Consumers"
Increasing desire for natural, secure, and versatile components has led to a rising demand for bovine gelatin across a range of sectors, including the food, pharmaceutical, and cosmetics industries. Within the food sector, bovine gelatin is employed as a key ingredient in bakery, dairy, and confectionery products, primarily due to its remarkable gelling, binding, and emulsifying characteristics. It is a key component in the production of several items, including yogurts, marshmallows, gummy bears, and beer.
With a growing focus on health and wellness among consumers, the bovine gelatin market is poised for expansion in the coming years. Recent times have witnessed an upsurge in the use of bovine gelatin in the pharmaceutical sector, where it is valued as a dependable and secure ingredient for drug encapsulation in the drug manufacturing process. Additionally, the cosmetics business has embraced bovine gelatin due to its valued attributes in moisturization, emulsification, and thickening.
"Increasing Demand for Bovine Gelatin Sourced from Organic Origins"
The surge in popularity of organic bovine gelatin is driven by the growing preference for natural components in food and dietary supplements. This type of gelatin is derived from the bones and tissues of cows raised in an organic and grass-fed environment, free from exposure to hormones or antibiotics. Many consumers favor organic bovine gelatin for its health advantages, including the enhancement of joint health, promotion of healthy skin and hair, and its role in improving digestion.
Natural gelatin serves as a rich source of collagen, a vital element for maintaining strong bones, joints, and skin. Furthermore, organic bovine gelatin is versatile and can be incorporated into a variety of food items and dietary supplements, ranging from baked goods and gummies to protein bars. Its application extends to the pharmaceutical and cosmetic industries, where it serves as a binding agent and thickening agent.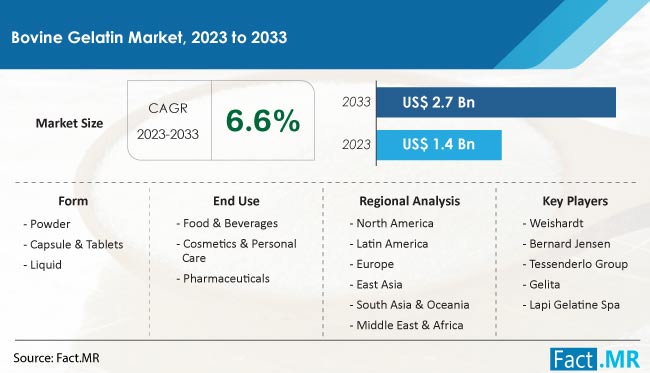 What Challenges Do Producers of Bovine Gelatin Face?
"Dietary Restrictions and Health Concerns Associated with Bovine-derived Products"
Bovine gelatin is derived from cattle, which can pose challenges in regions with dietary restrictions, especially for those who follow religious dietary guidelines that prohibit the consumption of beef or beef by-products.
There have been health concerns associated with bovine-derived products, particularly related to the transmission of diseases such as mad cow disease. These concerns and regulatory restrictions may affect consumer confidence.
"Fluctuations in Prices of Cattle and Animal Welfare Concerns"
Issues related to animal welfare and sustainability can impact the perception of bovine gelatin. Some consumers are concerned about the environmental impact of cattle farming and animal treatment.
The rise of alternative sources of gelatin, such as plant-based or marine-derived gelatin, can divert market demand away from bovine gelatin. Fluctuations in the price of cattle, feed, and other related inputs can lead to price volatility for bovine gelatin, affecting both producers and consumers.
More Insights, Lesser Cost (-50% off)
Insights on import/export production,
pricing analysis, and more – Only @ Fact.MR
Country-wise Insights
The following section provides a breakdown of market revenue by major countries. According to Fact.MR's analysis, China and Germany stand out among the countries reviewed in the report.
What Catalysts are Igniting Bovine Gelatin Demand Growth in China?
"Growing Emphasis on Application of Gelatin in Healthcare Sector"
The market in Asia Pacific is projected to expand at a CAGR of 7.3% during the forecast period. In recent times, countries in Asia Pacific have placed greater emphasis on strengthening their healthcare systems and working toward ensuring health benefits and overall well-being for people of all age groups. This focus has stimulated the utilization of gelatin in the healthcare sector. The market's overall expansion is propelled by advancements in medical services and an increased comprehension of the role of bovine gelatin.
What Opportunities Lie Ahead for Bovine Gelatin Suppliers in Germany?
"Rising Use of Bovine Gelatin in Haircare Products"
Europe holds a leading market share of 39.5% in 2022. This primarily arises from the increasing demand for bovine gelatin in various end-use sectors such as cosmetics, pharmaceuticals, and food & beverages, among others. Gelatin serves predominantly as a stabilizing agent in pre-packaged meals and contributes to extending shelf life.
Through 2033, the bovine gelatin market in Germany is expected to advance at a CAGR of 6.5%. Consequently, a growing demand for packaged products in countries like Germany is also a key driver. Key players in the European market have employed diverse strategies to expand their product offerings and collaborate with stakeholders, positioning them for enhanced overall profitability.
The market is anticipated to grow as a result of rising sales of biomedical goods made from bovine gelatin, which improves hair texture and quality. Use of bovine gelatin in personal care products is anticipated to increase as customer demand for hair care treatment products rises.
Category-wise Insights
This section provides a thorough overview of the market by classifying it according to form and end use. The food & beverages sector and capsules & tablets are two subcategories with a sizable market share. These segments create a lot of opportunities for prospects.
Which Industry Accounts for Extensive Adoption of Bovine Gelatin?
"Bovine Gelatin Enhancing Quality and Consistency of Food and Beverage Products"
In 2023, the food and beverages segment accounted for 51% of the global market. Bovine gelatin is a highly sought-after ingredient in the food and beverages industry, primarily due to its remarkable gelling and stabilizing properties. These properties are crucial for achieving the desired texture, consistency, and quality in various food products.
Bovine gelatin is celebrated for its ability to form gels, which is a fundamental characteristic in many F&B applications. It is extensively used as a gelling agent to create an appealing texture in a wide range of products. For instance, it is a key component in jellies, jams, and gummy candies, providing them with their signature firm yet elastic consistency.
What is Behind Increasing Use of Gelatin in Capsules & Tablets?
"Inherent Safety and Bioavailability of Bovine Gelatin"
In 2023, the capsules & tablets segment holds a 52.5% of bovine gelatin market share. Gelatin capsules are widely favored in the pharmaceutical health and nutrition supplement industries for several reasons, one of which is safety. Gelatin is a naturally derived substance, typically sourced from animals. When properly processed, it meets stringent safety standards. The manufacturing of gelatin capsules typically adheres to and often surpasses the strict regulations and quality standards required for use in pharmaceutical health and nutrition products.
Gelatin capsules are a common choice for pharmaceutical products due to their inherent safety and bioavailability. These capsules can safely encase various pharmaceutical formulations, such as vitamins, minerals, medications, and herbal supplements, without compromising the stability or efficacy of the contents.
Know thy Competitors
Competitive landscape highlights only certain players
Complete list available upon request
Competitive Landscape
Prominent firms within the gelatin market are implementing diverse tactics to enhance their market foothold and broaden their market share. The global gelatin market exhibits a substantial degree of fragmentation, with many major and smaller-scale participants.
In September 2021, PB Leiner collaborated with Florida State University to conduct research investigating the influence of SOLUGEL collagen peptides, which include bovine gelatin, on alleviating joint discomfort in physically active middle-aged adults. The study's results revealed a substantial reduction in joint pain attributed to the efficacy of SOLUGEL collagen peptides.
Key Segments of Bovine Gelatin Market Research
By Form :

Powder
Capsules & Tablets
Liquid

By Nature :

By End Use :

Food & Beverages
Cosmetics & Personal Care
Pharmaceuticals

By Distribution Channel :

B2B
B2C
Hypermarkets
Specialty Stores
Drug Stores
Pharmacies

By Region :

North America
Latin America
Europe
Asia Pacific
Middle East & Africa
- FAQs -
The global bovine gelatin market is valued at US$ 1.4 billion in 2023.
Worldwide sales of bovine gelatin are set to increase at a CAGR of 6.6% from 2023 to 2033.
Global sales of bovine gelatin are projected to reach US$ 2.7 billion by 2033.
The food and beverages segment holds a leading market share of 51% in 2023.
The market in Germany is set to expand at a CAGR of 6.5% through 2033.
Demand for bovine gelatin in the United States is projected to rise at 4.7% CAGR through 2033.