Pediatric Imaging Market
Pediatric Imaging Market Size, Share Analysis By Modality (Magnetic Resonance Imaging, Ultrasound, Computed Tomography, X-ray), By Application (Orthopedics/Trauma, Gastroenterology, Neurology, Cardiology, Oncology), By End User & By Region - Global Market Insights 2022-2030
Analysis of Pediatric Imaging market covering 30 + countries including analysis of US, Canada, UK, Germany, France, Nordics, GCC countries, Japan, Korea and many more
Pediatric Imaging Market Outlook (2022-2030)
The global pediatric imaging market size was valued at US$ 8.2 billion in 2022 and is predicted to reach US$ 15.2 billion by the end of 2030.
Global sales of pediatric imaging systems are likely to rise at a high-value CAGR of 8% from 2022 to 2030. This can be attributed to ongoing attempts initiated by respective governments to raise awareness and expand the use of innovative pediatric imaging systems, rising rates of surgical procedures, and growing demand for advanced healthcare practices in pediatric care.
Demand for diagnostic ultrasound tools is predicted to increase at an impressive CAGR of 8.6% during the next 8 years. This can be ascribed to factors such as the accessibility of imaging technologies, presence of qualified specialists, and the regular introduction of advanced imaging systems designed especially for pediatric patients.
For instance, Royal Philips introduced the EPIQ CVx cardiovascular ultrasonography system in August 2018 to make screening for professionals simple. The technology delivers cutting-edge capabilities such as powerful 3D organ modelling, anatomical intelligence, and image slicing.
Pediatric radiology is a branch of diagnostic imaging that treats acquired disorders in children, babies, neonates, and youngsters (under the age of 21). It uses nonionizing radiation for its particular imaging procedures. As children are more vulnerable to the harmful effects of radiation than adults and because there is a possibility of cancer development, pediatric radiology is focused on using the lowest amount of radiation possible.
Diagnostic equipment used in the pediatric radiology market includes X-rays, MRIs, nuclear medicine, ultrasounds, pediatric brain imaging, and computed tomography (CT). They can more quickly and accurately detect the illnesses, such as pneumonia and burst appendices, the effects of an injury, or any type of tumours that pediatric patients may have.
Ionizing radiation is used in pediatric X-ray imaging to produce two-dimensional images of a child's internal organs. To create X-ray images, different tissue absorbs radiation in different ways that are monitored by a detector.
Rising prevalence of chronic diseases in children, such as anaemia, asthma, chickenpox, diphtheria, leukaemia, measles, mumps, pneumonia, TB, whooping cough, and Lyme disease, is one of the main drivers fueling the market's expansion.
For instance, the UNICEF 2021 April report found that pneumonia kills more children below the age of 5 each year than any other contagious disease.
Pneumonia is one of the most prevalent chronic diseases in children, which is driving up the demand for pediatric diagnostic imaging. In addition, factors including rising heart disease and technological improvements are anticipated to support the pediatric imaging market growth.
Congenital cardiac defects are the most common birth defect.
Congenital heart disease (CHD) is one of the most often identified congenital illnesses, affecting between 0.8% and 1.2% of live births globally, according to a report from the National Center for Biotechnology Information. A structural abnormality of the heart and/or major vessels that exist from birth is generally referred to as CHD.
Along with all the above-mentioned factors, various skin-related disorders in babies, such as dermatitis, acne, sunburns, and more, are expected to support the infant dermatology diagnostic devices market growth.
Report Attributes

Details

Pediatric Imaging Market Size (2022E)

US$ 8.2 Billion

Forecasted Market Value (2030F)

US$ 15.2 Billion

Global Market Growth Rate (2022-2030)

8% CAGR

China Market Value (2030F)

US$ 3.3 Billion

China Market Growth Rate (2022-2030)

11.7% CAGR

Share in Diagnostic Imaging Market (2022)

29%

Key Companies Profiled

Agfa-Gevaert Group
Analogic Corporation
Canon Medical Systems
Carestream Health
ESAOTE SPA
FUJIFILM Corporation
General Electric Company
Hitachi Healthcare Americas
Koninklijke Philips N.V.
Medtronic
SAMSUNG
Siemens Healthcare Private Limited
Know thy Competitors
Competitive landscape highlights only certain players
Complete list available upon request
Why is Demand for Novel Pediatric Imaging Systems Rising?
"High Demand from Hospitals to Increase Patient Safety and Reduce Stay Time & Treatment Costs"
The use of novel pediatric imaging technologies in hospitals and pediatric imaging centers, among other healthcare settings, is predicted to have a major impact on the demand in the pediatric imaging market in both developing and developed countries.
For instance, the Lucile Packard Children's Hospital Stanford opened a new surgical facility in August 2018 that features a cutting-edge hybrid operating room and allows for the quick assessment of post-operative therapies.
These developments dramatically improve patient safety, cut down on turnaround time and hospital stays, and lower total treatment costs. With the introduction of next-generation microchips, it is projected that the overall cost of sophisticated technologies would decline, accelerating the uptake of imaging equipment, particularly in developing nations.
"Inability of Pediatric Patients to Verbally Express Pain & Rising Cases of Premature Births Driving Demand for Novel Pediatric Imaging Systems"
Some of the factors fueling the demand for innovative pediatric imaging systems are the increasing number of preterm births, the rising frequency of pediatric disorders, and the increased demand for preventative care and imaging solutions.
The Centers for Disease Control and Prevention (CDC) estimates that 9.2 million children in the United States are brought to the emergency room due to accidents such as falls, car accidents, and burns.
The adoption of efficient pediatric imaging solutions is considerably increased by pediatric patients' inability to communicate specific difficulties. Additionally, as the prevalence of birth abnormalities rises, efficient imaging methods are needed to reduce the consequences.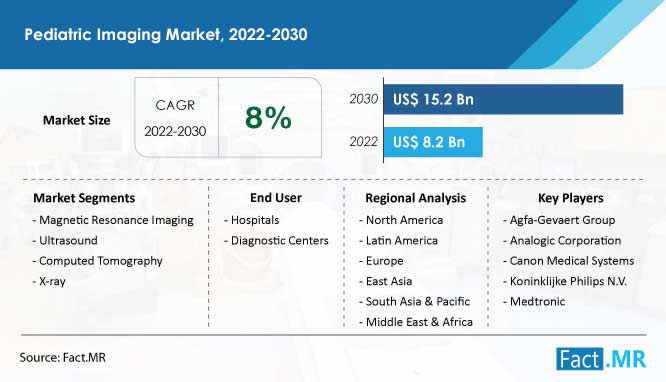 What will Help New Players Evolve in This Market and Earn High Profits?
"New Manufacturers Should Focus on Developing Advanced Imaging Systems for Comfort of Pediatric Patients"
Increased spending on advanced technologies & imaging systems released by key market players is the two variables anticipated to positively generate opportunities in the pediatric imaging market.
Newcomers should be focused on producing innovative and advanced pediatric imaging systems as per end users' needs to maintain market position and boost their revenue share.
For example, the American College of Radiology (ACR) & the Radiological Society of North America (RSNA) released RadInfo 4 Kids as a new feature on their official website in December 2018. The informative website was developed to educate kids and their parents about radiology.
Imaging tests might be among the most traumatic experiences a child and their parents have while undergoing medical treatment. It is difficult for medical personnel to help pediatric patients remain calm and steady throughout the scans.
Sometimes there is a need for additional scans, which results in an estimated 20%–30% of scans, or for sedation, both of which have potential long-term health hazards such as slowed brain growth. Thus, there are lots of opportunities for innovations in the field of pediatric MRI market.
Philips N.V. is drawing on the achievement of their Ambient Experience solutions for MR to develop an end-to-end experience that helps kids get ready for their diagnostic testing in advance, which will help lessen a child's anxiety regarding MRI scans. For this reason, they have already created a colouring book and award-winning app that will help in preparing kids for the scanning experience.
Philips and the Walt Disney Company EMEA have collaborated on a research project to evaluate unique Disney themes within Philips Ambient Experience in selected hospitals across Europe. This partnership represents an exciting future development for pediatric imaging. To provide MR patients with a sense of autonomy and comfort if the technology goes into a commercial phase, they would be able to choose their preferred Disney narrative or character.
More Insights, Lesser Cost (-50% off)
Insights on import/export production,
pricing analysis, and more – Only @ Fact.MR
Which Regional Market is Expected to Be Highly Lucrative for Pediatric Imaging Producers?
"North America Leads Pediatric Imaging Sales Due to Favorable Reimbursement Policies and Rising R&D Activities"
Due to favorable reimbursement policies, rising research, and innovative activities, North America currently dominates the global pediatric imaging market.
In September 2018, Children's Hospital of Philadelphia (CHOP) received a grant from Bracco Diagnostics Inc. worth US$ 300,000 to support research and train staff members on how to use a novel ultrasonic contrast technology.
Another important element supporting the market growth is the Children's Health Insurance Program (CHIP), which provides medical coverage for pediatric patients in the U.S. and includes imaging services.
Over the projection period, the Asia Pacific pediatric imaging market is predicted to increase at a profitable pace. The high growth rate in the regional market is mostly attributed to market players' reach towards developing nations, the rising prevalence of pediatric disorders, and supportive respective government policies for paediatric care.
An affordable diagnostic ultrasound technology called Philips Lumify was made available in numerous Asian nations in December 2018 by Royal Philips, allowing medical professionals to provide better healthcare.
Country-wise Analysis
How are Sales of Pediatric Imaging Systems Evolving in the U.S.?
"Advancements in Pediatric Imaging Technologies Surging Sales Graph"
The United States accounts for a lion's share of the North American pediatric imaging market. Presence of key players, technological breakthroughs, and rising cases of premature births are all boosting sales in the global market.
For instance, according to data released in November 2021 by the Centers for Disease Control and Prevention (CDC), 1 in 10 newborns born in the United States in 2020 suffered from preterm birth.
The Velocity MRI System, an improved, high-field open MRI system, was launched in November 2021 during the Radiological Society of North America (RSNA) conference by Fujifilm Healthcare Americas Corporation, one of the top suppliers of diagnostic imaging & medical informatics solutions.
With its distinctive open gantry, built-in radiofrequency (RF) coils, as well as reconstruction technologies, Fujifilm's newest MRI scanner, the Velocity MRI system, is intended to improve patient experience and streamline operations. Pediatric kids and other patients will feel more at ease in the scanner's open, distinctive gantry.
The development of the pediatric imaging market in the country is being aided by the introduction of new technologies.
What is Supporting Pediatric Imaging Sales in China?
"Advancing Healthcare Facilities & Government Support Through Funding"
Sales of pediatric imaging systems are expected to rise at a significant CAGR of 11.7% from 2022 to 2030.
China's market is anticipated to increase significantly as a result of expanding government funding and innovative technological developments in diagnostic imaging services. Since it considerably reduces scanning and waiting times, portable diagnostic equipment (such as portable pediatric X-ray systems) is becoming more and more popular.
Furthermore, the major factors propelling the pediatric imaging market growth are the vast patient pool, a greater understanding of pediatric illness, and the developing healthcare infrastructure in the country.
Category-wise Analysis
Along with Pediatric Ultrasound Systems Which Other Systems are Highly Demanded?
"High Demand for Pediatric MRIs Due to Rising Prevalence of Pediatric Disorders & Premature Births"
Global sales of pediatric MRIs are predicted to rise at a strong CAGR of 8.4% from 2022 to 2030 and will reach US$ 5.1 billion by 2030.
A strong magnetic field, radio waves, and a computer are all used in pediatric magnetic resonance imaging (MRI) to provide precise images of the inside body structures. For a range of disorders affecting the brain, chest, belly, pelvis, and limbs, MRI may be utilised to aid in the diagnosis or track the progress of treatment.
Demand for pediatric MRIs may be due to elements including the increased incidence of pediatric disorders, the development of pediatric imaging techniques, and the rise in international partnerships, product launches, and approvals aimed at improving pediatric care.
The need for magnetic resonance imaging devices is also being driven by the rising incidence of premature births.
For instance, according to the article titled "Global burden of preterm birth," which was published in July 2020, preterm birth is defined as a live birth that takes place before 37 full weeks of pregnancy. Roughly 15 million premature babies are born each year, indicating a global premature birth rate of about 11%.
According to the same source, with 1 million children dying due to premature birth before they turn five, premature birth is the biggest cause of mortality among children, accounting for 18% of all fatalities among children under the age of 5 and up to 35% of all deaths among newborns.
Thus, the demand for pediatric MRIs is rising due to the growing need of advance diagnosis.
For instance, Neoscan Solutions developed a baby MRI scanner in May 2021. The hospital's pediatric ward can accommodate the lighter, smaller MRI scanner. Such launches are accelerating market growth.
Similar to this, in February 2022, neurosurgeons at Primary Children's Hospital introduced advanced technology to enhance results for kids who needed brain surgery. To assist children with severe epilepsy and safeguard their healthy brain tissue after removing tumours, a specific intraoperative MRI is used.
Don't Need a Global Report?
save 40%! on Country & Region specific reports
Competitive Landscape
The market for pediatric imaging is relatively competitive due to the existence of numerous major international and local industry participants. Few big firms presently control the majority of the market in terms of market share.
New products are being introduced by certain major businesses, while others are in favour of distribution. Esaote SpA, Siemens AG, Hitachi Ltd, Canon Inc., and Koninklijke Philips N.V. are some of the key players in the pediatric imaging market.
Children's Hospital New Orleans with Cleveland Clinic established a new partnership in August 2022 to give kids and families in New Orleans and Louisiana more access to board-certified pediatric radiology specialists.
The LEGO Foundation announced in February 2022 that it has given 600 LEGO MRI Scanners to hospitals throughout the world to help kids deal with the anxiety of having an MRI scan.
Key Segments in Pediatric Imaging Industry Research
By Modality :

Magnetic Resonance Imaging
Ultrasound
Computed Tomography
X-ray
Others

By Application :

Orthopedics/Trauma
Gastroenterology
Neurology
Cardiology
Oncology
Others

By End User :

Hospitals
Diagnostic Centers
Others

By Region :

North America
Latin America
Europe
East Asia
South Asia & Oceania
MEA
- FAQs -
Global demand for pediatric imaging systems is expected to rise at a CAGR of 8% from 2022 to 2030.
Sales of pediatric ultrasound systems are predicted to increase at an impressive CAGR of 8.6% through 2030.
The pediatric imaging market is projected to reach US$ 15.2 billion by 2030.
Currently, the pediatric imaging market is valued at US$ 8.2 billion.
Esaote SpA, Siemens AG, Hitachi Ltd, Canon Inc., and Koninklijke Philips N.V. are key manufacturers of pediatric imaging systems.