Pediatric Neuroblastoma Treatment Market
Pediatric Neuroblastoma Treatment Market By Therapy Type (Immunotherapy, Chemotherapy), By Distribution Channel (Hospital Pharmacies, Retail Pharmacies & Drug Stores), By Region - Global Market Insights 2020 to 2030
FACT4694MR
Mar-2022

List of Tables : 25

List of Figures : 76

170 Pages
Institution of Precautionary Measures amid COVID-19 Pandemic to Leverage Growth of Pediatric Neuroblastoma Treatment Market
Neuroblastoma is amongst the most common cancers affecting infants under the age of one. The condition accounts for nearly 6% of all cancers in children, especially in developed countries such as the United States. Also, an estimated 800 new cases of neuroblastoma are reported annually in the U.S.
The increasing burden of the condition is anticipated to push demand for treating the disease. With the ongoing COVID-19 pandemic healthcare workers are exercising caution and stepping up treatment to protect cancer-afflicted children from infection.
Increasing designation of orphan drugs for treating cancers such as neuroblastoma is anticipated to drive the global pediatric neuroblastoma treatment market. For instance, Cellectar Biosciences received orphan drug designation from the U.S. FDA for its CLR 131 Phospholipid Drug Conjugate (PDC) to treat pediatric neuroblastoma patients in early 2018.
The drug is currently in Stage 1 of development. The global pediatric neuroblastoma treatment market is anticipated to surge at a staggering CAGR of 9.2% throughout the forecast period (2020-2026).
Avail customized purchase options for your needs
Chemotherapy to Register Robust Growth, Immunotherapy Procedures to Follow
The chemotherapy segment is anticipated to bolster prospects for the global pediatric neuroblastoma treatment market. Reduction in cancer growth and bearability of symptoms, and in certain cases, complete eradication of cancers is projected to drive the segment's growth.
Additionally, chemotherapy products for neuroblastoma, such as cyclophosphamide, carboplatin, and Doxorubicin are found to significantly improve the health conditions of children.
The chemotherapy segment is poised to expand robustly at a CAGR of 9.2% during the forecast period and shall capture nearly half of the total pediatric neuroblastoma treatment market.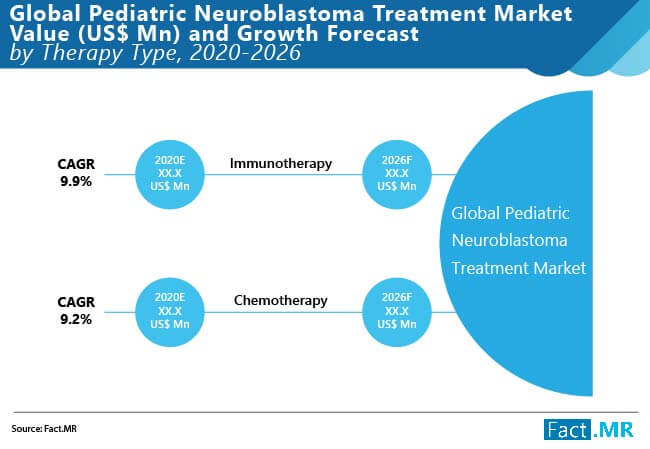 Immunotherapy procedures are anticipated to grow the fastest, at a CAGR of 9.9% during the forecast period. Increased chances of survival without any episode of relapse or disease progression is projected to be the primary growth determinant of the immunotherapy procedures.
Over one-fourth of the global pediatric neuroblastoma treatment market shall be dominated by the immunotherapy segment throughout the forecast period. Additionally, given the current COVID-19 pandemic scenario, patients are anticipated to be better protected from infection.
North America, European Markets to Expand amid Rising Drug Approvals
North America is set to retain its dominance in the global pediatric neuroblastoma treatment market, capturing over half of the overall market share. Key growth drivers behind this dominance include a high adoption rate of technologically-advanced products, greater reimbursement coverage ensuring return on investments and provision of orphan drugs designation that aids in the process of drug approval. Projections indicate a staggering CAGR of 9.0% for the North American market.
Europe is poised to register the fastest growth in the global pediatric neuroblastoma treatment market. Increasing incidences of neuroblastoma and rising drug approvals are attributed as important growth levers.
Besides, the presence of a large number of pharmaceutical and biotechnology companies focusing on neuroblastoma research and rise in healthcare awareness are also projected to leverage the European market. The European market is set to capture nearly a quarter of the global pediatric neuroblastoma treatment market.
Product Launches to Act as Key Growth Levers for Market Players
The global pediatric neuroblastoma treatment market consists of the following market players: United Therapeutics Corporation, APEIRON Biologics AG, Baxter, Bayer AG and Pfizer Inc. Their principal marketing strategy is to invest in the development of new products.
Although the COVID-19 pandemic has compelled major companies to downsize their operations, given the fact that most of the staff is now forced to work from home, the prospects for oncological players shall remain positive.
United Therapeutics Corporation, for instance, has entered into separate non-exclusive distribution agreements with Accredo and Caremark to distribute Remodulin, Tyvaso and Orientram in the U.S. Its product portfolio includes Unituxin (Dinutuximab) which is a chimeric monoclonal antibody used to treat severe pediatric neuroblastoma conditions.
Another market player, Baxter manufactures the Cyclophosphamide for Injection USP 500 mg Single Dose. Cyclophosphamide for Injection USP is a sterile white powder containing cyclophosphamide monohydrate. When injected, the powder gets converted into metabolites which inhibit the growth of susceptible rapidly proliferating malignant cells.
An Adaptive Approach to Modern-day Research Needs
COVID-19 Market Insights:
Though the COVID-19 pandemic appears to largely spare children, practitioners are warning researchers to study the potential impacts the virus can have on pediatric patients in order to find the appropriate response in case of an infection. It is a common understanding amongst medical professionals that the risk of COVID-19 infection can increase in immuno compromised children with cancer, resulting in increased morbidity and mortality.
Most childhood cancers have an aggressive course and require immediate treatment, often involving prolonged durations of intensive multi-agent chemotherapy. Postponement of therapy is therefore not an option.
Realizing the potential risks faced by pediatric neuroblastoma patients, key players in the market are leveraging their research in preventing potential infection of these patients by the novel COVID-19 virus. APEIRON Biologics, an important market player in the pediatric neuroblastoma market, has initiated clinical trials for its APN01 for the treatment of COVID-19. The trial has entered Phase II. The drug candidate is designed to imitate human ACE2 used by the virus to enter host cells to inhibit infection and reduce lung injury.
Pfizer, Inc., another important player in the pediatric neuroblastoma market, is collaborating with BioNTech to co-develop a potential COVID-19 vaccine consisting of mRNA and titled BNT162. Besides this, the company consistently and diligently monitors the supply of its medicines.
Owing over 40 owned sites and 200 distributors globally, Pfizer has adequate capacity to distribute its products. So far, the company has not witnessed disruption in its supply chain, with all of their plants in affected areas being operational. The company has increased production, shifted demand to the most critical products, and authorized overtime at many sites to meet patient needs.
Interested to Procure The Data
Global Pediatric Neuroblastoma Treatment Market Segmentation
Fact.MR has studied the global pediatric neuroblastoma treatment market with detailed segmentation on the basis of therapy type, distribution channel, and region.
By Therapy Type :

Immunotherapy
Chemotherapy
Others

By Distribution Channel :

Hospital Pharmacies
Retail Pharmacies & Drug Stores

By Region :

North America
Europe
Rest of the World
"This taxonomy prepared is confidential and intended exclusively for the individual or entity with whom it is being shared. Reading, disseminating, distributing, or copying this to any party other than the addressee(s) is unauthorized and prohibited."