Gardening Equipment Market
Gardening Equipment Market Analysis By Product (Hand Tools, Cape Cod Weeders, Paving Weeders, Fishtail Weeders, Shears & Snips, Lawnmowers & Trimmers, Edgers), By End Use (Residential, Commercial), By Distribution Channel (Online, Retail, Distributors) & By Region - Global Market Insights 2023 to 2033
Analysis of Gardening Equipment Market Covering 30+ Countries Including Analysis of US, Canada, UK, Germany, France, Nordics, GCC countries, Japan, Korea and many more
Gardening Equipment Market Outlook (2023 to 2033)
The global gardening equipment market has reached a valuation of US$ 109.64 billion in 2023 and is projected to climb to US$ 200 billion by 2033. Fact.MR has predicted worldwide sales of gardening equipment to increase at a CAGR of 6.2% over the next 10 years.
Gardening is a popular hobby and leisure activity for many people, leading to continued high demand for gardening equipment. Gardening equipment sales are experiencing fast growth due to a prevailing trend among millennials who are transforming outdoor spaces into tranquil retreats featuring lounges, outdoor kitchens, entertainment areas, and vibrant party spots. This shift in lifestyle preferences towards creating, inviting, and multifunctional outdoor environments is fuelling the demand for gardening tools and devices.
Hand tools, cape cod weeders, paving weeders, fishtail weeders, shears & snips, lawnmowers & trimmers, and edgers, are some of the common types of gardening equipment.
Global demand for lawnmowers & trimmers is expected to rise at a noteworthy CAGR of 7.1% during the forecast period.
Lawns are a common feature in many residential and commercial properties, and proper maintenance is crucial to keep them neat and well-manicured. Lawnmowers and trimmers are essential tools for lawn care, as they enable users to mow the grass to a desired height and trim the edges for a clean and polished appearance.
Lawnmowers and trimmers are designed to make lawn care tasks more efficient and less labour-intensive. Compared to manual methods such as using scissors or shears, these powered tools can cover large areas quickly, saving time and effort. They enable users to accomplish lawn care tasks in a fraction of the time it would take using manual methods.
Several manufacturers of gardening equipment are concentrating on the production of electric and IoT-based lawnmowers. Smart IoT-based solar-powered lawnmowers represent an innovative and eco-friendly approach to lawn care. These advanced devices combine the power of solar energy and Internet of Things (IoT) connectivity to provide efficient and sustainable grass-cutting solutions.
Smart IoT integration enables communication between the lawnmower and other devices or platforms. These mowers are equipped with sensors, connectivity modules, and data processing capabilities.
IoT-based solar-powered lawnmowers can be connected to a smartphone or a central control system, allowing users to remotely monitor and control the mower's operations. They can also be programmed to mow the lawn at scheduled times or operate based on specific parameters, such as grass height or weather conditions. With GPS and mapping capabilities, these mowers can navigate the lawn autonomously, avoiding obstacles and following predefined paths.
Report Attributes
Details

Gardening Equipment Market Size (2023E)

US$ 109.64 Billion

Forecasted Market Value (2033F)

US$ 200 Billion

Global Market Growth Rate (2023 to 2033)

6.2% CAGR

United Kingdom Market Growth Rate (2023 to 2033)

7.3% CAGR

United States Market Growth Rate (2023 to 2033)

5.9% CAGR

Canada Market Value (2033F)

US$ 6.40 Billion

China Market Value (2033F)

US$ 41.61 Billion

India Market Value (2033F)

US$ 12.20 Billion

Key Companies Profiled

Stanley Black & Decker, Inc.
Blount International Inc.
Robert Bosch GMBH
Deers and Co
The Toro Co
Kubota Corp
Alamo Group Inc.
Briggs and Stratton Corp
The Ames Companies Inc.
Estwing Manufacturing Company Inc.
Don't Need a Global Report?
save 40%! on Country & Region specific reports
Which is a Key Factor Driving the Demand for Gardening Equipment?
"From Hobby to Home Improvement: Rising Popularity of DIY Gardening"
Popularity of home improvement projects and the do-it-yourself (DIY) culture are contributing to the growth of the gardening equipment market. Many individuals are investing in gardening tools to maintain and beautify their outdoor spaces, driven by a desire for self-sufficiency, personalization, and the satisfaction of creating their gardens.
Changing living standards and evolving lifestyles in developed regions such as North America and Europe are leading to a growing consumer preference for do-it-yourself (DIY) activities. Similarly, in developing regions, the increasing disposable income of some population groups is driving the DIY market and subsequently boosting the sales of gardening power tools.
Engaging in DIY activities allows consumers to save on long-term expenses that would otherwise be incurred by hiring costly labour for horticultural work. This cost-effectiveness is driving the demand for gardening devices and tools, as many individuals opt to undertake gardening tasks themselves. Additionally, e-commerce has made gardening equipment easily accessible to consumers, providing convenience and opportunities for discounts and promotions.
How are Gardening Equipment Producers Strategizing?
"Enticing Innovations - Newly Invented Gardening Equipment Captivating End Users"
Sales of garden and lawn equipment are predicted to increase swiftly during the projected period due to the rising desire for modern and well-designed gardening products from the majority of end users. The availability of newly invented gardening equipment is enticing more end users to buy them. Furthermore, the increasing demand for smart gardening techniques, such as GPS technology, uniform cutting, auto brake systems, and others, is having a positive impact on the global gardening equipment market growth.
Smart gardening tools enable end users to simplify their gardening tasks and maintain their gardens more effectively and efficiently. Key market players such as Deere & Company, MTD Products Inc, AriensCo, and others are actively developing technologically advanced lawnmowers, trimmers, and other equipment.
John Deere & Company introduced the 'Z700 Series ZTrak' zero-turn mowers in February 2019. These mowers are designed to provide a high level of comfort and durability typically found in commercial-grade equipment. Notably, they feature an integrated park brake system, ensuring enhanced safety and convenience during operation. Additionally, the mowers are equipped with an adaptable foot platform, allowing users to adjust it according to their preferred position for optimal comfort and control.
More Insights, Lesser Cost (-50% off)
Insights on import/export production,
pricing analysis, and more – Only @ Fact.MR
Will New Types of Commercial Farming Boost Gardening Product Demand?
"Hydroponics Trend Propelling Gardening Equipment Sales to New Heights"
Commercial farming is witnessing a growing trend towards the implementation of hydroponic systems, leading to high crop production. Compared to traditional soil-based cultivation, hydroponics can achieve crop yields that are 3 to 10 times higher within the same area.
One advantage of hydroponic systems is their ability to meticulously regulate pH levels and nutrient supply, ensuring that plants receive the optimal nutrition they need for healthy growth. These closed systems also promote water conservation by recycling unused water.
Farmers also have the flexibility to control temperature and lighting conditions, allowing them to cultivate plants indoors and maximize productivity. Furthermore, hydroponic systems can be designed to utilize vertical spaces effectively, enabling higher planting densities and maximizing land usage. Moreover, they offer the opportunity to establish farms in areas where soil conditions are unfit for traditional cultivation. As a result, the increasing adoption of hydroponic systems in commercial farming is driving the growth of the gardening equipment market, providing it with the desired impetus.
What Challenges are Faced by Suppliers of Gardening Tools & Equipment?
"High Cost of Advanced Gardening Tools"
Gardening equipment can often be expensive, especially for advanced or specialized tools. The cost of acquiring and maintaining such equipment may deter some potential buyers.
"Limited Awareness about Gardening Tools in Many Places"
Lack of awareness about the benefits and availability of gardening equipment can hinder product demand. Some individuals may not be aware of the range of tools and equipment that can enhance their gardening experience. Also, in developing countries, some individuals may not be aware of the latest gardening products available, which may further hinder gardening tool sales.
"Seasonal Demand for Gardening Tools"
Gardening activities are often influenced by seasonal changes, leading to fluctuating demand for gardening equipment. Sales may be higher during peak gardening seasons and slower during off-peak periods.
Know thy Competitors
Competitive landscape highlights only certain players
Complete list available upon request
How Can New Companies Make a Mark in the Gardening Equipment Business?
"Introduction of Innovative Solutions for Modern Gardeners"
There is a growing trend among consumers to prioritize quality and durability when purchasing gardening equipment. Newcomers can capitalize on this by offering high-quality products that provide long-lasting performance, establishing a reputation for reliability and customer satisfaction.
Within the broader gardening equipment market, there are various types of end users that new entrants can focus on. By specializing in specific gardening equipment categories or catering to particular gardening styles (e.g., organic gardening, container gardening), newcomers can differentiate themselves and find a niche customer base.
Start-up companies can introduce fresh ideas and innovative solutions. By developing unique features, improved designs, or environmentally friendly options, newcomers can differentiate their products and stand out from established competitors.
BloomBox a start-up company offers subscription-based gardening kits, providing customers with curated assortments of plants, tools, and accessories tailored to their specific gardening needs.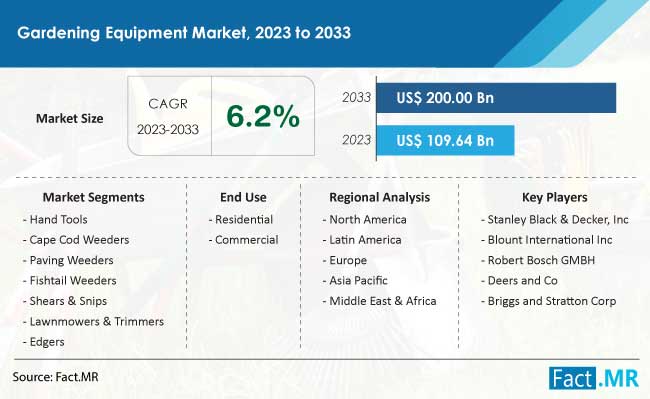 Country-wise Analysis
How is Demand for Gardening Tools Evolving in the United States?
"American Adults Spending Billions on Gardening Equipment"
Demand for gardening tools in the United States is likely to increase at a CAGR of 5.9% from 2023 to 2033 and is projected to reach US$ 48.62 billion by the end of the forecast period. This can be due to the growing gardening activities in the country.
Based on a 2023 report by GardenPals, it is revealed that Millennials constitute 29% of the gardening population. Interestingly, this demographic is displaying a growing fascination with the cultivation of cannabis plants. It is also estimated that American adults collectively invest a substantial US$ 48 billion annually in the purchase of lawn and gardening equipment. Moreover, an average garden yields a remarkable US$ 600 worth of produce in a year, underscoring the value and productivity of gardening endeavours.
Why is the United Kingdom a Key Market for Suppliers of Gardening Solutions?
"Expansive Lawns & Backyard Beautifying Projects Boosting Gardening Equipment Sales"
The United Kingdom holds a dominating position in the European market for gardening equipment. Sales of gardening devices and tools in the United Kingdom are expected to expand at a high CAGR of 7.3% from 2023 to 2033.
The country is witnessing a surge in the sales of advanced gardening equipment, primarily due to several key factors such as an escalating need for environmentally friendly lawn maintenance equipment, which reflects a desire to save energy.
Shortage of trained and skilled tool operators further amplifies the need for advanced equipment that can automate and streamline gardening tasks. Also, the continuous development of infrastructure in suburban areas and residential complexes in urban regions contributes to the increasing sales of gardening equipment, as homeowners seek to enhance the beauty and appeal of their expansive lawn areas and engage in backyard beautifying projects.
Why are Gardening Equipment Producers Attracted to China?
"Numerous Urban Greening Projects Driving Sales of Gardening Equipment"
China, with its vast population, generates several growth opportunities for gardening equipment producers. The increasing interest in gardening and outdoor activities, coupled with rising urbanization is fuelling the demand for high-quality gardening tools and equipment in the country.
The market for gardening equipment in China is forecasted to reach US$ 41.61 billion by 2033.
The Chinese government has been actively promoting green initiatives, urban greening projects, and the development of public parks and green spaces. This support, in the form of subsidies, policies, and campaigns, has encouraged individuals and communities to engage in gardening activities, resulting in high demand for gardening equipment.
Category-wise Analysis
Where is Gardening Equipment Most Widely Used?
"High Trend of Backyard Beautification & Gardening in Residential Structures"
According to Fact.MR, a market research and competitive intelligence provider, demand for gardening tools & equipment from residential users is predicted to rise at a CAGR of 6.5% during the projected period.
As urbanization rises and majority of people's lives become increasingly fast-paced and hectic, the demand for autonomous machinery and systems to assist with everyday tasks is on the rise. This global trend is driven by the need for convenience and efficiency in various aspects of life.
With a greater emphasis on leisure and creating inviting outdoor spaces, there has been a notable surge in spending on backyard beautification, including backyard cookouts and garden parties. To achieve stunning landscapes while minimizing the time and effort spent on lawn maintenance, there is a growing demand for a diverse range of residential gardening tools.
In emerging economies experiencing swelling residential construction activities, the demand for gardening equipment also escalates as homeowners aspire to establish lush and well-maintained gardens.
Competitive Landscape
Several key players in the gardening equipment market are introducing advanced gardening tools and devices such as solar-powered lawnmowers and more to earn more and attain a strong market position. The United States, the United Kingdom, China, Japan, and India are some of the beneficial marketplaces for gardening equipment producers. They are also adopting several direct and indirect marketing strategies to earn more profits.
Husqvarna launched Ceora, a revolutionary self-propelled lawnmower, in June 2022. The Husqvarna Automower Connect app is used to link the battery-operated mower. A triangulated communication signal is sent to the reference station by Ceora to communicate its position.
Key Segments of Gardening Equipment Industry Research
By Product :

Hand Tools
Cape Cod Weeders
Paving Weeders
Fishtail Weeders
Shears & Snips
Lawnmowers & Trimmers
Edgers

By End Use :

By Distribution Channel :

Online
Retail
Distributors

By Region :

North America
Latin America
Europe
East Asia
South Asia & Oceania
MEA
- FAQs -
The market for gardening equipment is valued at US$ 109.64 billion in 2023.
Worldwide sales of gardening tools are projected to reach US$ 200 billion by 2033.
The global gardening tools market is predicted to increase at a CAGR of 6.2% from 2023 to 2033.
Global sales of lawnmowers & trimmers are predicted to reach US$ 67.83 billion by 2033.
Stanley Black & Decker, Inc., Blount International Inc., and Robert Bosch GMBH are some of the key gardening equipment manufacturing companies.