Optometry Equipment Market
Optometry Equipment Market By Product (Cataract Surgery Devices, Glaucoma Surgery Devices, Ophthalmic Diagnostic Equipment, Vitreo Retinal Surgery Devices, Ophthalmic Lasers), By End User, By Region - Global Market Insights 2021 to 2031
Analysis of Optometry Equipment market covering 30 + countries including analysis of US, Canada, UK, Germany, France, Nordics, GCC countries, Japan, Korea and many more
Optometry Equipment Market Outlook
The global optometry equipment market is generating credible opportunities, as global eye care makes impressive strides. Increased integration of automation, smart technology, and burgeoning research funding are some important growth actuators expected to have a credible impact in future.
Demand for high-end optometry equipment is poised to remain especially high for treating hospital outpatients, as the need for faster tests and timely result delivery acquires center-stage. Faster turnarounds are helping patients seek timely treatment to prevent further deterioration in vision. Green spaces are evident with respect to sales of diagnostic ophthalmic equipment, characterized by the presence of numerous manufacturers.
This report by Fact.MR provides a taxonomy elaborating on key market segments. The report also outlines visionary insights on the dynamics of the market, including the drivers, restraints, opportunities, trends, and pricing analysis, along with key success factors. Market trends have been tracked in 20+ high-growth countries.
Know thy Competitors
Competitive landscape highlights only certain players
Complete list available upon request
Historical vs Future Growth Outlook
From 2016 to 2020, the global optometry equipment market registered significant gains, reaching a valuation of US$ 4 billion in 2019. As the global geriatric population expands, incidence of ophthalmic disorders is experiencing a massive upsurge. Presently, over 2 billion people suffer from near or distance vision impairments, with annual global productivity losses estimated at over US$ 270 billion.
The aforementioned figures are only expected to multiply in the future, prompting healthcare providers to invest in highly advanced ophthalmic care. This involves investing in screening and diagnostic devices equipped with advanced software and data processing algorithms. As per the WHO World Report on vision (2019), fostering development of technical tools to support the implementation of recommendations to improve eye sight is acquiring precedence. Hence, the market is poised to expand at a steady CAGR of approximately 4% through 2031.
How is Increasing Diabetes Prevalence Stimulating Optometry Equipment Sales?
Over the years, incidence of type-2 diabetes has aggrandized manifold, leading to massive fatalities worldwide. As per the International Diabetes Federation, in 2019, approximately 463 million adults aged 20-79 years were living with diabetes, with the figure expected to increase to 700 million. Nearly 80% of these patients reside across low- and middle-income countries. Furthermore, over 4 million people have succumbed to the disease.
The proportion of people with blindness arising out of diabetic retinopathy is estimated at 400,000, while 2.6 million people suffer from impaired vision. Realizing this, countries across the world are taking major initiatives to provide high quality treatment for mitigating the incidence of diabetes-induced blindness across key regions. In 2018, the International Diabetes Federation announced a partnership with Allergan to develop a global approach for screening, diagnosing, and managing diabetic macular edema (DME).
Likewise, in 2020, Novartis AG reported positive results from the first phase III trial of its Beovu® (brolucizumab) 6 mg in managing DME. Such promising developments are widening the scope for advanced eye care, thereby increasing demand for screening procedures and providing traction to the market over the coming years.
More Insights, Lesser Cost (-50% off)
Insights on import/export production,
pricing analysis, and more – Only @ Fact.MR
Will Higher Incidence of Digital Eye Strain Provide Significant Nudge to the Market?
In this era of digital revolution, dependence on smartphones and gadgets is a given. While these devices have immensely helped streamline workflows, excessive dependence has led to multiple demerits, including irreparable visual impairments. Dry eyes, redness, and itchiness are some of the most common symptoms of such excessive reliance, which often progress to more dangerous conditions.
According to BankMyCell, total number of smartphone users in 2021 reached 3.8 billion. This translates to nearly half of the world's population owning a smartphone. The United Kingdom has the highest incidence, with nearly 83% (55.5 million) people using a smartphone. This is followed by Germany (79.9%), and the United States (79.1%). India is also an extensive smartphone consumer, with over 500 million people using these devices.
Excessive use of mobile devices has increased the incidence of myopia in young children. Also, in the U.S., nearly three out of four adults aged 30-49 years spend over 5 hours on digital devices, which has repeatedly highlighted the need for examining eyes for possible signs of visual impairment. This has burgeoned the demand for deploying advanced optometric devices to detect visual defects.
Which Technological Advancements are Providing Tailwinds to Optometry Equipment Sales?
Since the dawn of the 21st century, global eye care has experienced revolutionary transition, incorporating the latest state-of-the-art screening and diagnostic breakthroughs to disburse high quality treatment. The Human Genome Project, initiated in 2003, introduced a new era of diagnostic and therapeutic eye care.
Advent of electronics, automated data processing, and artificial intelligence has greatly assisted in streamlining optometric procedures, allowing for simpler filing procedures and more focus on patients. For instance, the Glaucoma Automated Test Evaluation (GATE) study in 2017 concluded that, technologies can be effective in aiding diagnosis by combining imaging, input-output processing, and VA.
Similarly, automation has made great strides in improving screening procedures for diabetic retinopathy. For instance, IRIS's FDA Class II retinal telemedicine platform integrates seamlessly into clinical primary care workflows. The platform leverages a bi-directional electronic health record interface, providing professionals access to images and data to assess and diagnose vision-threatening retinal pathologies, and provide a customized care plan.
Don't Need a Global Report?
save 40%! on Country & Region specific reports
Does the Challenge Posed by Dubious Nature of Results Still Persist?
Results obtained from optometry tests can vary based on the ophthalmologist conducting the screening, the type of training provided to the person operating the screener, and the procedure of the optometry test.
Differences in visual acuity screenings can also be attributed to varying guidelines associated with optometry tests. Hence, less effective results of optometry tests tend to decrease the number of people opting for optometry, thus restraining overall growth of the optometry equipment market.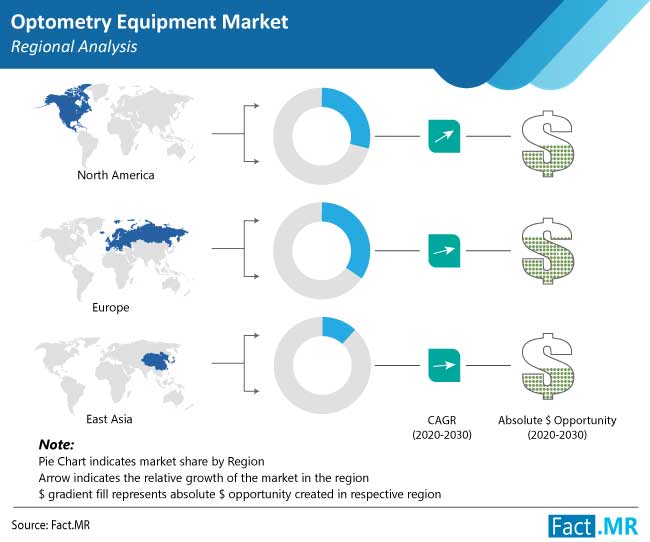 Country-wise Analysis
How Attractive is the U.S. Optometry Equipment Landscape?
The U.S. market is poised to experience impressive gains through 2021 and beyond, attributed to increasing frequency of research in furthering ophthalmic care. As a demographic shift towards the elderly population becomes evident, incidence of the top four disorders: glaucoma, diabetes, AMD, and cataracts, are inclining.
According to a study published in Ophthalmology Management in 2015, over 20% of the total U.S. population is expected to surpass 65 years of age by 2029. This expansion is likely to occur at a much faster pace in comparison to the growth of under-18 population. Also, the diseases/conditions-per-ophthalmologist ratio rose to 914.3 to 1 in 2015. The study also projects a 170% increase in primary open-angle glaucoma patients by 2050, reaching over 7 million.
The number of cataract patients reached over 30 million in 2020. Hence, owing to these aforementioned figures, demand for optometry equipment is bound to increase over the coming years. Prominent manufacturers such as Acuity Pro, Amcon Care, Belrose Refracting Equipment Co., EyeQuip, and First Insight Corporation have a significant presence in the U.S. market.
Why are Manufacturers Deepening Penetration across the U.K.?
The United Kingdom is anticipated to generate credible expansion opportunities for prominent optometry equipment providers. The Wales Council of the Blind Report establishes that, age-related macular degeneration (AMD) remains the leading cause of visual impairment amongst Britons.
Prevalence of late AMD among people aged above 50 years is 2.4%, increasing to 4.8% in people over 65 years, and 12.2% in people aged above 80 years. Consequently, significant increase in diagnosis has been observed, thereby opening avenues for key manufacturers to make inroads into the country.
In April 2019, Grafton Optical launched its Cell V100 handheld vision screener, which is primarily designed for use on children and at mass screening events. The device can screen both eyes from a distance of 1 meter, and is capable of delivering results within 1 second. Moreover, the device has an enhanced battery life, operating for around 5 hours. Similarly, Hanson Instruments unveiled its Espansione me-check 3.0 3D Dry Eye and Meibomian Glands Screener, offering magnification form 50 to 100 times of ocular surface with white light.
What Promises Does Germany Offer for Optometry Equipment Manufacturers?
The German optometry equipment market is likely to be pivoted by favorable health insurance and reimbursement policies implemented by governmental and private entities. The public health insurance system covers nearly 90% of all residents, with both, EU and non-EU residents subject to compulsory health insurance.
People in paid employment or in vocational training, who earn less than €60,750 annually, are covered by the public health system. With regard to ophthalmic care, initiatives are being undertaken by the government to include more coverage for important surgical procedures.
For instance, in 2014, Retina Implant AG's Alpha IMS microchip was granted NUB innovation status, rendering it eligible for reimbursement by Germany's statutory health insurance system. Such moves are expected to widen the berth for future optometry equipment manufacturers in the country.
Will Heightened Research Funding Open Growth Avenues across France?
According to the Fondation de France (FDF), one million people suffer from age-related macular degeneration, which primarily affects patients over the age of 50. However, incidence is also prevalent among younger people. Experts apprehend that ophthalmic treatment has been receiving scant attention in recent years. Hence, the scope for research to foster enhanced treatment is rising.
Since 25 years, the FDF has supported ophthalmologists and neuro-ophthalmologists along with young researchers by providing allowances for research projects, and helps them perfect their research techniques by pursuing specific projects - in laboratories or appropriate clinic services. Additionally, the organization provides an annual prize of €50,000 that is disbursed to original and innovative research findings.
Furthermore, the Retina France Association organizes annual research projects to promote research and therapeutic applications in the field of retinal degeneration and other eye conditions within the scope of rare diseases. Grants are awarded for one year, with duly justified equipment claims not exceeding €15,000. Such efforts are motivating players to supply optometry equipment to various stakeholders in the country.
How will Manufacturers Benefits in the Indian Market?
The National Center for Biotechnology Information estimates that, India has a disproportionate share of global blindness and visual impairment. While efforts are directed towards mitigating blindness prevalence, success rates have been experienced with respect to improving cataract surgical rates. The National Program for Control of Blindness (NPCB) has proven highly useful, with over 10 million patients registered for the program until now.
Additionally, a host of non-governmental organizations have helped advance eye care across the country. Amongst them, Sightsavers has emerged as the pioneer in addressing eye disorders. Since its inception in 1966, it has examined 55 million people, out of which, 36.4 million were provided with specific treatments, and 5 million operations performed to treat cataract.
Attributed to these developments, the market for optometry equipment for screening procedures has witnessed a sharp incline. For instance, Unitech Vision, a Delhi-based ophthalmic equipment provider, launched its Auto Refractometer Matronix Q 30 Koria refractometer in 2017, comprising a 5.7 inch true color LCD display, offering vertical distance ranging from 0 to 13.75 mm.
Category-wise Insights
Why is Ophthalmic Diagnostic Equipment Grabbing Eyeballs?
By product, demand for ophthalmic diagnostic equipment is likely to experience a major incline, mostly driven by massive technological advancements to offer enhanced patient care. Numerous manufacturers are leveraging key breakthroughs to offer highly sophisticated ophthalmic diagnostic equipment.
Coburn Technologies is a prominent ophthalmic diagnostic equipment provider, offering a broad range of products, including digital lensmeters, auto refractors, digital refractors, digital slit lamps, and fundus cameras. Its Huvitz Auto Lensmeter HLM-gooo, for instance, is equipped with wireless communication, simple GUI, and a 7-inch color LCD display amongst other features, making ophthalmic diagnostics a highly efficient experience.
Who are the End Users of Primary Optometry Equipment?
Hospital outpatient departments are expected to remain the primary end users of optometry equipment. Rising burden of ophthalmic disorders worldwide is prompting patients to opt for primary points-of-contact for seeking timely diagnosis and treatment. Moreover, busy work schedules are prompting patients to avoid hospitalization, instead choosing to seek treatments with shorter durations.
According to the U.K. National Health Service (NHS), ophthalmic OPD visits account for 10% of all visits across the United Kingdom. Likewise, in the United States, over 2 million people suffer various types of eye injuries, leading to increased OPD visits to correct visual impairments induced as a consequence.
Competitive Landscape
The market is characterized by high competition, attributed to the presence of a wide range of players. To carve a firm footing, manufacturers leverage multiple differentiation strategies, including strategic partnerships with regional players, new product launches, and expansion of manufacturing capacities, among others.
In February 2021, Carl Zeiss AG introduced its BlueGuard blue light blocking lenses, in response to extensive reliance on technology and media in the "new normal" scenario. The technology has been incorporated into the lens material itself, offering protection up to 40% from the blue light of wavelength range of 400 and 455 nm, typically linked to digital eye strain.
In January 2021, HAAG-STREIT Diagnostics launched its Lenstar Myopia, a solution for the increasing demand for myopia management and patient education. The solution consists of HAAG-STREIT's well-established Lenstar 900 optical biometer and the corresponding EyeSuite software called EyeSuite Myopia. The Lenstar 900 also performs keratometry to make accurate predictions about the onset and progression of myopia.
In July 2020, Topcon Medical Systems acquired Henson Perimeter Business, including the Henson 9000 and 7000 from Elektron Eye Technology (EET) of Cambridge, U.K. With Topcon's growing emphasis on screening and early disease detection, the Henson product range will help the company enlarge its optometry equipment solutions business.
Report Scope
Attribute

Details

Forecast Period

2021-2031

Historical Data Available for

2016-2020

Market Analysis

US$ Mn for Value & Units for Volume

Key Regions Covered

North America
Latin America
Europe
East Asia
South Asia
Oceania
MEA

Key Countries Covered

US
Canada
Germany
UK
France
Spain
Italy
Russia
Brazil
Mexico
Argentina
India
Indonesia
Thailand
Malaysia
South Korea
China
Australia & New Zealand
Japan
GCC
South Africa

Key Market Segments Covered

Key Companies Profiled

Carl Zeiss Meditec AG
HAAG-STREIT GROUP
Topcon Medical Systems
NIDEK CO., LTD
Heidelberg Engineering Inc.
Novartis AG
Canon Singapore Pte. Ltd
ESSILOR INTERNATIONAL S.A.
HEINE Optotechnik GmbH & Co.
KG
Ziemer Ophthalmic Systems AG
Others

Customization & Pricing

Available upon Request
Key Segments Covered
Product

Cataract Surgery Devices
Glaucoma Surgery Devices
Ophthalmic Diagnostic Equipment
Vitreo Retinal Surgery Devices
Ophthalmic Lasers

End User

Hospital Outpatients
Physician Practice
Specialty Clinics
Ambulatory Care Centers
Research Institutes

Region

North America
Latin America
Europe
South Asia
East Asia
Oceania
Middle East & Africa
- FAQs -
The global market is expected to witness credible gains through 2021, primarily driven by burgeoning research in discovering highly advanced screening procedures to reduce wait times and deliver faster test results.
Suppliers and manufacturers are increasingly targeting emerging economies across Asia Pacific. Maximum growth opportunities are visible across India, as it has some of the highest incidence of eye-related disorders.
Carl Zeiss Meditec AG, HAAG-STREIT GROUP., Topcon Medical Systems, NIDEK CO., LTD, Heidelberg Engineering Inc., Novartis AG, and Canon Singapore Pte. Ltd, ESSILOR INTERNATIONAL S.A