According to a study by Fact.MR, the global market for false eyelashes is expected to experience 5.9% CAGR moderate growth. The market is also estimated to bring in US$ 1,486.8 million by the end of 2022.
False eyelashes are used to increase the length and volume of the eyelashes. False or fake eyelashes are made using small synthetic or human hairs. False eyelashes are usually used by people who have thin or very short eyelashes, in order to improve the look. Although offering a better look, false eyelashes can sometimes cause an allergic reaction or eye infection if not applied or used properly.
With an aim to enhance the look and offer maximum benefit, manufacturers are offering false eyelashes that are easy to apply without using any separate glue to stick it. To create a unique look, false eyelashes of various styles, colors, fibers and size are also being produced. With technological advancements and everything getting smart, false eyelashes manufacturers are moving towards developing smart eyelashes that can work as a switch, that can control the electronic devices such as TV, lights, etc., with just a blink. False eyelashes with LED lights are also becoming a fashion statement. LED eyelashes are available in various colors.
According to a study by Fact.MR, the global market for false eyelashes is expected to experience moderate growth. The market is also estimated to bring in US$ 1,486.8 million by the end of 2022. Enhancing the look by applying false eyelashes has become a trend, especially among the women. False eyelashes are also becoming popular among the people who have lost hair due to the illness. With increasing use, manufacturers are also focusing on producing false eyelashes using synthetic hair as a raw material as it is less expensive.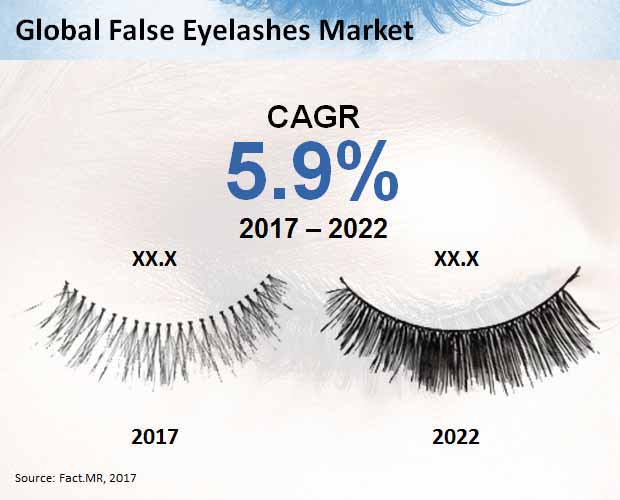 Market Taxonomy
| | | | |
| --- | --- | --- | --- |
| Product Type | Raw Material | Sales Channel | Technology |
| Regular Lashes | Human Hair | Supermarket | Hand-Made |
| Colored Lashes | Synthetic Hair | Hypermarket | Semi-Hand Made |
| Individual Lashes | Fur | Health & Beauty Retailer | Machine-Made |
| Decorative Lashes | Feather | E-commerce | |
| Accent Lashes | Metal | Others | |
| Others | Others | | |
(Additional information, including cross-sectional data and country-wise analysis & forecast is available in the report)
Regular Lashes- Top-Selling Product
Among various types of false eyelashes available in the market, regular lashes are expected to be the most preferred product. Witnessing the healthy growth, regular lashes are estimated to create an incremental opportunity exceeding US$ 100 million between 2017 and 2022.
Synthetic Hair to Emerge as Widely Used Raw Material
Compared to the various raw materials used in the production of false eyelashes, synthetic hairs are likely to emerge as one of the highly-preferred raw material for false eyelashes. Towards the end of 2022, synthetic hair is estimated to surpass US$ 700 million revenue.
Highest Sales through Health & Beauty Retailers
Health & beauty retailers are expected to witness the highest sales of false eyelashes. By the end of 2017, health & beauty retailers are estimated to account for nearly two-fifth of the share in terms of the revenue. Meanwhile, E-commerce is also expected to emerge as the second-largest sales channel for false eyelashes.
Machine-Made False Eyelashes to Account for Maximum Revenue Share
Machine-made false eyelashes are likely to account for over half of the revenue share towards the end of 2017. Machine-made false eyelashes are projected to reach nearly US$ 800 million revenue by the end of 2022. Although hand-made eyelashes are also estimated to account for nearly one-third of revenue share.
Competition Tracking
The report also profiles companies that are expected to remain active in the expansion of global false eyelashes market through 2022, which include Kiss Products, Inc., American Industries, Inc., Revlon, Inc., Estee Lauder Cos., Inc., LOreal SA, Ulta Beauty, Inc., e.l.f. Beauty, Inc., LVMH Moet Hennessy Louis Vuitton SE, and Etude Corporation.
Note: The insights mentioned here are of the respective analysts, and do not reflect the position of Fact.MR
False eyelashes enhances the length of eyelashes and make them look more bold and beautiful. False eyelashes are being worn by customers on a daily basis, hence manufacturers are offering synthetic eyelashes, mink and sable eyelashes, and silk eyelashes. New fake eyelashes by manufacturers are also boosting the demand, for instance, LED eyelashes is an upcoming trend. These are made using LED lights, controlled and powered by a watch battery. Smart eyelashes are also being made which turns basic eye movements into various actions. This report, compiled by Fact.MR, provides in-depth analysis of the global false eyelashes market for the forecast period 2017-2022, and offers key insights about future market direction.
The scope of Fact.MR's report is to analyze the global false eyelashes market for the forecast period 2017-2022 and provide readers an unbiased and accurate analysis. False eyelashes manufacturers, stakeholders, and suppliers in the global consumer goods sector can benefit from the analysis offered in this report. This report offers a comprehensive analysis, which can be of interest to leading trade magazines and journals pertaining to false eyelashes.
Summary
The report commences with a brief information of the global false eyelashes market. This executive summary sets the tone for the rest of the report, providing users the scope of the report. The executive summary includes important facts and statistics on the global false eyelashes market.
Overview
The next section offers an overview of the global false eyelashes market. This comprises an introduction to the market, along with a standard definition of the product – false eyelashes. In this section, market value and year-over-year growth is offered to the readers. Year-over-year growth provides readers with a broader view of growth patterns over the forecast period.
The report's succeeding section focuses on drivers, restraints and key trends from macroeconomic, demand, and supply perspectives. Impact analysis of weighted average model-based growth drivers is contained in the report for better provision of decision-making insights to clients.
In order to offer readers with up-to-date information about the latest advancements in the global false eyelashes market, the report provides updates about market opportunities, which can benefit leading manufacturers of false eyelashes. With continuous evolution of the consumer goods sector, keeping a record of latest developments and trends is fundamental for false eyelashes manufacturers to formulate key business strategies. Detailed insights about raw material sourcing, supply chain, pricing analysis, list of distributors, and cost structure are provided in this section.
The report by Fact.MR on the global false eyelashes market provides in-depth and segment-wise analysis and forecast. The global market for false eyelashes market is segmented on the basis of product type, raw material, sales channel, technology, and region. This segmentation also offers detailed country-wise forecast on all the key parameters of the false eyelashes market.
The report's last section comprises of the global false eyelashes market competitive landscape, to provide readers with the dashboard view of company analysis and market players. This competitive intelligence is based on the providers' categories across value chain, and their presence in the global false eyelashes market.
Research Methodology
Fact.MR is committed to offer unbiased and independent market research solutions to its clients. Each market report of Fact.MR is compiled after months of exhaustive research. We bank on a mix of tried-and-tested and innovative research methodologies to offer the most comprehensive and accurate information. Our main sources of research include,
Primary research
Secondary research
Trade research
Focused interviews
Social media analysis
Fact.MR offers custom research services that help clients to get specific research solutions
We are committed towards customer satisfaction and quality service.
---
Our Clients

False Eyelashes Market Forecast, Trend Analysis & Competition Tracking – Global Market insights 2017 to 2022