Riflescope is a telescopic vision usually attached on the top of the rifle. Riflescope helps to enhance vision, improve accuracy, increase rifle range, helps in longer shots, and also helps in scoring better at the shooting competition. There are various types of riflescope available in the market depending on the type of shooting, for instance, riflescope used in hunting will be different from the riflescope used in sports and armed forces. Riflescope also differs in weight, need for riflescope magnification also depends on the target size.
Today, Manufacturers are developing high-quality of riflescope for various applications. With the focus on technology, manufacturers are launching new riflescopes including various features. For instance, a new rifle has been introduced with an in-built laser range finder to ensure accuracy, it also includes a riflescope with the color graphics display. Similarly, more such innovative technologies are being introduced in the riflescope. Manufacturers are also developing smart shooting solutions with increased riflescope magnification, smart rangefinder, GPS geotagging, etc. smart riflescope which can provide direct vision on the user's smart goggle is also being developed. Automated riflescopes are being focused on to eliminate or minimize the number of adjustments to be made before using.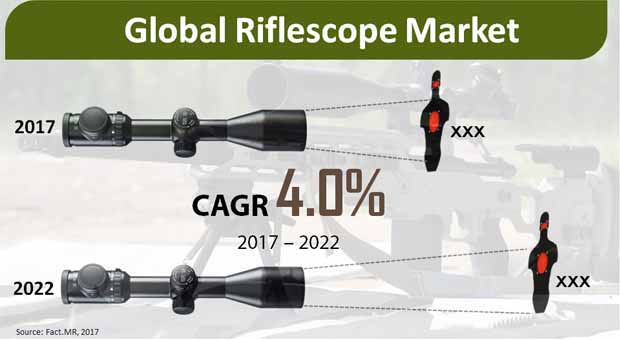 According to the report compiled by Fact.MR, the global market for riflescope is likely to experience moderate growth. The market is estimated to bring in US$ 5,455.7 million revenue towards the end of 2022. Increasing number of people showing interest in shooting sports and rise in new product development with innovative technology by manufacturers are some of the trends driving the demand for a riflescope.
Market Taxonomy
| | | |
| --- | --- | --- |
| Product Type | Technology | Application |
| Telescopic sights | Thermal/ Infrared | Hunting |
| Reflex sights | Electro Optic | Shooting Sport |
| | Laser | Armed Forces |
(Additional information, including cross-sectional data and country-wise analysis & forecast is available in the report)
Telescopic Sights Riflescope to Emerge as a Top-Selling Product
Compared to the reflex sights as a riflescope product, telescopic sights is likely to gain popularity in the global market for riflescope. Accounting for more than half of the share in terms of the revenue by 2017 end, telescopic sights is estimated to create more than US$ 600 million incremental opportunity during 2017-2022. Meanwhile, reflex sights will also gain more than one-fourth of the share in terms of the revenue by 2017 end.
Electro Optic to Gain Maximum Revenue Share
Electro optic riflescope technology is likely to gain more than two-third of the revenue share by 2017 end. Electro optic is also estimated to bring in nearly US$ 3,700 million revenue towards 2022 end. However, thermal/infrared technology is also likely to experience growth during 2017-2022.
Riflescope to Find Major Application in Hunting
Riflescope is likely to be used majorly in the hunting activities. Gaining nearly half of the share in terms of the revenue by 2017 end, hunting is estimated to create an incremental opportunity surpassing US$ 300 million during 2017-2022. Meanwhile, armed forces are also likely to emerge as the second-largest users of the riflescope.
Competition Tracking
The report also offers a detailed profile of all the major companies that are anticipated to stay active in the growth of global riflescope market through 2022, which include Bushnell Inc., Leupold & Stevens, Inc., Burris Company, Inc., Vortex Optics, SAM ELECTRICAL EQUIPMENTS (NANTONG) CO., LTD, BSA Optics, Inc., Schmidt & Bender GmbH & Co. KG, and Hawke Optics.
Note: The insights mentioned here are of the respective analysts, and do not reflect the position of Fact.M
Attached on top of a weapon, sighted and used for aiming, riflescope provides better vision, accuracy, helps in longer shots, etc. Manufacturers are providing various advanced features in the riflescope to make it easy to aim and shoot. New technology is being used to make actual shooting similar to a computer game. Manufacturers are also integrating night-vision and thermal imaging optics technology in riflescope. Meanwhile, the concept of smart rifle is also gaining traction among the shooting community. The report, compiled by Fact.MR, provides in-depth analysis of the global riflescope market for the forecast period 2017-2022, and offers key insights about future market direction.
Scope
The scope of Fact.MR's report is to analyze the global riflescope market for the forecast period 2017-2022 and provide readers an unbiased and accurate analysis. Riflescope manufacturers, stakeholders, and suppliers in the global sporting goods & accessories industry can benefit from the analysis offered in this report. This report offers a comprehensive analysis, which can be of interest to leading trade magazines and sports journals.
Summary
The report commences with a brief information of the global riflescope market. This executive summary sets the tone for the rest of the report, providing users the scope of the report. The executive summary includes important facts and statistics on the global riflescope market.
Overview
The next section offers an overview of the riflescope market. This comprises an introduction to the market, along with a standard definition of the product – riflescope. In this section, market value and year-over-year growth is offered to the readers. Year-over-year growth provides readers with a broader view of growth patterns over the forecast period.
The report's succeeding section focuses on drivers, restraints and key trends from macroeconomic, demand, and supply perspectives. Impact analysis of weighted average model-based growth drivers is contained in the report for better provision of decision-making insights to clients.
In order to offer readers with up-to-date information about the latest advancements in the global riflescope market, the report provides updates about market opportunities, which can benefit leading manufacturers of riflescope. With continuous evolution of the sporting goods & accessories industry, keeping a record of latest developments and trends is fundamental for riflescope manufacturers to formulate key business strategies. Detailed insights about raw material sourcing, supply chain, pricing analysis, list of distributors, and cost structure are provided in this section.
Considering the broad scope of the global riflescope market, the report by Fact.MR provides in-depth and segment-wise analysis and forecast. The global riflescope market is segmented on the basis of product type, technology, application, and region. This segmentation also offers detailed country-wise analysis on all the key parameters.
The report's last section comprises of the global riflescope market competitive landscape, to provide readers with the dashboard view of company analysis and market players. This competitive intelligence is based on the providers' categories across value chain, and their presence in the global riflescope market.
Research Methodology
Fact.MR is committed to offer unbiased and independent market research solutions to its clients. Each market report of Fact.MR is compiled after months of exhaustive research. We bank on a mix of tried-and-tested and innovative research methodologies to offer the most comprehensive and accurate information. Our main sources of research include,
Primary research
Secondary research
Trade research
Focused interviews
Social media analysis
Fact.MR offers custom research services that help clients to get specific research solutions
We are committed towards customer satisfaction and quality service.
---
Our Clients

Riflescope Market Forecast, Trend Analysis & Competition Tracking – Global Market insights 2017 to 2022