MOOC Market to Ride the Wave of Profitability on the Back of New Courses and University Additions
Integration of universities remain a top strategic priority of MOOC providers in 2019, closely followed by addition of new courses and degrees to the portfolio. Riding on enabling factors such as internet and smartphone penetration, a rising learner population and new course additions by MOOC providers, the global MOOC market is projected to grow at an impressive CAGR of over 35% between 2019 and 2029. Though the global MOOC market is valued to be less than US$ 3 billion in 2019, it is well positioned to surpass US$ 60 billion by the end of forecast period, says a report published by Fact.MR.
MOOC Market to Surge with Three-fold Growth in Enrollments by the End of the Forecast Period
MOOC enrollments have also witnessed a high growth trajectory over the past few years, and surpassed 350 million in 2018. Total enrollment to MOOC programs doubled in last four years, and Fact.MR's conservative forecast indicates close to a billion enrollments by 2029. In terms of subjects, technical courses reported maximum enrollment, with mathematics, data sciences and engineering topping the list.
In 2019, a total of 11,450 courses have been identified to be provided by various MOOC providers worldwide, up 22% from last year. Increase in the number of courses added to MOOC platforms has been very impressive, reporting a Y-o-Y growth of over 50% between 2014 and 2018. A Slight conservative growth was reported during the assessment period, yet market actors are confident of no significant impact on overall market performance.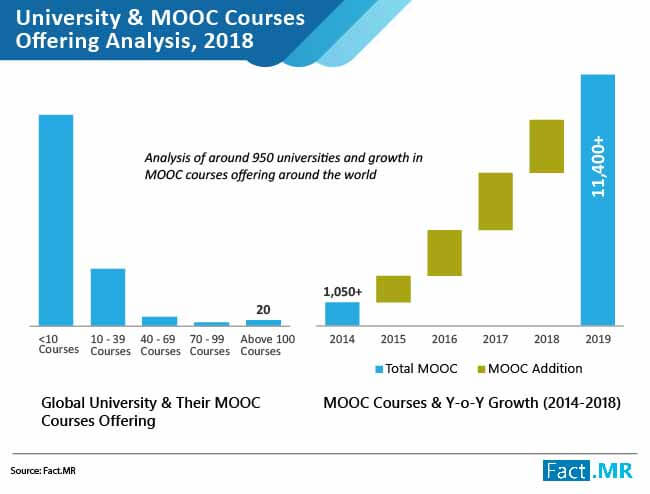 Corporates Lead MOOC Market, Individual Customers Buckling Up
A sharp increase in management courses modeled to captivate corporate customers have also surfaced in the portfolio of key MOOC vendors, thus adding to the share of market revenue contributed by corporate customers. Among all customer types, corporates lead the band wagon, followed by individual customers – which account for one third of market contribution. Institutional customers contribute less than ten percent of the overall revenue generated by the global MOOC Market.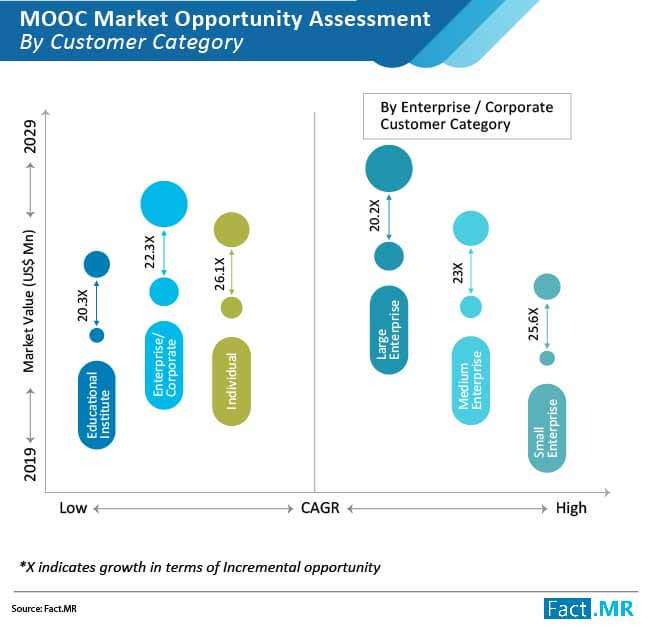 Certificates or Degree Programs, Which is a Low Hanging Fruit?
Another critical aspect of the global MOOC market is the kind of programs being offered by vendors. Certificate and professional programs along with degrees and master programs are two essential categories of programs offered in the existing MOOC business model. MOOC vendors are also exploring and experimenting with programs to attract new enrollments, though a majority of new programs can broadly be incorporated in these two categories. For MOOC vendors, both these programs are essential as there is an equal contribution from both the segments, and eventually the growth rates for both are also in sync, pushing vendors to prioritize both these programs at the same level of strategy.
Course Differentiation and Regional Language Offerings to be Key Strategies in Marketplace
A large majority of the MOOC players have similar business models that are targeting the same share of the market pie. The global market is characterized by cMOOC and xMOOC, and companies are offering solutions within these frameworks. The only advantage these companies have is the threshold of collaboration and enrollment, which too is volatile in nature. Prime differentiating strategy adopted by MOOC providers is course differentiation and language based MOOC offering. Providers are also tying up with regional universities to improve their regional presence.
MOOC Market - Scope of the Report
Fact.MR recently published a market study on the global market for MOOC. The study provides a detailed assessment on the key market dynamics, including drivers, trends, opportunities, restraints, and detailed information about the MOOC market structure. The market study presents exclusive information about how the MOOC market will grow during the forecast period of 2019-2029.
Key indicators of market growth, which include Year-on-Year (Y-o-Y) growth of the market, value chain, supply chain analysis, and Compounded Annual Growth Rate (CAGR) are explained in Fact. MR's study in a comprehensive manner. This information can help readers understand the quantitative growth prospects of the MOOC market in the forecast period.
The study is relevant for stakeholders in the MOOC market, including manufacturers, suppliers, distributors, and investors, and can help them in developing appropriate strategies to grow in the market. Stakeholders in the MOOC market, investors, industry experts, researchers, and journalists, as well as business researchers can leverage the information and data presented in Fact.MR study.
The study also includes statistics as well as facts related to macro as well as microeconomic factors that are impacting developments in the MOOC market. It also offers actionable insights based on future trends in the MOOC market. Furthermore, small businesses and new entrants in the MOOC market too can make use of the information presented in this study, based on which, they can make appropriate business decisions in order to gain momentum in the market.
Key Segments of the MOOC Market
Fact.MR's study on the MOOC market offers information divided into six key segments— customer category, primary objective, program, course, model and region. This report offers comprehensive data and information about important market dynamics and growth parameters associated with these categories.
| | | | | | |
| --- | --- | --- | --- | --- | --- |
| Customer Category | Primary Objective | Program | Course | Model | Region |
| Individual | Reskilling and Online Certification | Certificate & Professional Program | Business & Management | xMOOC | North America |
| Enterprise / Corporate | Language and Casual Learning | Degree & Master Programs | Data Science / Programming / Computer Science | cMOOC | Latin America |
| Small Enterprise | Supplemental Education | Others | Science (Pure) | | Europe |
| Medium Sized Enterprise | Higher Education | | Social Science | | East Asia |
| Large Enterprise | Test Preparation | | Humanities | | South Asia |
| Educational Institutes | | | Educational & Teaching | | Oceania |
| | | | Engineering | | MEA |
| | | | Health & Medicine | | |
| | | | Mathematics | | |
| | | | Art & Design | | |
| | | | Others (Law, Language Etc.) | | |
Key Questions Answered in the Fact.MR's MOOC Market Report
Which regions will continue to remain the most profitable regional markets for MOOC market players?
Which factors will induce a change in the demand for MOOC during the assessment period?
How will changing trends impact the MOOC market?
How can market players capture the low-hanging opportunities in the MOOC market in developed regions?
Which companies are leading the MOOC market?
What are the winning strategies of stakeholders in the MOOC market to upscale their position in this landscape?
MOOC market: Research Methodology
In Fact.MR's study, a unique research methodology is utilized to conduct extensive research on the growth of the MOOC market, and reach conclusions on future growth parameters of the market. This research methodology is a combination of primary and secondary research, which helps analysts ensure the accuracy and reliability of conclusions.
Secondary resources referred to analysts during the preparation of the MOOC market study include statistics from governmental organizations, trade journals, white papers, and internal and external proprietary databases. Analysts have interviewed senior managers, product portfolio managers, CEOs, VPs, marketing/product managers, and market intelligence managers, who have contributed to the development of this report as a primary resource.
Request research methodology of this report.
Fact.MR offers custom research services that help clients to get specific research solutions
We are committed towards customer satisfaction and quality service.
---
Our Clients

MOOC Market Forecast, Trend Analysis & Competition Tracking - Global Market Insights 2019 to 2029