Massive MIMO Market
Massive MIMO Market Analysis By Spectrum (FDD, TDD), By Application (5G, WiMAX, LTE Advance Pro, Wi-Fi), By End Use (Telecom Industry, IT & Services, Military, Residential, Aerospace Industry, Enterprises) & Region – Global Market Insights 2023 to 2033
Analysis of Massive MIMO Market Covering 30+ Countries Including Analysis of US, Canada, UK, Germany, France, Nordics, GCC countries, Japan, Korea and many more
Massive MIMO Market Outlook (2023 to 2033)
As per the detailed industry report by Fact.MR, the global massive MIMO market is valued at US$ 11.78 billion in 2023 and is expected to reach US$ 119.8 billion by 2033, expanding at a noteworthy CAGR of 26.1% from 2023 to 2033.
Massive MIMO, short for Massive Multiple-Input Multiple-Output, is a wireless communication technology that employs a large number of antennas at both the transmitter and receiver to enhance the performance and efficiency of wireless communication systems. MIMO technology uses multiple antennas to broadcast and receive various data streams concurrently, increasing system capacity and spectral efficiency.
In traditional MIMO systems, a few antennas are employed at the transmitter and receiver to increase signal quality and battle fading and interference. However, with massive MIMO, the number of antennas is greatly expanded, frequently reaching tens or even hundreds. This enormous antenna array allows the system to take advantage of spatial diversity and multiplex several user connections at the same time.
With the proliferation of smartphones, tablets, and other mobile devices, the need for high-speed data services has surged.
According to the 'Cisco Annual Internet Report' released in March 2020, the number of mobile devices worldwide is expected to increase from 8.8 billion in 2018 to 13.1 billion by 2024.
Massive MIMO technology significantly increases network capacity, allowing service providers to meet users' growing data demands.
Spectrum is a scarce resource, and network operators must maximize its consumption. Massive MIMO makes efficient use of the available spectrum by spatially multiplexing many user connections. This increased spectral efficiency allows network operators to accommodate more users while delivering better data speeds.
Massive MIMO enhances wireless communication quality by reducing interference and improving signal strength. It provides improved coverage, higher data speeds, and lower latency, resulting in a better user experience. This improved performance is especially crucial for bandwidth-intensive applications like video streaming, augmented reality, virtual reality, and others.
Even though installing a massive MIMO infrastructure necessitates a greater number of antennas, it can be cost-effective in the long run. Massive MIMO minimizes the need for additional cell sites and base stations by leveraging advanced signal processing techniques and spatial multiplexing, cutting network operators' deployment and operational costs.
Massive MIMO has received significant acceptance and support from industry stakeholders such as network equipment makers, telecom operators, and regulatory authorities. Standardization efforts by organizations such as the 3rd Generation Partnership Project (3GPP) have hastened massive MIMO deployment, resulting in higher investments and market growth.
Report Attributes
Details

Massive MIMO Market Size (2023)

US$ 11.78 billion

Projected Market Value (2033)

US$ 119.8 billion

Global Market Growth Rate (2023 to 2033)

26.1% CAGR

United States Market Value (2033)

US$ 42.29 billion

Telecom Industry Segment Growth Rate (2023 to 2033)

26.3% CAGR

Key Companies Profiled

Nokia
Ericsson
Huawei
Verizon Communications
ZTE Corporation
Telstra
Vodafone Group
Don't Need a Global Report?
save 40%! on Country & Region specific reports
Why are Companies in the Market for Massive MIMO Mark Witnessing Rapid Growth?
"Increasing Deployment of 5G Networks across the World"
Rapid proliferation of 5G network technology is a significant catalyst for market growth.
According to GSMA, a global association that represents mobile network operators, the global investment in 5G networks is expected to reach roughly US$ 1 trillion by 2025.
Massive MIMO is a critical technology in the evolution of 5G networks. Massive MIMO is being used to improve network speed, increase capacity, and support advanced features like beamforming and massive connectivity as 5G installations expand globally. Moreover, the ongoing transition to 6G and future wireless technologies is predicted to raise the demand for massive MIMO.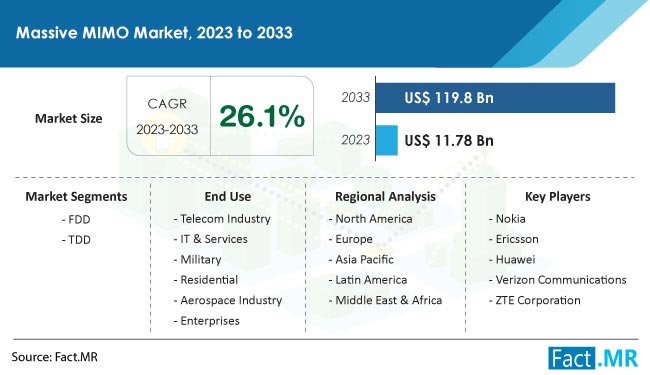 Country-wise Insights
Why is the United States a Key Revenue Contributor in the Worldwide Market?
"Rapid 5G Deployment, Regulatory Support, and Strong R&D Activities"
The United States market is set to garner US$ 42.29 billion by 2033. The United States has been at the forefront of 5G network deployments. Massive MIMO is an important technology in 5G networks, allowing for the delivery of high-speed, low-latency services. As network operators in the United States continue to roll out 5G infrastructure and expand coverage, massive MIMO is being adopted to improve network performance and support the advanced capabilities of 5G.
The telecommunications market in the United States is highly competitive, with many network operators competing for subscribers. Operators must provide greater network performance and quality to remain competitive. Massive MIMO contributes to this goal by enhancing capacity, coverage, and spectral efficiency, attracting and retaining consumers.
The United States government has backed projects to speed the implementation of sophisticated wireless technology such as 5G. Policies and regulations that encourage the effective use of spectrum and investment in network infrastructure have produced an environment conducive to the evolution of massive MIMO and other sophisticated wireless technologies.
Several leading technology businesses, research institutions, and universities in the United States actively contribute to the development and growth of wireless communication technologies. The United States research and development efforts have played a vital role in driving improvements in massive MIMO, resulting in increasing acceptance and market growth.
How are China and India Contributing to Asia Pacific Market Growth?
"Large Population and Mobile Subscriber Base and Government Support and Investments"
China has one of the world's largest populations, which translates into a vast mobile subscriber base. China's growing demand for high-speed data services has pushed the deployment of massive MIMO technology to meet capacity demands and improve network performance. The Chinese market is expected to hit US$ 21.68 billion by 2033.
China has aggressively promoted 5G technology and has emerged as one of the global leaders in 5G deployments, boosting the demand for massive MIMO. Massive MIMO is a key technology for 5G networks, allowing for faster data rates, enhanced spectral efficiency, and more network capacity. Moreover, the Chinese government has actively encouraged the development and implementation of advanced technologies such as 5G and massive MIMO. The government's assistance in the form of policies, subsidies, and investments is aiding the expansion of the Chinese market.
The market for massive MIMO in India is projected to reach US$ 9.82 billion by 2033. India has witnessed rapid growth in mobile subscribers, owing to reasons such as increasing smartphone penetration, reducing data costs, and rising digital connectivity. Massive MIMO technology addresses India's increasing mobile market's requirement for higher network capacity and faster data speeds.
India is actively preparing for the deployment of 5G networks. Massive MIMO is an important component of 5G technology, and Indian telecom providers are testing and demonstrating its potential. The growing emphasis on 5G has resulted in greater usage and investment in massive MIMO systems in India.
The Indian government has launched several digital initiatives, including Digital India, to increase digital connection and broadband penetration. The assistance of the government, as well as favorable legislation and regulatory measures, stimulates the deployment of advanced wireless technologies such as massive MIMO.
Which Countries are Fostering Market Expansion in Europe?
"United Kingdom and Germany Driving Regional Market Growth"
The United Kingdom market is predicted to touch US$ 7.3 billion by 2033. The United Kingdom has seen collaborations and partnerships between network operators, equipment manufacturers, and research institutions to drive 5G and massive MIMO innovations. These collaborations stimulate technological improvements, accelerate installations, and contribute to the expansion of the country's massive MIMO market.
The United Kingdom government has shown its support for 5G and next-generation wireless technologies. The government fosters research, innovation, and testbed deployments, including the implementation and assessment of massive MIMO technology, through initiatives such as the 5G Testbeds and Trials Program.
Germany, known for its strong industrial sector, is emphasizing digitalization and Industry 4.0. Massive MIMO technology improves connectivity, data rates, and latency, making it suited for a wide range of industrial applications, including autonomous vehicles, smart factories, and Internet of Things (IoT) deployments.
Germany is actively expanding its 5G networks, with network providers investing in infrastructure upgrades and coverage expansion. Massive MIMO is critical in achieving the performance improvements promised by 5G, which is pushing its adoption and expansion in Germany. The German market is anticipated to achieve US$ 9.46 billion by 2033.
More Insights, Lesser Cost (-50% off)
Insights on import/export production,
pricing analysis, and more – Only @ Fact.MR
Category-wise Insights
What Makes the Telecom Industry the Leading End User of Massive MIMO?
"Increasing Mobile Data Traffic and 5G Network Deployments"
The telecom industry is the main end user of massive MIMO due to its ability to address the industry's key challenges. The demand for massive MIMO from the telecom industry is expected to soar at a CAGR of 26.3% over the next ten years.
The telecom industry is dealing with a surge in mobile data traffic as a result of the increased use of smartphones and data-intensive applications. Massive MIMO enables telecom operators to meet rising demand by increasing network capacity, spectral efficiency, and data speeds.
Massive MIMO is a critical technology for 5G networks, which the telecom sector is aggressively deploying. It provides the required performance enhancements, such as faster data rates, reduced latency, and massive device connectivity, allowing telecom operators to fully comprehend the potential of 5G networks.
Massive MIMO is not restricted to 5G but is projected to play an important role in future wireless communication technologies such as 6G and beyond. The demand for massive MIMO is expected to increase as the telecom sector evolves and embraces these new technologies.
Competitive Landscape
The global massive MIMO market is very competitive due to the large number of companies. Market players are employing tactics such as product innovation, mergers, and acquisitions to diversify their product offerings, increase their geographic reach, and maintain their market competitiveness.
Nokia introduced the Habrok Radio, a novel AirScale massive MIMO 5G radio, in February 2023. It will cover all massive MIMO deployment scenarios and use cases. These new radios are 30% more energy efficient, supporting customers in fulfilling their sustainability goals.
Know thy Competitors
Competitive landscape highlights only certain players
Complete list available upon request
Key Segments of Massive MIMO Industry Research
By Spectrum :

By Application :

5G
WiMAX
LTE Advance Pro
Wi-Fi

By End Use :

Telecom Industry
IT & Services
Military
Residential
Aerospace Industry
Enterprises

By Region :

North America
Latin America
Europe
Asia Pacific & China
Middle East & Africa
- FAQs -
The global massive MIMO market stands at US$ 11.78 billion in 2023.
Worldwide demand for massive MIMO is poised to surge at a CAGR of 26.1% during the forecast period.
The market for massive MIMO is set to achieve US$ 119.8 billion by 2033.
The United States market is predicted to hit US$ 42.29 billion by 2033.
Demand for massive MIMO from the telecom industry is predicted to rise at a CAGR of 26.3% from 2023 to 2033.