Vibration Motors are compact coreless DC motors utilized to inform users about any notifications associated with a component or an equipment by sending signals of vibrating, no sound. Main feature of vibration motors are their magnet coreless DC motors, rendering permanent magnetic properties to these motors. Various types of vibration motors are available in the market, which include encapsulated, linear resonant actuators, PCB mounted, brushless coin, brushed coin, and eccentric rotating mass.
Nature of the global market for vibration motors is highly concentrated and competitive, owing to presence of several regional and global vendors. The primary objective of players in the vibration motors market is to enhance their technological expertise, which in turn will enable them in broadening their product portfolio, and retain their competitiveness in the market. Active participants in the global vibration motors market are also concentrating on new product innovations and product line extensions, in a bid to gain a competitive edge.
According to a new report by Fact.MR, the global market for vibration motors will exhibit an impressive expansion at a double-digit CAGR during the forecast period, 2017 to 2026. Revenues from global sales of vibration motors are expected to reach nearly US$ 10,000 Mn by 2026-end.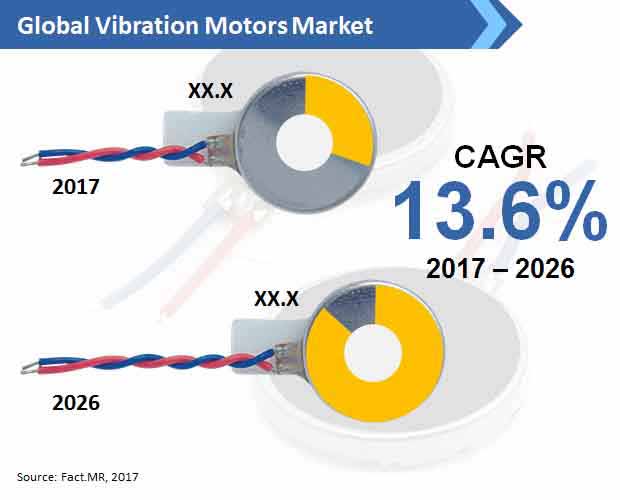 Market Taxonomy
| | | | | |
| --- | --- | --- | --- | --- |
| Region | Product Type | Application | Motor Type | Voltage Rating |
| North America | Eccentric Rotating Mass | Consumer Electronics | AC Motor | Less than 1.5 V |
| Latin America | Brushed Coin | | DC Motor | 1.5 V – 2 V |
| Europe | Brushless Coin | Medical Applications | | Above 2 V |
| Japan | PCB Mounted | Others | | |
| Asia-Pacific excluding Japan (APEJ) | Linear Resonant Actuators | | | |
| Middle East & Africa (MEA) | Encapsulated | | | |
(Additional information, including cross-sectional data and country-wise analysis & forecast is available in the report)
Brushed Coin Motors to Remain the Most Lucrative Among Products in the Market
Brushed coin motors are expected to remain the most lucrative among products in the market, on the back of their versatility in applications, as they are compact and comprise no moving parts. In addition, sales of brushed coin motors and brushless coin motors are projected to register a parallel expansion, although the latter is estimated to account for relatively lower revenues throughout the forecast period.
In terms of revenues, Asia-Pacific excluding Japan (APEJ) is anticipated to remain the largest market for vibration motors, followed by Europe and Japan. However, the market in Middle East & Africa is projected to register the highest CAGR through 2026. North America will also remain a lucrative region for growth of the vibration motors market, although projected to register a relatively lower CAGR through 2026.
Consumer Electronics to Remain Dominant among Applications of Vibration Motors
Although consumer electronics is expected to remain dominant among applications of vibration motors, sales will witness the fastest expansion for application in industrial handheld tools or equipment through 2026. Medical applications of vibration motors will account for the smallest revenue share of the market over the forecast period.
Based on motor type, sales of DC motors are projected to account for the largest revenues share of the market in 2017. Demand for DC motors will further witness an upsurge by 2026-end. Sales of AC motors are estimated to reflect a high double-digit CAGR through 2026.
Above 2 V voltage rating of vibration motors will remain sought-after in the market, with sales estimated to reach approximately US$ 4,500 Mn in revenues by 2026-end. Between less than 1.5 V and 1.5 V – 2 V voltage ratings of vibration motors, the former will exhibit a comparatively faster expansion in sales, whereas the latter will account for a larger revenue share of the market during 2017 to 2026.
Competition Tracking
Fact.MR's report has identified key participants contributing to expansion of the global vibration motors market, which include Nidec Corporation, Fimec Motor, Denso, Yaskawa, Mabuchi, Shanbo Motor, Mitsuba, Asmo, LG Innotek, and Sinano.
Note: The insights mentioned here are of the respective analysts, and do not reflect the position of Fact.MR
The global vibration motors market is highly competitive in nature, with the presence of numerous regional and global vendors. These vendors are shifting their focus toward product line extensions, in order to increase their market share. This Fact.MR report discusses key prospects for growth of global vibration motors market during the forecast period, 2017-2026, offering pragmatic insights to lead market players towards devising & implementing informed strategies.
Scope
The scope of the report is to analyze the global vibration motors market for the period 2017-2026 and give readers an accurate, unbiased analysis. Vibration motors manufacturers, suppliers, and stakeholders in the overall automotive market can benefit from the insights offered in this report. The comprehensive analysis offered in the report can also be of interest to leading automotive journals and trade magazines.
Summary
The report begins with a concise summary of the global vibration motors market. This executive summary sets the tone for the rest of the report, giving users the scope of the report. The executive summary includes important facts and statistics on the global vibration motors market.
Overview
The next section is an overview of the global vibration motors market. This includes the introduction to the market and a standard definition of the product – vibration motors. In this section, year-over-year growth and market value is offered to readers. Year-over-year growth gives readers a broader picture on growth patterns during the forecast period.
The next section of the report offers a thorough description of the latest macroeconomic factors that have a bearing on the global vibration motors market. Considering the interconnectedness of the vibration motors market to global automotive market and, in general, the global economy, readers will get valuable insights on how international developments impact this market.
In a bid to keep readers up-to-date on the latest developments in the global vibration motors market, the report offers readers a roundup of the latest trends impacting the market. As the automotive sector is ever-evolving, staying abreast with latest trends and developments is paramount to formulating key business strategies. Information on supply chain, cost structure, pricing analysis, raw material sourcing, and list of distributors are offered to readers in this section.
Considering the broad scope of global vibration motors market, the report includes a segment-wise analysis and forecast. The global vibration motors market is segmented into – product type, motor type, voltage rating, application, and region. Through this section, the report offers an in-depth country-wise forecast on every parameter associated with vibration motors.
The concluding section of the report profiles companies operating in the global vibration motors market. Companies of all sizes, including market leaders, established players, and market entrants are profiled in this section. The competitive intelligence offers information on company overview and other important parameters, such as product offerings and key financials.
Research Methodology
Fact.MR is committed to offer unbiased and independent market research solutions to its clients. Each market report of Fact.MR is compiled after months of exhaustive research. We bank on a mix of tried-and-tested and innovative research methodologies to offer the most comprehensive and accurate information. Our main sources of research include,
Primary research
Secondary research
Trade research
Focused interviews
Social media analysis
Fact.MR offers custom research services that help clients to get specific research solutions
We are committed towards customer satisfaction and quality service.
---
Our Clients

Vibration Motors Market Forecast, Trend Analysis & Competition Tracking - Global Market insights 2017 to 2026