Wearable Exoskeletons Market
Wearable Exoskeleton Market, Forecast, Trend, Analysis & Competition Tracking - Global Market Insights 2021 to 2031
FACT3436MR
Apr-2021

List of Tables : 30

List of Figures : 83

170 Pages
About the Report
The global wearable exoskeleton market is poised to generate highly lucrative gains and surge ahead at an astonishing CAGR of over 30% from 2021 to 2031, with growth largely reliant on future technological innovations and product developments. As muscle fatigue and disorder prevalence rates rise, key industries are demanding more physical comfort-enhancing solutions, prompting manufacturers to introduce new product lines.
Significant breakthroughs are expected with regards to soft wearable exoskeletons. Traditional hard wearable exoskeletons, although quite effective, have limited applicability as comfort levels are not that high. Key players are incorporating smart carbon fibers to manufacture these exoskeletons, a breakthrough that is likely to have significant ramifications on the adoption of wearable exoskeletons and eventually market growth.
In its new study, consulting firm Fact.MR offers insights about key factors driving demand for wearable exoskeletons. The report tracks global sales of wearable exoskeletons in 20+ high-growth markets, along with analyzing the impact COVID-19 has had on the ICT domain in general, and wearable exoskeleton demand in particular.
Will Future Projections Outpace Historical Sales?
According to Fact.MR, the global wearable exoskeleton market was valued at over US$ 100 million last year, and is expected to exhibit incremental growth over the coming years. Realizing the application potential, key manufacturers have been introducing a slew of innovative product lines, offering highly customized solutions based on industry-specific requirements.
In spite of a COVID-19-induced deceleration, the market performed significantly well throughout 2020, attributed to extensive uptake across the healthcare industry. With key stakeholders, including doctors, nurses, administrative staff, and clinicians experiencing elongated work hours, exoskeleton deployment helped reduce physical stress levels to a very large extent.
As the intensity of the pandemic gradually lifted in 2021, growth prospects experienced an uptick, as key end-use industries such as military & defense, industrial manufacturing, and others experience a resurgence. Moreover, planned technological innovations and greater integration of AI and machine learning are further expected to enhance growth prospects, with the market projected to expand at a stellar CAGR of over 30% through 2031.
Know More Details About the Report
How are Rising Physical Disabilities Pivoting Market Growth?
According to the World Health Organization and World Bank's joint study, over a billion people (15% of the global population) suffer from some or the other form of disability. Moreover, the Global Burden of Disease Study estimates childhood disability prevalence to be 95 million (5.1%) children, with 13 million (0.7%) having acute disability.
Furthermore, growing incidence of strokes, injury induced trauma, as well as rising number of road hazards are leading to an increase in the number of physically disabled patients, globally. Amongst all of those, spinal cord injuries are the maximum, with almost 250,000 to 500,000 people suffering from it. Majority of them are due to preventable causes such as falls, violence, or road accidents.
Attributed to these trends, demand for wearable exoskeletons is expected to remain sustained throughout the forecast period. Since almost nine out of ten injuries arise from traumatic wounds, prominent manufacturers are designing appropriate wearable exoskeletons that help reduce stress on the spinal cord. In 2018, researchers at the Universidad Miguel Hernandez in Elche, Spain, developed a robotic smart exoskeleton, which, when combined with a robotic wheelchair, helps disabled people to eat, drink, or wash.
How is Preference for Lightweight Exoskeletons Stimulating Demand?
Since 2019, a multitude of manufacturers are striving to introduce lightweight wearable exoskeletons, including personalized wearable exoskeletons, a trend that is expected to majorly determine the future growth trajectory of the market. A prototype lower-body device was developed via a collaboration between The City University of New York, City College (CCNY) and The University of Texas Health Science Center at Houston (UTHealth).
The exoskeleton is intended for use by seniors who possess some degree of mobility, but find it difficult to walk for extended periods. According to a Journal of Public Health report, over 30% of people aged 65 or older find it challenging to walk the equivalent of three city blocks. Hence, this exoskeleton provides assistance in this regard by utilizing integrated motors providing an electric boost to the wearer's gait, and is quite light in weight.
In December 2020, Italy-based Comau announced the launch of MATE-XT, a new version of its Muscular Aiding Tech Exoskeleton which features a slim, lightweight carbon fiber structure and an intuitive regulation system, permitting easy adjustment of the system's water-, dust-, ultraviolet light-, and temperature-resistant design. The exoskeleton is deployed in agriculture, carpentry, construction, assembly, logistics, and other industries.
Avail customized purchase options for your needs
Why are Start-up Manufacturers Gaining Momentum?
As wearable exoskeletons are a relatively new technological advancement, the landscape is interspersed with the emergence of countless start-up companies, besides existing established players. With key industries looking to integrate flexible solutions, demand for wearable exoskeletons is only poised to incline. Hence, governments are making the investment climate more favorable.
SuitX is amongst the most prominent wearable exoskeleton manufacturers, offering an exoskeleton that attaches to the user's legs. This exoskeleton is lightweight, adjustable, and does not limit the tools carried on a worker's belt. The solution is highly effective in preventing knee injuries and reducing load on the quadriceps.
Additionally, U.S.-based Levitate Technologies designs and develops upper extremity musculoskeletal health wearables for professionals and skilled trade workers. Titled AIRFRAME, this wearable exoskeleton helps workers perform repetitive tasks with their hands extended above their heads for prolonged periods. The mechanical support offered reduces muscle stress and fatigue.
Are Nascent Efficacy Stages Limiting Short-term Expansion Prospects?
While wearable exoskeleton development has been hailed as a largely welcome development, accessibility to them is still limited, owing to their prohibitive cost and high level of training required to operate them. More importantly, their effectiveness across key industries is still being ascertained through a series of clinical trials.
The technology is still premature in certain respects, although market players are putting their best foot forward to accelerate efficacy trials. Clinical trials are currently underway to address some of these limitations and maximize benefits across rehabilitation settings. Eventually, in the long run, wearable exoskeletons are expected to be deployed on a full-scale basis, heightening growth prospects.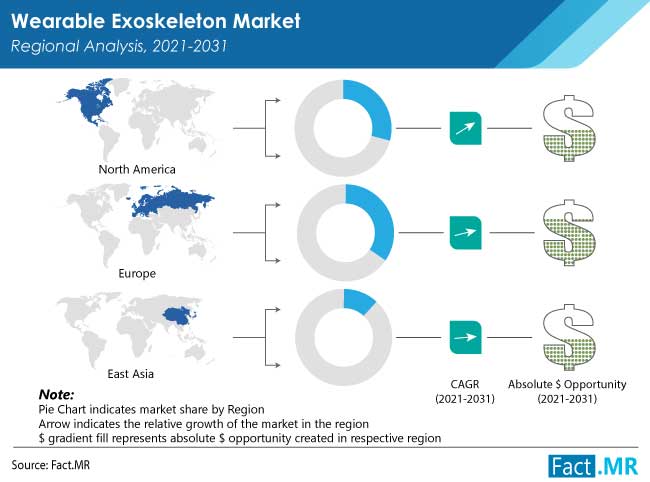 An Adaptive Approach to Modern-day Research Needs
Country-wise Analysis
How is the U.S. Military Leveraging Wearable Exoskeletons?
The U.S. is expected to yield credible gains to the global smart exoskeleton market, especially across the military sector. The U.S. army has been exploring commercial exoskeleton technologies for potential military applications, mostly to reduce strain injuries and build soldiers' endurance.
Wearable exoskeletons have proven to be capable of enhancing physical capabilities of a warfighter, permitting them to run faster and lift much heavier objects without straining any of their joints. The U.S. Army Natick Soldier Research and Engineering Center (NSRDEC/Soldier Center) initiated a 48-month long Other Transaction Agreement (OTA) worth US$ 6.9 million for developing exoskeleton systems in 2019.
Additionally, Lockheed Martin Corporation developed the OnyxTM Missiles and Fire Controls lower-body exoskeleton suit in 2018. The project is also a beneficiary of the Soldier Center's grant initiative. The system combines mechanical knee actuators with multiple sensors and artificial intelligence software to improve strength and endurance. Also, Dephy's Exo-boot uses the FlexSEA technology to simplify the electronics behind wearable robotics designs.
Why is the U.K. Touted to Be a Highly Opportunistic Market for Wearable Exoskeletons?
Exoskeletons have been acquiring rapid popularity across the U.K., falling under the Great British Technology area of Robotics and Autonomous Systems. Since many years, exoskeleton deployment has been the focus of significant public spending. Innovate UK, the country's innovation agency, has funded £ 22 million, while other research organizations have contributed over £ 200 million pounds for this purpose.
One such company funded through government initiatives includes Elumotion, which has developed a fully functional robotic hand commercially available, owned and marketed as the Schunk Servo-electric-5-Finger Gripping Hand. The Elu2-Hand was a human-scale anthropomorphic robot hand able to approximate real hand movements at humanlike speeds, making it ideal for interacting with people.
Another prominent player, Hobbs Rehabilitation, offers the ReWalk 6.0 Exoskeleton Personal System, designed for all day use at home and in the community. The ReWalk is intended for use by individuals with lower limb disabilities whose hands and shoulders cannot support crutches. The company recently opened a new intensive neurotherapy center in Bristol in February 2021, deploying the LEXO® robotic gait trainer.
How Elevated are Growth Prospects for Wearable Exoskeletons in Germany?
The German wearable exoskeleton industry is riding the high wave, with demand surging for healthcare and industrial wearable exoskeletons. As part of the Horizon Europe initiative, Germany aims to intensify R&D activities to bring about a revolution in the regional healthcare market. A major expected breakthrough is increased incorporation of robotics and automation.
While exoskeleton manufacturers have been collaborating with healthcare providers since long, significant headway has been achieved in the very recent past. In March 2020, for instance, ReWalk Robotics, a developer of lower limb disability exoskeleton, reported significant progress with a group of German Statutory Health Insurers (SHI) to allow any eligible beneficiary with a spinal cord injury to seek procurement for ReWalk 6.0 for home and community use.
Similarly, German Bionic's Cray-X Robot-as-a-Service (RaaS) was unveiled in February 2020, designed to support and enhance the wearer's movements, and reduce the risk of accidents and excessive strain for employees in sectors that involve repetitive yet unpredictable heavy lifting. The company collaborated with Brussels-based BICS to leverage its SIM for Things cellular connectivity solution for the same.
How are Start-ups Heightening Growth Prospects for France?
Highly favorable investment climate is prompting an increasing number of start-ups across France, most notably producing advanced wearable exoskeletons with sensor technology. More recently, in April 2021, HMT, a Pyrenees based start-up established in 2017, announced that it intends to develop exoskeletons to help support people ease neck, shoulder, and elbow pain.
HMT intends to produce up to 300 exoskeletons per year, and is continuing to use them to support workers in physical professions. HMT contributes to the standardization of exoskeletons at work since it is part of the X35A Ergonomics commission, a commission created with the objective of standardizing and supervising use of physical assistance devices at work.
Similarly, Wandercraft, a Paris-based start-up established in 2012, developed the first and only exoskeleton allowing users to walk hands-free. These contraptions utilize state-of-the-art algorithms from biped dynamic robotics to achieve stability for both, the user and the exoskeleton.
Category-wise Insights
Why are Soft Smart Exoskeletons Highly Preferred?
By product, while rigid smart exoskeletons remain significantly popular. Demand for soft smart exoskeletons is expected to register high growth, owing to rising need for incorporating flexible wearable technologies with a view to reduce discomfort. Soft exosuits, as they are also widely known, offer more conformal, unobtrusive, and compliant means to interface the human body.
The Harvard Biodesign Lab is largely credited with introducing soft wearable exoskeletons, which incorporate structured functional textiles that are inspired by an understanding of human biomechanics and anatomy. These wearable garments provide means to transmit assistive torques to a wearer's joints without the use of rigid external structures. Moreover, they are lightweight, offering efficient actuation.
How are Lower Extremity Exoskeletons Attracting Attention?
In terms of extremity, lower extremity wearable exoskeletons are garnering significant traction, characterized by rapid technological advancements in powered exoskeletons for the lower limb. With a rising proportion of lower limb neuromuscular impairments, clinicians are demanding more robust mobility solutions, thus fueling demand.
Several manufacturers operate in this landscape. For instance, ExoAtlet is a highly prominent lower extremity wearable exoskeleton provider, offering the ExAtlant Torso supporting workers over long shifts, easing their burden and reducing the probability of occupational injuries by 60%. Likewise, B-Temia's KeeogoTM exoskeleton is clinically proven to enhance patient mobility, offering motorized support.
Will Rehabilitation Wearable Exoskeletons Pivot Majority Demand?
Growing incidence of muscle strain and subsequent onset of joint stiffness is laying bare the ground for enhanced sales of rehabilitation wearable exoskeletons through 2021 and beyond. Several countries, including the U.S., are experiencing climbing paraplegia incidence, leading to a spike in demand for enhanced mobility solutions.
A highly effective alternative to conventional wheelchairs, rehabilitation exoskeletons are going the distance in terms of enhancing physical mobility. Players such as Ekso Bionics, Rex Bionics, and ReWalk Bionics are swiftly penetrating the global wearable exoskeleton space, offering a diverse range of rehabilitation mobility solutions.
Is the Healthcare Industry Projected to Emerge as the Primary End User?
The global healthcare industry is touted to generate bulk of all wearable exoskeleton applications, majorly underpinned by increasing demand for highly flexible and mobile solutions for a number of musculoskeletal diseases and disorders. Increasing prevalence of disorders such as arthritis, spondylitis, and osteoporosis is likely to be the primary growth factor for smart exoskeleton control systems.
Moreover, growing prevalence of gait disorders resulting from several medical conditions, including lesions in the central nervous system, cerebrovascular accidents, and cerebral palsy, as well as due to improper sitting postures due to sedentary lifestyles, is prompting patients to seek medical intervention, thus broadening the scope for medical wearable exoskeletons.
Have a report related query? Speak to us directly
Competitive Landscape
Enhancing product functionality acts as a key expansion catalyst for the rising demand for smart exoskeletons. Consequently, the aforementioned market players are increasing R&D funding to introduce new products. Moreover, acquisitions & mergers, collaborations, and regulatory approvals are also relied upon.
In March 2021, ReWalk Robotics signed a contract with BKK Mobil Oil Insurance to provide its ReWalk Personal Exoskeleton devices to eligible beneficiaries suffering from spinal cord injuries. Under this agreement, individuals can receive a ReWalk Personal 6.0 exoskeleton enabling them to remain mobile in their homes.
Also, Wearable Robotics S.R.L. offers the ALEx robotic exoskeleton for neuromotor rehabilitation of upper limb function. The solution is based on an innovative design, making use of a new tendon actuated transmission to offer proper wearability, less weight and enhanced transparency while in usage.
In 2021, Shanghai-based Fourier Intelligence inked a MoU with the National Healthcare Group (NHG), Singapore, to co-develop novel rehabilitation technology and robotics innovations. This partnership seeks to leverage clinical expertise and translational research capabilities to facilitate accessible and efficient rehabilitation technology to disburse better care to patients.
Report Scope
Attribute

Details

Forecast Period

2021-2031

Historical Data Available for

2016-2020

Market Analysis

US$ Mn for Value & '000 Units for Volume

Key Regions Covered

North America
Latin America
Europe
Asia Pacific
Middle East & Africa

Key Countries Covered

US
Canada
Brazil
Mexico
Germany
UK
France
Italy
Spain
Japan
China
India
South Korea
Australia & New Zealand
GCC
South Africa

Key Segments Covered

Product
Extremity
Application
End-User

Key Companies Profiled

EksoBionics
ReWalkRobotics
Bionik, Inc.
Cyberdyne Inc.
Rex Bionics Ltd.
HocomaAG
Wearable Robotics srl
Fourier Intelligence
AXOSUITS SRL
FREE Bionics Taiwan Inc.
Innophys Co., Ltd.
Medexo Robotics
Noonee
Technaid
Walkbot (P&S Mechanics Co. Ltd)
Lockheed Martin Corporation
RB3D
Key Market Segments Covered
Product

Rigid Smart Exoskeletons
Soft Smart Exoskeletons

Extremity

Lower Extremity Exoskeletons
Upper Extremity Exoskeletons
Full-body Extremity Exoskeletons

Application

Rehabilitation
Pick & Carry
Others

End User

Wearable Exoskeletons for Industrial Use
Wearable Exoskeletons for Healthcare
Military Wearable Exoskeletons
Others

Region

North America (US and Canada)
Latin America (Brazil, Mexico & Rest of LATAM)
Europe (UK, Germany, Spain, Italy, France & Rest of Europe)
Asia-Pacific (China, India, Japan, South Korea, Australia & New Zealand and Rest of APAC)
Middle East & Africa (GCC, South Africa & Rest of MEA)
Wearable Exoskeleton Market- Scope of Report
A recent study by Fact.MR on the wearable exoskeleton market offers a 10-year forecast for 2021 to 2031. The study analyzes crucial trends that are currently determining the growth of the market. This report explicates on vital dynamics, such as the drivers, restraints, and opportunities for key market players along with key stakeholders as well as emerging players associated with offering wearable exoskeletons.
The study also provides the dynamics that are responsible for influencing the future status of the market over the forecast period. A detailed assessment of value chain analysis, business execution, and supply chain analysis across regional markets has been covered in the report.
A list of prominent companies operating in the wearable exoskeleton market, along with their product portfolios, enhances the reliability of this comprehensive research study.
Report Summary
The study offers comprehensive analysis on diverse features, including production capacities, demand, product developments, revenue generation, and sales of wearable exoskeletons across the globe.
A comprehensive estimate on the market has been provided through an optimistic as well as a conservative scenario, taking into account the sales of wearable exoskeletons during the forecast period. Price point comparison by region with global average price is also considered in the study.
Key Questions Answered in Report
Which are the most lucrative markets for wearable exoskeletons?
Which factors will impact the growth of the wearable exoskeleton market?
How will changing trends impact the strategies of market players?
How can market players capture the low-hanging opportunities across regions?
Which companies are leading the wearable exoskeleton industry?
What are the winning strategies of stakeholders in the market?
Analysis on Market Size Evaluation
The market has been analyzed for each market segment in terms of volume ('000 Units) and value (US$ Mn).
Market estimates at global and regional levels for wearable exoskeletons are available in terms of "US$ Mn" for value and in "'000 Units" for volume. A Y-o-Y growth contrast on prominent market segments, along with market attractiveness evaluation, has been incorporated in the report. Furthermore, absolute dollar opportunity analysis of all the segments adds prominence to the report. Absolute dollar opportunity plays a crucial role in assessing the level of opportunity that a manufacturer/distributor can look to achieve, along with identifying potential resources, considering the sales and distribution perspective in the global wearable exoskeleton market.
Inspected Assessment on Regional Segments
Key sections have been elaborated in the report, which have helped deliver projections on regional markets. These chapters include regional macros (political, economic, and business environment outlook), which are expected to have a momentous influence on the growth of the wearable exoskeleton market during the forecast period.
Country-specific valuation on demand for wearable exoskeletons has been offered for each regional market, along with market scope estimates and forecasts, price index, and impact analysis of the dynamics of prominence in regions and countries. For all regional markets, Y-o-Y growth estimates have also been incorporated in the report.
Detailed breakup in terms of value and volume for emerging countries has also been included in the report.
In-depth Analysis on Competitive Landscape
The report sheds light on leading manufacturers of wearable exoskeletons, along with their detailed profiles. Essential and up-to-date data related to market performers who are principally engaged in the production of wearable exoskeletons has been brought with the help of a detailed dashboard view. Market share analysis and comparison of prominent players provided in the report permits report readers to take preemptive steps in advancing their businesses.
Company profiles have been included in the report, which include essentials such as product portfolios and key strategies, along with all-inclusive SWOT analysis on each player. Company presence is mapped and presented through a matrix for all the prominent players, thus providing readers with actionable insights, which helps in thoughtfully presenting the market status, and predicting the competition level in the wearable exoskeleton market.
Research Methodology
In Fact.MR's study, a unique research methodology is utilized to conduct extensive research on the growth of the wearable exoskeleton market, and reach conclusions on the future growth parameters of the market. This research methodology is a combination of primary and secondary research, which helps analysts ensure the accuracy and reliability of the drawn conclusions.
Secondary resources referred to by analysts during the preparation of the market study include statistics from governmental organizations, trade journals, white papers, and internal and external proprietary databases. Analysts have interviewed senior managers, product portfolio managers, CEOs, VPs, marketing/product managers, and market intelligence managers, all of whom have contributed to the development of the research report as a primary resource.
Need an Exclusive Report for your Unique Requirement?
Talk Show:
The Rise of Intelligent Packaging
Personalized, Connected and Sustainable
November 18, 2021
11:00-11:45 AM PST (USA & Canada)
This is a LIVE session


- Our Clients -

- Evaluate How Fact.MR's Report Can Help. -
Is the market research conducted by Fact.MR?
Yes, the report has been compiled by expert analysts of Fact.MR, through a combination of primary and secondary research. To know more about how the research was conducted, you can speak to a research analyst.
What research methodology is followed by Fact.MR?
Fact.MR follows a methodology that encompasses the demand-side assessment of the market, and triangulates the same through a supply-side analysis. This methodology is based on the use of standard market structure, methods, and definitions.
What are the sources of secondary research?
Fact.MR conducts extensive secondary research through proprietary databases, paid databases, and information available in the public domain. We refer to industry associations, company press releases, annual reports, investor presentations, and research papers. More information about desk research is available upon request.
Who are the respondents for primary research?
Fact.MR speaks to stakeholders across the spectrum, including C-level executives, distributors, product manufacturers, and industry experts. For a full list of primary respondents, please reach out to us.
Is a sample of this report available for evaluation?
Yes, you can request a sample, and it will be sent to you through an email.