Hydrocyclones Market
Hydrocyclones Market By Type (Solid-Liquid Hydrocyclones, Liquid-Liquid Hydrocyclones), By Max. Capacity (Below 100 m3/hr, 100-250 m3/hr), By Inner Diameter (Below 5 inches, 5 -8 inches, 8-12 inches), By Separator Type, By Material- Global Market Insights 2021 to 2031
FACT3503MR
Sep-2021

List of Tables : 144

List of Figures : 415

170 Pages
Hydrocyclones Market Outlook
The hydrocyclone industry analysis shows that global demand enjoyed year-on-year (YoY) growth of 3.3% in 2021, to total 326,600 units. Solid-liquid hydrocyclones displayed growth of a little over 3% to total 150,900 units, while generating a market valuation of nearly US$ 290 Mn in 2021.
Industrial production index (IPI) compares production and capacity in the manufacturing, mining, electricity, and natural gas industries to a base year. Total industrial output fell by 2.2% in February 2021. Manufacturing and mining outputs dropped by 3.1% and 5.4% respectively, while utility output rose by 7.4%. Drop and rise in the industrial production index has directly impacted the manufacturing and installation of hydrocyclones.
New orders, inventory levels, demand, supplier deliveries, and jobs are the five main survey areas that make up the Purchasing Manager Index. Manufacturing PMI increased to 64.7 in March 2021, up from 60.8 in February, and well above the industry expectations of 61.3. Since December 1983, this is the highest reading. Rise in PMI indicates optimal conditions for the business for hydrocyclone manufacturers and suppliers during the future course of time.
The mining industry contributed US$ 109 Bn, or 5% of Canada's total nominal GDP in 2019. Mineral exports made for 19% of Canada's total domestic exports in 2018, with a value of US$ 106 Bn. Canada, being one of the prominent countries having a large installation base of hydrocyclone for mining, the tale of growth is evident while investors can pump capital towards the promising hydrocyclone market in the country.
Interested to Procure The Data
Key Points Covered in Hydrocyclone Industry Survey:
Market Estimates and Forecasts (2016-2031)
Key Drivers and Restraints Shaping Market Growth
Segment-wise, Country-wise, and Region-wise Analysis
Competition Mapping and Benchmarking
Market Share Analysis
Latest Trends of Hydrocyclones in 2021
Hydrocyclones Market Analysis to 2031
Demand for Hydrocyclones for Water Clarification
Hydrocyclones in Water Wastewater
Demand For Hydrocyclones in Mineral Processing
Applications of Hydrocyclone Filters
COVID-19 Impact on Hydrocyclone Demand and How to Navigate
Recommendation on Key Winning Strategies
Revenue Analysis of Hydrocyclones from 2016 to 2020 Compared to Market Outlook for 2021 to 2031
As per the hydrocyclone industry research by Fact.MR, a market research and competitive intelligence provide, historically, from 2016 to 2020, market value declined at around 2.3% CAGR, owing to the impact of the COVID-19 pandemic contributing to loss of revenue at the higher end.
The market for hydrocyclones is expected to rise at a moderate CAGR of around 6.5% over the next 10 years, with hydrocyclones with more robustness achieving larger sales due to lower replacement needs and improved sustainability.
The market in South Asia & Oceania is expect to create an absolute dollar opportunity of US$ 57 Mn over the forecast period of 2021 to 2031.
Fact.MR estimates that hydrocyclone revenue will grow 1.9X from 2021 to 2031, reaching nearly US$ 1,190 Mn in 2031, at a ten-year compound annual growth rate (CAGR) of 6.5%.
As per Fact.MR's insights, global market revenue totaled US$ 600 Mn in 2020.
Global shipments of hydrocyclone are expected to grow at 4.5% by 2031 to over 505 thousand units.
Mining end use has been the backbone for the sales of hydrocyclones, owing to diversified application, and will account for close to 68% of total market share in 2031.
An Adaptive Approach to Modern-day Research Needs
How is the Mining Industry Triggering Sales of Hydrocyclones?
In 2020, the top 40 global mining businesses, which account for a vast majority of the industry's revenue, generated US$ 656 Bn in sales. The mining industry's net profit margin declined from 25% in 2010 to 11% in 2020. The mining market is projected to be driven by government policies that assist it. Governments provide subsidies and encourage foreign direct investment (FDI) in the mining industry.
On an average, each American consumes 3.4 tonnes of coal and over 40,000 pounds of newly mined minerals each year. With coal and uranium generating around half of all U.S. electricity and nearly every manufactured commodity, including some mineral components, mining is a vital industry.
According to The Australian Bureau of Statistics, Australia's mining industry contributed 10.4% of GDP in 2019-20, making it the top economic contributor with a US$ 202 Bn GDP.
The mining holds a market share of close to 65% under the end-use segment of hydrocyclones, marking the industry as a deciding element of growth.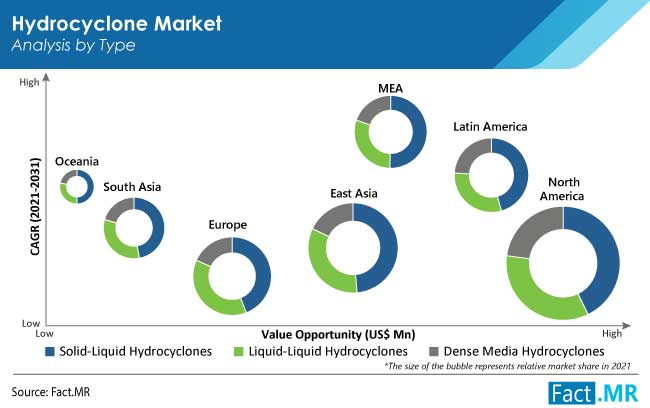 How Does the Construction Industry Get the Most Out from Cost-effective Hydrocyclones?
In 2019, approximately US$ 2 trillion was spent in the United States on new buildings. The value decreased to US$ 1.36 trillion in 2020 as a result of a variety of factors such as the pandemic, societal instability, rioting, and election-related disruptions.
Based on Fact.MR's analysis on hydrocyclones, demand for hydrocyclones in construction end use has demand for dense media hydrocyclones, while the construction industry holds a market share of close to 10%. Dense media hydrocyclones are expected to generate revenue of US$ 236 Mn in 2021, rising at a CAGR of 6% during the assessment period.
Avail customized purchase options for your needs
What are the Restraints Experienced by Top Manufacturers of Hydrocyclones?
Screens, which have a better separation efficiency than hydrocyclones, have upset the interest of the mining industry for many years. In recent years, advances in high-frequency screening technology have increased the use of screens to close wet grinding circuits, improving the separation efficiency of tiny particles in a compact arrangement.
Primary elements affecting the circuit's capacity are lower by-pass and finer separation supplied by high-frequency screens, with data revealing that when hydrocyclones are substituted with high-frequency fine screens, 13% more throughput is accomplished with 15% less grinding energy.
Also, the wear of hydrocyclones has been one of the prominent factors restricting their deployment in mining and construction industries. As auxiliary parts wear out more quickly, the total system's effectiveness and efficiency suffers, resulting in a decrease in hydrocyclone sales.
Country-wise Analysis
How is Russia Taking the Lead with Increasing Hydrocyclone Installation Bases?
Mining is an important industry in Russia, relying on abundant natural resources to propel the country ahead. Russia is extremely appealing to the international mining community, as it sits on top of trillions of dollars worth of ore and extractable minerals.
Russian coal reserves are enormous. According to estimates, the country has 1.1 trillion tonnes of recoverable coal scattered across 22 basins and 129 deposits.
Owing to the roaring mining sector, Russia catches pace in the run for optimistic growth at a CAGR of 6%, holding a market share of around 30% of the total European market for hydrocyclones.
Why Has China Been the Epicentre for Manufacturing and Export of Hydrocyclones?
China is the world's top gold producer, with a majority of the country's historical and current output coming from the Jiaodong Peninsula in the Shandong province, which has numerous gold deposits. Base metals are particularly crucial in the local mining industry, with China accounting for more than 30% of world zinc production in 2019.
From 2013 through 2021, China's mining production increased by 2.2% on average, reaching an all-time high of 17.5% in January 2021, and a record low of -6.5% in January 2020.
China has enormous resources and a large number of domestic hydrocyclone manufacturers, but high-volume mining dominates the country. By 2031, the China hydrocyclone market is expected to have surpassed a valuation of US$ 117.7 Mn, accounting for around 10% of the global market.
Category-wise Insights
Why are Solid-Liquid Hydrocyclones Experiencing High Volume of Sales?
Since a large number of hydrocyclone separator end users rely on solid-liquid hydrocyclones to use them flexibly, demand is higher as compared to liquid-liquid hydrocyclones and dense media hydrocyclones.
Solid-liquid hydrocyclones are expected to grow 1.9X while creating an absolute dollar opportunity of US$ 274.6 Mn over the forecast period.
Why Have Polyurethane Hydrocyclones Become the Talk of the Town?
Polyurethane cyclone is compact, has a simple structure, is inexpensive, and has no moving parts, being simple to adjust and operate, as well as to maintain. Strong separation ability can result in a finer overflow and improved separation efficiency in some instances. It has a separation efficiency of 60% on average, but it can be as high as 80% to 90% in exceptional circumstances.
Corrosion and wearing of steel hydrocyclones has provided a necessary boost to the use of polyurethane hydrocyclones. Advanced polyurethane hydrocyclones are expected to reach a market valuation of US$ 268 Mn while capturing a market share of over 22% in 2031.
How Has COVID-19 Impacted Revenue Generation from Hydrocyclones?
According to several surveys, the number of metals and mining industry projects impacted by the pandemic approached 1,600 by the end of 2020, totalling US$ 212 Bn. In 2020, the demand prognosis took a -20% hit, with market revenue falling from US$ 745 Mn in 2019 to US$ 600 Mn in 2020.
On the plus side, most of these mining projects are being postponed rather than scrapped. Majority of delays vary from three to 18 months, with many projects being delayed to the 2021-2022 timeframe. Following the optimistic scenario, the sales prediction is expected to rebound to a worth of US$ 630 Mn in 2021.
Competitive Landscape
According to the market research analysis, McLanahan, KSB Inc., Exterran, Multotec Pty Ltd., FLSMidth & Co.A/S, Metso Corporation, and The Weir Group PLC are identified as key players manufacturing hydrocyclones.
Aforementioned players rely on a blend of organic and inorganic strategies to increase penetration across lucrative markets. These strategies include new product launches, collaborations and partnerships with prominent players in mining, construction, oil & gas industry, acquisitions of emerging players, and strengthening of regional and global distribution networks.
Some of the key developments are:
In 2020, the WEIR Group launched Cavex® 2, a new hydrocyclone that incorporates geometric features that deliver performance unsurpassed by any cyclone as the company aims to lead the market with the launch of this new product.
In 2020, Salter Cyclones launched innovative hydrocyclone designs to accommodate a wide range of flow rates and allow precise control of cut points and other performance parameters.
Similarly, recent developments related to top hydrocyclone manufacturers and suppliers in the gravity separation device market have been tracked by the team at Fact.MR, which are available in the full report.
Hydrocyclone Market Report Scope
Attribute

Details

Forecast Period

2021-2031

Historical Data Available for

2016-2020

Market Analysis

'000 Units for Volume and US$ Mn for Value

Key Regions Covered

North America
Latin America
Europe
East Asia
South Asia
Oceania
MEA

Key Countries Covered

United States
Canada
Brazil
Mexico
Germany
U.K.
France
Spain
Italy
China
Japan
South Korea
India
Indonesia
Malaysia
Singapore
Australia
New Zealand
Turkey
South Africa
GCC Countries

Key Market Segments Covered

Type, Max
Capacity
Inner Diameter
Overflow Diameter
Separator Type
Material
Application
End Use
Region

Key Companies Profiled

McLanahan
KSB Inc.
Exterran
DEL Corporation
Evoqua Water Technologies LLC
Air and Liquid Systems, Inc.
Weihai Haiwang
Multotec Pty Ltd.
FLSmidth & Co.A/S
TechnipFMC
Metso Corporation
The Weir Group PLC
Salter Cyclones Ltd
GFSA Limited
Sulzer Ltd
Alderley plc
CECO Environmental

Pricing

Available upon Request
Market Segments Covered in Hydrocyclone Industry Research
By Type

Solid-Liquid Hydrocyclones
Liquid-Liquid Hydrocyclones
Dense Media Hydrocyclones

By Max. Capacity

Below 100 m3/hr Hydrocyclones
100-250 m3/hr Hydrocyclones
250-500 m3/hr Hydrocyclones
Above 500 m3/hr Hydrocyclones

By Inner Diameter

Below 5 Inches Hydrocyclones
5 -8 Inches Hydrocyclones
8-12 Inches Hydrocyclones
Above 12 Inches Hydrocyclones

By Overflow Diameter

Below 6 Inches Hydrocyclones
6 -10 Inches Hydrocyclones
10-15 Inches Hydrocyclones
Above 15 Inches Hydrocyclones

By Separator Type

Pressure Type Hydrocyclones
Gravity Type Hydrocyclones

By Material

Stainless Steel Hydrocyclones
Ceramic Hydrocyclones
Polyurethane Hydrocyclones
Polypropylene Hydrocyclones
Others

By Application

Hydrocyclones for Desliming
Hydrocyclones for Degritting
Hydrocyclones for Concentration
Hydrocyclones for Recovery of Solids
Hydrocyclones for Clarification
Hydrocyclones for Open-circuit Classification
Hydrocyclones for Closed-circuit Grinding
Hydrocyclone Centrifugal Separators
Others

By End Use

Hydrocyclones for Construction
Hydrocyclones for Oil & Gas
Hydrocyclones for Energy
Hydrocyclones for Mining
Hydrocyclone Sand Separators
Hydrocyclones for Agriculture
Industrial Hydrocyclones
Pharmaceutical Stainless Steel Hydrocyclone
Others