Hydrocyclones Market Outlook (2022-2032)
The global hydrocyclones market has reached US$ 664 million in 2022 and is expected to expand at a CAGR of 6.7% to climb to a market valuation of US$ 1.27 billion by the end of 2032.
Sales of hydrocyclones accounted for around 5% share of the global industrial separator market at the end of 2021.
Report Attributes

Details

Hydrocyclones Market Size (2021A)

US$ 631.6 Million

Estimated Market Value (2022E)

US$ 664 Million

Forecasted Market Value (2032F)

US$ 1.27 Billion

Global Market Growth Rate (2022-2032)

6.7% CAGR

North America Market Share (2022)

~26.2%

North America Market Value (2022)

US$ 174 Million

Europe Market Share (2022)

~ 14.6%

Europe Market Value (2022)

US$ 97 Million

China Market Share (2022)

~ 9.8%

China Market Value (2022)

US$ 65 Million

Top 3 Countries' Market Share

~ 33.1%

Key Companies Profiled

McLanahan
KSB Inc.
Exterran
DEL Corporation
Evoqua Water Technologies LLC
Air and Liquid Systems, Inc.
Weihai Haiwang
Multotec Pty Ltd.
FLSmidth & Co.A/S
TechnipFMC
Metso Corporation
The Weir Group Ltd
GFSA Limited
Sulzer Ltd
Alderley plc
CECO Enviromental
Know thy Competitors
Competitive landscape highlights only certain players
Complete list available upon request
Sales Analysis of Hydrocyclones (2017-2021) Vs. Market Projections (2022-2032)
The separation systems that are used in several industries require the utilization of adequate equipment for every end-use purpose. All types of chemicals or materials that are supposed to be separated cannot be done so properly using old conventional techniques. Thus, depending on the different states, sizes, densities, and volumes of the particles or materials, separating devices are used.
A hydrocyclone is one such pivotal device that is used for the efficient separation of solids and liquids. These separators were first used in a simple and compact form. But now, new technologies have been introduced that have enriched the efficiency of hydrocyclones by allowing them to separate very fine particles.
Hydrocyclones have many applications in desliming, degritting, concentration, recovery of solids, clarification, open-circuit classification, closed-circuit grinding, and others. The market for hydrocyclones is predicted to achieve higher sales due to the robustness in improved sustainability and lesser replacement needs.
Short Term (2022 Q2 to 2025): Growing demand from mining and construction industries will have a positive impact on hydrocyclones market growth.
Medium Term (2025-2028): China & Russia are projected to witness comparatively higher demand for hydrocyclones due to increased penetration in the construction and oil & gas industries.
Long Term (2028-2032): Emergence of advanced technologies such as sensors and customization of these devices will open new doors for hydrocyclone manufacturers.
From 2017 to 2021, the global market for hydrocyclones registered a CAGR of -2.3%. Fact.MR, a market research and competitive intelligence provider, reveals that the market will exhibit growth at 6.7% CAGR between 2022 and 2032.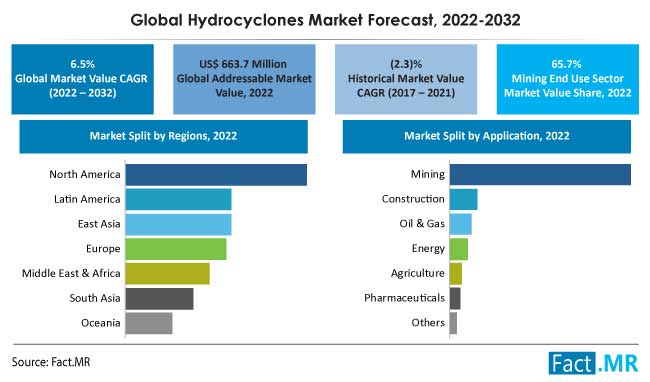 Market share analysis of hydrocyclones based on application and region. Under the application segment, mining dominates with 65.7% market share in 2022.
Which Factors are Driving High Demand for Hydrocyclones across Regions?
"Emergence as Efficient Equipment for Separation Process"
Hydrocyclones are mechanical separation systems that sort particles existing in a liquid solution. They use very less centrifugal force as compared to other devices. The primary advantage of a hydrocyclone over other techniques is that it has no moving parts. Therefore, it features a straightforward structure that is simple to use and maintain. It also offers high resistance to erosion, high efficiency, and the ability to process large volumes. As the device is compact, it can work in different environments.
As the need for fine products grows, the demand for hydrocyclones also increases. Other features of this device such as fine separation size, high classification efficiency, and strong workability are expected to drive the growth of the market over the coming years.
"Utilization of Technology for Customization Will Provide Sustainable Growth Opportunities"
Hydrocyclones are used in a variety of industries, including mining, construction, agriculture, and pharmaceuticals for different purposes such as degritting, closed-circuit grinding, concentration, clarity, solids recovery, open-circuit classification, and many others.
A customized separation solution for most applications can be created by combining the most appropriate hydrocyclone geometry with appropriate fabrication materials that can best suit the characteristics of the process fluid and suspended solids. Manufacturers are now trying to introduce many new features into hydrocyclones and provide them at affordable prices. Hydrocyclone sales have been driven mostly by customization depending on the application in the specific end-use industry.
These smart cyclone conditional monitoring and all-encompassing process optimization systems are ideal for closed-circuit grinding optimization. Reduced production interruptions and increased recovery rates can be achieved by combining process sensors with modern control software. Hydrocyclones with higher robustness account for higher sales in the market due to lower replacement needs and higher sustainability.
More Insights, Lesser Cost (-50% off)
Insights on import/export production,
pricing analysis, and more – Only @ Fact.MR
What Can Adversely Affect the Stance of Hydrocyclone Manufacturers?
"Penetration of Screening Technology to Restrict Hydrocyclone Demand Growth"
Hydrocyclones are simple devices that do not use any moving parts. However, due to the continuous separation process, the components of hydrocyclones need maintenance.
There are many other separation techniques such as screening that have started gaining importance due to their increased efficiency. Initially, this system was used for large particles and dealt with fine particles. Fine screen technology is penetrating even for different smaller size ranges, replacing hydrocyclones. In recent years, advances in high-frequency screening technology have increased the use of screens to close wet grinding circuits, improving the separation efficiency of tiny particles in a compact arrangement.
Manufacturers have little scope to increase the standards of hydrocyclones by integrating with IoT and creating automation techniques for the control of roping and other processes involved. This is expected to impact the market adversely to some extent.
Country-wise Insights
Will the Growing Mining Industry in Russia Drive Hydrocyclone Demand?
Mining is a vital industry in Russia. It is one of the leading producers of diamonds, coal, iron ore, nickel, aluminum, gold, palladium, uranium, and platinum. Russia accounted for around 14% of the global mineral production in 2021.
Russia has enormous coal reserves. Some of the coal reserves are located at Pechora, Irkutsk, Kuznetsk, Moscow, and other areas. It accounted for 17.9% of global coal exports in 2021. Russia is the third-largest exporter and sixth-largest producer of coal.
Russia also has its footprints in the oil & gas industry. Some of the biggest Russian oil companies are Rosneft, Surgutneftegaz, Gazprom Neft, and Lukoil. Owing to the increasing penetration of Russia in mining and oil & gas industries, there will be certain growth in the market for hydrocyclones. Russia's hydrocyclones market is expected to reach a valuation of US$ 29.9 million in 2022.
Why is the China Hydrocyclones Market Highly Lucrative?
China is among the top gold producers, getting all its gold deposits from the Jiaojia Gold Mine, Sanshandao Gold Mine, and others. This country also has large deposits of copper, which are obtained from the Shaxi Copper Mine situated in Anhui.
As China is a leading producer of steel, aluminum, coal, tungsten, rare earth, lead, zinc, and other metallic minerals, the usage of hydrocyclones is unavoidable. China also has its footprints in the construction and agriculture industries. Therefore, the sales of hydrocyclones in China are estimated to account for a market share of 9.8% in 2022
Category-wise Insights
How is the Construction Sector Driving the Market for Hydrocyclones?
The surging construction industry will affect the sales of hydrocyclones positively. Hydrocyclones are extensively used in the construction sector for the proper separation of solid-liquid, slurry, and others.
The U.S. has initiated many construction projects. Some of the major construction projects in the U.S. are Steel Mini Mill, which is worth around US$ 3 billion, Osceola Steel Plant, the Atlas Power Data Center worth US$ 1.9 billion, and others.
Construction is becoming a major industry in many developed and developing countries. Owing to the increase in construction projects, the hydrocyclones market will expand in tandem over the coming years.
Will Sales of Hydrocyclones Increase in the Mining Industry?
The mining industry generated revenue of US$ 925 billion from the top mining companies. It is one of the important industries that contribute to overall revenue. Many developing countries have major projects ongoing in the mining industry.
India's CIL- Coal India Ltd has sanctioned around 114 coal projects with large investments. In association with South Africa, India is working out to access the uranium available in South Africa. On average, the U.S. consumes around 4,000 pounds of newly mined minerals per year.
Associated with the mining industry, there is a necessity for the use of hydrocyclones. Therefore, as the mining end use accounts for a market share of 65.6% in 2021, manufacturers will have lucrative opportunities for hydrocyclones sales in this sector.
Competitive Landscape
Prominent hydrocyclone manufacturers are McLanahan, KSB Inc, Exterran, DEL Corporation, Evoqua Water Technologies LLC, Air and Liquid Systems, Inc., Weihai Haiwang, Multotech Pty Ltd., FLSmidth & Co. A/S, TechnipFMC, Metso Corporation, The Weir PLC, Salter Cyclones Ltd, GFSA Limited, Sulzer Ltd, Alderley plc, and CECO Emviromental.
A trend has been observed that manufacturers are paying keen attention to the production of hydrocyclones that have high working efficiency. Key market players are channelizing their resources with the R&D development sector to develop hydrocyclones with more efficiency and unique designs. This will pave the way to increase the sales of hydrocyclones across end-use industries in the future.
In 2020, Salter Cyclones launched new hydrocyclone product designs that can accommodate a large range of flowrates and improve operational efficiency.
In the late 2020s, Weir Group PLC introduced a new hydrocyclone range - the Cavex® 2. As it uses the new technology of LIG+™, its delivery performance and capacity have increased by 30%.
Fact.MR has provided detailed information about the price points of key manufacturers of hydrocyclones positioned across regions, sales growth, production capacity, and speculative technological expansion, in the recently published report.
Segmentation of Hydrocyclones Industry Research
By Type :

Solid-Liquid Hydrocyclones
Liquid-Liquid Hydrocyclones
Dense Media Hydrocyclones

By Max. Capacity :

Below 100 m3/hr
100-250 m3/hr
250-500 m3/hr
Above 500 m3/hr

By Inner Diameter :

Below 5 inches
5-8 inches
8-12 inches
Above 12 inches

By Overflow Diameter :

Below 6 Inches
6 -10 Inches
10-15 Inches
Above 15 Inches

By Separator Type :

Pressure Type
Gravity Type

By Material :

Steel
Ceramic
Polyurethane
Polypropylene
Others

By Application :

Desliming
Degritting
Concentration
Recovery of Solids
Clarification
Open-circuit Classification
Closed-circuit grinding
Others

By End Use :

Construction
Oil & Gas
Energy
Mining
Agriculture
Pharmaceuticals
Others

By Region :

North America
Latin America
Europe
East Asia
South Asia &Oceania
Middle East & Africa