Companies are moving towards using technically advanced industrial motors that can save energy as well as reduce operation cost. Among various motor designs used in industrial applications, DC motors are being used in servo applications on a large scale where accuracy and speed are important. Meanwhile, AC motors are being largely used in heating and cooling equipment.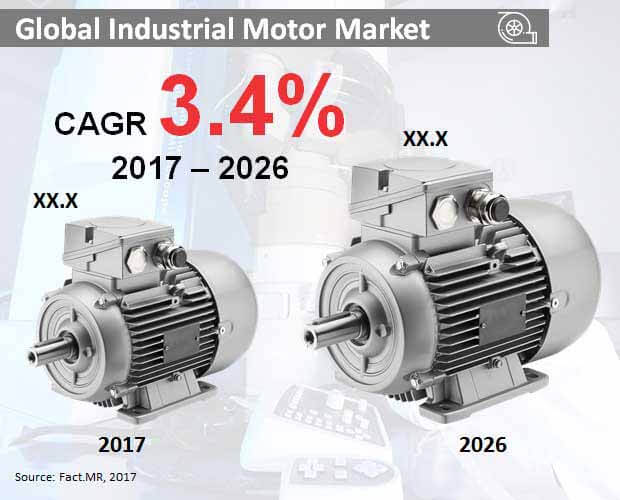 As per the new study by Fact.MR, the global market for industrial motor is likely to experience slow growth during 2017-2026. By 2026 end, the global industrial motor market is projected to bring in US$ 14,959.1 million revenue. Stringent regulations on energy conservation and rising prices of electricity are driving the demand for energy-efficient industrial motor. However, the high cost of industrial motor as compared to the conventional motor, and high cost of installation are some of the factors hampering the global market for industrial motor.
Market Taxonomy
| | | | |
| --- | --- | --- | --- |
| Efficiency | Application | Motor Type | End Use Vertical |
| IE1 | Compressors | DC Brushed motor | Commercial HVAC |
| IE2 | Pumps & Fans | Stepper motor | F&B Manufacturing |
| IE3 | Conveyors | Traction Motor | Mining |
| IE4 | Crushers | | Utilities |
| DC and others | Extruders | | Other Sectors |
| | Other Applications | | |
(Additional information, including cross-sectional data and country-wise analysis & forecast is available in the report)
IE2 Industrial Motor to Gain Maximum Traction in the Market
IE2 industrial motor is likely to gain maximum traction in the global market for industrial motor. Accounting for nearly one-third of the revenue share, IE2 industrial motor is projected to reach close to US$ 4,900 million revenue. Increasing use of IE2 industrial motor in industrial applications such as pumps, hydraulics, mixers, gears, HVAC and fans is driving the growth. Moreover, IE2 low voltage motors are also witnessing significant growth.
Industrial Motors to Find Largest Application in Pumps and Fans
Industrial motors are likely to find the largest application in pumps and fans. Towards 2026 end, pumps and fans are projected to create an absolute dollar opportunity of over US$ 2,300 million between 2017 and 2026. Energy efficient motors are being used on a large scale in the pumps and fans as it affects both the amount of mechanical power required by entire system and overall energy consumption.
DC Brushless Motor to be the Highly Preferred Motor Type
Compared to the various types of industrial motors, DC brushless are likely to emerge as the highly preferred motor type. DC brushless motor is projected to exceed US$ 6,900 million revenue by 2026 end. Brushless motor help in alleviating various issues related to the more common brushed motors. Moreover, these motors have much simple design. Brushless motors also offer various advantages such as high efficiency, minimum maintenance, and long life. These motors are finding high application in compressors, pumps and fans, where ruggedness and reliability are required.
Commercial HVAC to Emerge as the Largest User of Industrial Motor
Commercial HVAC is likely to emerge as the biggest user of the industrial motor. Commercial HVAC is projected to create an incremental opportunity exceeding US$ 1,000 million between 2017 and 2026. HVAC systems are the largest consumers of energy in the building, hence, the demand for energy-efficient industrial motor in HVAC is growing. Manufacturers are also developing smart industrial motors that reduce payback time and offer high energy saving.
Competition Tracking
The report also profiles companies that are expected to remain active in the expansion of global industrial motor market through 2026, which include Shandong Huali Electric Motor Group Co. Ltd., CG Power and Industrial Solutions Limited, Regal Beloit Corporation, Nidec Corporation, Hyosung Corporation, Toshiba Corporation, TECO Electric & Machinery Co., Ltd., WEG SA, Siemens Aktiengesellschaft, and ABB Limited.
Note: The insights mentioned here are of the respective analysts, and do not reflect the position of Fact.MR
Increasing number of industries across the globe use industrial motor in order to run their manufacturing units. Hence, manufacturers of industrial motor are introducing energy efficient motors with better design offering efficiency. New technologies are also being integrated in industrial motor to make it work more smartly. This Fact.MR report discusses key prospects for growth of global industrial motor market during the forecast period, 2017-2026, offering pragmatic insights to lead market players towards devising & implementing informed strategies.
Scope
The scope of the report is to analyze the global industrial motors market for the period 2017-2026 and give readers an accurate, unbiased analysis. Industrial motor manufacturers, suppliers, and stakeholders in the overall automotive market can benefit from the insights offered in this report. The comprehensive analysis offered in the report can also be of interest to leading automotive journals and trade magazines.
Summary
The report begins with a concise summary of the global industrial motors market. This executive summary sets the tone for the rest of the report, giving users the scope of the report. The executive summary includes important facts and statistics on the global industrial motors market.
Overview
The next section is an overview of the global industrial motors market. This includes the introduction to the market and a standard definition of the product – industrial motor. In this section, year-over-year growth and market value is offered to readers. Year-over-year growth gives readers a broader picture on growth patterns during the forecast period.
The next section of the report offers a thorough description of the latest macroeconomic factors that have a bearing on the global industrial motors market. Considering the interconnectedness of the industrial motor market to global automotive market and, in general, the global economy, readers will get valuable insights on how international developments impact this market.
In a bid to keep readers up-to-date on the latest developments in the global industrial motors market, the report offers readers a roundup of the latest trends impacting the market. As the automotive sector is ever-evolving, staying abreast with latest trends and developments is paramount to formulating key business strategies. Information on supply chain, cost structure, pricing analysis, raw material sourcing, and list of distributors are offered to readers in this section.
Considering the wide scope of the global industrial motor market, the report by Fact.MR provides in-depth and segment-wise analysis and forecast. The global industrial motor market is segmented on the basis of efficiency, application, motor type, end use vertical, and region. This segment-wise analysis also consists of the country-wise forecast on all the major parameters of the global industrial motor market.
The concluding section of the report profiles companies operating in the global industrial motors market. Companies of all sizes, including market leaders, established players, and market entrants are profiled in this section. The competitive intelligence offers information on company overview and other important parameters, such as product offerings and key financials.
Research Methodology
Fact.MR is committed to offer unbiased and independent market research solutions to its clients. Each market report of Fact.MR is compiled after months of exhaustive research. We bank on a mix of tried-and-tested and innovative research methodologies to offer the most comprehensive and accurate information. Our main sources of research include,
Primary research
Secondary research
Trade research
Focused interviews
Social media analysis
Fact.MR offers custom research services that help clients to get specific research solutions
We are committed towards customer satisfaction and quality service.
---
Our Clients

Industrial Motor Market Forecast, Trend Analysis & Competition Tracking – Global Market insights 2017 to 2026